Ex-Phuket police officer's house burns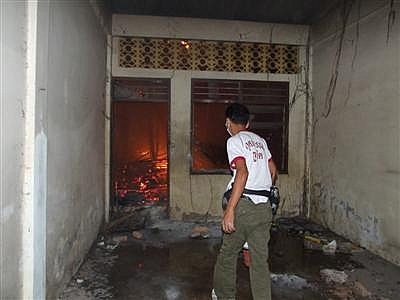 PHUKET: The abandoned home of a former policeman went up in flames last night in what police suspect was a fire lit accidentally by people who broke inside to take drugs.

Phuket City Municipal firefighters received a report of the fire on Phul Pon Road Soi 13 at about 11:30pm.

Firefighters arrived quickly, but their fire truck could not access the narrow lane and they had to rig up over 300 meters of hose in order to douse the flames.

Once underway, the effort took about 20 minutes, with firefighters managing to contain the blaze before it spread to adjoining structures.

The fire completely gutted wooden cupboards, a bed and other flammable items inside.

Among the remains found inside were many strips of tin foil, matches and traces of marijuana on a cutting board.

Police say they suspect that youths broke into the home to use it as a place to take drugs, and that they accidentally caused the fire.

Long abandoned, the home was owned by a former Phuket City policeman who used to rent it out, neighbors said.
— Yodsak Jarana
Keep in contact with The Thaiger by following our Facebook page.
Never miss out on future posts by following The Thaiger.
Another drug bust near the Mekong River, 500 kilograms of cannabis seized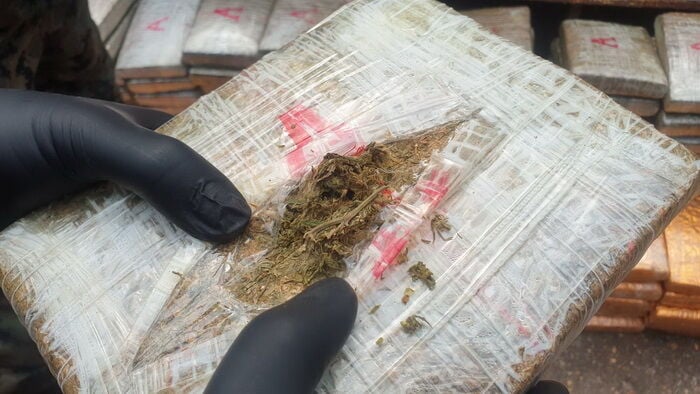 In another drug bust in Northeastern province Nakhon Phanom, police arrested a man and seized 500 kilograms of compressed cannabis. Just yesterday, border patrol police in the province seized 920 kilograms of compressed cannabis from a boat on the Mekong River. In both cases, police suspect the cannabis came from Laos, just across the river.
Police say they searched a black Nissan Navara pickup around 1am in the province's Na Kae district. Police opened the truck's bed cover and found 12 sacks with 500 packages of dried, compacted cannabis. Each package of cannabis weighed 1 kilogram, similar to the previous bust on the river.
28 year old Saravut Butngam was arrested. Saravut previously worked in construction, but has recently been unemployed. He allegedly told police that a man called him with an opportunity to make 50,000 baht. He was told to drive the pickup truck from a petrol station in the Na Kae district to a specified location in the neighbouring province Sakon Nakhon, police say. From there, another driver would take over.
Border police commander Sippanan Sornkhunkaew says he suspects the cannabis seized in the province was trafficked from Laos across the Mekong River. He says he believes the cannabis was planned to be trafficked to Southern Thailand and then smuggled across the border, possibly to Malaysia.
On Sunday morning, police confiscated 920 kilograms of cannabis from a boat on the Mekong River. When police approached the boat, men jumped off onto a smaller boat and fled the scene. The dried, compacted cannabis was wrapped in 1 kilogram packages.
SOURCE: Bangkok Post
Keep in contact with The Thaiger by following our Facebook page.
Never miss out on future posts by following The Thaiger.
Police seize 920 kilograms of cannabis smuggled across the Mekong River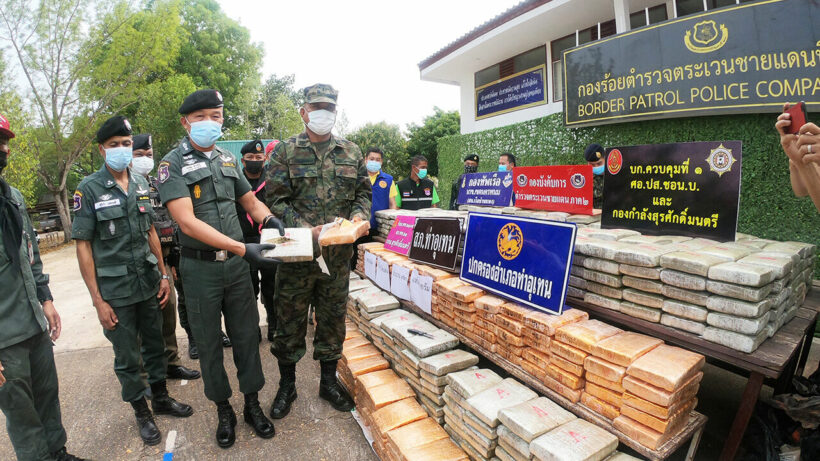 In a major bust on the Mekong River, notorious for drug smuggling, border patrol police seized 920 kilograms of dried, compacted cannabis from a boat along the Nakhon Pathom riverbank, bordering Laos.
Police were tipped off about a large shipment of drugs being trafficked across the Thai-Laos border. Police spotted a boat around 4am yesterday. When police moved in, men onboard the boat jumped onto a smaller boat and sped off. Police found 23 sacks filled with 1-kilogram packages of compressed cannabis.
In the recent months, police have seized more than 5 tonnes of cannabis. While the Thai government has been loosening measures on cannabis, allowing parts of the plant with low traces of the psychoactive component tetrahydrocannabinol, or THC, to be used in food and medicinal products, trafficking cannabis is still illegal. Cannabis with high amounts of THC is still classified as a Category 5 narcotic.
SOURCE:Bangkok Post
Keep in contact with The Thaiger by following our Facebook page.
Never miss out on future posts by following The Thaiger.
Thai FDA expedites the process to list cannabis as an "essential medicine"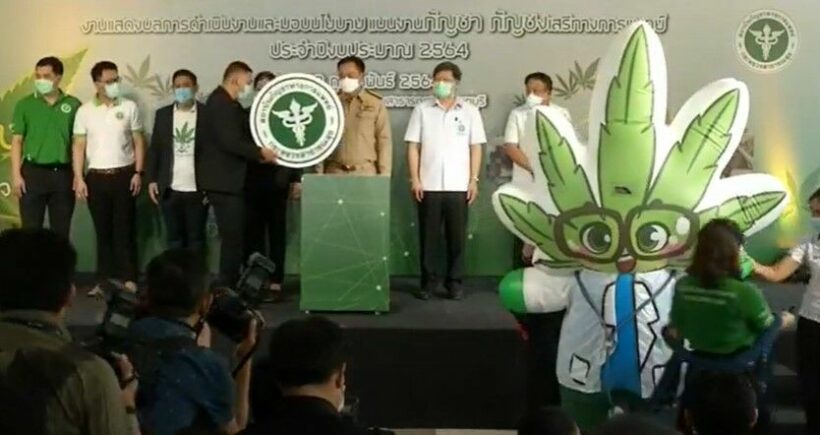 Cannabis could soon become an "essential medicine" in Thailand. While the plant's euphoria-inducing buds are still illegal and classified as a narcotic, other parts of the plant that do not cause a "high," like the leaves, are being pushed into the food and medicine industry.
The Thai Food and Drug Administration is even trying to speed up the process to include cannabis on the National List of Essential Medicines and to also allow it to be used in food, according to the FDA secretary general Supattra Boonserm. Yesterday, the FDA committee approved a draft ordinance to allow the once-criminalised plant to be on the essential medicines list as well as to be an ingredient in food.
"Users can put oil extracts from cannabis in breakfast cereals, bakery products, beverages, snacks or butter as well as in food supplements."
There are 2 main components in cannabis: tetrahydrocannabinol, known as THC, and cannabidiol, known as CBD. THC is the psychoactive component which causes the "happy-hungry high" while CBD is understood to have health benefits and has been used to treat anxiety and insomnia. THC is still illegal in Thailand.
Since the Public Health Ministry approved the use of cannabis and hemp for medical and research purposes, more than 50,000 patients in Thailand have been prescribed cannabis-based treatments, according to Public Health Minister Anutin Charnvirakul.
Anutin says the FDA's move to expedite the process of listing cannabis as an essential medicine is intended to make sure there is a sustainable supply of cannabis and the products are available to those who need it.
"The efficacy and safety of medical cannabis will continue to be reviewed, and the findings will be used to support further changes to medical cannabis laws."
The health minister spoke at the official opening of the Ministry's Institute of Medical Cannabis, which will be the coordinating agency to make sure cannabis-based products are in line with government policies.
"The institute will also provide accurate information about the plants and their use, as public interest in the plants have grown."
More than 300 community enterprises have joined with the ministry to grow cannabis for medical and research purposes, Anutin said. He adds that households with permission from a local hospital can grow up to 6 cannabis plants on the property.
SOURCE: Bangkok Post
Keep in contact with The Thaiger by following our Facebook page.
Never miss out on future posts by following The Thaiger.