Young mom killed in Phuket hit-and-run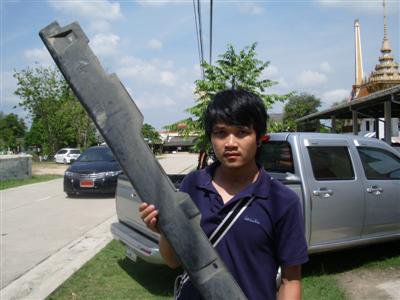 PHUKET: A young mother riding a motorbike was killed instantly in a head-on collision with a car in Srisoonthorn early yesterday morning.
Maj Sekson Komsakorn of the Cherng Talay Police identified the deceased as 26-year-old Dok-aor Ponsri, a native of Ubon Ratchathani.
After receiving a report of the accident just before 2am, Kusoldharm Foundation workers rushed to the scene to find Miss Dok-aor dead and her motorbike completely demolished. Her body was taken to Thalang Hospital.
Such was the impact of the collision that parts of the vehicle that hit her, including the front bumper, were scattered around the scene, a curved section of Srisoonthorn Rd about 1.5 kilometers from the Heroines Monument.
Initial investigation revealed that Ms Dok-aor was returning to her home in Srisoonthorn Village 5 after completing her shift at a bar located near the Laguna Phuket resort complex in Cherng Talay.
She was dragged about 40 meters by the vehicle that hit her coming from the opposite direction.
As is common in traffic accidents in Phuket, the driver fled the scene. He remains at large, but police and the woman's boyfriend hope that debris left behind will lead to his arrest.
Ms Dok-aor was the mother of a nine-month-old child fathered by her companion Pongsakorn Taoloon, a 22-year-old resident of Udon Thani.
"I was really shocked after being told about the accident by the police. I have no idea how I am going to raise the baby without her mom, but we are not going to leave Phuket. My wife was determined to raise and educate the baby here in Phuket," Mr Pongsakorn said.
— Sitthipong Nongkaew
Want more from the Thaiger family?
📱 Download our app on Android or iOS for instant updates on your mobile
📧 Subscribe to our daily email newsletter
👍 Like/Follow us on Facebook
🔔 Subscribe to or Join our YouTube channel for daily video updates
British citizens fined 6,000 baht each for illegal 'party' in Phuket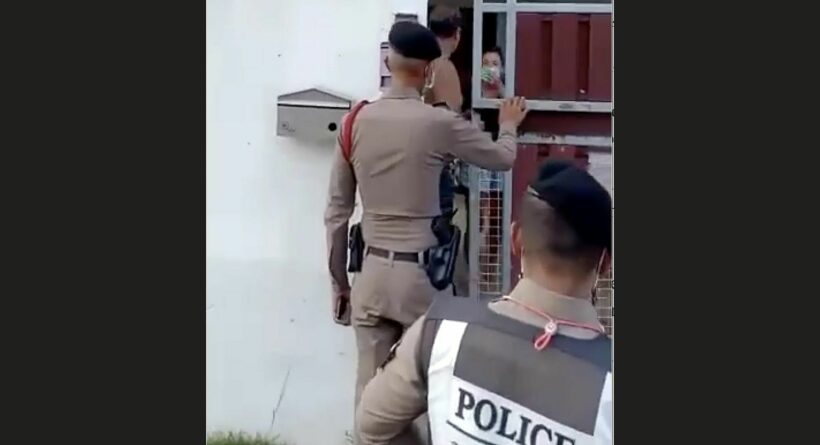 An unedited video circulating, showing Phuket police raiding an illegal gathering in Cherngtalay, ended up with 2 UK citizens, working in Phuket, being fined 6,000 baht each. The Cherngtalay police are also calling on another 4 foreigners attending the party to present themselves to the police station to be charged as well.
Cherngtalay Police descended on the property around 5pm on Sunday following a tip-off from residents in the same street.
The video shows the police at the front gate of the property demanding entry… "Open, open, open the door… now!" The people inside the gate shouted back "no party". The policeman leading the raid was Capt Prasan Ketsaro. Despite a number of other foreigners, and Thais, at the gathering, only the 2 British people attending the event were fined after being taken to the station.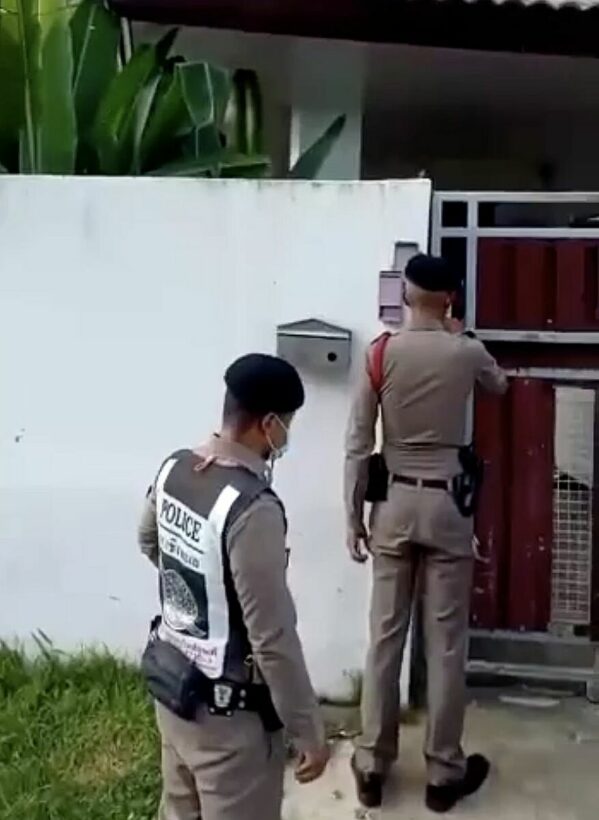 They were officially charged with "acting against the Communicable Diseases Act, BE 2558 and the Phuket Provincial Order #2284/2564 Section 5," according to the police report.
At the end of April the Phuket governor made an announcement, tightening restrictions for the island province.
"For social activities, all people must refrain gathering for celebration, such as birthday parties, welcome or farewell parties, or others, except traditional events, such as funerals, weddings, or ordination."
At the time the vice governor of Phuket said that foreigners breaking the rule could also be subject to being deported. Foreign consular officials were also invited to the provincial offices with Governor asking them to ensure the citizens they represented would abide by the current rules and restrictions.
The video of what appears to be an afternoon soirée, complete with alcoholic drinks and a barbecue, was deemed by the attending police to be in clear contravention of the current restrictions, a point that the lead police officer, doing all the talking, kept making as he beckoned everyone inside the house to come out.
"Everybody, outside. Come one, come on, outside!"
None of the foreigners were wearing face masks in the early phases of the video although the Thai people inside the property either were, or were quick to put them on as the cameras were rolling.
The police kept berating and accusing the people inside the property… "you come for party". They pointed to a pile of iced drinks on the verandah of the property (which contained wine, beer and other beverages)… "what is this, what is this?"
Any conversation was a bit one-sided with the Captain doing most of the talking whilst the owners of the property, and their guests, were at least trying to explain their situation.
The accusations were flying thick and fast "Why party?! You party!"
The foreigners insisted it wasn't a party and were trying to reason with the police about the intentions of the afternoon's gathering but the police had already made up their mind.
The lead police told the accused that they could take photos of the 'raid'. The Thaiger has decided not to air the video but have shared some edited screenshots.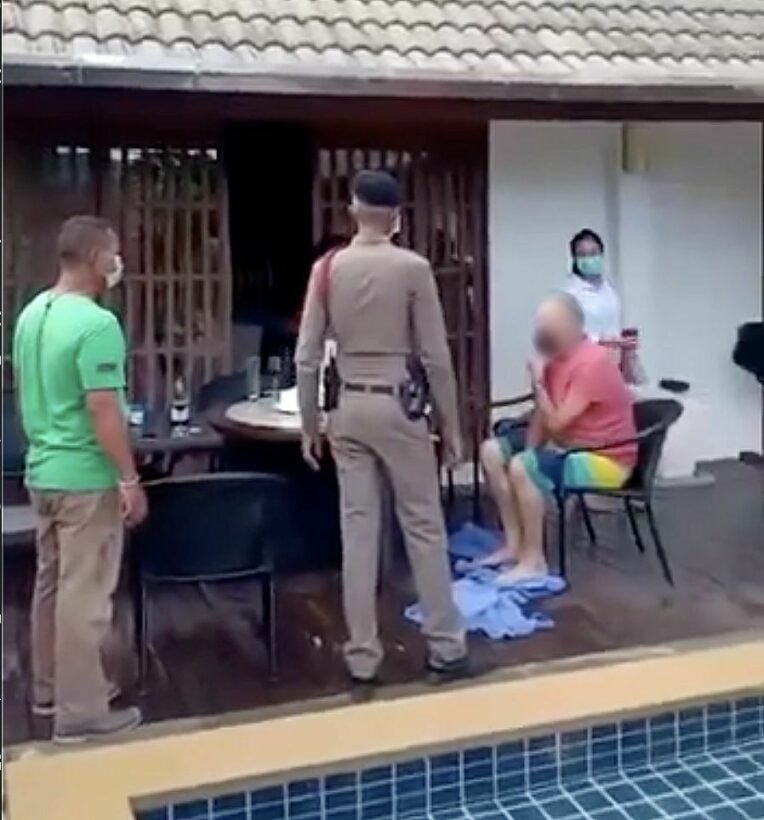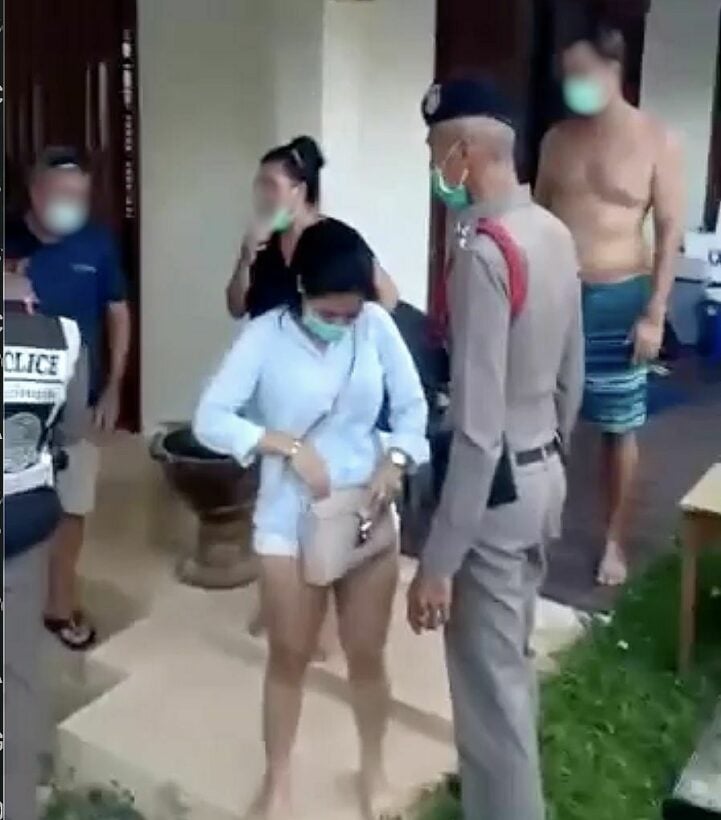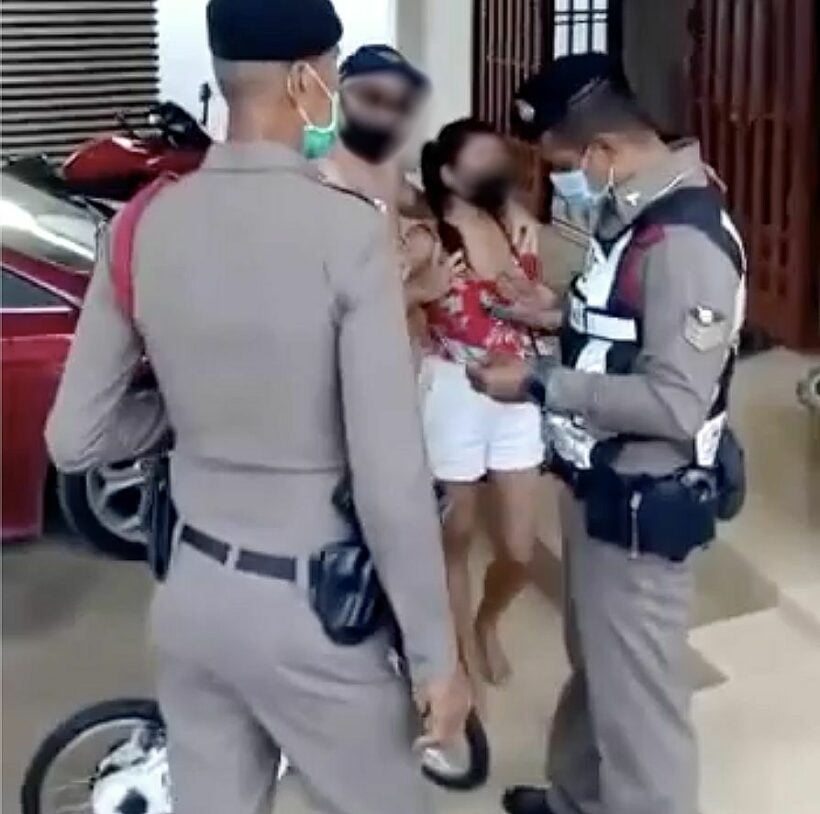 A lot of the social media commentary about the incident has focussed on whether the gathering was a "party" or not and accusations that the attending police were just after some tea money.
"The high crimes and misdemeanours of having drinks and a BBQ in your garden "
"What party? Even the mosque in Bang Tao is packed everyday, local Thai restaurants are packed – this it outrageous."
"Pretty strange…. a good way to make money."
"What a country this place is turning into."
"The video is on all the Thai news site… and it not look like a party at all."
The names of the people involved in the raid have been published in other media.
Want more from the Thaiger family?
📱 Download our app on Android or iOS for instant updates on your mobile
📧 Subscribe to our daily email newsletter
👍 Like/Follow us on Facebook
🔔 Subscribe to or Join our YouTube channel for daily video updates
Americans in Thailand urge US to provide Covid-19 vaccines to citizens overseas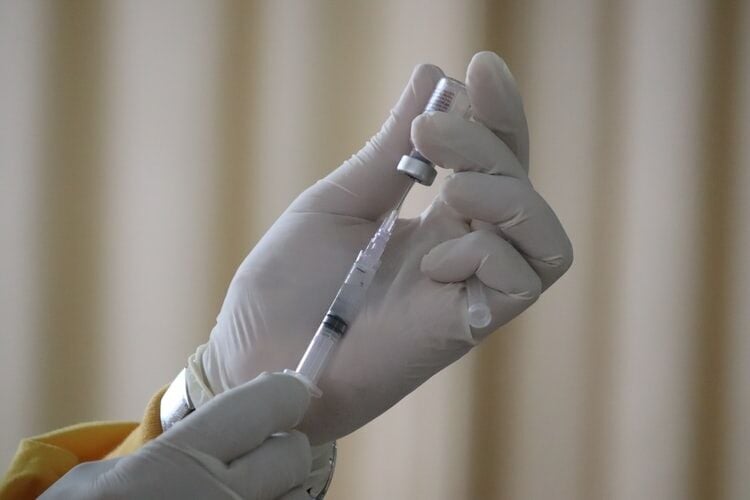 Thai officials say expats living in Thailand will be included in the government's mass Covid-19 vaccination plan, but exactly when that will be is still up in the air. With foreign embassies in Thailand clearly stating that they will not assist with providing citizens living overseas with vaccines, expats are relying on the Thai government.
A number of Americans are now urging the US government to provide Covid-19 vaccines to citizens living in Thailand. And with the recent outbreak linked to the more contagious variant of the virus, getting a vaccine in Thailand has become more pressing.
A "Covid-19 Vaccine Task Force" of Democrats Abroad Thailand members, as well as those from American organisations based in Thailand, is calling on the US government to deliver vaccines to citizens living in Thailand, chairperson of Democrats Abroad Thailand and a United Nations consultant, Paul Risley, told VOA.
"Americans who live abroad need to be vaccinated for the same reasons that Americans who live in the United States need to be vaccinated… Because it's the only way to stop Covid-19."
If an American were to travel back to the US for a vaccine, they would still need to stay in a hotel or certified facility for a 14-day quarantine at their own expense when re-entering Thailand. Along with getting together the required paperwork, they would need to go through numerous Covid-19 tests including before the flight, upon arrival and before being released from quarantine. The flights to and from the US can end up being more than 20 hours per trip and add up to thousands of dollars in travel costs.
For the vast majority of Americans in Thailand, flying back to the US is the only way to get vaccinated at the moment. The US Embassy in Bangkok says vaccines will not be provided for US citizens living overseas.
The Department of State does not provide direct medical care, including vaccinations, to private U.S. citizens abroad. We are committed to providing all possible consular assistance to U.S. citizens in need overseas, including by providing information on local medical resources when appropriate. Please follow host country developments and guidelines for COVID-19 vaccination.
At a recent Centre for Covid-19 Situation Administration meeting, a spokesperson for the Ministry of Foreign Affairs said "all people who reside in Thailand, regardless of their nationality, are eligible to receive the vaccine under the government's plan."
Mass vaccination campaigns are being rolled out in high-risk areas, such as Bangkok's Khlong Toey slum where a cluster of infections was reported, as well as Phuket and Koh Samui, tourist islands that are said to be of "economic significance." Health officials are trying to hit herd immunity on the 2 islands to reopen to foreign tourists.
Expats in Phuket who have a valid work permit can now register for a state Covid-19 vaccine. The registration must be under the company name and expats are told to have the company's human resources staff assist with the registration process.
While no official announcement has been made regarding expats in Koh Samui, some foreigners who work as English teachers on the island say they have received both doses of the Chinese-made Sinovac vaccine. Schools apparently helped with the registration process, but some teachers say they told to keep quiet about getting the vaccine. Some did not receive a vaccine certificate or any other documentation confirming that they are vaccinated against the coronavirus.
SOURCE: VOA
Want more from the Thaiger family?
📱 Download our app on Android or iOS for instant updates on your mobile
📧 Subscribe to our daily email newsletter
👍 Like/Follow us on Facebook
🔔 Subscribe to or Join our YouTube channel for daily video updates
ICU beds for Covid-19 patients in Phuket are close to a "critical" low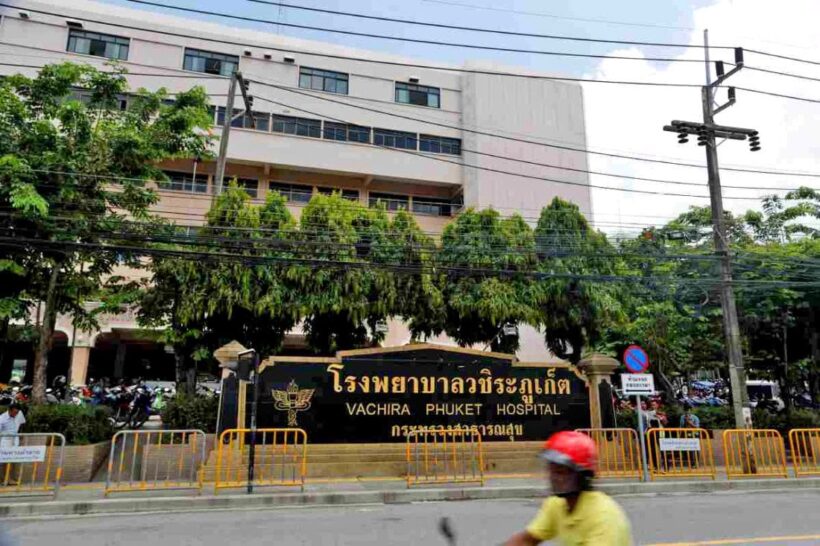 Covid-19 patients in severe condition may have to been transferred from a government hospital in Phuket to a private hospital as the number of available hospital beds at public intensive care units in Phuket is close to a "critical" low, according to Vachira Phuket Hospital Director Chalermpong Sukontapol.
There are 9 ICU rooms at the Vachira Phuket Hospital. 5 are being used for Covid-19 patients with severe symptoms while the other 4 rooms are for those with mild symptoms and are under observation before being moved to another bed.
"If the 9 rooms are full of severe symptom cases, that will be a big critical stage. We may need to transfer our patients to other provinces or private hospitals, which may involve additional costs."
He says 50% of the Covid-19 patients in Phuket are asymptomatic while 30% have mild symptoms and 10% have severe symptoms. For most of those with severe symptoms, the virus has moved to their lungs and they are in need of special equipment, like ventilators, to help them breathe and Charlempong says those patients need to be under close observation.
SOURCE: Phuket News
Want more from the Thaiger family?
📱 Download our app on Android or iOS for instant updates on your mobile
📧 Subscribe to our daily email newsletter
👍 Like/Follow us on Facebook
🔔 Subscribe to or Join our YouTube channel for daily video updates