Work begins on repairing Patong Hill road landslide site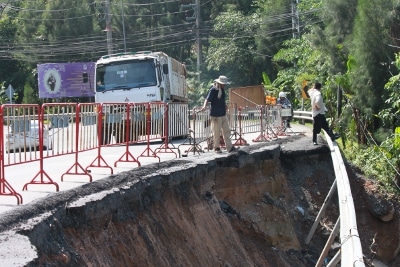 PHUKET: Phuket Highways Office Director Samak Luadwonghat kept his promise made yesterday that as soon as the rains stopped today, his workers were out in force making temporary repairs to the Patong Hill road.
The section of road, just west of the Chinese shrine at the top of the hill, first collapsed during heavy rains last October, then again in early May with the advent of this year's monsoon season.
On Thursday night, the same site suffered another landslide, with the dislodged earth tumbling into a rubber plantation below.
Construction workers at the site today explained to the Phuket Gazette that they will clear away the loose earth at the site then fill the "hole" with wire mesh.
"We will fill the mesh with boulders and other large rocks, and then fill the gaps with earth before paving the road over the top again," one worker explained.
"The repairs are only temporary until we get the budget to fix it properly," he added.
The temporary repairs, costing 3 million baht, will take two weeks to complete, said Phuket Highways Office Director Samak.
"But that's if we don't have any more heavy rain. If we get more rain like we did this week, it will probably take longer. Once the temporary repairs are complete, the lane can be reopened to traffic," he added.
Mr Samak said that permanent repairs to the road were likely to start in November or December.
"That project will take at least 90 days to complete," he added.
The news follows Phuket Governor Tri Augkaradacha in June requesting an emergency budget of 80 million baht to repair the road as the main thoroughfare joining Patong and Phuket Town was deemed at high risk of collapsing due to the heavy annual monsoon-season rains.
— Atchaa Khamlo
Keep in contact with The Thaiger by following our
Facebook page
.
Never miss out on future posts by
following The Thaiger
.
Newborn baby found on bench in Phuket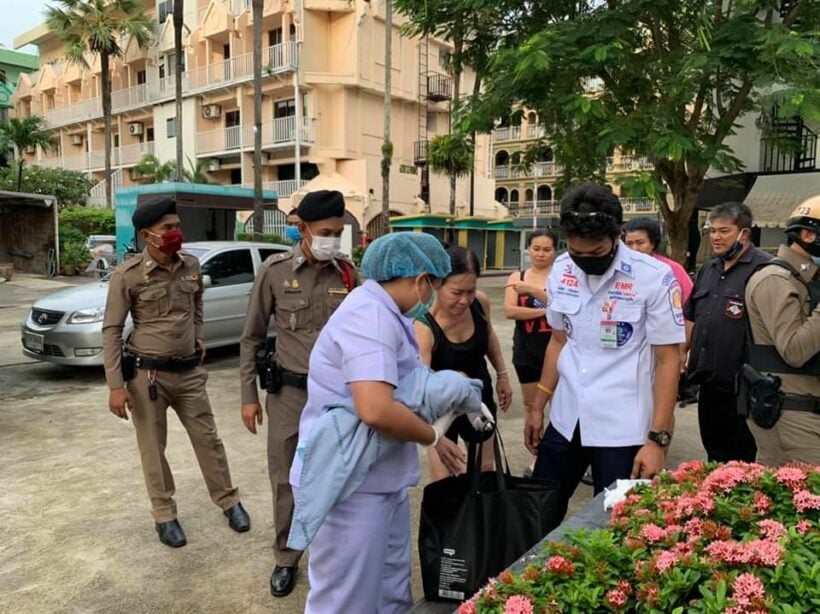 A newborn baby was found on a bench at a neighborhood by Phuket's Patong Road. The baby boy was wrapped in cloth and left inside a reusable shopping bag. The bag also had a bottle of milk, diapers and clothing.
A woman walking by early in the morning heard the baby crying. She followed the cries and found the baby on the bench. She called police and calmed the baby, feeding him milk that was left in the bag.
Police took the baby to the Patong Hospital. The baby, about a week old, is in good health, police say.
"Police and rescue workers together rushed to the scene and called Patong Hospital to have a medical team meet us there … This baby is healthy and does not appear to have suffered any injuries. He is now safe and being cared for at Patong Hospital."
Police are reviewing surveillance camera footage to see if they can track down the mother, or whoever left the baby behind.
SOURCE: Phuket News
Catch up with the latest daily "Thailand News Today" here on The Thaiger.
Keep in contact with The Thaiger by following our
Facebook page
.
Never miss out on future posts by
following The Thaiger
.
Phuket Immigration handing out 'conditional' 14 day visas, pending investigations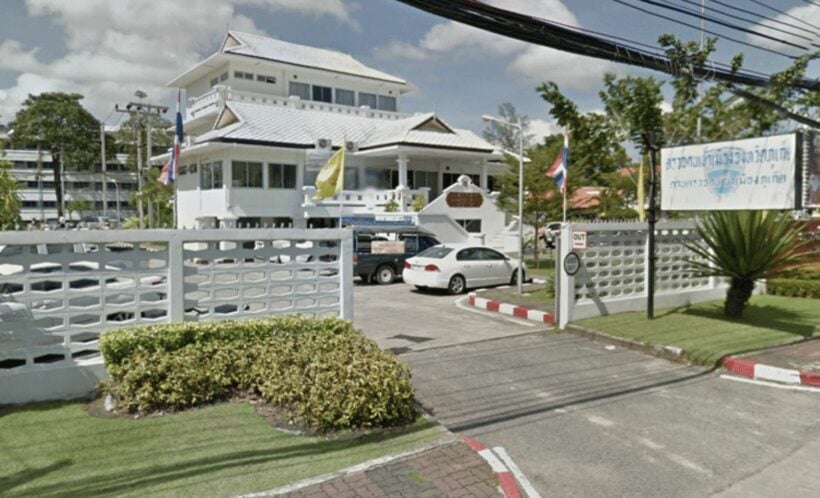 Confusion reigns. It was predictable and many people, despite months of warnings, have left their visa extensions to the last minute. Meanwhile Thai immigration don't appear to be making the process easy as The Thaiger has received multiple comments from foreigners visiting the various immigration offices around the country and encountering 'local' applications of the published guidelines and, in some cases, demands for additional paperwork.
A note to The Thaiger, we won't publish the person's name, from Phuket where a person applying for an extension to their visa has been given something less than the 30 days promised by the government.
"On Monday Phuket Immigration was only giving 14 day 'conditional' VISA extensions from the date of application, not from September 26. They announced this was to allow time to "investigate and verify" the need for the extension.
So basically we paid 1900 baht for a 14 day extension. After announcing this many people left as many que numbers were called and nobody came up. They said if that were the case they would come back later in the week.
So we have to go back on October 5 (or a few days later is ok they announced) to see if we're approved for the 30 day extension from September 26. If not we would be immediately "overstaying" at 500 baht/day.
Thank you
C
Another writer, speaking about the same matter, said that they were still being charged the non-refundable 1900 baht fee for the 2 week extension….
"They still collected the non refundable 1900 baht fee."
Yesterday a person, who had been living in Bangkok under the auspices of the visa amnesty on a lapsed Non Immigrant B (Business) visa, ended up visiting three different offices to get his paperwork sorted out. This is after first contacting immigration by phone to confirm the particular office to attend. He had a letter from the US Embassy explaining that he would be unable to return to the US at this stage due to lack of flights and the current Covid-19 situation in the US. He made an appointment online, as instructed, and it still didn't go very smoothly.
The instructions he received….
If your Visa was cancelled during the Covid-19 crisis, and you are currently under the amnesty grace period set to expire September 26, you will need to schedule an appointment online to queue in with the Immigration Division 1 at Muang Thong Thani (near Don Mueang Airport). You will need…
Online appointment with Immigration Division 1
Passport
TM 6 Departure Card
1,900 Baht fee for short term extension
Letter from embassy specifically stating inability to leave Thailand due to lack of repatriation flights and or a high risk of contracting Covid-19 in one's home nation.
US Embassy letter request can be made online here
Portrait photo to affix to short term extension application 3.5 cm x 4.5 cm in dimension
After going to Counter K and Counter J (2 separate buildings), he ended up being asked to go to the Chaeng Wattana office instead, and then was shuffled off to yet another office. Additional paperwork was also requested, beyond what had been asked for. After nearly a full day he ended up with a visa stamp for a 30 day extension in his visa.
He also noted that there is NO ATM around the Mueang Thong Thani immigration offices and our reader had to take a 60 baht motorcycle taxi ride to get cash.
Probably worse, he said that the Immigration officials (clearly overworked at this time), were "extremely rude" and that the facilities (apparently temporary) are "less-than-adequate", especially the Counter K, which was basically a parking garage with seats… no fans.
Additionally, contrary to the clear advice on the Thai Immigration website, most people getting their extensions were from the date of their visit and NOT the end of the September 26 amnesty.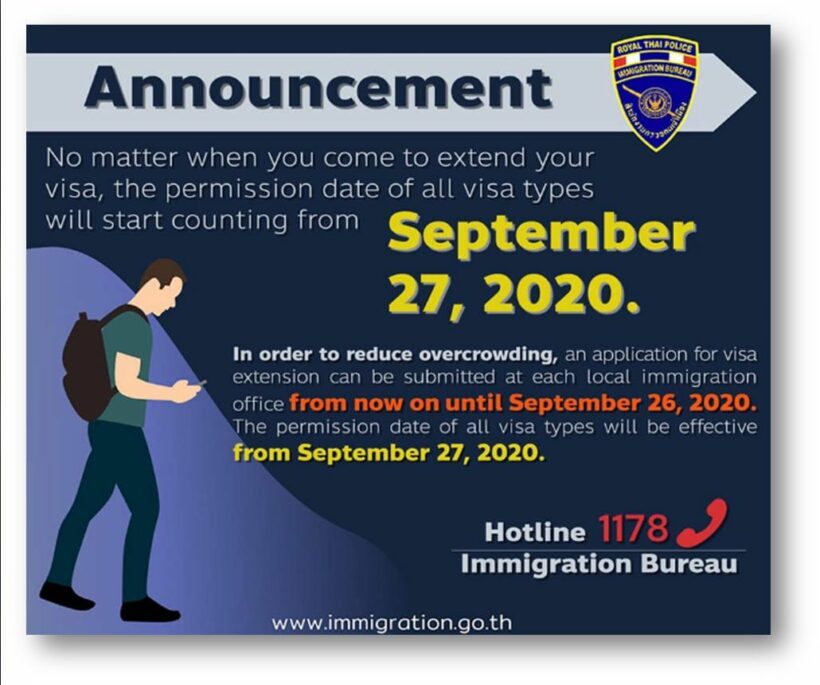 The moral of this tiny microcosm of stories is that it's probably the busiest week for Thai immigration in history. The officials will be stressed and stretched, there will be long queues and there will be confusion. We should also mention that we've had a few foreigners contact us saying that things went very smoothly for their extensions, so well done to all concerned in those examples!
Be prepared, take ALL your paperwork, expect to asked to produce more evidence, make sure you have all your photos and copies of your passport, TM 6 departure card, plus filled-in applications before you head to the Immigration offices.
Keep in contact with The Thaiger by following our
Facebook page
.
Never miss out on future posts by
following The Thaiger
.
Thailand News Today | Protesters face arrest | Phuket "in a coma"| September 22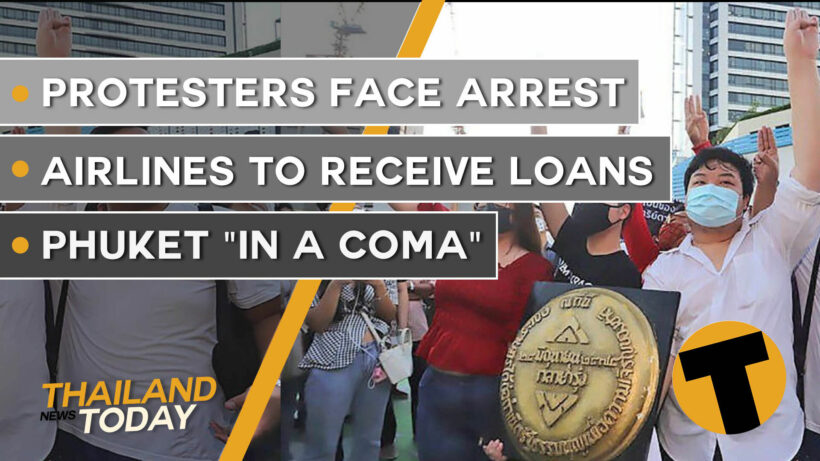 Thailand News Today with Tim Newton. Daily news from around Thailand.
Struggling airlines to get reprieve through small loans, extension to fuel tax cut
Airlines in Thailand are being offered a financial lifeline, as the Government Savings Bank announces soft loans for carriers left struggling as a result of the current Covid-19 'disruption'.
The GSB is offering the loans over a 60 month period, with an annual interest rate of 2%. The bank's chairman says the proposal will be put to Cabinet for approval.
Airlines have been left financially devastated by the fallout from the ongoing Covid-19 pandemic, with countries closing their borders, passenger numbers plummeting, and carriers forced to slash the number of flights on offer. The services available, including the food services, were also curtailed early on as a preventative measure but that restriction has since been lifted.
In a further effort to ease the financial crisis faced by Thai airlines, the Excise Department says it will extend the fuel tax cut for low-cost carriers by another 6 months from the end of this month.
Protest leaders face charges for violating Thailand's lèse majesté law and for installing the plaque
Leaders of the weekend's pro-democracy protest in Bangkok are facing charges for violating Thailand's lèse majesté laws and for installing a symbolic plaque at a "registered historical site". Police filed complaints to between 10 to 16 protesters.
It's unclear how many protesters will be charged, but a Royal Thai Police spokesperson says charges will be pressed against those who "pulled the strings." Under Thailand's lèse majesté law, it is illegal to insult or defame the Thai Monarch or royal family. Police say they will take the strongest legal actions possible against those who undermined the Monarchy, although earlier this year the Thai PM said that His Majesty had requested that such charges not be brought against Thai citizens.
Charges are also being brought against the protesters who installed a commemorative plaque in the forecourt of Sanam Luang, next to the Grand Palace. The Fine Arts Department and the Bangkok Metropolitan Administration have filed complaints with police over the installation of the plaque, saying the protesters broke the law by causing damage to an archaeological site.
Phuket's governor calls for help in restoring island's economy
The governor of Phuket has likened the southern province to a "patient in a coma", as he pleads for help to restore its devastated economy. The governor highlighted the economic crisis caused by the ongoing ban on international tourists. The island's international airport closed in April, cutting off the supply of international tourists, and cutting off the flow of international money coming into the island's tourist economy.
The latest figures show that Phuket has lost over 400 billion baht since the start of the Covid-19 pandemic. The island's economy is, either directly or indirectly, 90% reliant on a steady flow of international tourists, and has seen a massive tourist infrastructure boom over the past 20 years.
Governor Narong predicts the province will face similar hardship next year, and is calling on the government to organise conferences and other events that could attract more visitors to the province.
Sri Panwa Phuket getting social media flak after owner criticises pro-democracy protest leader
Meanwhile, the owner of the Sri Panwa Phuket resort is facing a social media storm after condemning the current pro-democracy movement and one of its main organisers. Taking to Instagram, Vorasit Issara, owner of the five-star Sri Panwa Phuket Resort, singles out the female protest leader saying "she should be in prison".
"This bullshit has got to stop. She is not Thai. Who is she working for?
Sharing a photo of Panusaya, he adds, "arrest this child." Vorasit incorrectly asserted that Panusaya wasn't Thai. In fact she was born in 1998 in Nonthaburi and IS a Thai citizen.
His post has since gone viral, prompting outrage from those who support the anti-government movement. A hashtag calling for a boycott of his Sri Panwa Phuket resort has taken off on Twitter, at a time when almost all hotels are battling for survival, especially on Phuket.
Myanmar's Covid-19 spike causes mass lockdowns as Thai authorities scramble to seal the border
Myanmar is currently suffering a wave of Covid-19, causing concern in Thailand as its western border authorities bump up security measures and patrols.
Burmese authorities have been introducing increasingly draconian restrictions to control the sudden spread of the virus over the past 4 weeks. Whilst the case load is still relatively small, the concerns are focussing on the porous western borders of Myanmar onto adjacent Bangladesh and India, as well as the spike in cases in the largest city Yangon.
Yangon is now under a very tight lockdown as the city is quickly turning into the country's hotspot of Covid-19.
There were 610 and 6 new deaths in the past 24 hours. Yesterday 671 new cases of Covid-10 were reported
Indonesia's economy shrinks for the first time in 22 years
Indonesia's economy will contract for the first time since the Asian financial crisis in 1997/1998.
Gross domestic product is forecast to decline over 1% this year according to the country's Finance Minister. He said…
Southeast Asia's largest economy is struggling to contain the coronavirus pandemic as the number of new cases each day continues to set records. The worsening outbreak prompted the renewal of social-distancing curbs in Jakarta, measures that had battered growth in the second quarter this year.
Keep in contact with The Thaiger by following our
Facebook page
.
Never miss out on future posts by
following The Thaiger
.