Phuket
Warriors tame Tigers: Phuket hosts first Aussie Rules match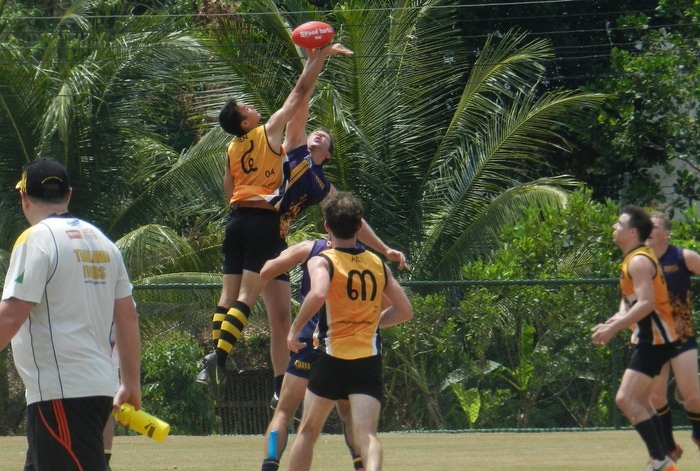 PHUKET: Australian football arrived in Phuket last Saturday, as the Thailand Tigers took on the Malaysian Warriors at the Alan Cooke Ground. The game was well attended by Phuket residents and families, as well as other supporters, many of whom were new to the game. The day also involved an Auskick clinic for junior players, which was a hit among both local and visiting children.
The Malaysian side came in to the game looking to even the ledger after being beaten by Thailand in the Asian Championships last year. They flew out of the blocks, kicking the first three goals of the match. However, the Tigers maintained their composure and were able to hit back with goals of their own before quarter time.
The second quarter belonged to the home side, with the Tigers able to pressure the Warriors into making mistakes with the ball through their defensive and tackling efforts. Although both teams continued scoring, the Tigers had moved to within seven points of the Warriors by half time.
In Australian football, the third quarter is known as the "premiership" quarter, and for good reason – the team that is in the lead at the end of it is in prime position to win the game. Both teams were well aware of this, and put in big efforts in the quarter's 20 minutes. As the game progressed, the spaces started to open up on the excellent field, which was prepared by Andrew McMillan. The Tigers ran hard and won plenty of contested ball, but it was the Warriors who were able to make the most of their opportunities when going forward. Their cleaner ball use and accurate kicking saw them take a five-goal lead into three-quarter time.
The final quarter saw the younger players among the Tigers consistently playing well and leading the way for their team, but to no avail. Thailand had to take more chances to score to pressure Malaysia, who were good enough to win the ball and score on quick turnovers. The final score was a 46-point win to Malaysia, 106 to 60. James Worland of Malaysia was awarded the best on ground, also kicking eight goals to be the leading goal kicker.
The Tigers will continue training before their next game, the ANZAC day tribute match in Kanchanaburi on April 25. The first game of Australian football in Phuket was a great success, and both teams are very keen to return next year.
— Tim Cole