Video Report: Get sweaty with a clean conscience: Phuket's Clean the Beach Boot Camp tomorrow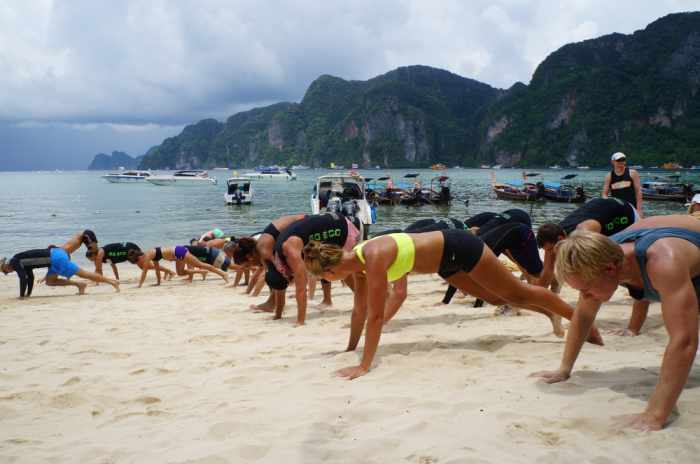 PHUKET: After their one-year anniversary celebration to Phi Phi, Krix Luther and the Clean The Beach Boot Camp gang will be back on their home turf at Nai Harn Beach in southern Phuket tomorrow.
Last month, over 50 eager boot camp participants, veterans and first-timers, piled onto Blue World Safaris' speedy catamaran for the anniversary event, banking on a day of dolphin watching, cliff jumping and snorkeling… and let us not forget a solid workout and a beach cleanup.
The anniversary participants scoured the workout area on Phi Phi Don for shards of glass before the warm up.
The warmup tapped into the inner beast of many participants as they scampered across the sands using quadrupedal movements that mimicked animal motor patterns, explained Krix.
The real workout, however, was intense body-weight training, with each participant fighting their own battle to finish as many reps as possible in 10 minutes.
Panting and gasping, participants cooled down with a short yoga session, then got physical with a match of tug-of-war.
With the fun and games having come to an end, it was time for the environmental enthusiasts to give back. Tourists stopped and stared as the sweaty mass of people spread out across the beach and began the cleanup. Several Chinese tourists stopped, and momentarily joined in.
On the boardwalk another group of five or six tourists stood and watched.
"One, two, three," one of them counted… there was a roar of applause, well, at least there was applause. Several others asked bootcampers to pose, rubbish in hand, for the ideal Phi Phi photo-op.
The Clean The Beach Boot Camp team set a new record for the number of bags of rubbish collected, which were quickly swept away by Tero Kenmas, manager of The Adventure Club. Tero promised to have it all properly disposed of.
"It went perfectly," Krix told the Phuket Gazette. "So many worries of things not happening, like the dolphins not turning up, or there not being any rubbish to clean up or not being able to dispose of the rubbish properly."
Though the beach was by no means miraculously transformed by the end of the day, it was better.
But perhaps more importantly, the boot camp had brought together a group of strangers, many of them Phuket expats who had never met, despite being nearly neighbors. These strangers had become part of the community Krix and the other loyal Clean The Beach Boot-campers are creating. A community that is helping to tackle the environmental issues that face Phuket with clear eyes, clean minds and strong bodies.
"Tomorrow is going to be good. The weather will be perfect and it gives other people who were put off by the whole 'boot camp' to give it a try. It will just be one hour of yoga – nice, easy and very relaxing – then we clean as normal," Krix said today.
The Clean the Beach Boot Camp, the event and community, is open to everyone: locals, tourists and expats. If you aren't feeling like working out, you can still visit or live in Phuket with a clean conscience by joining the team on Nai Harn Beach at 10am tomorrow.
— Isaac Stone Simonelli
Want more from the Thaiger family?
📱 Download our app on Android or iOS for instant updates on your mobile
📧 Subscribe to our daily email newsletter
👍 Like/Follow us on Facebook
🔔 Subscribe to or Join our YouTube channel for daily video updates
Phuket police search for foreigners who were seen drinking beer at a restaurant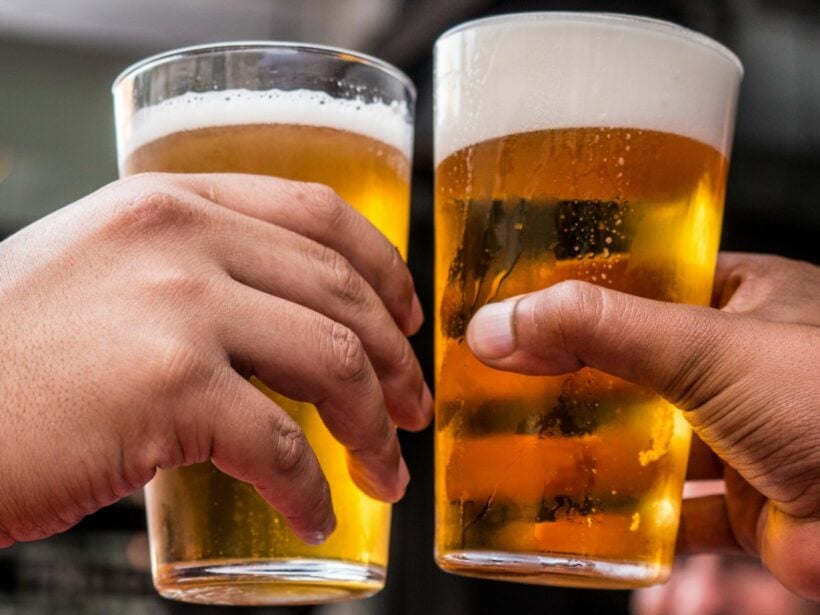 Phuket officials are serious about disease control orders banning parties and gatherings with friends, especially when alcohol is involved. They're so serious, that apparently they're searching for 4 foreigners who were seen drinking beers at a restuarant in Rawai.
Police raided the restaurant yesterday at a complaint from a woman who works for the local district office. She was out on a campaign pushing for locals to wear face masks when she noticed that some people were sitting at the Roxanne restuarant, having a beer. Photos as well as a video was sent to the police showing a group of 4 foreign men and 2 Thai women sitting at the restaurant together.
Along with police officers, local officials from the Muang District Office and Rawai Municipality showed up to the restuarant. Reports say the men were seen driving off on motorcycles just as as the team of 10 officers and public officials arrived. The beer was still on the table when police arrived.
Officers took the owner of the restaurant and 4 of the employees to the Chalong Police Station. The owner is facing charges of breach of the provincial order banning the sale of alcohol and allowing the consumption of alcohol on the premises.
Just last week, police raided a home in Cherngtalay, breaking up a gathering of 6 people. 2 men from the UK who work in Phuket were taken to the police station and fined 6,000 baht whilst police were still waiting for another 4 people to present themselves at the police station.
As part of the disease control measures to contain the spread of Covid-19, preparing Phuket for a possible Covid and quarantine-free reopening in July, officials have banned social activities and gatherings, with the expection of traditional events like funerals. Phuket authorities have warned that foreign residents who break the rules could be subject to being deported.
SOURCE: Phuket News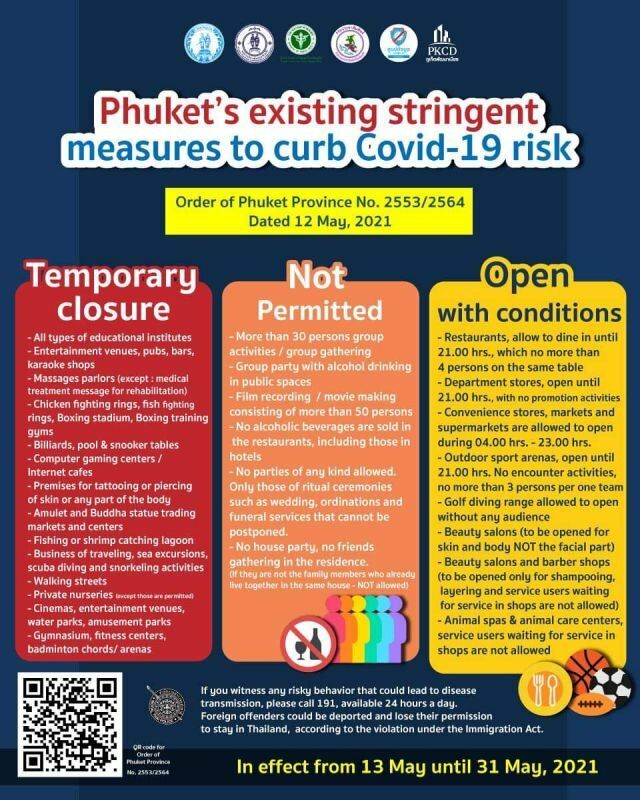 Want more from the Thaiger family?
📱 Download our app on Android or iOS for instant updates on your mobile
📧 Subscribe to our daily email newsletter
👍 Like/Follow us on Facebook
🔔 Subscribe to or Join our YouTube channel for daily video updates
12 Covid-19 violators busted drinking on Patong Beach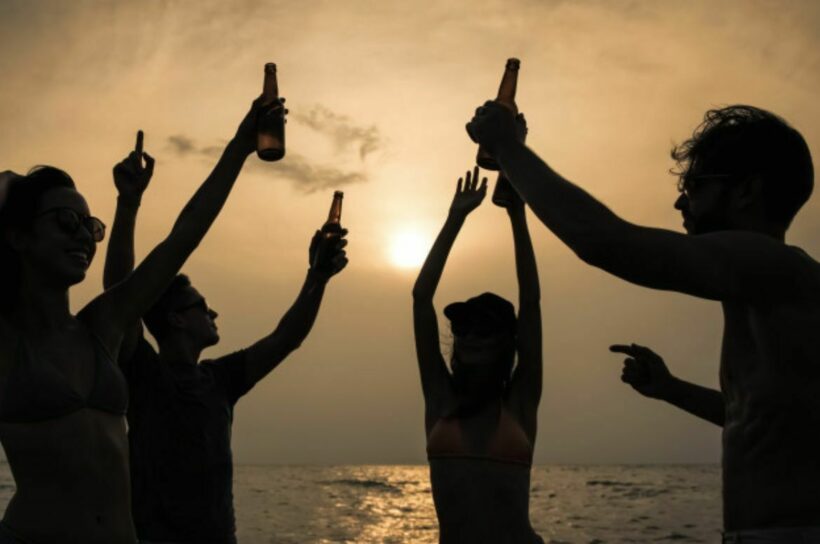 12 violators of Covid-19 restrictions, of Thai and foreign origin, have been arrested and taken into custody by police for gathering and drinking in public on Patong Beach. The Covid-19 measures currently in place in Phuket ban all get-togethers involving alcohol, limiting the number that can drink together to just 2 people. The group were arrested for violating this order and for drinking in public.
According to the police the group had 3 foreign men in it along with 5 Thai women and 3 Thai ladyboys, so for those keen at maths the details of the 12th person were not revealed. The Covid-19 rule violators were arrested Friday night in Patong on the walkway along the beach on Thaweewong Road, the popular beachfront road.
Police noted the specifics of their liquor stash, confirming that the group had 2 bottles and 8 cans of Thai beer, 2 imported beers, 4 wine coolers, 4 soda waters, and 2 bottles of Thai liquor. The stash was confiscated by the police.
The perpetrators were brought to Phuket town to the Phuket City Police Station. There they were met by the Phuket Vice governors and medical personnel from Vachira Phuket Hospital. The medics administered swab sample Covid-19 test to each member of the group of restriction violators.
The Vice Governor reminded people that these restrictions were put in place after more than 20 people tested positive for Covid-19 from a small group of people drinking together. That is why the regulations allow just two people together when alcohol is involved. He stressed that police and government officials have been instructed to crack down on violators to try to quickly curb the spread of Covid-19 for a chance at reopening to international tourism July 1st.
Officials asked the public to work together to attempt to eliminate the spread of Covid-19 in Phuket and instructed anybody who sees violators of the Covid-19 restrictions to contact the police immediately. Sentence and fine details were not yet available for the group of 12.
SOURCE: The Phuket News
Want more from the Thaiger family?
📱 Download our app on Android or iOS for instant updates on your mobile
📧 Subscribe to our daily email newsletter
👍 Like/Follow us on Facebook
🔔 Subscribe to or Join our YouTube channel for daily video updates
Covid-19 mask violators in Phuket forced to exercise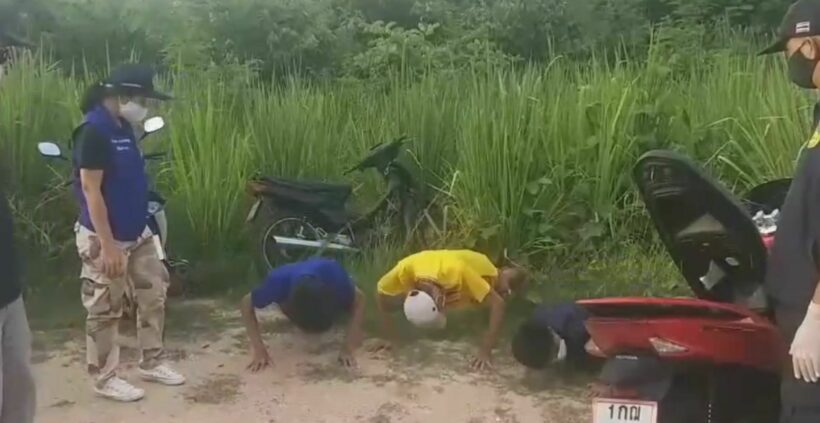 For those who have more pounds on their body than pounds in their pocket, exercise punishment seen in Phuket yesterday for mask violators may or may not be welcome. Officials have walked back the strict 6,000 baht punishment for the first warning against someone not wearing a mask and were spotted forcing those who have gone out without a mask to do exercise on the street.
The people forced to exercise were at a Covid-19 checkpoint in the Rawai subdistrict, where the Chalong Police along with local medical workers were checking people yesterday. The checkpoint was set up in an effort to push one hundred per cent mask compliance to stop the spread of Covid-19 on Phuket.
Not only were they checking everyone who passed by to make sure they had their masks, but also to correct those who were wearing their masks improperly. We've all seen the people who seem to think that a mask on their chin or underneath their nose is somehow just as effective as a properly worn mask, or at least that they can get away with "wearing a mask" while limiting their personal inconvenience.
Officials were quick to point out that the overwhelming majority of people passing through the checkpoint, both foreigners and Thai, did have their masks with them and were wearing them properly. But they did catch more than 10 people not wearing their face mask or not using them correctly.
Authorities decided to let them off with a first soft warning by moving bodies instead of moving baht. Police made violators do exercise right there on the street in hopes of shaming them into making better decisions next time. All violators did have their names and details taken down with a promise that if they were caught again proper traditional fines would be handed down.
No word yet on any plans to make this punishment into a Tik-Tok Channel.
SOURCE: The Pattaya News
Want more from the Thaiger family?
📱 Download our app on Android or iOS for instant updates on your mobile
📧 Subscribe to our daily email newsletter
👍 Like/Follow us on Facebook
🔔 Subscribe to or Join our YouTube channel for daily video updates