Video Report: Orangutan saved, new laws needed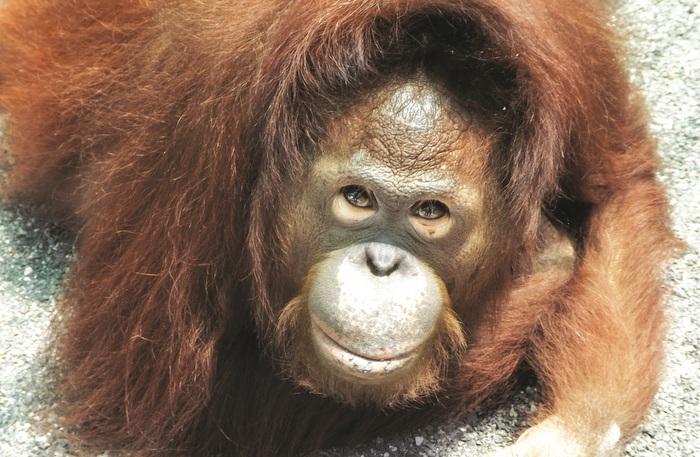 PHUKET: Last week's rescue of the Phuket Zoo orangutan, Milo, led to a firestorm of social and political activity bolstering efforts to close legal loopholes abused by exotic animal traders in Thailand.
An amendment to the Wildlife Preservation and Protection Act BE 2535 (1992) that will require those who posses animals named on the Convention on International Trade in Endangered Species of Wild Fauna and Flora (CITES) list to have proof of the origin of the animal, as well as a permit for them, will be put in front of the National Council for Peace and Order this week.
"This isn't just about Milo in Phuket. We believe there are many more illegally owned orangutan in Thailand. However, at this point we have no idea how many," said Metee Meechai, director of the Wildlife Conservation Office, Protected Area Regional Office 5 of the Department of National Parks, Wildlife and Plant Conservation (DNP). "If you are in possession of one of these great apes, or know someone who is, please bring them to us. At this point, we can ensure that you will not face the full force of the law."
Thailand joined CITES in 1983, but failed to implement any laws that empowered officers to enforce regulations in line with CITES until 1992. Nonetheless, the Wildlife Preservation and Protection Act, BE 2535 (1992) came with a grandfather clause that allowed those already in possession of orangutans to do so legally.
Additionally, the breeding of orangutans in Thailand is legal, as long as both great apes are legal, explained Mr Metee.
"Both of these have caused massive legal loopholes that are being taken advantage of by criminals," said Mr Metee.
However, the founder and director of Wildlife Friends of Thailand (WFFT), Edwin Wiek, who was instrumental in securing Milo's freedom, confirmed that a number of orangutan owners were already feeling the pressure of the proposed new law.
"There are still many other illegal orangutan being raised in Thailand. Some of those raising them are now afraid of the law; they are contacting us, asking us to take the orangutan from them," Mr Wiek said.
Following the news of the disappearance of Milo from the Phuket Zoo ahead of a police raid last week, a three-year-old orangutan was abandoned in front of the WFFT office on Monday, Mr Wiek noted.
According to the Thailand CITES office, there are only three orangutans that have been legally imported into the Kingdom since 1983. They were imported from Taiwan by The Zoological Park Organization under the patronage of the King of Thailand.
All other orangutans in the Kingdom have been either illegally smuggled into Thailand or are the offspring of orangutans that were in the country before the law came into effect.
"We have no records of these animals or their offspring, making it nearly impossible to enforce the laws we currently have," said Mr Metee. "We need more funding so that we are able to conduct genetic testing on all orangutans in Thailand."
Mr Wiek concurred with Mr Metee with regards to the need for improvements in the way orangutans are accounted for and documented in the Kingdom.
"They need to construct a genetic database. However, such a task is expensive, labor intensive and time consuming – it's hard for the DNP to justify using their limited resources this way," said Mr Wiek.
"Therefore, the long-term solution is pushing through the new Wildlife Preservation and Protection Act, which clearly states that those in possession of CITES listed animals must prove that they have come by them legally."

SMUGGLING
The demand for orangutans in Thailand is fueled by domestic and international tourists' desires to see the exotic great ape, explained Mr Metee.
"Most orangutans here were smuggled in from Malaysia or Indonesia aboard fishing boats or small cargo boats," said Mr Wiek. "Hat Yai district in Songkhla is a well-known point of entry for illegal orangutans."
The 12 illegally imported orangutans found in Phuket in 2008 were imported through Hat Yai district, confirmed Mr Wiek, who had received an anonymous tip that the apes were being held at the now defunct Phuket Crocodile Farm and Tiger Zoo.
Before the facility was raided, however, the animals were found in cages along a roadside.
In response, DNP officers and CITES officials have since set up a number of checkpoints along the Thailand-Malaysia border, as well as at airports and piers.
"However, criminals always find a way. Thailand is especially vulnerable to smuggling because of the numerous small islands along our coast," Mr Metee said.
DISAPPEARING, REAPPEARING MILO THE ORANGUTAN
The issue of orangutan smuggling went under the spotlight in Thailand after 13-year-old orangutan Milo, who conservationists were fighting to free from the Phuket Zoo, went missing ahead of a raid on the facility on February 19.
Pressure on the zoo began to mount after local animal-rights activist Vicki Kiely, garnered more than 8,000 signatures on the online petition 'Save Milo' on Change.org.
"Natural Resources and Environmental Crime Division (NRECD) of the Royal Thai Police and Department of National Parks (DNP) agreed to investigate the case of Milo," Mr Wiek explained on February 19. "The DNP regional wildlife office found that Milo was probably illegally being kept at the Phuket Zoo, as there was no orangutan legally registered at the location."
However, police officers arrived at the zoo only to find that Milo was gone.
"All her photos with tourists were also removed from the zoo; they were even deleted from the Phuket Zoo's website," Mr Wiek said.
"The owner of the zoo told the group of police and witnesses that he had released Milo into the Khao Phra Thaeo Non-hunting Zone, a small patch of rain forest on Phuket. He further claimed that this was where he found her two years ago."
The next evening, Khao Phra Thaeo Non-hunting Zone officers discovered Milo locked in a tiny cage deep in the jungle.
"I went to her first thing Sunday morning and she was still stuck in the cage. The door was padlocked, no keys were found in the area. They eventually had to hammer open the lock at the Phang Nga Wildlife Nursery Station, which took a good 20 minutes," said Ms Kiely.
Milo was taken to the station before being moved to the Khao Prathap Chang Wildlife Sanctuary in Ratcha Buri, which already houses a number of orangutans.
"When she finally got out of the cage, we walked with her about 20 meters before she fell flat on her tummy," she said. "She is still overweight and will need to go through some rehabilitation."

ZONING IN ON ZOO

The conspicuous resurfacing of the great ape was one of many issues Mr Wiek tabled during a meeting with DNP Deputy Director Adisorn Nuchdamrong on Tuesday.
"Not only were they keeping an endangered animal without a licence, they released an invasive species into a protected jungle without permission," Mr Wiek alleged. "Additionally, I was told that officers will be looking into if the zoo was responsible for abandoning the orangutan in the cage, and whether or not this would be classified as animal torture."
Piyawat Sukhon, head of Khao Phra Thaeo Non Hunting Zone, confirmed to the Phuket Gazette that the DNP has ordered a full investigation into the zoo.
"The first question we need to answer is how they obtained Milo, then we need to look at how she escaped notice when officers inspected the zoo every three months," said Mr Piyawat. "Additionally, we will see whether or not Milo was raised and cared for properly. If not, charges of animal cruelty could be added to charges of the illegal possession of an orangutan."
The penalty for the illegal possession of a CITES listed animal is a fine of up to 40,000 baht, four years in prison or both.
Animal-rights activist are calling for the closure of the Phuket Zoo after the story of Milo blew up online, reported The Nation.
When contacted by the Gazette, Phuket Zoo employees declined to comment.
"Thailand has promised other countries that they will adhere to the rules of CITES. I don't want Thailand to fail to follow through on our promises," said Mr Metee.

— Kongleaphy Keam

Join the conversation and have your say on Thailand news published on The Thaiger.
Thaiger Talk is our new Thaiger Community where you can join the discussion on everything happening in Thailand right now.
Please note that articles are not posted to the forum instantly and can take up to 20 min before being visible. Click for more information and the Thaiger Talk Guidelines.