Two elephants join Phuket migrant labor force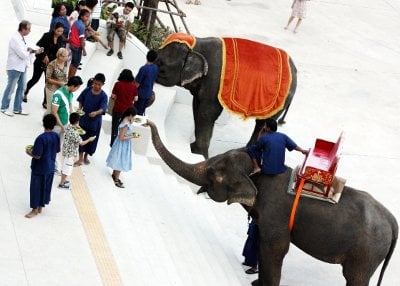 PHUKET: Two young elephants were approved to work in Phuket this week, bringing the total number of registered pachyderms on the island to 190, which is 14 more than the existing limit set by the Provincial Office in 2003.
The increase in the number of elephants beyond the set limit was noted during the meeting by Phuket Provincial Livestock Chief Weerasit Phutthipairote.
However, Phuket Vice Governor Somkiet Sangkaosuttirak appeared unworried.
"Since any elephant brought onto the island has to be approved by our committee first, I think things will be okay," V/Gov Somkiet said.
"The examination [of the elephant identification papers and future living conditions] will continue to be strict," he added.
The two new female elephants, Pooklook, 5, and Thida,10, will be performing at the Siam Niramit theater along with two other elephants already owned by the company.
The committee approved the elephants based on a review of their identification papers, which confirmed they were born in captivity and not taken from the wild. The committee also took into account several other factors about the elephants' future living conditions.
However, the committee plans to re-examine the elephants' identification documents on arrival in Phuket, as allegations of fraudulent identification documents has been rife in recent years.
Pooklook and Thida are currently at Dream World amusement park in Bangkok, owned by the same parent company.
They will be transferred to Phuket as soon as the Livestock Office has approved all the necessary documents, explained Santi Paengnukroh of Siam Niramit.
Wildlife activist Edwin Wiek, founder of the Wildlife Friends Foundation Thailand (WFFT), expressed concern that local officials showed so little concern for breaching regulations established by their own offices.
"It's a typical issue of the moment. Any issues involving animals seem to be of no concern to government officials," he said.
"I don't remember exactly why they came to this 176 elephant limit, but I think it was because there was too much competition going on at the time and the animal welfare standards were pretty bad for the elephants as a result. If that's the rule, they should live up to the rule or change the rule. They are just stepping over their rules on the spur of the moment, always coming up with an excuse."
The Dutchman said he was unaware of any legal cases brought against parties who had elephants seized in during inspections on the island in January or February this year.
"All of the cases were settled, which is outrageous…I can only say from an animal welfare point of view that if these animals surpass 190 in number, how can officials ensure that their living standards will be okay?" he asked.
As for the documentation process, he said it was almost impossible to tell with certainty from identification papers if baby elephants were actually born in captivity or captured in the wild because the process does not involve DNA information.
Asked about the effectiveness of microchips, he said:
"Microchips can easily be taken out, either when the elephant is dead or when you don't want it anymore. It's just that simple. It's like a license plate on a car. You can just take the screws out and put it on another car. If you don't have the chassis number, you can drive a stolen car forever. So the chassis number is the DNA of the elephant, and the microchip is the license plate," he said.
His own efforts to establish a more watertight system of ID cards, as is already in place in many countries, have so far found little resonance with Thai officialdom, he said.
However he expects such a system to be introduced by the government itself in a few years time, probably before the next CITES conference to be hosted in Thailand in 2013.
Mr Wiek said he plans to meet soon with Democrat Party officials interested in animal welfare laws.
"We'll see how that goes," he said.
In the shorter term, he is preparing to defend himself in a Petchburi Court against charges of "assisting in crime" brought against him by the Department of National Parks.
The case followed a complaint by DNP Director-General Damrong Phidet, who said that he should be charged with "assisting in a crime" following a highly-publicized raid of the WFFT sanctuary in Phetchburi.
Mr Wiek views the raid and subsequent charges against him as a vendetta for an expose about the trade in baby elephants that led to the inspections early this year.
He said the charges were outrageous because he currently is not a member of the WFFT board, of which his Thai wife is chairperson.
He added that his own wife is so fed up with the DNP-WFFT dispute that she has asked for a two-week vacation to the Netherlands "just to get away from Thailand for awhile".
— Atchaa Khamlo & Stephen Fein
Keep in contact with The Thaiger by following our
Facebook page
.
Never miss out on future posts by
following The Thaiger
.
Thai-Chinese Chamber of Commerce to propose Guangzhou-Phuket tourism route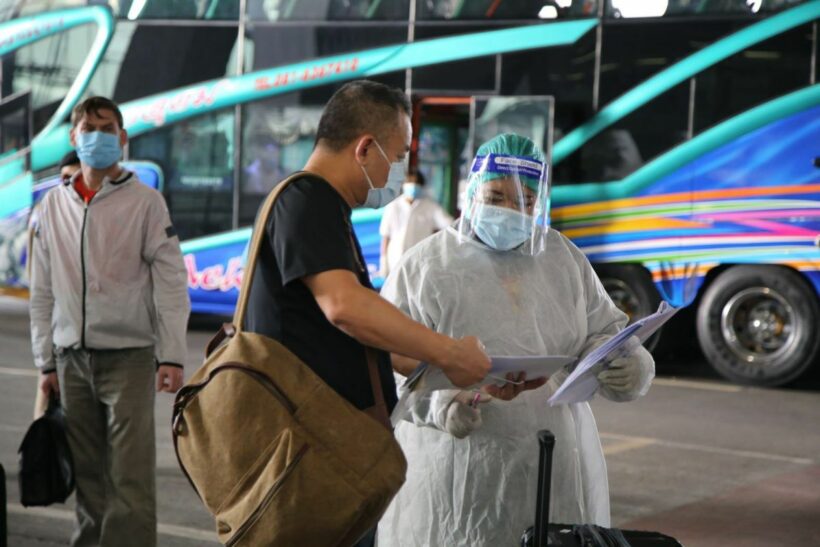 A tourism route from Guangzhou, China to Phuket could help the island province recover from the recession brought on by the pandemic and lack of foreign travel, according to the Thai-Chinese Chamber of Commerce. The president of the organisation, Narongsak Puttapornmongkol, says they plan to submit a letter proposing the route under a travel bubble scheme to the Centre for Covid-19 Situation Administration.
The Thai-Chinese Chamber of Commerce is proposing a travel bubble with around 20 cities in China with no recent coronavirus infections and considered to be at a low risk of spreading the virus. Travellers from Guangzhou recently entered Thailand on the new Special Tourist Visa. It was the second flight of international tourists since travel restrictions were imposed in late-March.
"We believe that the Travel Bubble and the quarantine reduction will resolve the tourism business, which is a huge economic opportunity to recover."
Once a vaccine is widely available, Narongsak suggests that those who wish to Thailand could also present their vaccination certificate or examination reports from the place of origin. He adds that the mandatory state quarantine period is likely to be reduced.
SOURCE: Pattaya News
Keep in contact with The Thaiger by following our
Facebook page
.
Never miss out on future posts by
following The Thaiger
.
Phuket officials concerned about virus risk from undocumented migrant workers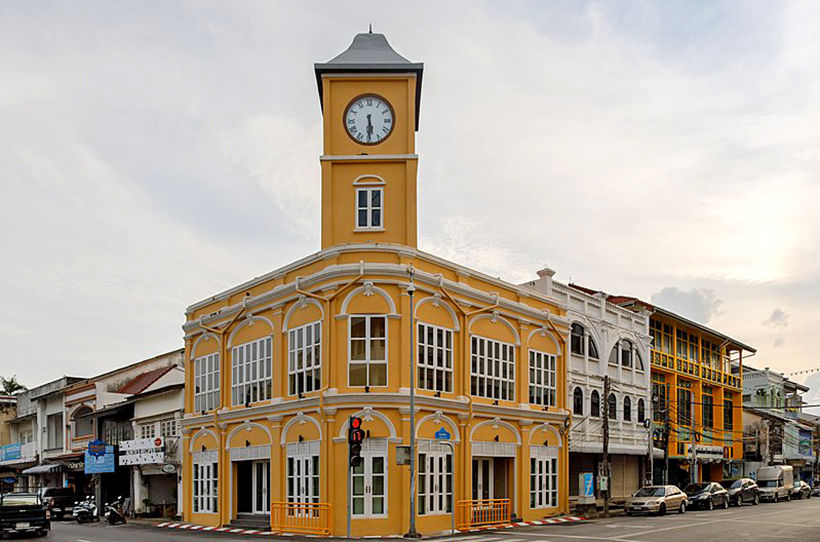 The discovery that 3 Thai nationals infected with Covid-19 returned from Myanmar and bypassed health checks and quarantine, has officials in Phuket on high alert. Over the weekend, it was discovered that a 29 year old Thai woman had illegally crossed from Myanmar and subsequently tested positive for Covid-19 after admitting herself to a Chiang Mai hospital. 2 other women who worked with her have also tested positive for the virus.
Phuket's deputy governor, Pichet Panapong, says news of the 3 infected Thai women who managed to enter Thailand without undergoing any health checks or mandatory quarantine, has officials on the southern island worried. He adds that local authorities are monitoring Burmese workers, calling on them to follow disease control measures if returning to Phuket from Myanmar. (It would appear he missed the bit about the 3 infected women being Thai, not Burmese)
In a report in the Bangkok Post, Pichet says officials are considering setting up a quarantine facility for any migrant workers already in Phuket illegally, adding that of the 59,900 registered migrant workers on the island, 80% are Burmese. The Thailand/Myanmar border is longer than 2,000 kilometres with hundreds of official and "natural" border crossings.
"People can also act as eyes and ears for the authorities. If they find something suspicious in their communities, they should alert immigration police or local police."
Phuket has 21 alternative quarantine properties, offering over 2,500 rooms in total, but arrival numbers are low. It's understood that only 11 people have applied to enter Phuket in the period December 4 – 12, and so far, only a single application has been received for January. There are currently 726 people in local quarantine, 20 in alternative local quarantine, and 4 people carrying out yacht quarantine. Since Phuket agreed to receive foreign-registered yachts, 6 vessels have entered its waters, with all passengers and crew carrying out quarantine on board, 6 kilometres from shore.
Pichet says that, at a meeting of the communicable disease control committee, the Thai Yachting Business Association submitted a proposal to manage cruise ships, and officials have also received a request to extend the opening hours of shopping malls over the New Year holiday.
SOURCE: Bangkok Post
Keep in contact with The Thaiger by following our
Facebook page
.
Never miss out on future posts by
following The Thaiger
.
Re-opening Thailand to tourism will be vaccine dependent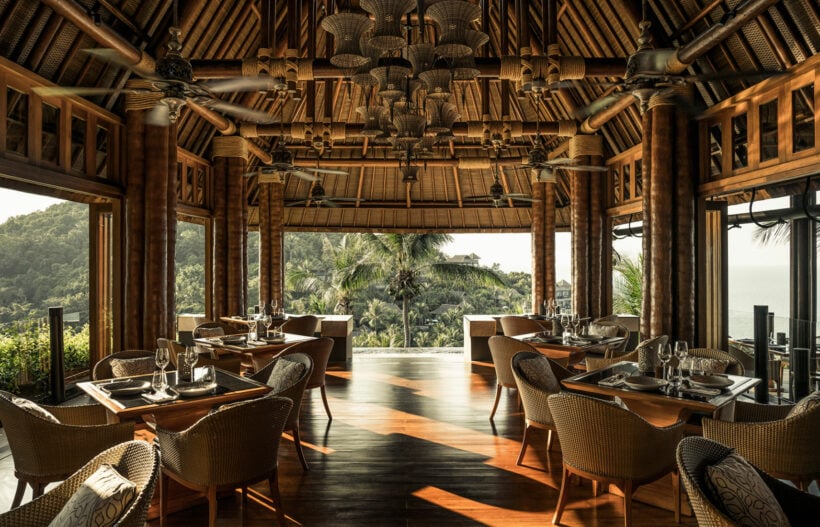 Bill Barnett from c9hotelworks.com continues to follow the difficult journey of the Thai hospitality industry. Traditionally, now would be the start of the country's highly profitable high season for the tourism industry. But not this year. Thai hotels find themselves in the middle of an existential crisis – either still closed, only partly open, or one of the few converted to limited ASQ traffic. The situation is dire, when you consider that between 15-20% of Thailand's GDP is linked to tourism.
In a speech this week Thailand's Prime Minster Prayut Chan-o-cha spoke clearly that only when a vaccine is approved, produced, and implemented, would the country open to substantial tourism. Given the current timelines and forecasts, this may not be likely until mid-2021 at the earliest, though subject to advancement if the process could be accelerated, which is unlikely.
For tourism and hotel stakeholders, the writing is on the wall that 2021, for the most part, will see a continued reliance on domestic travellers, and only in 2022 will there be a large-scale return in numbers of overseas visitors.
Given the winter spike in Asia, Europe, and North America of Covid-19, Thailand is not alone in relying on the vaccine to return tourism but the process will not be instant and the re-openings of borders will most certainly be staged.
HERE's a list of 113 Alternative State Quarantine hotels.
The business reality for Phuket and across Thailand is to plan for the worst in the coming six months and only expect 2022 to see a notable uptick.
Currently, the hotel sector continues to advocate to the Thai government and Central Bank for debt and financing relief measures and assistance in a social security supplement to retain staff.
While it's negative news, it at least allows for hotels to understand the challenges ahead, plan and adjust their operating models going forward. 'Survive the downturn' is the new mantra.
No vaccine, no entry. Read more HERE.
No vaccine, no flight. Read more HERE.
Keep in contact with The Thaiger by following our
Facebook page
.
Never miss out on future posts by
following The Thaiger
.