Phuket
Time bomb found in Pa Khlok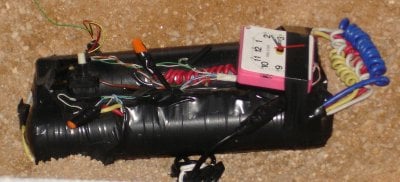 PA KHLOK: Police explosives experts from Takua Pa last night used a controlled explosion to destroy a time bomb found in a quiet residential street of the east Phuket village of Baan Pa Khlok.

The device, according to Phuket Provincial Police Chief Maj Gen Suwit Othong, consisted of two sticks of C4 plastique wrapped tightly in black insulating tape and connected by wires to a cheap alarm clock. He said he believed the bomb was the work of an expert.

Police say that the bomb was set to go off at 5:30 yesterday afternoon, but the clock apparently stopped at 3:10.

The device was discovered in the early evening at the foot of a wall that surrounds a cold storage facility, used to store fish and meat, on Soi Na Neua.

The father of the storage facility's owner, Jong Kuha, who found the bomb, said that initially he thought it was a toy, but that he decided to play safe and called the Thalang police.

Officers blocked the road at both ends and covered the device with a bomb blanket while they waited for the arrival of the explosives experts.

The experts carefully placed the device in a box full of sand, lifted this into the back of a pickup truck, and then drove it out into the countryside.

There, they placed it in a meter-deep hole dug in a plowed field before setting it off in a controlled explosion.

The drama surrounding the bomb has inevitably brought speculation that separatist violence in the Deep South of Thailand may be spreading to other provinces, with militants targeting the tourism industry.

However, the bomb was placed outside a building owned by a Muslim, in the middle of a mixed Muslim-Buddhist community, and far from any facilities used by tourists.

Pol Capt Udom Hormnoom, of Thalang Police Station, theorized that the attempted bombing might have been prompted by a business dispute, but Teerayuth "Lone" Kuha, the Muslim owner of the cold storage facility, denied that he had any business disputes with anyone.

Initial investigations are focusing on the source of the C4, which police say would normally be available only to Royal Thai Navy explosives experts.