Phuket
The second Phuket Classic bodybuilding competition comes to a close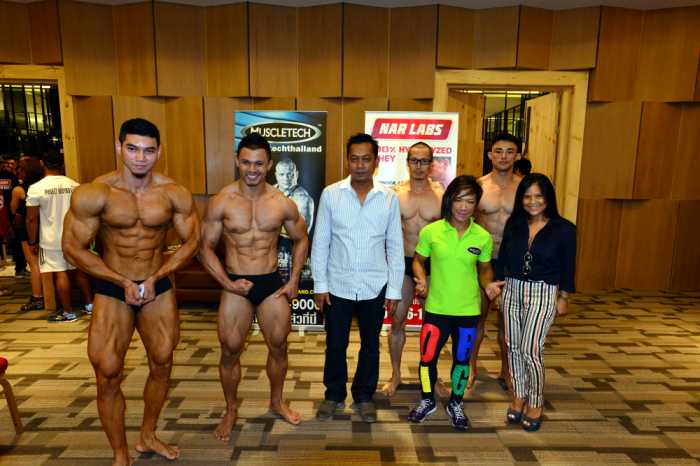 PHUKET: Shoppers at Central Festival were surprised to find more than 150 oiled-up bodybuilders strutting their stuff for the "Phuket Classic" bodybuilding and modeling competition yesterday.
In its second year, the competition was organized by Wilaiporn Wannaklang, president of the Phuket Bodybuilding Club and reigning Women's World Champion.
Ms Wilaiporn took a moment during Saturday's hectic weigh-in at the Dara Hotel Phuket to discuss her introduction and evolution in the world of bodybuilding, which has led to her role as the driving force behind Phuket Classic.
"I started training seven years ago after I saw some guys with big muscles. I thought they looked nice and when a friend asked, 'hey, you want to go do something to keep healthy', it sounded really appealing."
Like many others, Ms Wilaiporn was prone to the addiction of working out.
"Every day that I missed going to the gym, I would think, 'I miss that feeling'," she said.
"My first competition – after I trained for about three months – was at the Thai National Games and I got third place because there were only four girls! I thought, 'I'm not last, that's amazing'!"
She thrived on the personal challenge and basked in the spotlight.
"On stage, you get another feeling and I felt like this was my world, this was my place and I was proud of myself."
She admits to her misconceptions of the bodybuilding culture, saying she found a nurturing environment.
"The big muscleman in my thoughts before had to be crazy, but no, all of them spoke so nicely and were so kind to me – they try to help and support you, and to give you knowledge," she said.
After four years of training, she was number one in Thailand and now has 21 awards to her credit.
Ms Wilaiporn explained that organizing the Phuket Classic is more of a labor-of-love than anything. She has volunteered countless hours of her time to put Phuket on the map for bodybuilding events in the Kingdom.
"I think the future will be better because there are more people and we are getting more support and sponsors," she explains.
One such sponsor is the recently completed Dara Hotel Phuket. Located at the Darasamuth intersection near Central Festival, the hotel finished a new building about four months ago, while their existing structure is undergoing renovations that will be completed by the end of this month.
The hotel's new general manager, Rewat Watayaung, recently relocated from Bangkok to be the fresh face of the hotel.
"The team [Phuket Classic organizers], came to ask my boss if the hotel would consider sponsoring the event and he said 'yes' immediately," explained Mr Rewat.
The hotel, which mostly caters to businesspeople and tourists from China, provided discounted rooms for those taking part in the event, as well as use of their facilities and catering support for Saturday's busy weigh-in.
"We thought that this is a great event… and is becoming more recognized by guests and visitors around Phuket. It is a great opportunity for us to be associated with this event and provide sponsorship," Mr Rewat said.
The hotel is excited to promote their new facilities and sees their convenient, central location, particularly appealing to a certain demographic.
They are also sponsors of next month's Asian Beach Games and have received about 140 reservations already, filling the hotel to capacity from November 11-22.
The results of the 2014 Phuket Classic bodybuilding competition:
1. FEMALE OPEN – MODEL PHYSIQUE
1st Place = Ms. Sujinda Thongthawin (Phuket Bodybuilding Association)
2nd Place = Ms. Thirada Kakhun (Nonthaburi Bodybuilding)
3rd Place = Ms. Sattabongkot Simmen (Sports of Thailand)
4th Place = Ms. Lapapat Muangthong (Mutant)
5th Place = Ms. Jidapa Sittiboonyakarn (Mutant)
2. FOREIGNER OPEN – MEN
1st Place = Mr. Kumareswarren Ramasamy (Strong Gym)
2nd Place = Mr. Vladyslav (Elite Gym Samui)
3rd Place = Mr. Peyman Sadeghipari (Rasha Gym)
4th Place = Mr. Monamad Jalouk (Strong Gym)
5th Place = Mr. Saeid Shotorbani (Tony's Fitness)
3. YOUTH NOT OVER 20 YEARS – MEN
1st Place = Mr. Tortrakul Chathem (T.M. Muscletech)
2nd Place = Mr. Teerapong Tibprom (T.M. Muscletech)
3rd Place = Mr. Pornpawit Nuanrat (Marshal Fitness Pattalung)
4th Place = Mr. Rattasart Chunhaampai (Por Por Ror Rajchawittayalai)
5th Place = Mr. Sippakorn Saraaksorn (Somchai Gym)
4. MEN'S BODYBUILDING – UP TO 65 KGS.
1st Place = Mr. Supachai Somboon (Muscle Tech Thailand)
2nd Place = Mr. Sawet Buain (Chiangrai Bodybuilding)
3rd Place = Mr. Wichien Jamjaras (Muscletech Thailand)
4th Place = Mr. Chawinroj Kacharungroj (Muscletech Thailand)
5th Place = Mr. Detchana Dabtook (Ranong Fitness)
5. MEN'S BODYBUILDING – UP TO 75 KGS.
1st Place = Mr. Jakarat Intarangsi (Strong Gym & Fitness Team)
2nd Place = Mr. Tanongsak Tinkaoyao (Nai Harn Gym)
3rd Place = Mr. Jumpol Sitthiyanon (Nai Hran Gym)
4th Place = Mr. Wisuth Tonnam (Power Gym Thalang)
5th Place = Mr. Witoon Noonnasang (Phuket Samakkee Gym)

6. ATHLETIC PHYSIQUE – MEN (HEIGHT UP TO 170 CMS)
1st Place = Mr. Anas Poomeesuk (Muscletech Thailand)
2nd Place = Mr. Akepol Sukthong (T3 Trang)
3rd Place = Mr. Pongnapat Akkaradechanan (Nai Harn Gym)
4th Place = Mr. Pongpak Jaroonratch (Muscletech Thailand)
5th Place = Mr. Polpat Tanhaseng (Kon Kaen Bodybuilding Association)
7. MEN MODEL PHYSIQUE (HEIGHT UP TO 175 CMS)
1st Place = Mr. Rattapol Mookdasanit (Muscletech Thailand)
2nd Place = Mr. Jirawat Trakulma (Mutant)
3rd Place = Mr. Krittin Ponganant (Phuket Bodybuilding Association)
4th Place = Chatchawal Rattanapinyopong (Muscletech Thailand)
5th Place = Mr. Sarawut Auonchan (Unit 27)
— Jeremie Schatz