Swimming skills for life surface at Phuket's Thanyapura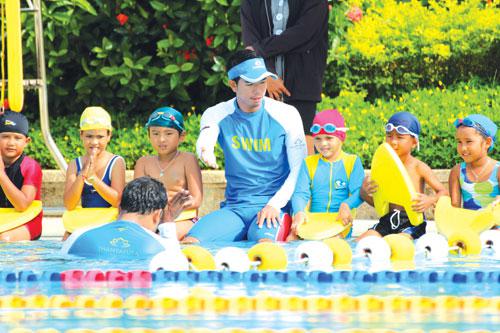 PHUKET: Water is integral to the Phuket lifestyle – to the island way of life. Yet, surprisingly, many locals born and raised in this tropical paradise risk growing up without ever learning how to swim.
Avoidable, tragic drownings are an all-too-common reminder and result of this deplorable lack of swimming knowledge and skills. It's easy for us to take our own childhood swimming lessons for granted, which leads many to overlook the fact that many local youths simply don't have the same access to resources and opportunities that we may have had to learn the basic recreational, if not essential survival, skill of swimming – one that really ought to be declared a human birth right.
Looking to make a difference, the owner of one local private school has joined up with Thanyapura in a pilot CSR (Corporate Social Responsibility) initiative to facilitate swimming lessons for 200 local kindergärtners.
Speaking to the Gazette about the new program, Thalang Wittaya School owner and head mistress Kiranee Narabal said: "We are providing this opportunity for all of our K2 and K3 [4-6 year olds] students, or six classes of about 30 pupils each, who will get swimming lessons for one hour a week over the duration of two months," she said.
Ms Kiranee went on to reveal how the idea for the program, which began early November, came about.
"As a member of Thanyapura, I've known about their wonderful facilities for some time and have been thinking about how we could collaborate. So I got to talking with head swim coach Randy Simon about opportunities for a local private school such as my own, where space and facilities are limited, and proposed the idea of providing regular swimming lessons for our kindergärtners."
Ms Kiranee's "win-win" proposal was simple: her school would provide eager, local children, and with its world-class facilities, lifeguards and coaches, Thanyapura would facilitate the swimming lessons – all at a minimal cost.
"The parents are all pleased to pay a nominal fee to cover the transport costs but we aren't making anything extra," she noted.
Ms Kiranee emphasized that the program's objective is not only for her children to learn how to swim for the sake of recreation, but also to ensure that the kids acquire an important survival skill.
"As Phuketians, we should all have the basic knowledge and skill [of swimming]. It is my hope to raise the standard of our children and school by giving my pupils more enriching opportunities like this," she said.
Thanyapura head swimming coach Randy Simon reiterated the program's prime objective.
"First and foremost, our aim is to ensure that the kids feel comfortable and safe around the water – including not only being able to swim themselves, but being able to spot dangerous situations and being able to get help if they see someone that is in trouble," he said.
The pilot program is perfectly matched with Thanyapura's CSR philosophy to not only provide holistic sporting and health – mental and physical – knowledge and opportunities for the local community, but also to seek out and foster the development and potential of the local talent pool.
Asked about his impressions of the program so far, Thanyapura's head swimming coach Randy Simon insisted that it's not only the kids benefiting.
"Working with the kids has been fantastic for us. They're really excited to be here and to have the opportunity to learn how to swim. Most of them take to the water quite well, and this is the perfect age for them.
"They're always anxious to get in the pool and at the end they don't want to get back out of the water… Just to see them smile and enjoy themselves makes it an exciting and worthwhile experience for all of the coaching staff."
Join our Facebook fan page or follow us on Twitter @PhuketGazette for the latest local, national and international news.
— Steven Layne
Keep in contact with The Thaiger by following our
Facebook page
.
Never miss out on future posts by
following The Thaiger
.
"Open the borders, safely", Bill Heinecke, Minor International interview – VIDEO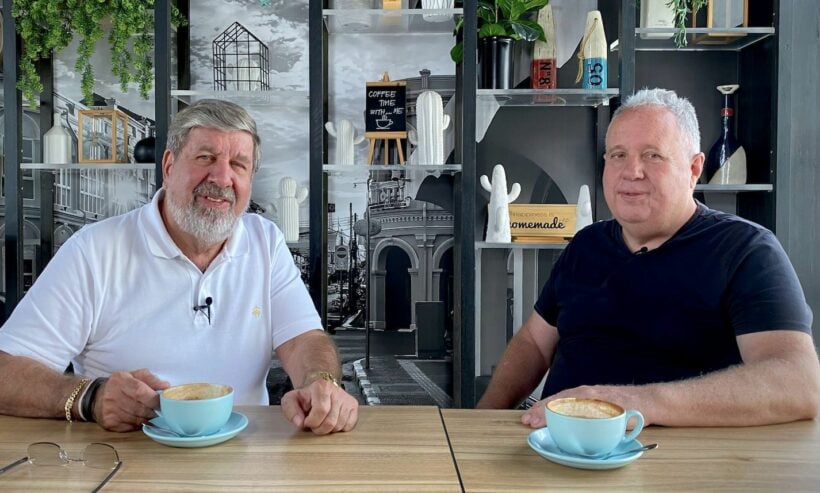 Bill Heinecke speaks to Bill Barnett. The two heavy-hitters of Thailand's hotel and hospitality sector, mull over the current Covid situation and the reopening of Thailand's borders to some form of tourism. Bill Heinecke is the Chairman and Founder of Minor International.
Bill Barnett is the Managing Director of c9hotelworks.com
Now the Thai government has approved the special long-term tourist visa scheme (STV), hoteliers are remaining skeptical about reopening due to the lack of clarity in the recent announcement, which will reportedly take effect next month. The president of the Thai Hotels Association's southern chapter says more hoteliers will consider reopening if the government gives further information about the plan in terms of prospective markets, arrival dates, origin countries, and flights.
Such details would allow hotels to prepare themselves ahead of time to offer services as alternative state quarantine premises as at least 60 hotels in Phuket are awaiting approval to operate such facilities.
Keep in contact with The Thaiger by following our
Facebook page
.
Never miss out on future posts by
following The Thaiger
.
Now they're coming… Special Tourist Visa flight set for Tuesday – Tourism and Sports Minister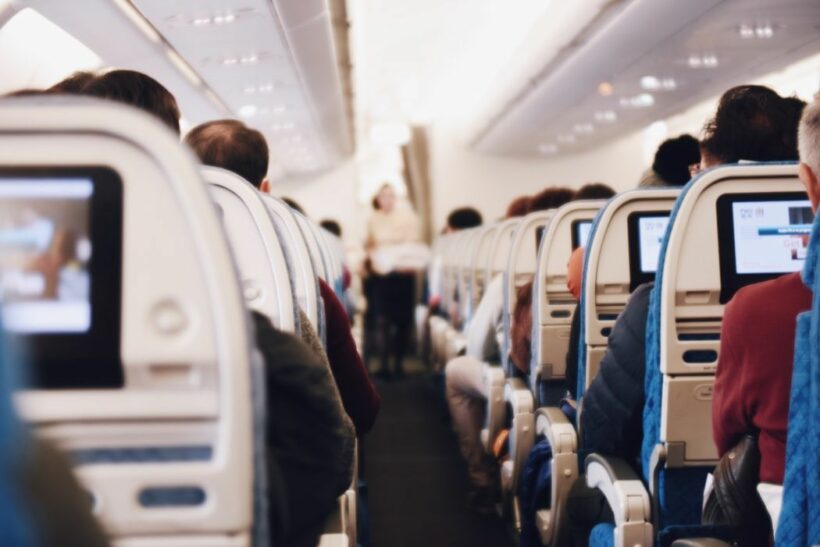 After much confusion and a few apparent 'misunderstandings', Chinese tourists on the Special Tourist Visa will actually arrive on October 20 and 26. At least that's what Tourism and Sports Minister Phiphat Ratchakitprakarn says, according to the Bangkok Post. The first group is said to arrive 4 days from now in Bangkok (if they actually applied for the visa this time).
Reports circulated for weeks about a flight of 120 to 150 tourists set to arrive in Phuket on October 8 from Guangzhou, China. An announcement was made shortly after the flight was due to arrive with Tourism Authority Governor Yuthasak Supasorn saying "administrative issues" had caused the delay.
It was later reported that no one from Guangzhou had actually applied for the visa and it was all just a misunderstanding after the Tourism Authority of Thailand reportedly passed off a list of those "interested" in the visa as actual applications.
This time, the Post is reporting the first group of 120 tourists from Guangzhou will arrive at Bangkok's Suvarnabhumi Airport on Tuesday. Another group of 120 tourists, also from Guangzhou, will arrive on October 26, but the Post didn't say where that flight will land.
It's apparently the same group that was planned to arrive in Phuket on October 8, but the minister claims the trip was postponed due to the Vegetarian Festival which is planned to run until October 25. Both the Phuket governor and National Security Council secretary general had claimed the festival was the reason for the delayed flight and was intended to ease fears of Covid-19 for the festival-goers coming in from the rest of Thailand.
Even though the new long stay tourist visa is good for 90 days, and can be renewed twice, the tourists will only stay in the country for 30 days, with 14 of those days in quarantine. Phiphat says the Tourism Authority of Thailand will find activities to keep the tourists occupied while in quarantine.
The visitors will be the first international tourists after a 6 month ban to prevent the spread of Covid-19. Thai officials have been discussing plans for months about how to safely reopen borders to revive the country's economy which is heavily driven by the tourism industry. Officals are now talking about cutting down the mandatory time for quarantine from 14 days to 7 days to help entice people to visit.
SOURCE: Bangkok Post
Catch up with the latest daily "Thailand News Today" here on The Thaiger.
Keep in contact with The Thaiger by following our
Facebook page
.
Never miss out on future posts by
following The Thaiger
.
Phuket to host Cabinet meeting to review proposals for reviving local economy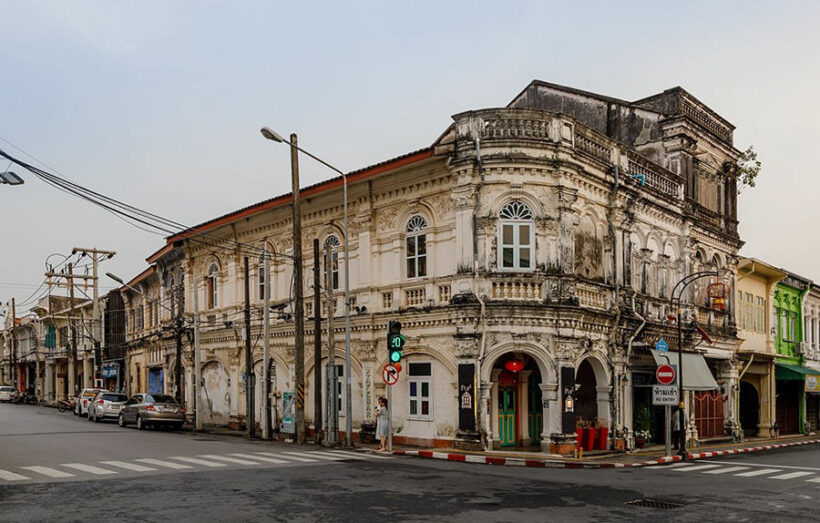 Government officials are to hold a Cabinet meeting in Phuket on November 2 and 3, when they will meet with local authorities and business owners to hear their suggestions on re-igniting the province's decimated economy. Phuket has been hit particularly hard by the country's borders being shut since late March, with the absence of international tourists dealing a hammer blow that some say will be felt for years to come.
The Bangkok Post reports that, prior to the Covid-19 pandemic, the province would generate over 400 billion baht in tourism revenue each year. Now, data from the Phuket Area Revenue Office shows that, between January and August, year on year tax revenue from the province has plummeted by over 46%.
In preparation for the November meeting with central government officials, Governor Narong Woonsiew has met with local business leaders. Narong says Phuket is currently completely reliant on domestic tourism, with the local economy devastated by the fallout from Covid-19 and the loss of internationals tourists. He says the government understands the difficulties being faced by the province and has chosen to have a Cabinet meeting there for that reason. He adds that he would like Bangkok officials to ask state agencies to hold meetings and conferences in Phuket, as one way of helping the local economy.
"Phuket is grateful that it is the Cabinet's venue of choice. This gives us hope for economic recovery. We have experienced many economic hardships before, and we are discussing what to propose as immediate and long-term solutions to the Cabinet."
Phuket is still hoping to welcome its first international tourists in over 6 months, under the new Special Tourist Visa scheme. The programme was officially launched on October 1, however, nobody seems sure when the first lot of foreign visitors availing of the visa are set to arrive. The much-talked about arrival of between 120 and 150 Chinese visitors, which was supposed to take place this month, turned out to be all for nothing, when it was revealed not a single Chinese national applied for the STV.
Nevertheless, Governor Narong says he expects the province to re-open for international tourism from October 25. That's just over a week away. He adds that he would like PM Prayut Chan-o-cha to test Phuket's readiness for managing STV arrivals, by undergoing all the procedures the province has put in place. He says the role-play could be filmed and used to increase tourists' confidence that Phuket is well-equipped to prevent a resurgence of Covid-19 on the island.
SOURCE: Bangkok Post
Keep in contact with The Thaiger by following our
Facebook page
.
Never miss out on future posts by
following The Thaiger
.