Special Report: Phi Phi cries for help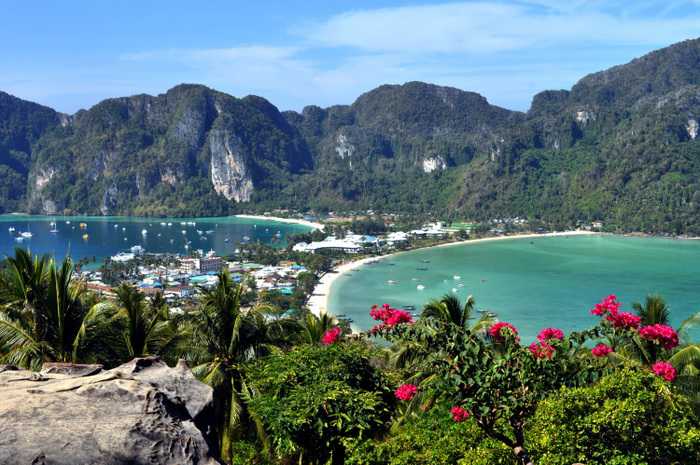 SPECIAL REPORT
PHUKET: Officials are pleading for help in tackling the array of environmental disasters that plague the tourist-popular Phi Phi archipelago – especially its largest island, Phi Phi Don.
Considering the more than 1,000 visitors that arrive on the island daily – a number that does not include the uncounted number of tourists who arrive directly on the beaches by way of the hundreds of speedboats and yachts – it becomes clear that Phi Phi is under an enormous amount of unsustainable pressure, Ao Nang Administration Organization (OrBorTor) President Pankum Kittithonkun told the Phuket Gazette.

RUBBISH
Phi Phi produces an average of 25 tonnes of trash a day. That numbers jumps to about 40 tonnes during the high season, Mr Pankum explained.
The abundance of rubbish is to the point that even Wikitravel makes mention of it: "Unfortunately, there is still plenty of rubbish on the beaches."
"Tourists must help us create and maintain a pristine island environment. There is too much rubbish for us to manage – making it necessary for tourists to help out by taking their trash off the island when they leave," Mr Pankum said last week.
"I have already asked tour operators to educate their guests, but nothing changes. Tourists continue to leave their trash on the island."
All tourists arriving on the island pay a 20-baht fee at Ton Sai Pier to assist in "keeping Koh Phi Phi clean", according to a posted sign. Though there is often skepticism about where the money goes due to the amount of rubbish found scattered across the island, Mr Pankum confirmed that the entire fee is used for waste management.
"As soon as we arrive on the island, we have to pay a 20-baht entrance fee. Nevertheless, the streets and the beaches are extremely dirty. There is not even one public bin anywhere in the center of town!" a concerned person, who declined to be named, wrote to the Gazette.
"Moreover, some hotels do not hesitate to dump their own trash in areas where [trash] collection is not done, creating… mounds of decomposing bags under the sun."
The fee at Ton Sai Pier was introduced in December 2012. A year later, the Ao Nang OrBorTor had collected 8 million baht.
"We collect up to 20,000 baht a day from tourists at the pier. The money is then used to pay a private company to haul the rubbish from the island to the mainland in Krabi to be disposed of," Mr Pankum said.
The boat takes about 25 tonnes of trash from the island daily, weather permitting. Ao Nang OrBorTor pays 600,000 baht per month for the service. During the high season, an Ao Nang OrBorTor boat is used to help transport the overflow of rubbish.
"The OrBorTor has collected 6mn baht so far this year, but we've paid more than 16mn baht for waste management for Phi Phi and Ao Nang," Mr Pankum said. "There is a problem with tour speedboat operators dropping tourists off on the beach instead of bringing them to the pier to pay the 20 baht fee."
The largest producers of rubbish, however, are not the tourists, they are the businesses on the
island – especially hotels and restaurants.
To encourage businesses to be more proactive in recycling and minimizing the amount of waste they produce, the Ao Nang OrBorTor is considering implementing special rates for trash collection at hotels and restaurants.
"We are thinking of collecting fees based on the weight of the trash we have to remove from the island for them. The more they produce, the more they will pay," Mr Pankum said.
WASTEWATER
In Ao Nang, on mainland Krabi, there is a wastewater treatment plant that is able to handle about 3,000 cubic meters of wastewater per day – not nearly enough, according to Mr Pankum.
However, the situation on Phi Phi Don is even worse, he noted.
"We have no wastewater management plant there. Our only hope is that hotels, restaurants and other businesses act responsibly – but I have no faith in them," Mr Pankum told the Gazette.
"They of course have to treat their own wastewater before releasing it into the sea, but they very well could just be turning the devices on before officers arrive to check them."
Mr Pankum has denied that brown water recently seen in Loh Dahlum Bay, the second main bay on Phi Phi Don, was wastewater.
"The brown water seen during the [southwest] monsoon season is only a plankton bloom," Mr Pankum said.
The off-brown water visible in photos of Loh Dahlum Bay is similar to that seen at Patong Beach in August last year (story here).
Dr Pornsri Suthanaruk, director of the Phuket Environmental Office Region 15, explained at the time that excessive amounts of nutrients in the form of nitrogen and phosphorus likely fed plankton growth in the bay, which was further catalyzed by days of bright sunshine.
Mr Pankum was unable to confirm the origins of the nutrients in Loh Dahlum Bay. However, he noted that officers from the Krabi Environmental Office had come to check the water quality about four months ago, and that everything tested had fallen within acceptable levels.
"If you see any brown water, please let me know and I'll call the officer so they can check the water quality again," Mr Pankum said.
A budget of 371mn baht was requested in 2012 by the Ao Nang OrBorTor for a wastewater plant on Phi Phi Don. However, the local government was not able to set aside the necessary 37.1mn baht from its own budget for the project to be approved.
"I couldn't provide the money necessary from our side, so the project failed," admitted Mr Pankum.
"All I can do at this point is have officers regularly check on restaurants and hotels to ensure that they are treating their wastewater."
STRUGGLING FOR SOLUTIONS
"Year after year, Phi Phi Island is losing its beauty. Without more responsible and strict management of the environment, Thailand will lose one of its most beautiful places," the concerned visitor wrote to the Gazette.
After being notified of the current situation, Capt Bancha Daowsook, commander of the Royal Thai Marine Corps based in Krabi, vowed to help the Ao Nang OrBorTor.
"I took up my position on October 1. I have yet to receive any complaints about Phi Phi being dirty. However, I will look into it, and if the Ao Nang OrBorTor needs any help, I will support them," said Capt Bancha.
The fundamental issue is that the budget allocated for Ao Nang and Phi Phi is based on its registered population, not on the number of people it plays host to every year, Mr Pankum said.
Ao Nang and Phi Phi share the same budget, which is managed by the Ao Nang OrBorTor.
"Phi Phi's slice of the budget is based on a few thousand people, but the island takes care of the whole world," Mr Pankum said.
"I don't know what to do. People from everywhere come to our home, but some of them don't care what condition they leave it in. The 20 baht per person really isn't enough for us to manage the waste of the entire island.
"I can only do my best to ensure the island suffers as little as possible and survives as long as possible."
— Chutharat Plerin
Keep in contact with The Thaiger by following our
Facebook page
.
Phuket's hotels can now open. Someone forgot to tell the hotels.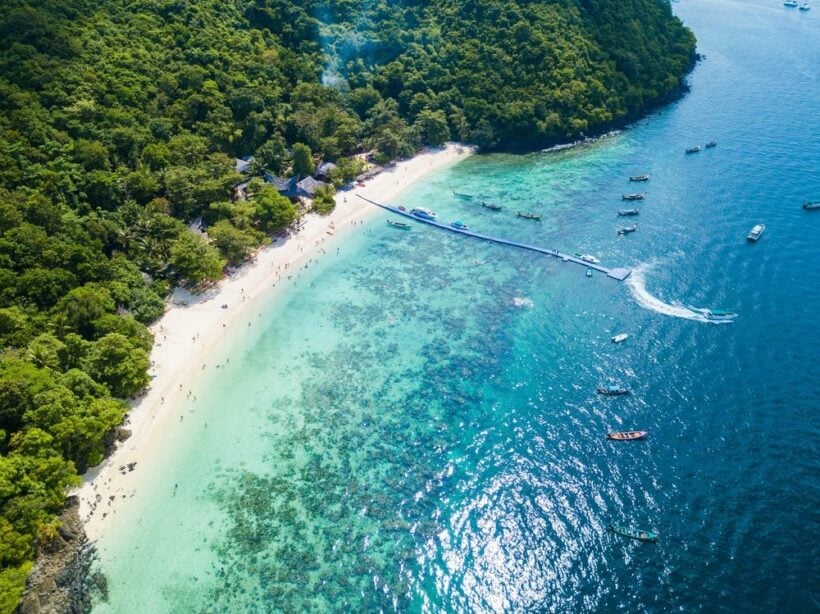 Phuket is open. Sort of. And the hotels on the island are officially allowed to re-open but few are flinging open their doors anytime soon to welcome the hordes of tourists lining up to book a room. The holiday island is in a Catch 22 situation with the hotels waiting for the guests to return and potential visitors waiting until there are signs of life.
Although the authorities said hotels could re-open on June 1 they forgot to give hotels any advance notice so management could put all the many wheels in motion necessary to open a modern hotel.
A hotelier told TTR Weekly the first he knew of the lifting of restrictions was when he received a message on his phone saying the province had announced the island's hotels could reopen.
But opening up the hotels is just one small step to re-booting Phuket's battered tourist industry.
What are the guidelines for quarantine, if any? Do guests require any specific documentation? Insurance? Which hotels are actually open? Who is co-ordinating the information? Do travellers get any information about these things when they make their bookings? How do travellers know the hotel's open anyway?
And if travellers come to Phuket, then return to their province. will they be required to do 14 day quarantine, as required by some provinces?
For now, the only way you can get to Phuket is across the Sarisan Bridge, the only land link to the Thai mainland. The island's marine piers are also open again but there are scant services running at the moment.
And the airport?
There has been no official announcement about the re-opening of Phuket International Airport, even for domestic services. The island's provincial authorities applied to the Civil Aviation Authority of Thailand last week to re-open the airport but there has been no official response. Many other airports have now re-opened around Thailand to limited domestic flights but the success of the domestic flights reboot has been sketchy with schedules constantly changing as airlines battle with the 'new normal'. Passengers are also describing the whole process as a "hassle' with longer times needed to get into the airport, through check-in, requirements for social distancing and the completely impersonal flight experience with flight crews dressed up like ICU staff.
But there are signs of life. Maybe Thai AirAsia, Nok Air and Vietjet Air know something the rest of us don't. All three have bookings available, at least between Phuket and Bangkok, from June 16. Fares range from 1,100 up to 1,700 in the week after June 16, one way. But if you're rushing to buy a ticket, on or off the island, be aware that there is no official green light for a resumption of flights, as of today.
International flights into Thailand are banned up to at least the end of June with, again, no official mention of what will happen after that. Residents of which countries will be allowed to fly in? What restrictions and conditions will be imposed? And which airlines are going to be flying anyway?
The CAAT has extended the ban on international flights twice already.
The Thai government said last month that they were going to use June as the month to clear a lot of the chartered Thai citizen repatriation flights. That the only new cases of Covid-19 in Thailand over the past 2 weeks have been returning citizens, all from Middle East countries, will be a niggling concern for authorities as they figure out how, or when, to re-open international borders.
Back to Phuket…
Even if the hotels are re-opening, where will these magic travellers be coming from. The biggest feeder market, weekenders from Bangkok, will be going to Pattaya or Hua Hin. They're unlikely to take a 12 hour drive to Phuket, no matter how cheap the hotels, or pretty the beaches. So as long as Thailand is closed to international tourists, and the airport's sealed off from international travel, the prospects for Phuket's hotel industry remain extremely limited.
Even if some domestic tourism provides a kick-start to the island's tourist economy, what will they do when they're here? All the hot spots are 'cold', there are few tours that are considering re-starting for now and it's wet season anyway.
Speaking to the GM of three hotels on the island, he told The Thaiger that they're not re-opening until October, at the earliest.
"There are plenty of difficult months ahead with our old staff mostly laid off. When we re-open, many of the staff will be new. The whole things a mess."
Any bets on June 16 for a re-opening of Phuket Airport to domestic flights?
Keep in contact with The Thaiger by following our
Facebook page
.
Phuket governor courts envoys of 16 nations to promote tourism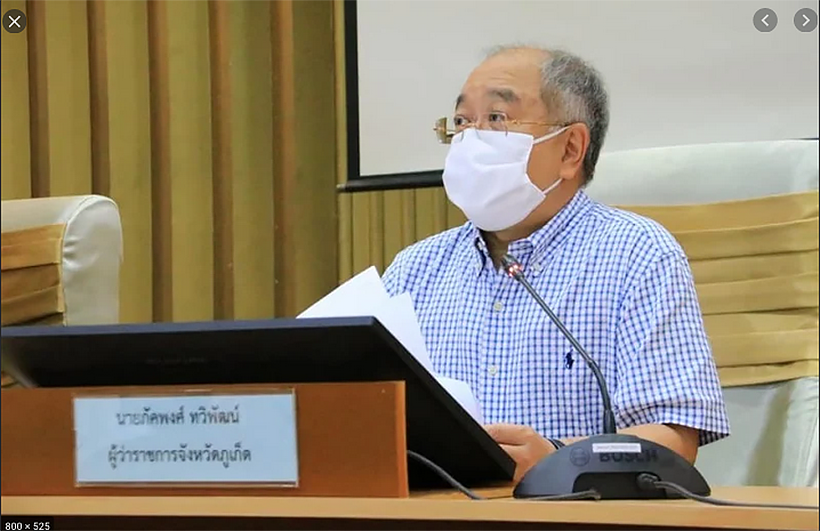 "I would like Phuket to organise activities leading the consulates from various countries to travel to Phuket in order to see the beautiful tourist attractions and to promote tourism for Phuket."
Phuket's governor called yesterday for foreign envoys to visit and inspect Phuket for themselves as a mark of confidence that the island is ready to receive tourists. The call came at a meeting at Phuket Provincial Hall attended by consuls and dignitaries from Australia, Luxembourg, Russia, Korea, Netherlands, Switzerland, France, England, Austria, Mexico, Estonia, Finland, Chile, Norway, Germany and Denmark. The meeting was held to discuss and receive opinions and feedback on Phuket's development and direction in the aftermath of the Covid-19 outbreak, according to a report from PR Phuket.
Governor Phakaphong Tavipatana pointed out that Phuket has recorded 227 confirmed cases of people infected with COVID-19. Its tourist industry, the island province's economic backbone, has been devastated, as the province has the highest number of cases per capita in the kingdom. The PR Phuket report didn't mention that 3 people in Phuket died as a result of the virus.
"No people are currently receiving medical treatment in hospital and there has not been a confirmed case for 10 consecutive days."
The governor stressed that the central government has allocated a trillion baht to the nation's recovery of the country amid the fallout the pandemic: 45 billion baht for public health plans, 555 billion for relief measures, and 400 billion for social and economic recovery framework. He also pointed out that Phuket officials have facilitated more than 2,827 foreign tourists in Phuket returning to their homes in 24 countries.
The consuls and dignitaries at the meeting thanked Phuket officials for their assistance in helping foreign tourists return home, according to the PR Phuket report. It added that "In terms of feedback about visitors returning to Phuket post-COVID-19, the general consensus was that tourists still have confidence and will want to travel to Phuket again when the situation is normal."
The governor gave special attention to medical tourism, and to a proposal that would allow medical tourists extended stays in Thailand once international arrival restrictions are lifted.
"As for the proposal, which would like the Ministry of Foreign Affairs to provide assistance regarding a permit to stay in Thailand for more than 30 days in the event that foreign tourists come to use medical services in Thailand, those involved in the medical industry can work with the Phuket Passport Office to submit the proposal to the Ministry of Foreign Affairs for further consideration."
SOURCES: The Phuket News | Phuket Andaman News
Keep in contact with The Thaiger by following our
Facebook page
.
Prachuap Khiri Khan's scenic Ao Manao beach reopens today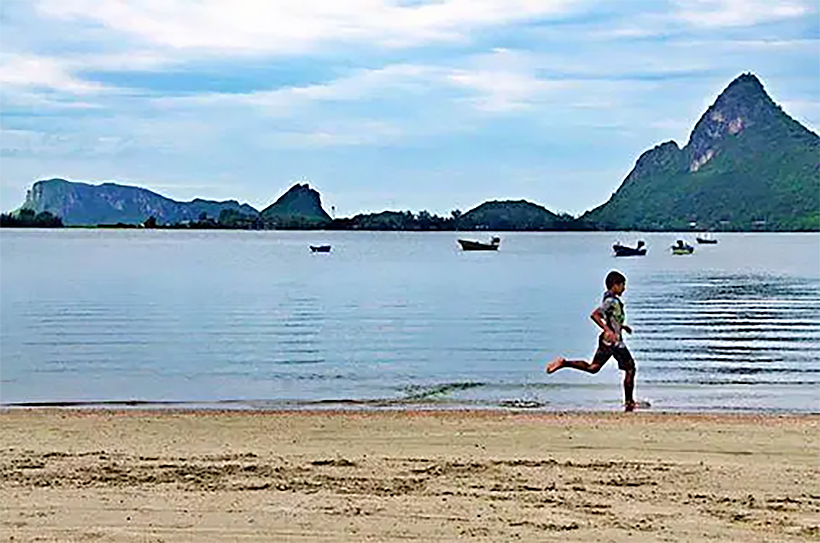 Chon Buri and Hua Hin aren't the only places reopening their beaches. Today, Ao Manao, the scenic beach in the western province of Prachuap Khiri Khan will also be open to the public. The crescent shaped bay belongs to the Air Force Wing 5 miltary base. Like all Thai beaches, it's been closed for two months due to the Covid-19 pandemic. Since Monday, the beachfront Fa Chom Kluen hotel has been available for booking for overnight stays. The beach will also open for swimming.
The reopening of Ao Manao is in contrast to the beaches in neighbouring Phetchaburi province, where an official announcement from the provincial governor allows all beaches including the popular Cha-am beach to reopen, but no swimming or watersports. The governor instead allowed food vendors and other service providers, including those who provide horse riding and beach chairs, to resume business.
In Chon Buri, on the east coast of the Gulf, all beaches in the Pattaya area have been open since June 1. But group activities like beach volleyball, jetskiing and banana boat rides are still not allowed. Those who offer beach chairs for rent must follow social distancing rules by placing the seats at least 1 metre apart, otherwise the service will be suspended. A violation could result in up to a year in prison and/or a fine up to 100,000 baht.
In Phuket, residents can still just look, but not go on, their famed beaches. Hotels have been given permission to open again on the island but few are bothering with the costs and expense as there are few people available to fill rooms. Phuket's airport remains closed although June 15 is being widely tipped, but not confirmed, as the date for re-opening to domestic flights.
Scheduled international flights are still banned until at least the end of June.
In a related development, interprovincial bus operator Nakhonchai Air resumed its services Monday. Travel restrictions under the Emergency Decree had previously banned all trips of more than 300 kilometres.
The company is implementing social distancing rules by allowing passengers to sit only in window seats. Passengers must wear masks all the time and must check in and out before and after boarding the bus by using the Thai Chana app.
SOURCE: Bangkok Post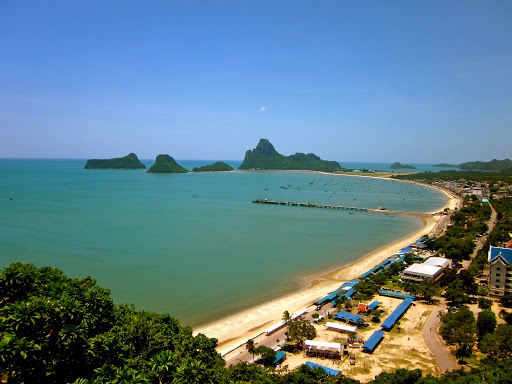 Keep in contact with The Thaiger by following our
Facebook page
.