Special Report: Andaman trash takes toll on local marine life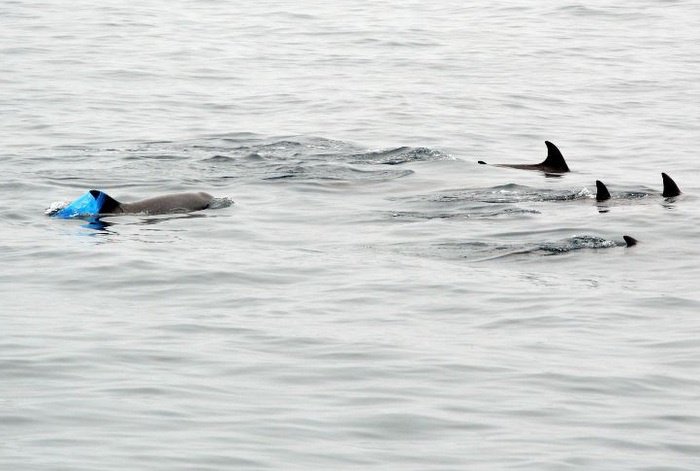 PHUKET: Enormous amounts of trash and discarded fishing nets continue to wreak havoc on the regions marine life with 2 dolphins and 1 turtle being rescued this month alone, despite raised awareness on the issue, said Kongkiat Kittiwattanawong, head of the endangered species unit at the Phuket Marine Biological Center (PMBC).
"Compared to last year, the number of reported animals being washed ashore has increased about five per cent," said Dr Kongkiat. "For the last 10 years, the numbers have steadily increased by about three to five per cent each year."
The entire Andaman region has seen an estimated 300 protected animals washed up on its shores in the past year, with Phuket yielding about half of the total.
Out of the 150 cases on Phuket, about 100 were turtles, 40 were dolphins and 10 were manatee or whale sharks.
TRASHING THE SEA
"Discarded fishing nets and the enormous amount of rubbish being thrown into the ocean is the leading cause of injuries for these beautiful marine animals," Dr Kongkiat explained. "Many animals mistake plastic bags as jelly fish or accidentally consume other rubbish, which eventually leads to serious infections and debilitating illnesses. Additionally, we regularly see damage from fishing nets on certain protected marine creatures, such as turtles."
According to research undertaken by PMBC's Hirun Kanghae, between December 2014 and September 2015, more than 150 kilograms of trash washed ashore at Koh Lon, off Rawai.
"We chose to conduct our research on the beaches of Koh Lon and Mitraphap Beach because they are not visited by tourists and the beach is not regularly cleaned by the Rawai Municipality. This allows us to collect more accurate data on how much trash is washing up from the Andaman," Mr Hirun said.
"Though Koh Lon is east of Phuket, it is still representative of the western beaches. We know that a similar amount of trash is washing up on the shores of Kata, Karon and Patong. However, these areas are cleaned in the morning by the municipalities."
Most of the 150 kilograms of trash collected were hard plastics, Mr Hirun confirmed.
After a full year of research is completed, Mr Hirun plans to present his results at a number of workshops to educate locals, tour guides and fisherman in order to show them how their daily lives are affecting marine life.
"Trash control is our biggest challenge right now. We have talked to the media many times to educate the public, and asked for cooperation from fishermen, tourists and tour business operators to help with waste management," Dr Kongkiat said.
Tour groups are one of the biggest producers of trash found in Phuket's waters, explained Santi Pawai, director of the Ministry of Tourism and Sports (MOTS) Phuket Office.
"I have informed tour operators many times to keep all of their trash on the boat, as well as collect any trash they find floating in the sea," he said last week.
Mr Santi also noted that MOTS is planning to work with the Andaman Tourism Association and local tour business operators to start a trash collecting campaign on Phuket and Koh Hei.
"We have yet to decided on the details of the project, but expect it to begin before high season."
Meanwhile, Nikorn Tormaitree, vice president of the Andaman Tourism Association admitted that some tourism activities are damaging the environment.
"We have been educating our members about this issue. Currently, there are about 900 members in Phuket comprising tour boat owners, tour guides and tour sales personnel," he said.
"We understand that trash can destroy the sea and harm marine life. We will try our best to ensure waste is being properly disposed of."
"We earn our living from the sea, and never want it to be polluted."
NETTING THE BLAME
The president of the local fishermen association pointed out that they too were completely reliant on healthy ocean conditions for their livelihoods.
"The sea is our food, our career. There is no reason for us to destroy it with discarded nets and trash. In fact, fishermen not only fish, but help collect trash too," said Somyos Wongbunyakul, president of the Phuket Fishermen Association.
Despite Mr Somyos explaining that the price of broken fishing net has risen to 10 baht per kilogram, giving incentive for fishermen to collect damaged nets, Dr Kongkiat remained firm in his position that discarded fishing nets were a leading cause of injuries to turtles and other marine life.
"I will inform the fishermen to be more careful about broken pieces of net and to collect any broken pieces that are stuck on rocks," Mr Somyos conceded.
However, Edwin Wiek, founder and director of the Wildlife Friends Foundation Thailand, said that it's not pieces of broken netting that are main issue, but the type of netting and fishing practices being used.
"Another serious issue is that, although illegal, many boats still use dragnets, where some marine mammals and turtles get stuck in and drown.
"Better enforcement by the fishery department and marine police is needed, their budget on patrolling and enforcement needs to be increased," Mr Wiek said.
ARE MORE DYING?
The increase in reports of marine animals being injured, however, might not be a sign of more creatures being hurt, explained Dr Kongkiat.
"The increasing number of reports does not necessarily mean that the animals are having more problems. I believe part of the increase is due to the amount of people who are now willing to call in an injured animal to our workers," Dr Kongkiat said.
The PMBC has built a strong network with the Kusoldharm Rescue Foundation, as well as many local volunteers.
"The first thing we do when we get a call about an injured animal is to check with the Kusoldharm Foundation and other people in our network to see if they are closer to the incident than we are," said Dr Patcharaporn Gaewmong, a PMBC veterinarian.
"Immediate on-site rescue measures are extremely important. Therefore, we have educated everyone in our network to help each animal properly."
COST OF CARING
Because of the vast amount of time needed to treat the marine animals, the expenditures of the PMBC per rescue swing wildly.
"Expenses vary from case to case. On average, we spend about 20,000 baht per turtle. However, some cases may only take a few thousand baht, while serious cases can take up to 40,000 baht," Dr Patcharaporn said.
"Dolphins are more difficult to cure. They generally have a disease that causes them to be expelled from their pod. Usually, they then start swimming closer to shore, where they are more likely to eat trash and get even sicker."
Only 20 to 30 per cent of the dolphins reported to the PMBC are found alive.
Rescue efforts for a dolphin case can cost up to 50,000 baht, as transferring costs are higher and often freelance staff must be hired to care for the dolphin overnight.
"We get a total of 800,000 baht per year from the Department of Natural Resources and Environment to support our rescue efforts," Dr Patcharaporn said.
Dr Kongkiat confirmed that the current funding was enough for them to continue their rescue efforts without financial hindrances, but that didn't guarantee their ability to save the animals.
"The reason that we cannot save so many injured animals is because the animals are very sick and severely injured by the time we get to them. We need to take preventative action," Dr Kongkiat said.
MAKING A DIFFERENCE
The number one step toward preventing accidental deaths of marine life is to stop sea dumping and begin cleaning out the vast amounts of rubbish already filling the Andaman, Dr Kongkiat explained.
"Yes, those operating in the fishing industry and marine tourism industry are aware of the increasing affects that the amount of refuge being dumped into the Andaman has had on marine life. They are now taking some responsibility for it – they are doing their best to help. However, they are not the only ones who use the ocean.
"Other stakeholders must also step up to make a difference, otherwise we will never see results."
Tourists, locals and expats – of all walks of life – must stop sea littering and encourage others to also end this incredibly damaging practice, Dr Kongkiat said.
"We must continue to educate the public so that we can clean up the ocean and eventually start seeing less marine animals, such as dolphins and sea turtles, become victims of human carelessness."
— Kongleaphy Keam
Keep in contact with The Thaiger by following our
Facebook page
.
Never miss out on future posts by
following The Thaiger
.
Phuket told to prepare "response plan" in case of second Covid-19 outbreak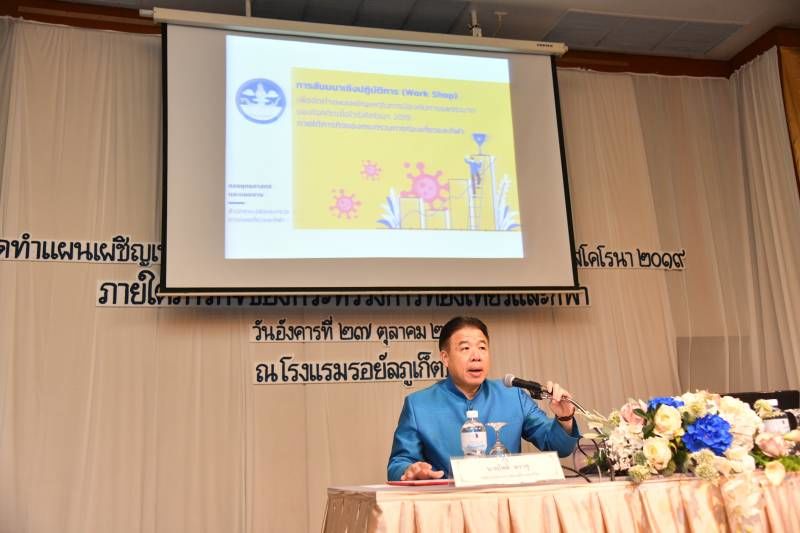 As Phuket awaits foreign tourists, city officials are told to prepare a "response plan" in case of a second wave of Covid-19. An official from the Ministry of Tourism and Sports held a workshop in Phuket today to discuss the risk of another outbreak as the country opens up to those on the Special Tourist Visa.
The ministry's permanent secretary Chote Trachu says now that the country is allowing tourists (who are required to quarantine upon arrival) an infection "may somehow slip through." He says a response plan needs to be in place in case this happens, adding that there should be corporation from the Ministry of Public Health and Ministry of Defense.
"If any tourists are found to be infected, the disease must not be allowed to spread among the people. There should be no panic, and public health officers will investigate the case. Tourist Police will track down the suspected person in an investigation with the Ministry of Public Health."
Chote says all provinces – not just Phuket – should have a response plan. Although tourists must go through a mandatory 14 day quarantine upon arrival, Chote says there are some cases where the incubation period for Covid-19 is longer than 14 days.
"There are a variety of cases. Sometimes, the infection does not show after 14 days, or even 15 or 16 days. Each situation is different."
Recently, a woman in Koh Samui tested positive for the coronavirus 5 days after she was released from a Samut Prakan quarantine facility. Traces of the virus were found on gym equipment the woman used at the quarantine, leading health officials to suspect she was infected before arriving to the island.
"We urge Thai people to not let their guard down. Everyone must wear masks, wash their hands and take care of personal hygiene. This will help prevent them from contracting the disease."
SOURCE: Phuket News
Keep in contact with The Thaiger by following our
Facebook page
.
Never miss out on future posts by
following The Thaiger
.
Approval sought for multi-billion-baht Phuket medical hub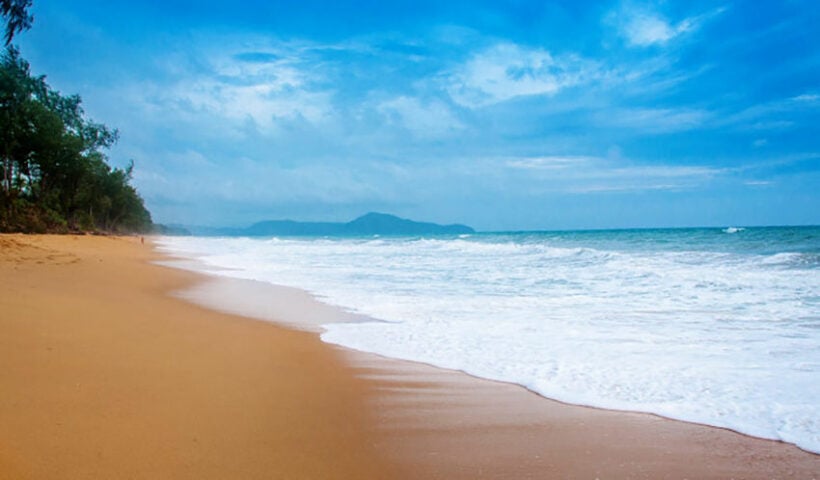 Industry officials are seeking the go-ahead for a project to transform over 140 rai of government land in Phuket into a world-leading medical hub. The project is budgeted at 3 – 4 billion baht, depending on which report you read. Kitkong Tantijaraswarodom, from the Federation of Thai Industries, believes the development of a medical and wellness hub in the sub-district of Mai Khao, north Phuket, will help revive the southern island's battered economy. Phuket has become increasingly reliant on a steady flow of tourists over the past 2 decades.
The southern division of the FTI covers Phuket, Krabi, Phang Nga, Nakhon Si Thammarat, Trang, Patthalung, Surat Thani, Ranong, Satun, Chumphon, and Songkhla.
"The FTI will ask the government to green-light the project during the scheduled mobile cabinet meeting on the island on November 3."
Kitkong says businesspeople in the south are anxious for the government to approve the project, which will provide both locals and foreign medical tourists with state-of-the-art medical care. The facility is expected to include long-term care, hospice and rehabilitation services, in addition to a dental hospital, sports therapy centre, and a medical training school for doctors, nurses, pharmacists and medical laboratory scientists.
The chair of the FTI's southern chapter is also calling on officials to provide small and medium-sized businesses with additional support, in the form of access to loans, in order to deal with cash shortages.
"In the short term, the FTI wants the government to help SMEs, especially those in the tourism sector."
SOURCE: Bangkok Post
Keep in contact with The Thaiger by following our
Facebook page
.
Never miss out on future posts by
following The Thaiger
.
Man's body discovered hanged in a Phuket Town apartment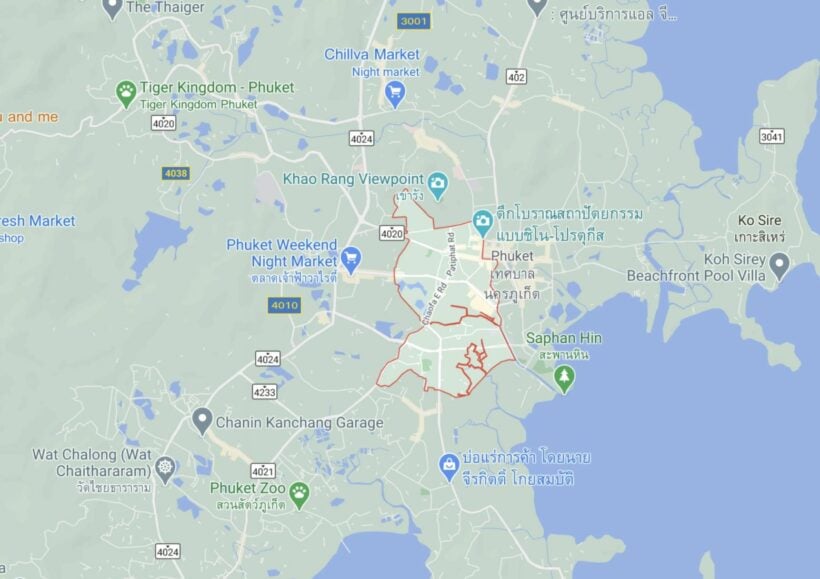 A man has been found hanged in Phuket Town apartment yesterday. Police are treating the cases as a suicide at the moment.
The man was found hanged from the apartment's ceiling fan. His lifeless body was discovered around 11am after neighbours complained to the manager about the smell coming from the man's room.
Police and the local Kusoldharm Foundation rescue workers attended the scene. Police later confirmed the incident happened in room on the 3rd floor of an apartment lock in Soi Phoonphol Soi 1, Talat Nuea in Phuket Town. Police said the man was 35-45 years of age and had a 29 year old girlfriend from Chumphon. He was paying 1,000 baht a month and had been renting the room for 2 months. Police estimate that the man had been dead for at least 3 days.
Police told media that the man had used, what appeared to be a dress, tied around his neck and then to the room's roof fan. The apartment manager told police that he had been late on on his recent rent, speculating that the man may have been suffering financial hardship.
The man's identity has not been released at this stage.
His body was taken to Vachira Hospital for an autopsy.
If you or anyone you know is in emotional distress, please contact the Samaritans of Thailand 24-hour hotline: 02 713 6791 (English), 02 713 6793 (Thai) or the Thai Mental Health Hotline at 1323 (Thai).
Keep in contact with The Thaiger by following our
Facebook page
.
Never miss out on future posts by
following The Thaiger
.