Phuket
Seven arrested for village headman and family's massacre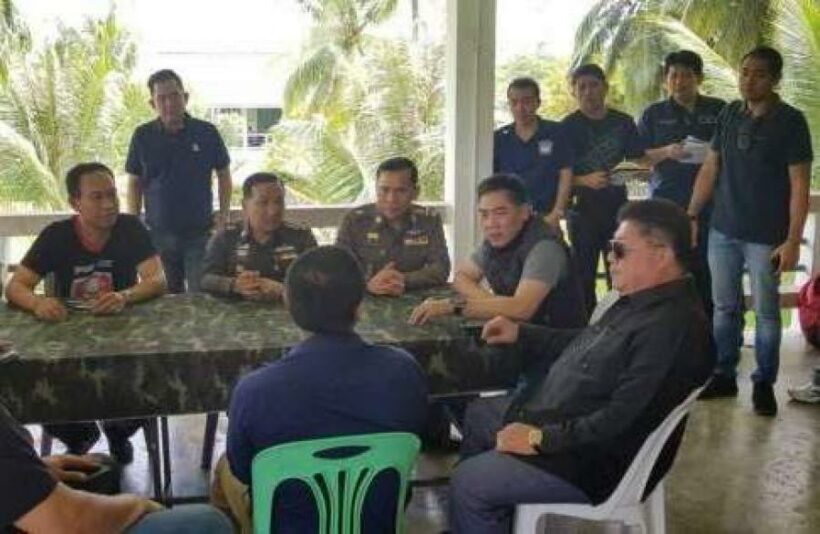 KRABI: Police have apprehended a group of seven men for the massacre of eight members of a family in Krabi last week.
Eight people – three of them children – were murdered en masse in the house of Worayuth Sunglung, a village headman in Ao Luek district. The victims were shot in the head execution-style, police said (story here).
National police chief Gen Chakthip Chaijinda said yesterday that all seven suspects had confessed. Six of them claimed that they were misinformed about the objective of the crime by the seventh suspect, identified only as Bang Fath, a former security guard.
Gen Chakthip said Bang Fath had land disputes with Mr Worayuth after the village chief took out mortgages on several parcels of land with Bang Fath. However, Bang Fath refused to return the land, worth millions of baht, after Mr Worayuth repaid the debts. Some cases related to the mortgage dispute are being heard in court.
Mr Worayuth, out of anger, allegedly threatened Bang Fath's life, triggering Bang Fath to take action.
Gen Chakthip said Bang Fath formed a team and falsely claimed that Mr Worayuth owed him 3 million baht. The team had tried to confront Mr Worayuth on three previous occasions before the massacre last week.
"Our investigation showed that it was Bang Fath who shot all the victims to death," Gen Chakthip said, adding he would seek capital punishment for the suspects.
"We will use all the laws to prosecute them and we will seek death sentences for them. They killed people and children without mercy."
Prior to the shooting, Bang Fath's team had secretly visited nearby areas and Mr Worayuth's house several times to confirm the location.
A source later identified Bang Fath as Surifath Bannopwongsakul, saying he came from Phang Nga province. The national police chief insisted that the seven suspects were civilians, dismissing previous rumors that they had a military background.
"Some of them were rubber tappers who worked for Bang Fath at a plantation," he said. On the afternoon of July 10, the doors to Mr Worayuth's house were opened for the gang as the assailants wore camouflage clothes and had claimed they were security officials.
Mr Worayuth's house was in the same compound as four others and was used as his office. However, Mr Worayuth had not yet returned home so the group held those in the house at the time as hostages while waiting for him. The number of people taken hostage increased as other family members from other houses in the same compound came to the main house.
Mr Worayuth arrived home at about 8pm, bringing the number of those held hostage to 11. The assailants separated the group in different rooms while negotiation started with Mr Worayuth.
Police quoted Mr Surifath as confessing that he intended to kill only Mr Worayuth's family – namely Mr Worayuth, his wife and their three children, but as the number of those who witnessed his crime increased, he decided to kill them all.
Eight people died while three others, including a sleeping three-month-old baby, survived. An earlier report claimed the baby's mother covered him with a blanket, so that the killer was unable to see him.
At first, Mr Surifath allegedly gave weapons to other gang members to help murder people in the house. When they refused, he allegedly did the job himself.
Gen Chakthip told a press conference in Krabi that during the hostage taking, Bang Fath set up documents stating that Mr Worayuth transferred his Toyota Yaris to him.
The same source added that Bang Fath initially tried to stage a scene to make people believe Mr Worayuth killed his family members because of pressure over business woes.
He forced Mr Worayuth to telephone one friend to borrow 500,000 baht, saying that he had business problems.
After the massacre, the group fled in two vehicles and also stole Mr Worayuth's car. They hid their Fortuner in Ao Luek and burnt Mr Worayuth's car in Phang Nga.
Bang Fath then boarded a public bus to Phuket and hid in a rented house. Police arrested the first suspect in Nakhon Sri Thammarat before extending the investigation that led to other suspects.
The suspects were taken to Phang Nga's Muang district to sites where they are said to have hidden and destroyed evidence.
At one suspect's house in Phang Nga, police found potential evidence, including phone SIM cards and identity cards belonging to the victims, as well as three guns and ammunition reportedly belonging to Mr Worayuth.
Confessions by the suspects then led police to retrieve gloves and handcuffs that they used to commit the crime.
— The Nation