Red-tape nightmare for parks entry
PHUKET: It's official: the postponement of the fee hike for foreigners visiting national parks in Thailand has been canceled. Thais will be allowed into the parks at the old price, ranging from as little as 5 baht to 20 baht, whereas foreigners (including foreigners resident in Thailand) will have to pay 200 baht for adults and 100 baht for children. As a way to mollify tour and dive operators, a concessionary coupon scheme has been launched to allow the operators to take clients into the parks at the old rate. Discussions held at the Marine National Parks Division offices in Bangkok on Tuesday firmed up plans for the coupon system. The scheme, which threatens to be a bureaucratic nightmare, will work as follows: Coupons will be issued for all of Thailand's national parks. The price will be 20 baht (10 baht for children) except for the Surin and Similans Marine National Parks, which will be priced at 40 baht (20 baht for children). Operators wishing to buy coupons must submit an application to join the scheme to the Marine National Parks Department of the RFD in Bangkok. The deadline for submission of applications will be the end of office hours on October 19. Upon receiving the application, the Marine National Parks Department (MNPD) will issue the operator with a receipt. As part of the application, operators will have to specify how many coupons they will need for the year up to September 30, 2001. They will not be allowed to buy more coupons later on if business is better than anticipated. If they buy fewer coupons than stated on the application, they risk being blacklisted by the RFD, and may be refused entry to the parks in the 2001-2002 high season. "It will take about a week to approve an application if all the documents are correct," explained Suwan Prasertphon, senior officer at the MNPD. Once the application is approved, the operator will receive a confirmation fax or letter, following which he should again visit the MNPD, taking with him the fax or letter and the application receipt. He will then be required to fill in a second application form, this time to buy a specific number of coupons. K. Suwan explained that each coupon will be divided into three parts. The first part will be kept on file at the RFD. The tour companies will then have two parts: one as a receipt for the client and one to be handed over to the park officer on entry to the park. "Tour operators must provide us with a copy of the company chop to stamp the back of all three parts of the coupons in order to identify which companies bought them," K. Suwan added. After a couple of days, once the civil servants have finished chopping the backs of the coupons, the operator may go back to the MNPD office for a third time to collect his coupons. The procedure must be repeated whenever the operator wishes to buy more coupons. Operators will not be obliged to buy the whole year's allotment of coupons at once; they may spread purchases through the year. The coupons will be in books of 100. Each purchase will require the operator to fill in an application form, then return after a couple of days to pick up the coupons, duly chopped. "A company must buy [in the course of the year] exactly the same number of coupons as specified in the initial application form. Failing that, they will be recorded in a list of unreliable operators who may be denied entry to the parks next high season," said K. Suwan. The chief of the Similan Islands Marine National Park, Wittaya Hongwiangchan, told the Gazette that each coupon will be valid for five nights/six days per entry, and will be good for one entry only. "So, in case of dive operators, if they want to visit the Similans for a couple of days, then go to the Surins, and then back to the Similans again, they will have to use three entry coupons per client," he explained. Exceptions in the case of difficulties caused by bad weather will be considered by the chief of the park himself. K. Suwan said that he expects a meeting to be held in Phuket at the end of October between RFD officials – possibly including RFD chief Plodprasop Suraswadi – the Tourism Authority of Thailand and tour and dive operators, at which the details of the scheme will be explained and questions answered. To confirm details of requirements for applications, operators should call K. Suwan at the Marine National Parks Division of the RFD on (02) 5797047.
Keep in contact with The Thaiger by following our
Facebook page
.
Phuket's new cases (Tuesday), all originating from Bangla Road area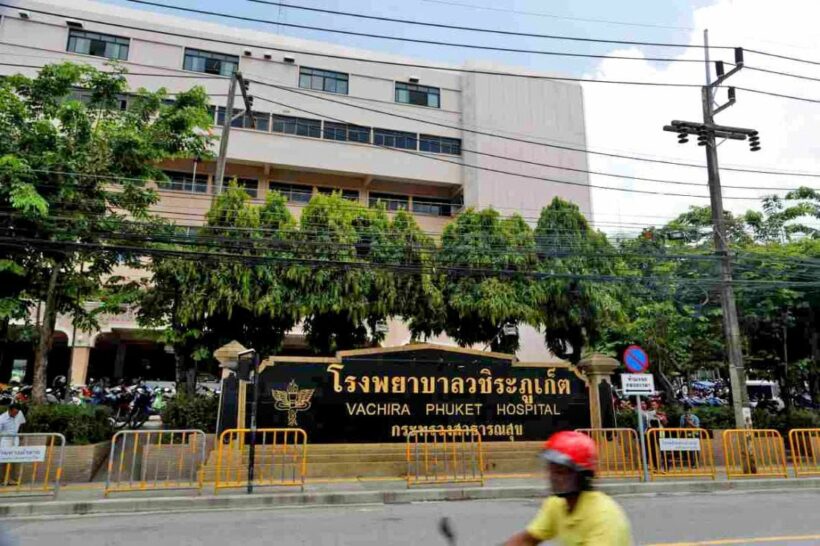 Numbers are out for new cases in Phuket over the past 24 hours.
Case 124: 23 year old Russian women
Case 125: 26 year old Kazakhstan women
Case 126: 28 year old Russian women
All 3 new cases in Phuket had a history of visiting or staying in the Bangla Road entertainment zone for up to a month, and having close contact with tourists. All 3 women were also staying together in an apartment in Patong. All 3 women had shown no symptoms of having the virus and put another 3 people at risk.
There was also another death yesterday – a 25 year old Hungarian man who was in an accident, rushed to Chalong Hospital, and then to Vachira Phuket for surgery, and then doctors finding out that he had been infected with the virus.
In Phuket there are now a total of 126 cases, 1,756 people awaiting test results and considered 'high risk', 1,557 people sent back home after testing or treatment and 110 awaiting blood tests.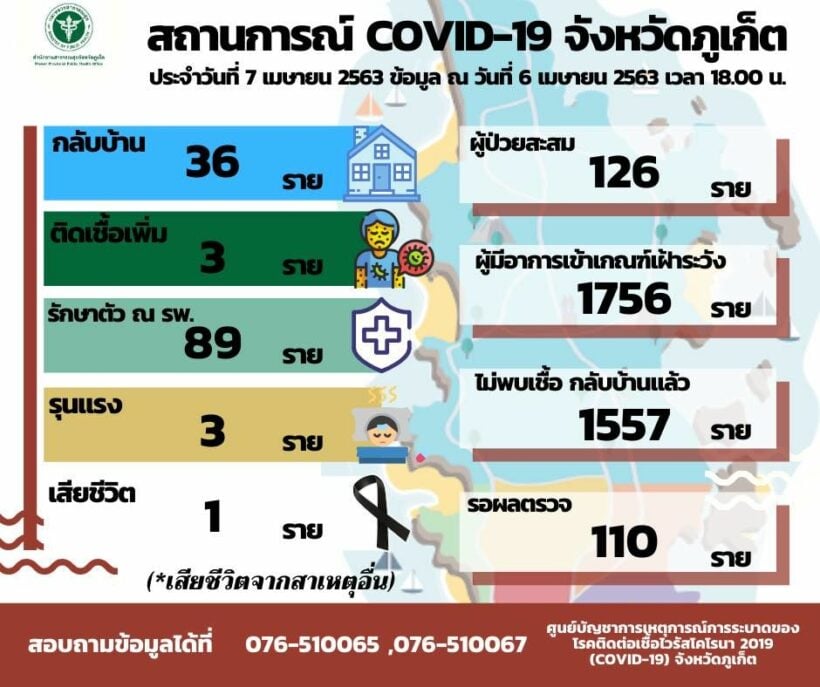 Keep in contact with The Thaiger by following our
Facebook page
.
Hungarian tourist dies in Phuket after failing to reveal Bangla Road visits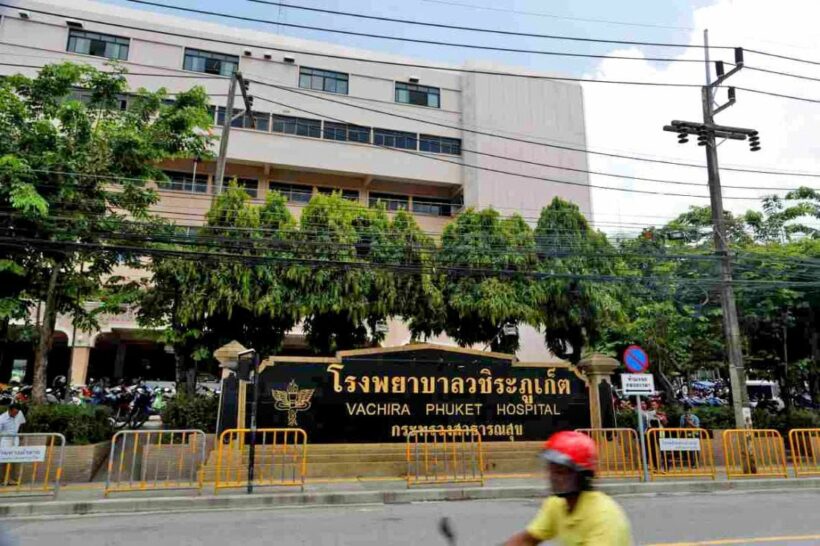 Dr Chalermpong Sukhonthapol, the director of Phuket's Vachira Hospital, has revealed details of a Hungarian tourist who recently died of Covid-19, but had earlier withheld details of his visits to the island's red light district in Bangla Road, Patong.
Bangla Road has been the island's hotzone for new cases of the Covid-19 coronavirus.
The case has resulted in more than 100 medical staff being suspended and placed in quarantine as a precaution. Originally the Hungarian man arrived from Malaysia.
Dr Chalermpong reports that the Hungarian man was involved in a traffic incident on March 25 and was admitted to the Chalong Hospital, then later transferred to Vachira Hospital in Phuket Town.
"The patient had numbness and weakness in all limbs. He could talk, but did not mention his activities had put him at risk of Covid-19 infection though being asked."
He firstly had an operation on his broken neck and spine. He the regained consciousness and was responding well and talking to attending staff.
Then, on March 29, he had a visit from a friend he'd met whilst visiting Bangla Road in Patong.
After some further scrutiny hospital staff found out that the Hungarian had visited Bangla Road and stayed in the area for two weeks. The hospital conducted tests and found the man was infected with the coronavirus.
The Hungarian tourist developed a high fever and breathing difficulties soon after. He died on Friday morning.
"The death of the Hungarian tourist is a shock because he did not report the Covid-19 infection risk in the first place. One hundred and twelve medical personnel who had done their best to save were put at risk because of their contact with him," Dr Chalermpong told Bangkok Post.
112 at-risk staff are now confined to quarantine for 14 days, some are in home quarantine. 94 have tested negative for the disease, 18 were awaiting test results.
SOURCE: Bangkok Post
Keep in contact with The Thaiger by following our
Facebook page
.
10 new coronavirus cases in Phuket today (Sunday)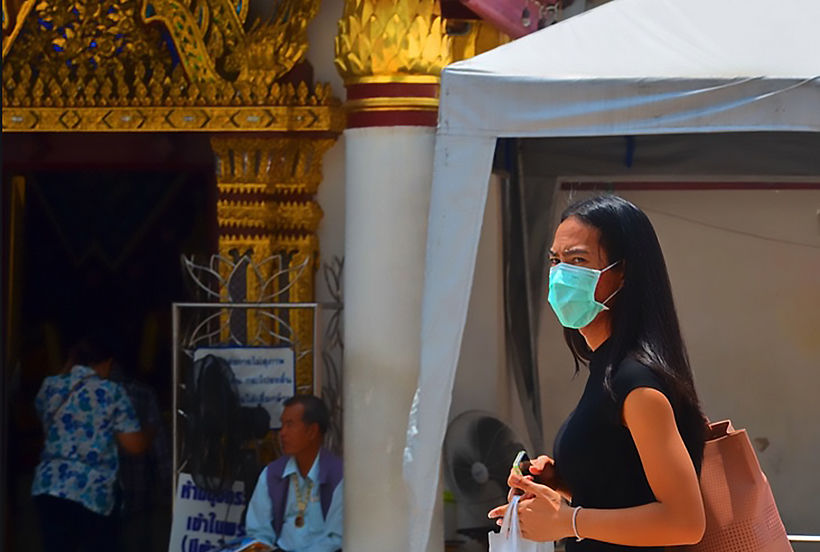 The island of Phuket in Thailand's south has reported 10 new Covid-19 coronavirus cases today (Sunday), bringing the total to 119. Today's new cases aren't all in Patong, as has been the trend over the past week, with new cases being reported in Bang Tao, just north of Surin Beach area.
Among the confirmed cases announced today are six members of the same family that live in the Bang Tao area.
Due to the high number of cases originating in the island's Patong entertainment district, the whole seaside town has now been officially locked down as of today, with checkpoints on all roads going in or out (more info below).
Details of the new case…
Case 110: A 40 year old Swedish man, arrived in Phuket on March 13 with his wife, who was confirmed as case 77 on April 1. 7 people are considered at at high risk and are being sought by authorities (NOTE: There are conflicting reports on this case's age and gender).
Case 111: A 29 year old Thai woman, a maid, the wife of confirmed case 41, an Italian who works in Bangla. She fell sick on April 2, 2 people are considered at high risk.
Case 112: A 55 year old Thai woman, also a maid, the wife of case 94. 2 contacts at high risk.
Case 113: A 29 year old Thai man who works at a Patong hotel, the same hotel where Case 58 was confirmed. He became sick on March 22, 6 people are at high risk.
Case 114: A 23 year old Thai woman who works in the same restaurant as case 92. She fell sick on March 29, 5 are considered at risk.
Case 115: A 38 year old Thai man who works at a Patong shopping mall. He had close contact with case 48, and fell sick on March 25. 9 are at high risk.
Case 116: A 27 year old Thai man, a welder in Bang Tao in Thalang, the son of case 94, also a welder. They work and live together. Though he shows no symptoms, 2 people are considered at high risk.
Case 117: A 32 year old Thai woman who works at a local shop, also in Bang Tao. She's the daughter of case 94, who lives nearby. She became sick on March 30, 4 people are at high risk.
Case 118: A 28 year old Thai woman, a maid, another daughter in law of case 94, with whom she lives. She too shows no symptoms, but 2 people are considered at high risk.
Case 119: A 74 year old Thai woman who works in a local Bang Tao shop, the grandmother of case 94, who also lives nearby. She became sick on April 3, 8 people are considered at high risk.
The current Patong 'lockdown' has been imposed to to control the spread of the Covid-19 virus, according to the directive.
"Therefore we will prohibit people from entering or leaving the area, except for the transportation of essential goods, LPG gas, medical supplies, emergency response teams and ambulances, public servants, parcel deliveries and publications."
The directive is in place from April 5 until notified.
Speaking to a couple of locals this morning they said they hadn't been advised by anyone and were confused about the news. One told us he'd been walking his dogs on the beach this morning and didn't run into any police. A local policeman in the town says he has been lining up for testing at Patong Hospital and that the streets are mostly deserted. Another expat said that they'd heard yesterday there might be a closure of the roads on Tuesday and was surprised to wake up this morning to see the town was in official 'lockdown'.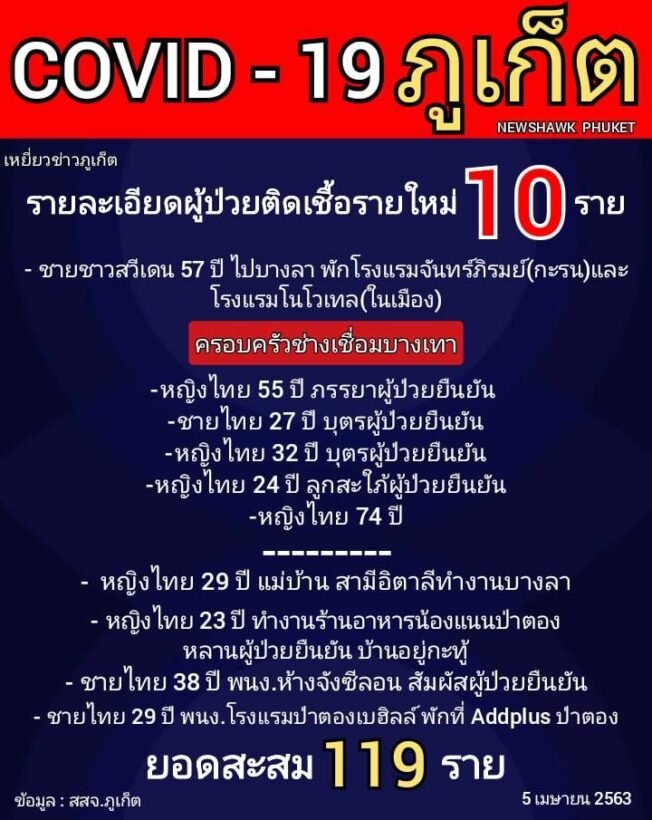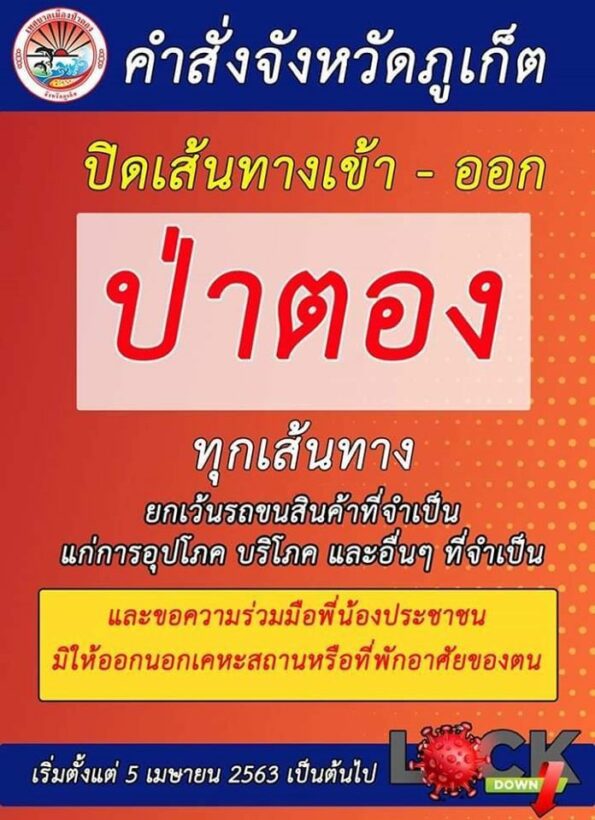 Keep in contact with The Thaiger by following our
Facebook page
.