Qatar Airways flight a boon for Phuket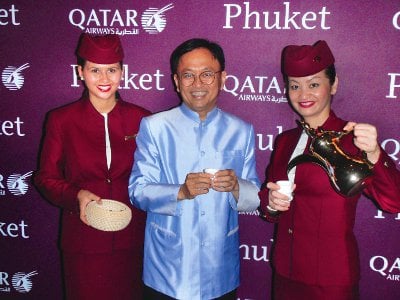 PHUKET: A new daily flight connecting Doha and Phuket is set to benefit the island in a number of ways, including improving travel options among European tourists wishing to holiday in the Andaman region.
The first Qatar Airways flight from Doha, with a stopover in Kuala Lumpur, landed in Phuket on October 12.
Phuket is one of nine new destinations added in the past year by the carrier, with hopes to add another 120 destinations in the next three years as part of its aggressive expansion strategy.
"Our growth strategy is to become a global network operator," said Qatar Airways CEO Akbar Al Baker.
"In a radius of only five hours flight time from Doha, there is a population of over three billion people, and this is what we will tap.
"Doha will serve as an excellent gateway for you, connecting Phuket to key cities around the world." he added.
According to Mr Al Baker, the increased accessibility of Phuket to the rest of the world will help boost tourism, particularly since Doha's central location makes it an ideal hub.
Popular connections for the Doha – Phuket route include Western European cities such as London, Stockholm, Berlin, Moscow as well as cities in North and South America.
Qatar Airways decided to add a direct Phuket route following the success of its Bangkok – Phuket service, Mr Al Baker.
The carrier hopes the new service will increase its inbound passenger load to Phuket from 200,000 last year to 300,000 this year.
"Phuket is a favorite destination from the Middle East and from passengers that fly with us from Europe," Mr Al Baker said.
Suvat Chirapant, the Thai Ambassador to Qatar, said Middle Eastern tourists look to holiday destinations in Asia during the harsh summer months there.
"Previously Florida was the top choice, but after 9/11 it has been harder for them to get visas and they don't feel as comfortable going," he said.
Medical tourism is also another sector of the local economy that is set to benefit, Mr Al Baker said.
Thailand is already the number-one destination in the world for this niche market [among Middle Easterners], said Mr Al Bakar.
He has been working with Mr Suvat to promote it further, he said.
The first ever medical tourism roadshow in the Middle East was held in Doha last month.
The new direct route will give Phuket a competitive edge over other medical tourism destinations in Asia, including Singapore and Korea.
"Medical services in Qatar are expensive and there is a certain lack of expertise, so medical tourism is a selling point for Middle Eastern tourists," Mr Suvat said.
When asked whether the route will be popular with Thais wanting to holiday in Qatar, the ambassador was skeptical.
He cited the harsh climate and lack of natural attractions in Qatar as an obstacle.
"It is more of a business or MICE [meetings, incentives, conventions and exhibitions] destination, rather than for leisure and recreational tourism," he said.
Initial booking rates indicate demand for the service is strong, Mr Al Baker said.
In response to comments about layover times of up to eight hours for passengers transferring from European flights, Mr Al Baker said:
"We do realize this is an issue on many connecting flights, but as with everything we cannot satisfy every passenger. But it is for this very reason that we have increased the frequency of our flights to Bangkok, giving you another convenient option," he said.
The Kuala Lumpur stopover that is currently part of the Doha – Phuket route will be eliminated as soon as more aircraft are available, he said.
"When this happens I am sure there will be massive improvements in the connections between European capitals and Phuket," he added.
— Alexandra Andersson
Mariam the young Krabi dugong dies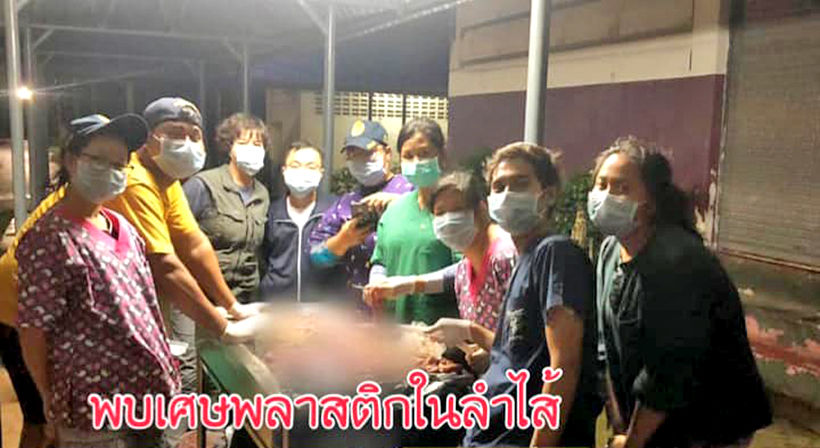 PHOTO: กรมทรัพยากรทางทะเลและชายฝั่ง
The Phuket Marine Biological Centre has announced the sad news about the special young dugong 'Mariam', who was found in Krabi back on April 26.
Young Mariam died earlier today.
The centre posted on its official Facebook page that the vet team found that she'd stopped breathing and her pulse had stopped as well, so they brought her out of the water to try and stimulate breathing.
Initially, they found that she was still responding from her eyes so they return her back to the pond. After checking the pulse, they found that it stopped again so they used some veterinary medications to keep her alive and pulled her out of the water for a second time.
She was pronounced dead at midnight today.
In a post mortem the vets found that Mariam had consumed a quantity of plastic that may have been previously undetectable.
"Rest in peace Mariam, our little angel," says the PMBC post.
Read some more about Mariam HERE.
Government MP receives death threats after exposing illegal condo project in Phuket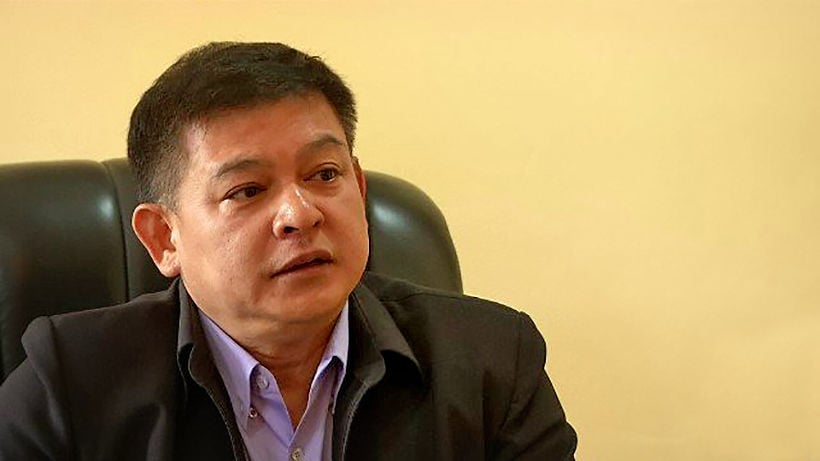 PHOTO: Sira Jenjaka MP, says he has received death threats
A government MP for Bangkok says he has received death threats for revealing a Phuket condo project that allegedly sits on land without the proper documentation. The project, at this stage, remains un-named.
Sira Jenjaka is an MP with the ruling Palang Pracharat Party and claims that two people had already died as a result of revealing the problems with the project.
He alleges the land documents had been revoked by the Administrative court in the past and says he will petition the Justice Ministry to have the project probed by the DSI (Department of Special Investigation).
Mr Sira says the un-named condo project, located in Tambon Karon (below), occupies land where the Nor Sor 3 Kor land ownership papers were revoked by the Administrative Court. He has alleged that the project is owned by a "retired high-ranking policeman".
"If government officials were found to be involved in the alleged malpractice, the state could be sued for damages worth billions of baht", according to a quote in the Bangkok Post.
He said that the potential buyers of the condominium apartments are mostly foreigners.
Mr Sirat said he planned to ask the Phuket governor to suspend the local mayor for alleged negligence in connection with the condominium project. He will also speak to the Phuket governor suspend construction of the project and cancel any contractor's licences.
The MP says that some state officials may have their authority and been complicit in the approval of the Nor Sor 3 Kor document.
SOURCE: Bangkok Post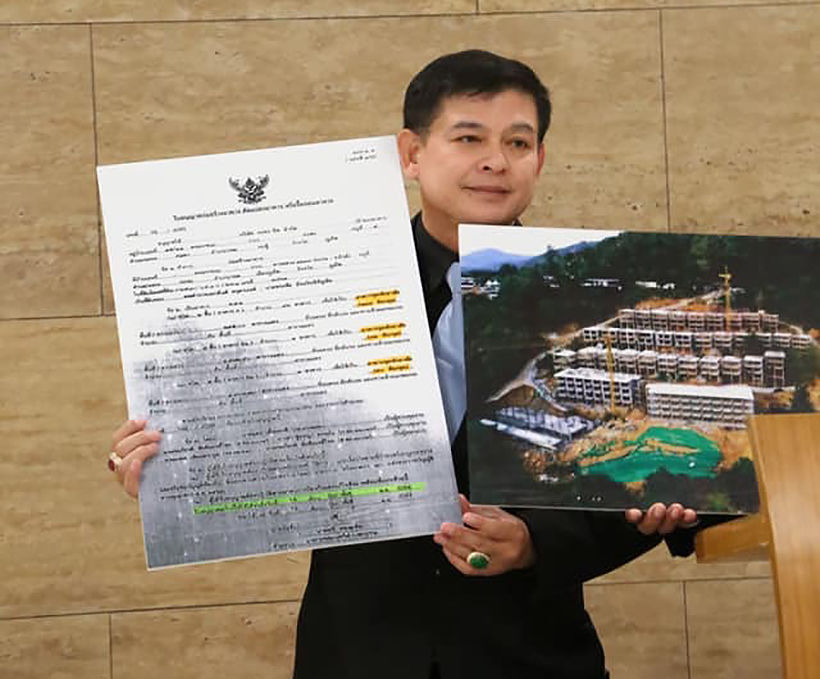 PHOTO: Manager Online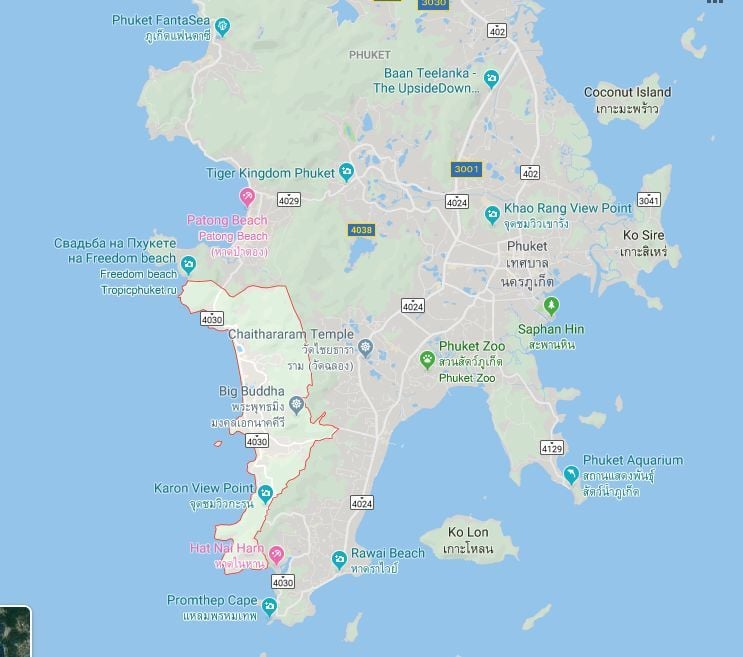 Turtle rescued on Nai Harn Beach, Phuket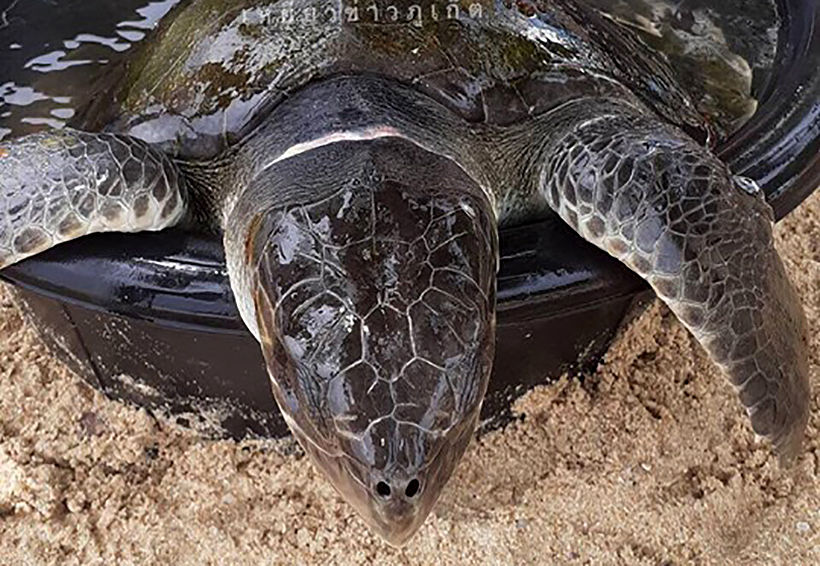 PHOTO: Aroon Solos
Today (August 15) at about 1pm, the lifeguard team at Nai Harn Beach rescued a small turtle, which had become stuck in a fertiliser sack.
They found the turtle washed up ashore with the sack wrapped up around its neck. They tried to carefully remove the sack from the turtle's neck but found that the turtle had been injured around the neck so they contacted the Phuket Marine Biological Centre to take the turtle back to the centre for further examination and treatment.
Well done to the lifesavers at Nai Harn.
VIDEO: Rawai Mayor Aroon Solos