Phuket
Private entrepreneurs reveal plans to launch 'smart buses'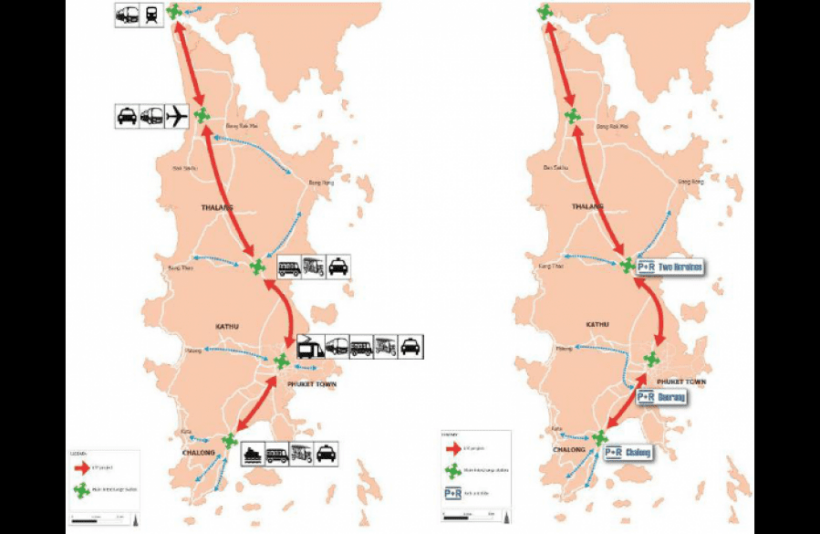 PHUKET: The shareholders of Phuket City Development Co Ltd (PKCD), a group of private entrepreneurs who came together late last year to form a company to work hand in hand with government departments to boost investment and promote seamless business operations in Phuket (story here), revealed their latest plans on Tuesday.
The company announced that six separate "offshoots" would handle different aspects of business and infrastructure development on the island, namely Phuket Smart Bus (PKSB); Phuket Economic Center Development (PECD); Phuket Application (PKAP); Phuket Data Center (PKDC); City Development Crowdfunding (CDCF); and Phuket Live@Sunset (PKLS).
"The first phase of PKSB will be launched in January 2018. We will provide a 'smart bus' service from Phuket International Airport to Homeworks in Phuket Town. A test launch will first be done in October," said Dr Phadet Jinda, one of the company's co-founders.
The buses will be air-conditioned Mercedes Benz diesels offering an array of features, including free WiFi, GPS tracking capability, CCTV, a wheelchair ramp, entertainment systems, digital route information, digital signage, and e-ticketing.
"The total cost for 10 buses is 55mn baht. Once we have launched the buses, we will also work toward infrastructure development to alleviate traffic jams, accommodate commuters and accomplish Transit Oriented Development (TOD)," he added.
TOD is a sustainable development concept that focuses on the creation of compact, pedestrian-oriented, mixed-use communities centered around high quality public transport systems.
The company also plans to open a 2,200sqm head office at Homeworks, which will house all the separate business units under one roof.
"PECD will handle transfer of belongings and people. When travellers come from the airport, they can put their belongings at Homeworks and their luggage will be transferred directly to their hotel, so they can get straight to their holiday experience," said Dr Phadet.
"People spend time and money on using several different mobile and computer applications to make bookings and gather information about Phuket. That's why we decided to build PKAP to provide information about restaurants, hospitals, tourist attractions and hotels. This will also be launched on January 1," he added,
One of the reasons for building this app, he said, is that many tourists feel they can't fully enjoy their time in Phuket because they can't find activities that are right for them. PKAP will these visitors design their own integrated experience in Phuket with ease, he added.
The data-center arm of the business plans to launch a touch-screen interface at Homeworks that will provide a drone view of the island, where people can virtually experiment with their own ideas for city development and urban design.
The crowdfunding branch of the business will serve as a funding portal between the company and investors, while Phuket Live@Sunset will host entertainment events, including a series of concerts featuring David Guetta, the Scorpions and Body Slam, to be staged January 12-14.
The company also announced plans to host an 'Asian Expo' in 2025 and build major landmarks in Phuket, such as 'Marina Bay' or 'Garden by the Bay' in Singapore.
Another PKCD co-founder, Kan Prachumpan, revealed that PKCD has signed 11 MOUs to form public and private partnerships with other companies, including The Thailand Research Fund (TRF), Visa International (Thailand), and Phuket Real Estate Association, among others.
Mr Kan added that PKCD's mission is to raise the benchmark of Phuket development to bring it in line with global standards in order to make Phuket comparable with other tourist destinations. In the next phase, the company will reveal how everyone can become a part of the initiative under it's new slogan: 'No One Left Behind'.
— Sukawin Tanthavanich