Phuket wins direct flights from Beijing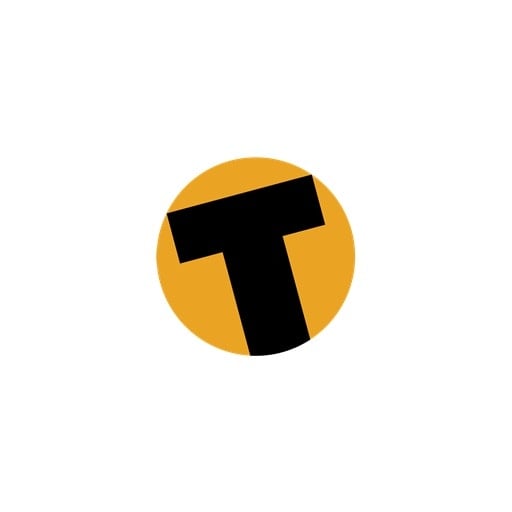 Phuket NEWS Hound
– A daily digest of news from around the world compiled by Gazette editors for Phuket's international community.
PHUKET: Hainan Airlines is preparing to launch non-stop flights to Phuket from Beijing on July 31, becoming the first and only domestic carrier to offer such a service.
According to China Hospitality News, the fourth-largest carrier in China will operate three weekly flights – every Tuesday, Thursday, and Saturday. The flights will depart Beijing at 18:00 local time and arrive in Phuket at 22:50 local time. The return flight will leave at 23:50 local time and arrive Beijing the following morning at 06:15 local time.
The route will be operated with Boeing 737-800 aircraft.
The non-stop flights will cut travel time by more than five hours, making it much more convenient for air passengers to the tropical island.
Phuket is often dubbed 'The Pearl of the Andaman'.
Phuket air traffic rising
TTR Weekly
Airports of Thailand's recently released traffic figures for June show a 4.5% growth in aircraft movements at all six airports, while passengers dropped marginally by 0.57%.
Notably, Phuket International Airport's traffic has improved month-by-month this year, despite political turmoil. International passenger traffic increased by an average of 50%, while aircraft movements increased by more than 30% every month. In February, aircraft movements improved by 62%.
In June, international aircraft movements at Phuket Airport improved 33% over the same month last year, and by 46% for international passengers.
However, domestic traffic told a different tale. While domestic airlines increased their flights resulting in a 23% increase in aircraft movements, domestic passenger traffic sank 6%.
June was the second month that Phuket received fewer domestic travellers, following a decline in May.
Phuket to be halal hub
MCOT
The World of Halal Science, Industry & Business (WHASIB) conference for 2010 recently held in Phuket puts Phuket on the world map as a center for dietarily pure and wholesome food and personal care products.
Muslims around the world must observe religiously-directed food and lifestyle behaviours – known as 'halal' – to maintain their personal ritual cleanliness within their communities.
Phuket's Halal Expo was organised in Phuket to promote Muslim culture and Muslim-related businesses in the region.
PIA offers emotional balance tips
Asia Travel Tips
The Phuket International Academy Mind Centre (PIAMC) is hosting an exclusive training seminar for professionals looking to heighten their awareness in cultivating emotional balance within themselves and passing on the knowledge to a broader audience.
Running until 24 August 2010, the "Cultivating Emotional Balance Teachers' Training" course will be taught by world renowned psychology professor Dr Paul Ekman and Dr B. Alan Wallace (who is also Chairman of PIAMC) in conjunction with the Santa Barbara Institute for Consciousness Studies.
A team of IT experts will be using video conferencing software which will allow Dr Ekman to not only give lectures from his home in California, but to communicate directly with participants and answer questions each day.
Tesco may eye Carrefour
Business Times
Tesco plc investors want the UK's largest retailer to bid for Carrefour SA's Southeast Asian supermarket assets, but not at the indicated price.
Carrefour is open to offers for its units in Malaysia, Thailand and Singapore. For the combined operations, Carrefour has indicated a price of US$800 million to US$1 billion, the Tesco plc investors said, a valuation that according to Royal Bank of Scotland analyst Justin Scarborough would be too high for any bidder.
"If Tesco keeps putting money into their strong markets, and Thailand is clearly one, then that would be grand," said Phil Doel, an investment manager at F&C Asset Management in London, whose funds hold about 1% of Tesco shares.
"It depends on price and the return they can get," he said.
Tesco generates about a third of its sales outside the UK, where growth is slowing amid heightened competition and easing inflation.
Asia accounts for about 15 per cent of the retailer's revenue and is its fastest-growing division by earnings, which rose 24 per cent last year. Tesco plans to add 4.9 million sq ft of new store space in the region this year.
Tesco and Carrefour both operate in Phuket, but provincial figures on their operations in Phuket are not published.
Russian Pianist ordered to return to Thailand
BBC News
Charged with the rape of a 14-year-old boy in Pattaya and released on bail earlier this month, Mikhail Pletnev was ordered at a hearing on Monday to return to Pattaya every 12 days to renew his bail, set at 300,000 baht (approx $9,000).
Mr Pletnev, who conducts the Russian National Orchestra, is allowed to travel abroad as long as he continues to make his court appearances.
Speaking to reporters outside the court, Mr Pletnev said: "I say again these allegations are not true."
"I have always stated that I will assist the police in every way I can with their enquiries into the allegations that have been made against me."
If found guilty of the charges against him, he could face up to 20 years in prison.
He was not considered a flight risk because he is resident in Thailand and owns property here.
Mr Pletnev is an internationally famous musician – a virtuoso pianist, composer and conductor – and a friend of former Russian President Mikhail Gorbachev.
He won a Grammy in 2005 for an arrangement of Prokofiev's Cinderella.
— Gazette Editors
Keep in contact with The Thaiger by following our
Facebook page
.
Phuket's water bosses claim there will be enough water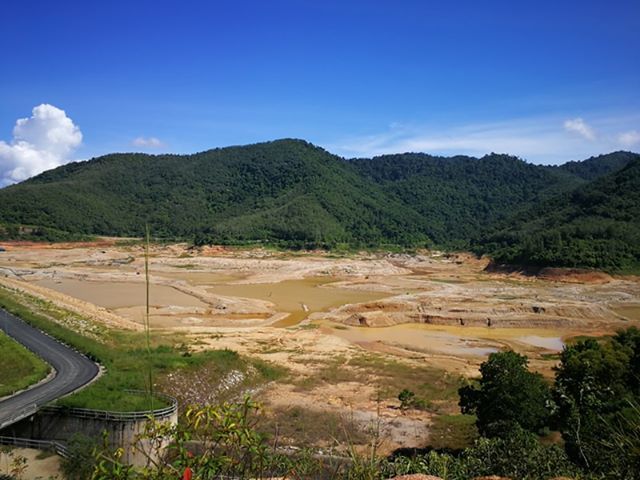 PHOTO: Bang Neow Dam in Thalang, just a few muddy ponds
Well into the second half of the Phuket wet season and the three main dams are well below capacity, Bang Wad Dam just over 13% capacity and the Bang Neow Dam in Thalang district around 5%, mostly unusable muddy ponds. The newer Khlong Katha in Chalong is at a much higher level, about 30% of capacity.
But this time of the year the three dams need to be well on their way to full capacity if the island is to get through the high tourists season and dry season without a repeat of last year's muddle where provincial obfuscation and confusion put the health of thousands of residents at risk by cutting off their water supply and water trucks became more populous than passenger vans.
The lack of water also co-incides with increased development and more tourists arriving each year.
Now the Director of the Phuket Provincial Irrigation Office, Somsawat Chaisinsod, is calling for province administrators and the Phuket Provincial Waterworks Authority to begin water saving campaigns as the annual heavy rains in October may not arrive or be less frequent. The suggestion of water 'restrictions' was not mentioned in the meeting.
At a meeting attended by Phuket's Governor Phakaphong Tavipatana, Mr. Somsawat claimed that the island's annual rainfall, for the first seven months of 2019, has only been 10% less than average.
But the dams are a LOT more than 10% lower in capacity. In the case of the Bang Neow Dam in Srisoontorn, it's virtually empty.
A representative from the PWA said that the Authority is currently buying 45,000 cubic metres of water per day from undisclosed "private sources" to top up the island's potable water needs.
"The PWA is in the process of securing water supply from a new supplier to improve the water supply and reduce the volume of water drawn from the dams."
Meanwhile Prapan Kanprasang, chief of the Department of Disaster Prevention and Mitigation in Phuket, told The Phuket News he "believes Phuket has enough water to the island through the next dry season, after the annual rains cease early November".
"We have enough water to use."
Keep in contact with The Thaiger by following our
Facebook page
.
Norwegian out on bail following death of British man at Centara Grand Resort in Phuket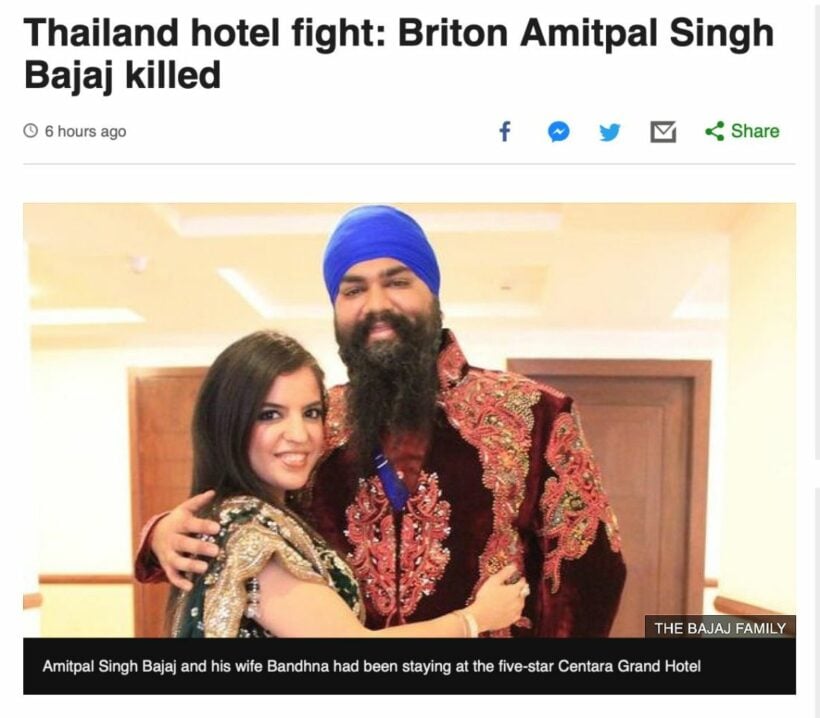 SCREENSHOT: bbc.com
The bbc.com are reporting that a British man died at the Centara Grand Hotel in Phuket in a fight after telling another guest to "keep the noise down" as his wife and son tried to sleep, according to the man's family.
The details in the BBC report conflict with earlier local reports out of Phuket.
The BBC report says that 34 year old Amitpal Singh Bajaj from the UK complained about noise from the next room at the five-star Centara Grand Hotel on Karon beachfront in Phuket.
The man's family claims that another man forced his way into their room via the balcony early on Wednesday, August 21. The family claims that the man strangled Mr Bajaj.
In a statement Amitpal's 34 year old wife Bandhna Kaur Bajaj described to police how the attacker "barged" into their room naked and attacked her husband.
"My husband sacrificed his life to save my son's life and mine. He will always be our hero."
"My husband tried to block the man and move me and my son away. As the man was kicking, punching and just, beating him up, my husband told me to please leave and save our son," according to the BBC report.
The rendering of the report from the BBC is quite different from Phuket's local news reports.
In Phuket reports it stated that a fight started at 4am, when the British man Amitpal Singh Bajaj confronted Norwegian Roger Bullman over the amount of noise coming from his room.
"Mr Bullman was drunk, and security had already visited his room twice to ask him to keep the noise down. When Mr Bajaj confronted him, he stabbed Mr Bullman in the shoulder with a steak knife.
Mr Bullman, trained in martial arts, then got the British man in a choke hold and maintained his grip on him. He says he did not mean to kill him, and did not think he had."
The BBC report says that Mrs Bajaj grabbed the couple's 2 year old son and fled the hotel room to look for help. She says she ran down a staircase and hid under a tree with her son in her arms while calling the reception from her mobile to tell them what had happened.
"I asked the reception to please make sure someone attends to my husband… "please give him some medical help, I'm very scared, I've escaped", according to the BBC report.
"I could still hear the attacker screaming. I didn't want to be attacked."
Mr Amitpal was taken to Patong Hospital where he was pronounced dead.
The Norwegian Foreign Ministry has confirmed that a Norwegian citizen has been arrested in Thailand and is being provided consular assistance.
According to Phuket News, Karon police said that "Mr Bullman had been released on bail posted at the court, but was unable to confirm how much bail was posted at. Reports in the Norwegian media said that bail was posted at about 200,000 baht."
Keep in contact with The Thaiger by following our
Facebook page
.
Huawei technology working with the 'smart city' project in Phuket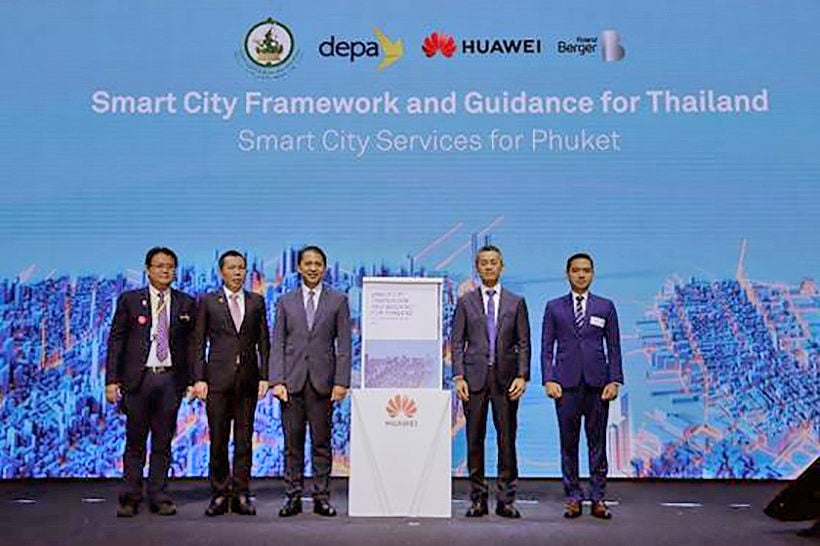 Huawei Technologies impressed participants at this week's ASEAN Smart Cities Network Conference & Exhibition in Bangkok with its white paper on smart city development in Phuket.
The paper aims to drive Thailand 4.0 initiatives to pave the way for major digital and infrastructure development in Phuket, one of Thailand's pilot smart cities, and to provide insights and guidance on an integrated framework needed for a successful and sustainable urban transformation.
Inspired by Thailand 4.0 economic development program launched in 2016, the paper focuses on a practical ideas that helps empower Phuket communities for digital future.
Huawei conducted an assessment and case studies on the services and utilities required for a fully-developed smart city. The resulting white provides comprehensive insights into action plans to transform Phuket into a smart city by 2020.
The services include smart energy and utilities, smart mobility, smart environment, smart living and smart economy while the enablers are smart governance, smart infrastructure and smart people.
In his opening address, Digital Economy Promotion Agency (Depa)'s president Dr. Nuttapon Nimmanpatcharin noted that thanks to the support from the National Smart City Committee and organizations from both public and private sectors, the smart city developments have already begun in 6 prioritized cities: Phuket, Chiang Mai, Khon Kaen and 3 EEC provinces.
"As one of our pilot cities, Phuket needs a clear development plan and a sustainable management model in order to fully transform into a smart city in 2020, this white paper will surely help facilitate smart city project for Phuket and other smart city candidates as well."
Chanchai Tanatkatrakul, Principal, Roland Berger Thailand added: "We looked at global best practices and analysed local issues and requirements to develop this Smart City Framework for Phuket. Talking to various stakeholders helped us tailor our recommendations that can address the needs of Phuket and its people very well:"
Deng Feng, Managing Director of Huawei Thailand agreed, saying: "At Huawei, we promote industry development at all levels. As Thailand embarks on the journey to become one of the first countries in the region to develop a smart city scheme, we will provide practical recommendations and solutions to ensure a smooth and complete city development for Phuket and the rest of Thailand."
SOURCE: The Nation
Keep in contact with The Thaiger by following our
Facebook page
.