Phuket update: Swede horror smash driver surrenders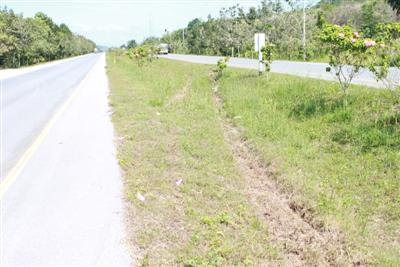 PHUKET: The reckless truck driver who killed four Swedish holidaymakers in Phuket as well as their Thai driver on Wednesday morning surrendered to police in Phang Nga yesterday.
The driver, 27-year-old Muhummadyukee Jehyusoh, was held in a cell at Phang Nga Provincial Court yesterday. He has since been transferred to Phang Nga Provincial Prison.
Media access to the Narathiwat native was restricted by Khok Kloy District Police after he turned himself in at about 10am yesterday.
Despite the confession, Khok Kloy Duty Officer Capt Santi Prakobpran told the Phuket Gazette this morning that they still don't know what caused Mr Muhummadyukee's six-wheel truck to cross a median strip and crash head-on into a Toyota Altis driven by Wichit Phromluang, a 26-year-old from Udon Thani Province.
Capt Santi said he expects Mr Muhummadyukee to request a bail release from Phang Nga Provincial Court.
He has already confessed to police charges of reckless driving resulting in loss of life and property damage, Capt Santi said.
Police are still investigating whether he was under the influence of alcohol or fell asleep at the wheel, he said.
Mr Muhummadyukee, who fled the scene after the accident, surrendered himself after conferring with his employers at the Chotepatama Company.
He abandoned the company's six-wheel refrigerated truck at the scene of the accident, which killed all five in the car instantly and ripped the axle off the front of the truck.
Mr Muhummadyukee was unhurt.
He was on his way to Phuket to collect a shipment of fish when the accident occurred, Capt Santi said.
Both vehicles are now on the grounds of Khok Kloy District Police headquarters, about five kilometers from the accident scene.
An examination of the Altis wreckage revealed that airbags had deployed.

Gazette reporters yesterday visited the accident scene, where tire tracks left by the truck were still clearly visible in the drainage ditch the truck crossed before hitting the Altis head-on.
A shirt, pair of shorts, blanket and some flowers were laid out at the scene where the Altis came to rest, presumably put there in memorial by relatives of the late Mr Wichit.
The accident, like ones before it, turned the Swedish media spotlight on the safety of Thailand as a tourist destination.
A report on the Swedish website Svenska Dagbladet listed Thailand and Turkey as the two tourist destinations with the largest number of Swedish fatalities in both 2009 and 2010.
The report quoted Swedish road safety expert Niklas Stavegård as saying that traffic conditions in Thailand "differ significantly" from those in Western Europe and North America.
"It runs a completely different way, with many pedestrians, mopeds and other kinds of vehicles, and they do not follow traffic rules in the way we are accustomed to here," he said.
Karl von Schoultz of the Swedish Automobile Association advised Swedes in Thailand from getting behind the wheel until they had "been here a while" and were familiar with the "prevailing culture" on Thai roads.
"Sure there are traffic laws and police to enforce them, but the traffic culture is casual. They do not have the same respect for rules or the safety consciousness that we have at home, or in Europe," he was quoted as saying in another report about the accident.
— Atchaa Khamlo & S. Fein


Read more headlines, reports & breaking news in Phuket. Or catch up on your Thailand news.
Three suspects arrested with over 500 kilograms of kratom in Kathu, Phuket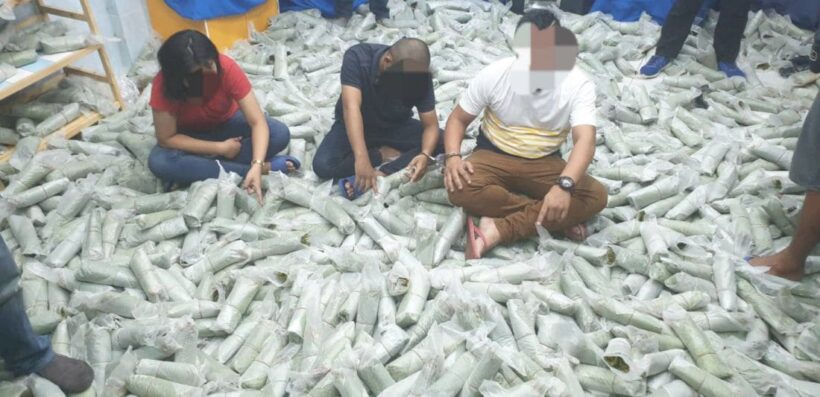 Police have arrested three suspects with a total of 502 kilograms of kratom in Kathu, central Phuket.
Border Patrol police have arrested three suspects – 34 year old Nattee Sukan, 20 year old Nattawut Lakhin and 18 year old Nantawan Kuna – at a rented room in Kathu.
Police seized 502 kilograms of kratom leaves. They were taken to the Kathu Police Station to face charges possessing illegal Category 5 Drugs with intent to sell.
They told police that they were hired by an un-named woman to deliver kratom to her customers.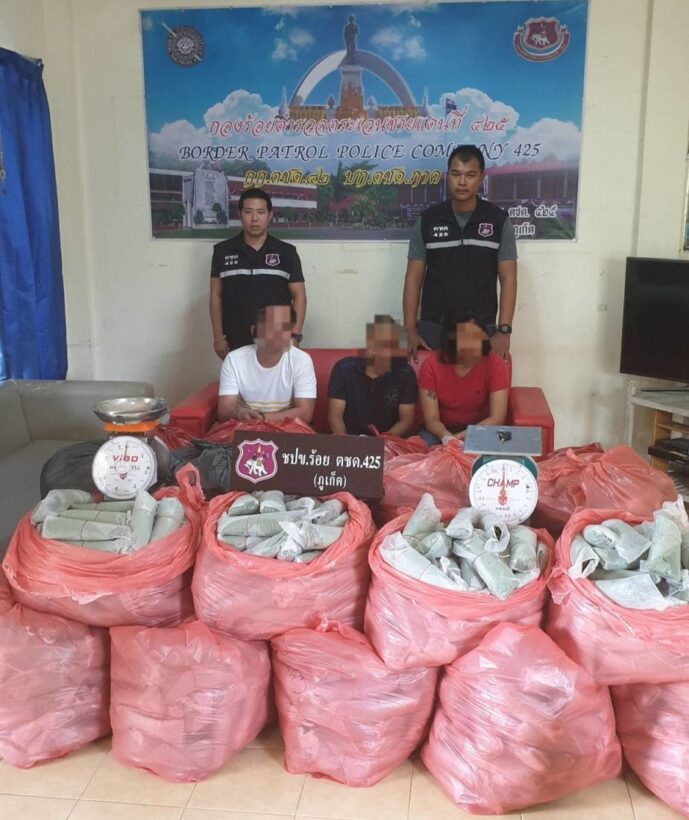 Weather warning for Thailand's southern provinces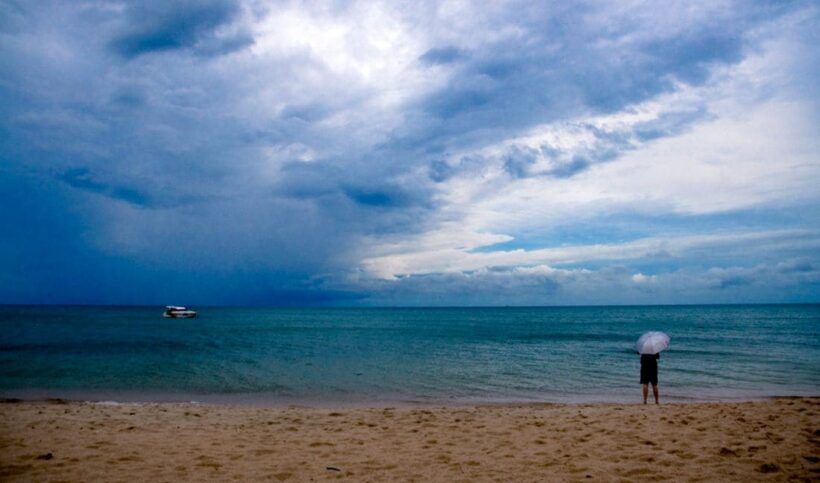 Thailand's wet-season is forecast to be 'wet' in the south for the next few days. The Thai Meteorological Department has issued its 3rd consecutive weather warning in the past 24 hours to alert residents of heavy rain in the Southern provinces, strong winds and high seas.
In the latest warning issued this morning at 6am, the TMD reported that, until June 27, the strong southwest monsoon will prevail over the Andaman Sea, the South and the Gulf of Thailand.
"Isolated heavy to very heavy rain is likely in the East and South. People in the South should beware of the severe conditions that may cause flash floods."
"Strong winds and 2-3 metre waves are likely in the Andaman Sea and the Gulf of Thailand. All ships should proceed with caution and small boats should remain ashore until June 29."
The affected areas listed in the warning are:
June 24 and 25…
Nakhon Nayok, Chachoengsao, Chon Buri, Rayong, Chanthaburi and Trat in the east and Phetchaburi, Prachuap Khiri Khan, Chumphon, Surat Thani and Nakhon Si Thammarat in the east coast to face isolated heavy rain, and Ranong, Phangnga, Phuket, Krabi, Trang and Satun in the west coast to face isolated heavy to very heavy rain.
June 26 and 27…
Chon Buri, Rayong, Chanthaburi and Trat in the east, Chumphon, Surat Thani and Nakhon Si Thammarat in the east coast, and Ranong, Phangnga, Phuket, Krabi, Trang and Satun in the west coast will be covered with isolated heavy rain.
Bangkok will be cloudy with scattered thundershowers and isolated heavy rain during the forecast period. Minimum temperature 28°C. Maximum temperature 39°C.
SOURCE: Thai PBS
Two Patong Tuk Tuk drivers surrender after a shooting in Patong, Phuket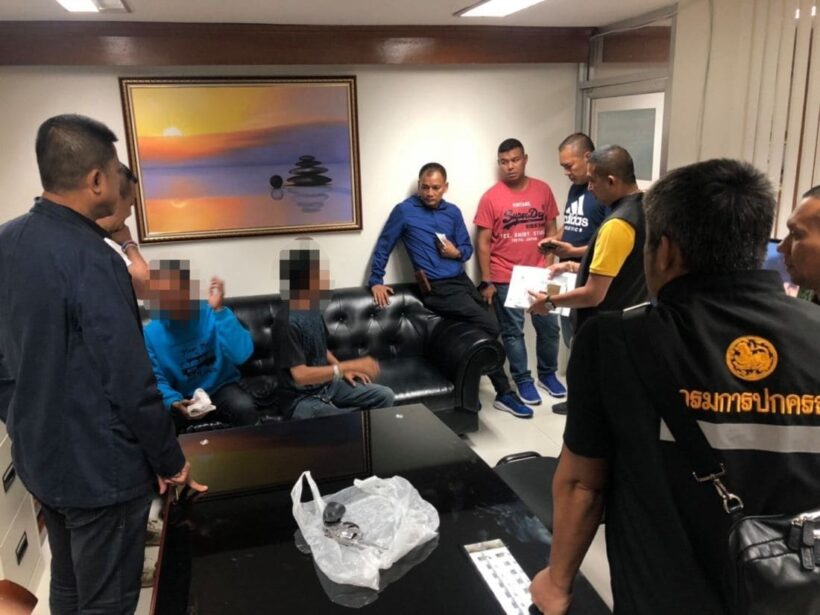 Two Tuk Tuk drivers have surrendered after a Patong entertainment staff member was shot and killed early yesterday. Patong police were notified of the incident at 4am Sunday morning in Soi Patong Tower off Taweewong Road (the beach road).
Police and emergency responders arrived to find the body of a man who was identified as 45 year old Panya Kingjampa, a staff member at an entertainment venue. Blood was found on the ground where his body was laying. His body was taken to Patong Hospital. Doctors found bullets in his stomach during the examination.
Last evening two suspects surrendered themselves at the Patong Police Station handing in a handgun at the time. They are facing charges of assault eventuating in death.
The suspects have allegedly told police that they tried to stop Mr Panya from trying to steal property from a tourist. More information when it comes to hand.