Phuket sports: Yes, it's a game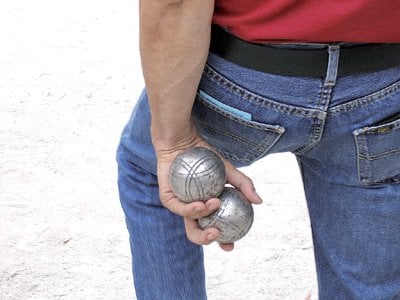 PHUKET: AT LAST, the 28th National Youth Games has finally arrived. Never before has Phuket been privileged to host such a large and significant sporting event.

Hundreds of athletes will compete in 40 sports and games, with thousands more coming to cheer them on. Apart from the usual sports spectators expect to see there will also be a number of lesser-known disciplines. As a guide for readers, a few of the more unusual sports, along with information about where and when to watch is listed below.

Kabaddi: May 30 to June 5 at the Prince of Songkla University Phuket Campus Gym in Kathu. This sport, often played indoors, is popular across much of South Asia. It involves two teams of seven, and lots of tackling, as players try to gain points by "raiding" their opponents turf.

Sepak Takraw: May 25 to June 5 at Baan Samkong Municipal School. The national sport of Thailand, Myanmar and Malaysia, this game is similar to foot volleyball, but using a woven ball. This is a "must see" for those who enjoy fast paced, acrobatic maneuvers. Thailand is among many Southeast Asian nations working to have the sport included in the Olympic Games, thus far without success.

Hoop Takraw: May 26 to June 4 at Phuket Technical College on Yaowarat Rd in Phuket Town. A variation of takraw using a hoop instead of a net. Teams do not compete directly against one another, instead, they try to get as many points as possible in an allotted time.

Softball: May 27 to June 4 at Sanam Chai, opposite Phuket Provincial Hall. Unlike its name suggests, the ball used in this sport is not soft at all and is larger than its parent: the American baseball. Due to its mass, however, the pace of play tends to be lighter than baseball, which is not one of the 40 sports.

Soft Tennis: May 27 to June 4 at the Saphan Hin tennis courts. Similar to standard singles and doubles tennis, except that participants use a soft rubber ball.

Remote Control (RC) Airplane flying: May 31 to June 1 on Chaofa Thani Road, behind the Shell service station on Chao Fa West Road in Wichit. Keep your head low and your eyes peeled.

Bridge: May 28 to 31 at Phuket Rajbhat University in Rassada. Yes, the card game that grandma loves.

Pencak silat: May 30 to June 4 at the multipurpose building in Piboon Sawatdee Municipal School, next to the tennis courts on Narison Rd. This martial art is indigenous to Indonesia, but 32 national teams competed in the last world championships held in Jakarta.

Wushu: May 29 to June 2 at Phuket Thai Hua School on Wichit Songkram Road in Phuket Town. This sport, a form of traditional Chinese martial arts, is the essence of Kung Fu.

Snooker: May 26 to June 4 at Baan Bangneaw School on Phuket Road, walking distance from Saphan Hin. Parking in the area is notorious, so consider taking the pink Poh Thong Bus, Route 1, which covers all of Saphan Hin.

Go: May 27 to June 4 at Laddawan Assembly Room at the Chalermprakiet School in Saphan Hin. A simple-to-learn, difficult-to-master, ancient Asian board game.

Petanque: May 28 to June 3 at the multipurpose yard, Saphan Hin Sports Center. A form of boules that is, more or less, a big kid's version of marbles. A hit with many old timers here in Phuket.

Woodball: June 1 and 2 at Saphan Hin Sports Center. Wooden mallets and balls, but definitely not croquet. A sport so obscure there are only two sentences about it on Wikipedia.

Schedule and venues for the Phuket Games

•Track and Field: May 28 – 31 @ Surakul Stadium
•Swimming: May 28 – June 2 @ Saphan Hin Sports Center (SHSC)
•Golf: May 28 – 31 @ Loch Palm golf course
•Karate-do: May 31 – June 4 @ Building 3, SHSC
•Road Cycling: May 27 to June 1 @ Highway 402, Mak Prok to Tha Chat Chai, rest on May 29-30.
•Track Cycling: June 2 – 4 @ Phuket Rajabhat University (PRU)
•Taekwondo: May 31 – June 5 @ PRU
•Tennis: May 26 – June 4 @ OrBorJor Phuket tennis courts
•Ping Pong: May 26 – June 2 @
Mahogany Room, Sattri Phuket School
•Basketball: May 25 – June 5 @ Karn Wek Hall, Sattri Phuket School, rest on June 2
•Badminton: May 27 – June 4 @ Gym 2, SHSC
•Bowling: May 30 – June 2 @ CS Bowl, Big C Supercenter, Phuket
•Fencing: May 31 – June 4 @ Chalerm Phrakiet School
•Futsal: May 24 – June 5 @ 4,000
capacity gym, SHSC, rest on June 4
•Football (boys): May 25 – June 5 @ SHSC, rest on June 2 and 4
•Football (girls): May 25 – June 5 @ Cherng Talay Tantiwit School, Thalang, rest on June 4
•Boxing: May 26 – June 4 @ Kathu Wittaya School, Kathu, rest on June 3
•Weightlifting: May 27 – 31 @ Phuket Vocational College
•Gymnastics: May 27 – June 5 @ Cherng Talay School
•Judo: May 24 – 28 @ Wichit Songkhram School, Mueang
•Rugby: May 24 – June 5 @ Kathu Wittaya School, rest on May 26 and 30, and June 4
•Sailing: May 28 – June 2 @ Ao Yon Bay
•Rowing: May 26 – 31 @ Nai Harn Lake, Mueang
•Beach Volleyball: May 25 – June 5 @ SHSC, rest on June 2
•Volleyball: May 25 – June 5 @ SHSC rest on June 2
•Handball: May 25 – June 5 @ Phuket Thai Hua School, Mueang

This list is not exhaustive. For more information, visit phuketgames.com.
Keep in contact with The Thaiger by following our Facebook page.
Never miss out on future posts by following The Thaiger.
Phuket Monopoly game creators need your help with token designs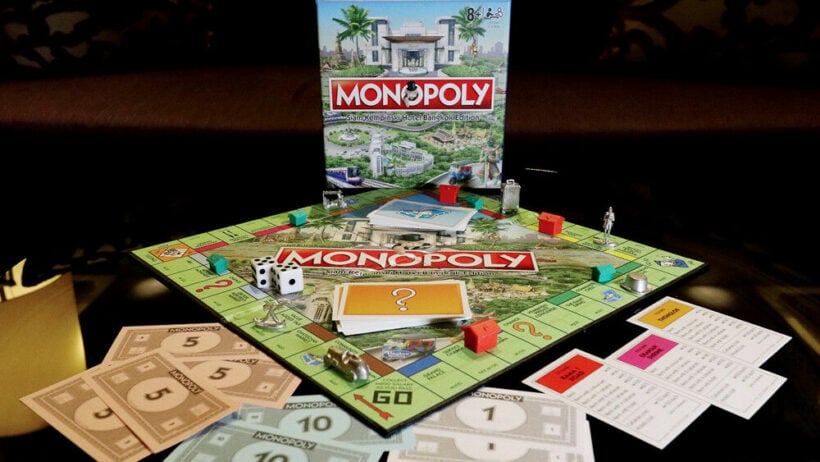 Phuket is set to get its own version of the popular game MONOPOLY and its creators want your help with ideas for the specialised tokens. 'MONOPOLY: Phuket Edition' was announced last month which will see the street art on the board game replaced with that of famous places around Thailand's famous tourist destination. Such art will include beaches, hotels, shops, markets and other popular attractions.
Jennifer Lau from Winning Moves UK, is producing the game under official license from Monopoly brand owners, Hasbro. Lau says the tokens will feature a holiday theme. The token's departure from the original theme of wheelbarrows, boots, iron, and thimbles as well as popular sports cars and hats.
"We have had a wealth of emails and suggestions coming in for Phuket, so thank you for each and every single one of them! We are taking them all into consideration whilst putting together the design of the game."
"We wanted to change the tokens so that they would be more suitable for an island like Phuket, where so many people like to go on holiday to."
"There will be six themed tokens that replace the original and we want to hear your suggestions for what these tokens should be!"
Bangkok has already been featured in the Monopoly game as it came out for purchase back in 2018.
SOURCE: The Phuket News
Keep in contact with The Thaiger by following our Facebook page.
Never miss out on future posts by following The Thaiger.
Phuket holds vaccine administration rehearsal as it waits for green light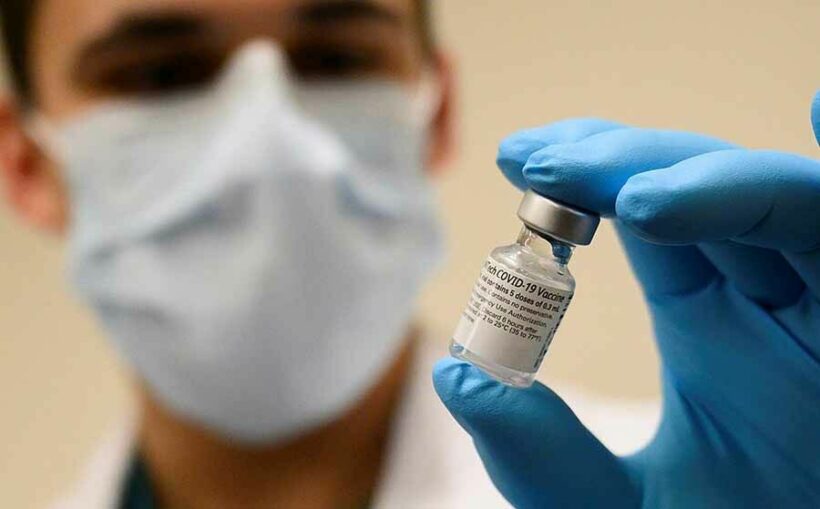 Phuket is rehearsing procedures to ready themselves for the Covid‐19 vaccine administration green light. A rehearsal at Vachira Hospital's Lan Muang Khao open area was held late yesterday to iron out any kinks in the administration process. Phuket Vice Governor Pichet Panapong watched over the procedures along with other health officials.
Pichet says the first vaccine round of 4,000 doses should arrive early in March, with the 2nd and 3rd set of doses, 16,000 and 48,000 respectively, to arrive in April and May.
"The government recognises the importance of the affected areas of the economy where the epidemic situation of COVID-19 must be stopped and has allocated the COVID-19 vaccine to Phuket Province to build herd immunity, restore the economy, return a smile to Thailand."
"We are preparing to COVID-19 mass vaccination to build confidence among the people that they will receive a quality, safe vaccine and to receive follow-up care after it has been administered."
Pichet says Phuket's first target groups to receive the vaccine include medical and public health personnel, with others on the frontlines to come next.
Then, workers aged 18-59 years old, people with underlying diseases including chronic respiratory disease, cardiovascular disease, chronic kidney disease, cerebrovascular disease, cancer, diabetes and obesity will follow.
"People with severe neurological conditions and pregnant women should be wary of taking the vaccine, as well as women who are breastfeeding and people with immunodeficiency."
The procedure to get vaccinated starts by recipients undergoing screening by having their temperatures taken, and then sanitising their hands before entering the administration area. Then, they will move their way through a series of steps, detailed below:
Step 1: Register
Step 2: Record weight and blood pressure
Step 3: Pass the screening process by have their medical history and risk assessment recorded and then signing a consent to receive the vaccine
Step 4: Wait for vaccination
Step 5: Vaccination
Step 6: Rest for 30 minutes, while being observed for symptoms. Then scan the official Line account "หมอพร้อม" ("Doctor Ready")
Step 7: Pass a final check before receiving a document confirming vaccination
Pichet says health workers will follow up with vaccine recipients after 1,7, and 30 days from being vaccinated to monitor any adverse reactions.
Those who are set to receive their second jab will have appointments made for them. Those who receive the Sinovac vaccine will be scheduled to have their second doses 2 to 4 weeks after the first. AstraZeneca vaccine receivers will be scheduled for their second doses 10 to 12 weeks after the first.
SOURCE: The Phuket News
Keep in contact with The Thaiger by following our Facebook page.
Never miss out on future posts by following The Thaiger.
Phuket police officer charged with attempted murder for shooting and critically injuring a noodle vendor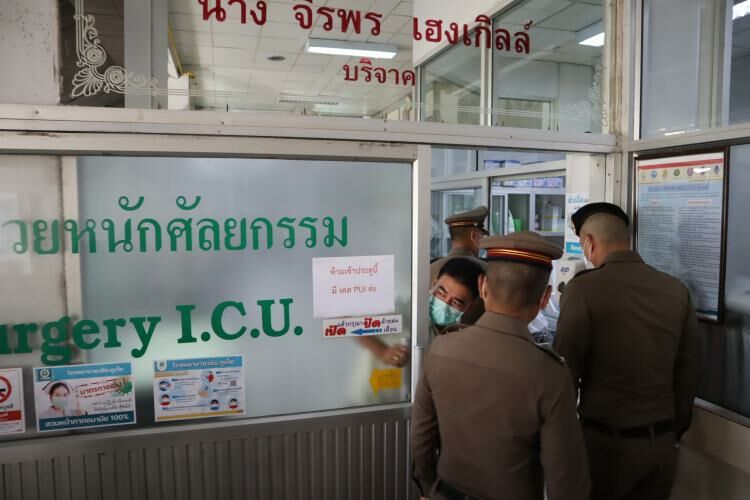 The drunk, off-duty police officer in Phuket who has caught on camera shooting and beating a noodle vendor on Bangla Road is now facing attempted murder charges as well as charges of carrying a firearm in public without a necessary reason and firing a weapon in a public area. The commander of the Phuket police station said he ordered investigators to prosecute the officer Pornthep Channarong with every criminal charge that can be applied.
The officer had gotten into an altercation just before dawn yesterday and shot a young vendor who was walking by. Surveillance camera footage show the 25 year old suddenly falling to the ground after being shot. The officer walks up and shoots the vendor at a close range, but it appears the second shot did not hit the vendor. The officer also slapped the vendor in the face, picked him up and shoved him over, and then kicked him as he lay on the ground.
The vendor has a 4 year old daughter and 3 month old son. His wife says normally he works as a motorbike driver, but he was helping his mother selling noodles. He was shot while he was walking back from collecting a noodle bowl, she says. The vendor is in critical condition and being cared for at Vachira Phuket Hospital's intensive care unit. He's in need of Type B blood.
"For his condition, the doctor told me that the bullet went through his lung. He lost a lot of blood. We need a lot of Type B blood for him."
A disciplinary investigation into the incident was launched by police and Pornthep was officially dismissed from the Royal Thai Police force. Region 8 Police Commander Kitrat Panpetch says the incident does not reflect the police force in Phuket.
"The incident was caused by an officer who did something wrong that our organisation does not want. We are a big organisation with more than 200,000 officers under our control. Our officers are not all bad like this."
Phuket Provincial Police Commander Pornsak Nuannu says he has reminded the police chiefs across the island to discuss reasons for carrying firearms in public.
"Carrying firearms is to prevent any type of crime that may happen, not to commit a crime by themselves like this incident. If I see any police doing such a thing, I will decisively proceed in terms of both officer discipline and criminal charges."
SOURCE: Phuket News
Keep in contact with The Thaiger by following our Facebook page.
Never miss out on future posts by following The Thaiger.