Phuket
Phuket retailers scramble to stem flood shortages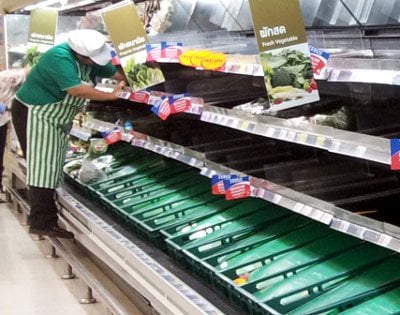 PHUKET: Phuket's major retailers are reeling from the effects of the floods in Bangkok and Central Thailand, which have crippled their distribution networks, sparking shortages of consumer goods and forcing local prices to skyrocket.
The Phuket Internal Trade Office (PITO) has launched a blitz against market vendors and retailers gouging customers, saying there is no need for panic as Phuket is still far from suffering a crisis.
"A lot of stores are short of many consumer goods: rice, water, milk and dry food," said PITO chief Supatcha Boonpalit.
"But goods that can't be found at some stores are still available at other stores," she added.
Major retailers Tesco Lotus, Big C and Super Cheap are struggling to cope with the erratic supply lines.
"We normally receive all of our goods from a distribution center in Ayutthaya, but the center is underwater," said a spokesperson at Tesco Lotus on the bypass road.
"Our deliveries still come daily, but with much less stock than usual. We are now short on drinking water, rice, sugar, milk and dry food products," he said.
To alleviate the problem, the company set up a temporary distribution center in Chumphon to serve all Tesco Lotus stores in Southern Thailand, he added.
However, fresh produce is in good supply. "We have a local distributor, so we have enough eggs, meat and organic vegetables for everyone," said the spokesman.
Big C has experienced the same: running short on packaged goods, but in good supply of local fresh produce.
"We usually receive all of our stock via daily deliveries from warehouses in Ayutthaya – but we didn't receive any stock from them for almost two weeks," said one staffer at Big C Extra in Patong
"We solved the problem by sourcing stock from other stores in the region. We trade products with Big C stores in Krabi and Phang Nga," he said.
Super Cheap is also suffering. "We are short on bottled water, rice and sugar. Although we still have enough for everyone, we have to limit the number of items per family," said a public relations officer.
"We have raised the prices of some products, mostly because we have to pay more in order to buy them, such as with some brand-names of water. But some local brands have distributors in the South, so for these items the prices are not affected," she said.
Some local relief from the spiralling prices is on its way, said Dr Sirichai Silapa-archa, chairman of the Phuket Chamber of Commerce (PCC).
"The cost of living [in Phuket] is already high, and now people have to suffer shortages and pay even higher prices. For this reason, the PCC will work with government offices and the Charoen Pokpahnd [CP] Group to start a market that sells products at lower than normal market prices," he said.
The fair will be held from 9am to 4pm in front of the PCC office [on Suthat Road in Phuket Town] on the first Thursday and Friday of every month, starting on November 3," he added.
— W Temram / C Yongcharoenchai