Phuket moorings break loose, wreak havoc for yachtsmen at Chalong Bay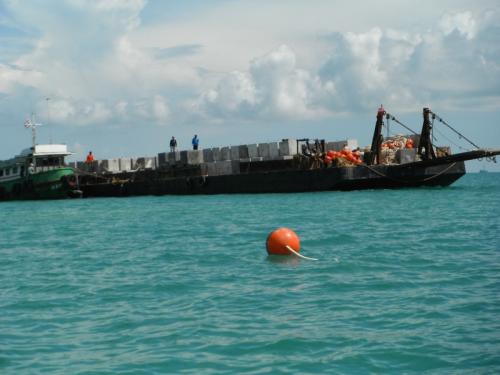 PHUKET: As yachts continue to arrive in Phuket ahead of the New Year's Eve celebrations and countdown tonight, the new moorings installed in Chalong Bay late last month have already wreaked havoc, with brand-new mooring lines breaking and setting boats adrift.

The broken lines have sent the yachts and other vessels to smash against their neighbors in the bay, resulting in complaints to the Phuket Gazette, with one skipper reporting four incidents on December 22 alone.

The news came after a 40-foot yacht, Jenzminc VI, broke free after it had been tied to one of the new moorings for about five days. The mooring line frayed and the boat collided with another yacht, sustaining damage.

The line was attached to one of 200 moorings laid by the Marine Department on November 29 in a project costing 5.8 million baht. The effort was undertaken to protect coral reefs from anchor damage.

But despite the carnage, Phuket Marine Chief Phuripat Theerakulpisut says the moorings are safe.

"We checked them before we made them available to the boat owners to use," he said.

Chief Phuripat believes that the fraying lines may belong to moorings set and rented out illegally by local people.

"We are trying to verify this, and if we find the people, they will absolutely be prosecuted," he says.

Nevertheless, he planned to immediately re-check the lines set by the department for which he is responsible.

Local yachties also said that the lines were strong enough. However, they blame the fraying on the direct attachment to the 2.5 ton concrete moorings. Without intermediary swivel systems that reduce friction, too much stress is placed on the ropes and they can chafe through.

Yachties voiced other concerns about the new moorings, notably that some of them were located too close to existing ones, risking collisions with the nearby vessels. One boat owner had his rudder torn off and a hole punched in the hull of his boat, costing about 30,000 baht in repairs and a further 25,000 baht in lost income from a cancelled day trip.

"Another 40-foot yacht [not the Jenzminc VI], this one owned by a Brit, was tied to one of the new moorings for six days," a yachtsman told the Gazette.

"The owner thought everything was fine, until he came back from shopping to find a big dive boat bashing against his yacht. The mooring for the big dive boat was laid by the dive company some years back, and the new mooring was laid too close," he explained.

Another concern is that some of the new moorings are posing a hazard at low tide.

"Some of the mooring blocks have been dropped in the shallower water, not far from the pier. There are some shallow patches that most boats avoid at certain tides," another yacht owner told the Gazette.

"When the tide is low, the concrete blocks become navigation hazards, reducing the depth even more and replacing a soft muddy bottom with a solid concrete one," he added.
Keep in contact with The Thaiger by following our Facebook page.
Never miss out on future posts by following The Thaiger.
Phuket's nightlife. Yes, bars and clubs are still open | VIDEO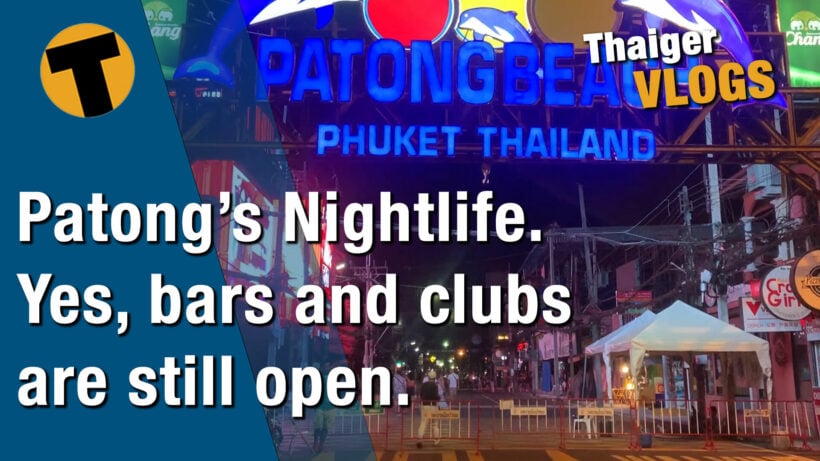 There was the original Covid-19 outbreak and lockdowns back in April and May in 2020, then again just before Christmas and New Year when the new clusters emerged in Samut Sakhon and the eastern coastal provinces, Patong's nightlife was quiet enough, almost non-existent.
Now when the restrictions are lifted, Nimz will take you through Phuket's famous nightlife spot Bangla Road, Patong Beach and Phuket Town. It's quiet, but there are still clubs open and operating and ready to welcome you.
Keep in contact with The Thaiger by following our Facebook page.
Never miss out on future posts by following The Thaiger.
Deceased Phuket expat's body stuck in hospital due to passport mix-up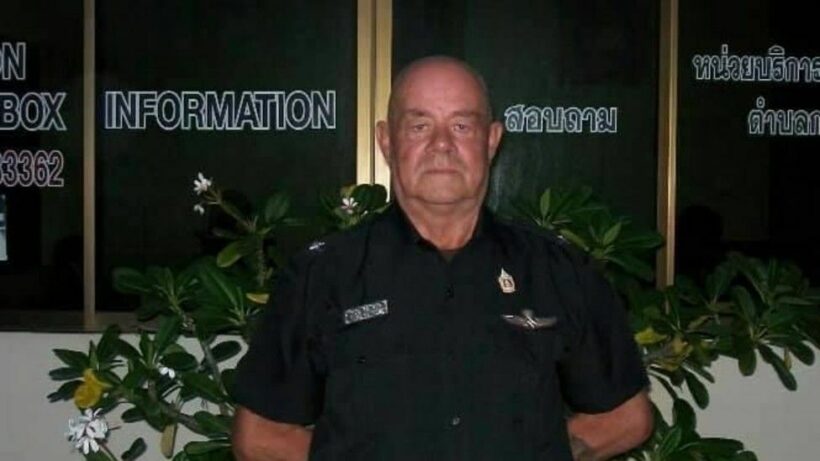 In a nightmarish scenario, a deceased Phuket expat's body is stuck in a Thai hospital as his step‐daughter claims hospital administrators won't release the body due to a passport mix‐up.
Gemma Swift, the step‐daughter of 75 year old David Donoghue, who died 2 weeks ago, says she is pleading with embassy staff in Thailand to resolve, what she says, is purely an administrative issue after Donoghue's passport number at the hospital was from that of an expired one.
Donoghue's current passport was on file with the British Embassy, but because it did not match what the hospital had, his body has remained at the hospital. Swift says it was something that could easily be corrected and the situation was "horrendous" for the family.
"The British Embassy over in Bangkok, they said that because [the number] was from his current passport, they were unable to change the letter. They have said that they won't reissue a letter with the passport number that he's got in the hospital with him."
She said her family planned to arrange a funeral for him in Thailand, then bring his ashes back to the UK. As he retired to Phuket 15 years ago, her family would then take his ashes back to Thailand, as per his wishes, to scatter them.
However, none of his family members were able to travel to Thailand to be with Donoghue in his final days, as the mandatory 14 day quarantine period upon entering Thailand, would not have allowed them to see him.
"I thought this was a basic human right to be able to give somebody a funeral and I accept that there is always going to be red tape…but please just issue a letter and let us bring him home."
She said before Covid-19, family members travelled often to Phuket to visit Donoghue, who once worked for the Thai tourist police. She says the entire ordeal has been heartbreaking as her family was unable to say goodbye.
"That on its own was heart breaking, and now to get this two weeks later, to find out we can't give him a funeral, or get his ashes back, it's just horrendous."
"It's like being on autopilot… once we know we have done everything we can, we can start the grieving process, but at the minute we can't."
A Foreign, Commonwealth and Development Office spokesperson said they are assisting Donoghue's family during the difficult time.
"Our staff are in contact with the local hospital and funeral director to help his family obtain the necessary paperwork to ensure his body is treated in line with their wishes."
If the situation isn't fixed, Donoghue's body will join a mass cremation at the hospital.
SOURCE: BBC News
Keep in contact with The Thaiger by following our Facebook page.
Never miss out on future posts by following The Thaiger.
Thailand News Today | Covid passport talks, Thai Airways heads to court | March 2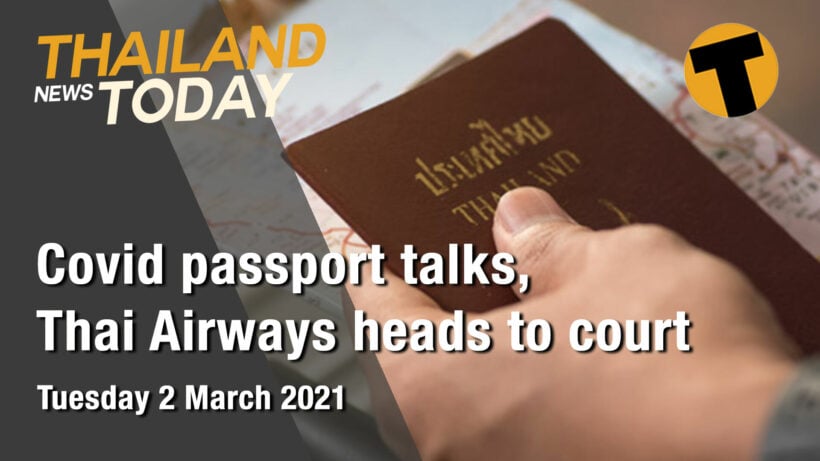 In today's Thailand News Today…. The island of Phuket has a firm plan to get its residents vaccinated leading up to an October opening for tourists, the Thai PM backs up his police over last Sunday's protest violence and Thai Airway's employee union criticises the changes to employee contracts.
But the plan must be approved by the national government by April, if the province wants to open tourism by October 1. Phuket has a resident population of around 300- 400,000 people.
Before you go rushing off to book your plane tickets we'd stress that this is another in a long list of proposals that have not come to fruition and we'd urge patience until the Government approves the plans.
Meanwhile the island has taken delivery of 4,000 doses of the Chinese Sinovac Covid-19 vaccine. Vaccinations started yesterday, with priority given to 1,500 healthcare workers and 500 "at-risk" officials exposed to Covid-19 patients.
On a broader note… Thailand's Tourism Minister says he has asked the Public Health Ministry to approve a vaccine passport scheme aimed at reviving Thailand's devastated tourism sector. According to the Minister, the government is looking to the World Health Organisation to issue a statement on vaccine passports before it makes a final decision on the matter.
The Thai PM, Prayut Chan-o-cha has defended police action against protesters taking part in Sunday's anti-government rally in Bangkok. Officers from the Metropolitan Police Bureau used tear gas, a water cannon and rubber bullets in an effort to drive protesters back from the PM's residence. The PM insists the actions were in line with international standards. He says that police did not violate the protesters' rights.
Thai researchers are claiming that horseshoe bats are not responsible for transmitting the Covid virus to humans. A researcher with the Thai Red Cross Emerging Infectious Diseases-Health Science Centre, says that even though the bats have tested positive for a coronavirus, it is not the strain that is transmissible to humans, and it's certainly not the virus that causes Covid-19.
As Thai Airways tries to sell new contracts and conditions to its remaining workforce, the labour union of the national carrier is challenging changes to the employment contracts, where Thai Airways employees are being asked to agree to changes as part of the bigger financial rehabilitation program.
But a union representative says the new contracts are unfair because it includes fewer leave days and shorter holidays. The union has filed a complaint with the Department of Labour Protection and Welfare.
Keep in contact with The Thaiger by following our Facebook page.
Never miss out on future posts by following The Thaiger.