Phuket live wire: Thailand's 3G woes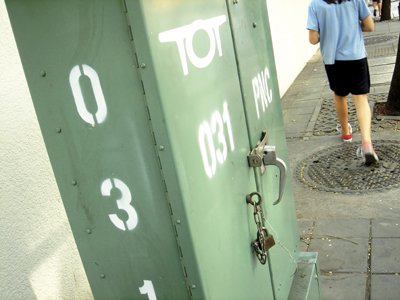 PHUKET: UGH! What a mess.
If you've been following along over the years, you know that the history of 3G wireless internet access in Thailand has been fraught with competing organizations, lawsuits, government changes, allegations of corruption, political infighting, and a whole lot of money floating around.
To understand the quandary we're in right now, you need to know the history. It's complicated.
Many years ago, the two formerly-government-owned phone companies in Thailand, TOT and CAT, were assigned channels to use for mobile phone service.
CAT got the 850 MHz channel and TOT got the 900 MHz channel. It's roughly analogous to allowing just two TV broadcasters to operate TV channels.
The original concessions to CAT and TOT were drawn up long before 3G (more accurately, HSPA) technology was a gleam in anyone's eye. Many companies – AIS, True, DTAC and others – made fortunes selling mobile phones and monthly services back when SMS was considered an advanced feature. Some of the billions ended up in the pocket and suitcases of a fugitive ex-prime minister.
Then HSPA hit and everybody – especially anybody with a 3G phone – wanted to get the considerably faster internet access afforded by the new technology. There were lawsuits and threats of lawsuits, but in the end both CAT and TOT found ways to sublet their channels, allowing other companies to sell 3G services. AIS rented part of the channel – and much of their equipment – from TOT. DTAC and True (through a newly created subsidiary TrueMove H) rented part of the channel from CAT.
Keep in mind that it's by no means certain either CAT or TOT have the legal right to rent off parts of their mobile phone networks for 3G carriers. They just went ahead and did it. Both TOT and CAT are required, by their ancient concession agreements, to operate their respective services. There's a great deal of heated debate about whether AIS is currently running TOT's service or TrueMove is running CAT's service. CAT, for example, is running its retail 3G service, My 3G, on TrueMove's network.
The fact that Thailand is one of the few countries on the face of the earth without 3G service certainly provided some stimulus, and the sight of billions of baht must've been enticing. (In case you haven't kept up, North Korea now has a thriving 3G service, as do Zimbabwe and Myanmar.) Whether the business partnerships were formed in accordance with the law is a very hot point of debate.
When the new HSPA+ technology became available, first CAT and then TOT started upgrading their systems to handle the (considerably improved) features. TOT was deeply involved in the upgrade just last month. I talked about it in my Live Wire column for April 25. TOT is installing Nokia-Siemens equipment, which can be upgraded in place to a technology called LTE, called "4G" by many.
CAT, and then TOT, also started selling 3G service directly to consumers. Right now, there's a major 'Oklahoma land grab' in progress, with five big phone companies – and countless smaller ones – trying to stake out a plot in the 3G wilderness.
All of this is taking place against the backdrop of repeatedly botched attempts to open up a new channel – actually, five channels – that will explicitly be allowed to run 3G or 4G (5G anybody?) services.
When the governmental auction happens – it's still scheduled for this year, but it's been scheduled that way for three years – there will be a mad scramble to get customers to switch over to the new channel, known cryptically as 2.1 GHz. Some phones and tablets can make the leap from 850 or 900 MHz to 2.1 GHz. Others can't. But that's a story for another time. Which brings me up to the present.
Last week, Don Sambandaraksa reported on Telecomasia.net that "Thai ICT Minister Anudith Nakorntap has told state-owned TOT's board to stop following the failed 3G business plan, that has so far cost $510 million (16 billion baht) with little to show after over two years of operations. Mr Anudith said, "to date, fewer than half the planned 5,320 base stations have been rolled out and the telco had only around 200,000 users, less than one twelfth of the projected target of 2.5 million users. Operational costs of the network exceeded revenue by a factor of four."
If TOT gets squeezed, I have no idea what will happen to AIS's 3G concession with TOT or with TOT's deployment of 4G-ready equipment. But note that the numbers quoted here are for TOT's retail operation. AIS, running on TOT's network, says it has 1.2 million 3G subscribers.
Minister Anudith really took TOT to the barn. Not only has TOT been ordered to stop rolling out base stations, it's required to report weekly to the State Enterprise Planning Office (SEPO) and the Finance Minister. The SEPO is explicitly charged with finding a way to keep TOT and CAT on resuscitation after their concessions run out – a devilishly difficult problem in every country that's had their phone companies privatized.
In the same post, Mr Don also said that the Thai language newspaper Thairath – quoting an anonymous source on CAT's board – reports that CAT has decided to shutdown the TrueMove H project, "after both the counter-corruption commission and the ICT Ministry have deemed the contract to be illegal." If the contract is terminated, TrueMove can't import any more equipment or install it for CAT.
If the rumor is true, I have no idea what effect that will have on TrueMove H 3G customers, or on DTAC 3G customers. But the CAT 3G retail effort, called My 3G, which I talked about last month, would be "canceled to prevent legal complications."
According to The Nation's May 9 edition, "The National Anti-Corruption Commission (NACC) will on May 28 call in some CAT Telecom officials involved in that state agency's 3G deals with True Corp to inform them that they may have broken laws… [including] the 1992 Public-Private Joint Venture Act, the 2010 Frequency Allocation Law, and Article 157 of the Criminal Code… The irregularities ranged from what appeared to be a well-designed political plan to pave the way for the deals to the CAT's bypassing of some state procedures to make the agreements."
What's going to happen? Hard to say. For now, I think it's a safe bet that your 3G connection will continue to work for the foreseeable future. But after the auction – if there is an auction this year or this decade – all bets are off.
Certainly, by the time Thailand has its 3G act together, most of the world will be running 4G.
With Woody hunkered down writing a book, the weekly Computer Clinics are taking a new turn. Until Woody emerges with an 860-page copy of "Windows 8 All-In-One For Dummies" under his arm, sometime later this month, Seth Bareiss will hold computer sessions every-other Wednesday afternoon, from 1 to 3pm. If you have a Windows problem that needs to be solved, drop by one of Seth's free afternoon sessions at the Sandwich Shoppes. Details in the Phuket Gazette Events Calendar.
The sessions are sponsored by the Phuket Gazette and Khun Woody's Sandwich Shoppes.
Live Wire is Woody Leonhard's weekly snapshot of all things internet in Phuket.
Follow him on Twitter: @PhuketLiveWire, and "like" the pages at facebook.com/SandwichShoppe and — C Woody Leonhard
Phuket News

Join the conversation and have your say on Thailand news published on The Thaiger.
Thaiger Talk is our new Thaiger Community where you can join the discussion on everything happening in Thailand right now.
Please note that articles are not posted to the forum instantly and can take up to 20 min before being visible. Click for more information and the Thaiger Talk Guidelines.