Phuket Town ultimate hotel guest Hans Maeter recovering well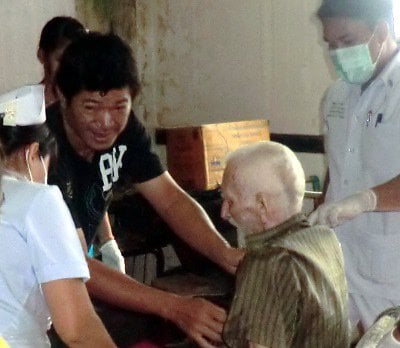 PHUKET: Hans Maeter, the 88-year-old German expat who was moved from Phuket's famed On On Hotel to Patong Hospital on May 8, is reportedly doing well.
Mr Maeter had been a permanent resident at the On On Hotel in Phuket Town for the past 20 years. The hotel is famed as the Phuket hotel featured in the Leonardo DiCaprio film The Beach.
He was transferred to Patong Hospital after hotel management could no longer stand by and watch him stay in his room, where he has been bedridden for the past year.
Phuket Tourist Police officers Sen Sgt Maj Wichai Boonruen and Sgt Payong Tipsombut received a call from the hotel owner, Anurak Tansiriroj, to assist in transferring Mr Maeter to hospital.
The officers arrived at the hotel on Phang Nga Road in Phuket Town at 12:30pm with a Swiss Tourist Police Volunteer and three officers from Patong Hospital, including Hospital Director Dr Phumin Silaphan.
They found the emaciated Mr Maeter lying on his hotel bed, covered with a blanket. After bathing and dressing Mr Maeter, they assisted him into a wheelchair and helped him to an ambulance waiting below.
Mr Anurak, who is also the founder of Phuket International Hospital and the Czech Honorary Consul for Phuket, told the Phuket Gazette, "Mr Maeter could not get off the bed for a year. During that time our hotel maid cleaned his room and brought him food and drink, but he could not eat much.
"He refused to go a hospital or stay anywhere else. He said he wanted to die here," he said.
"We contacted Mr Maeter's family in Germany and his friends in Phuket, but he declined any help from them," Mr Anurak added.
With a full renovation of the hotel scheduled to start on May 1, Mr Maeter was the last guest to check out.
"We couldn't leave him in the hotel. He needed to be moved to a hospital where he could receive proper care," Mr Anurak said.
Officers received a surprise while gathering Mr Maeter's belongings to take with him to hospital, Sen Sgt Maj Wichai said.
"While we were collecting his belongings, we found more than 100,000 baht in Thai baht and US dollar banknotes. We have already opened a bank account for him to keep his money safe in the bank.
"We also found a bankbook in his room showing that he has more than 1.2 million baht in his own bank account," Sen Sgt Maj Wichai said.
Mr Anurak has volunteered to keep Mr Maeter's belongings safe and to pay for his hospital treatment until the German Embassy in Bangkok is contacted and assists in making alternative arrangements, Sgt Payong explained.
A source familiar with the case said the Embassy was aware of the situation, but could not intervene because no laws were being broken.
Before Mr Maeter's debilitating condition set in, he returned home to Germany several times during his many years of stay at the hotel, Mr Anurak recalled.
"Later he was unable to go anywhere, so he stayed in the hotel all the time," he said.
Tourist Police said Mr Maeter was staying legally in Phuket on a one-year visa.
Despite his condition, Mr Maeter managed to obtain a new passport from the German Embassy with an issue date of February 12 this year. The passport lists his place and date of birth as Stettin, Germany in 1923. The town, now known as Szczecin, lies in Poland's Baltic region.
The On On Hotel, which at 85 years old is reputedly the oldest hotel in operation in Phuket, will undergo renovation work into next year, said Mr Anurak.
"We will hand over the operations to another Thai hotel operator, but the name and style of the On On Hotel will remain the same," Mr Anurak said.
The renovations will see an upgrade in the style and comfort, as well as an increase in the number of rooms, he said.
"However, we will have to increase the room rates a little bit to ensure the prices keep pace with current times," Mr Anurak said.
Yesterday, staff at Patong Hospital reported that Mr Maeter's condition has improved.
"He is strong and can now feed himself," said one hospital staffer.
Patong Hospital Director Dr Phumin Silaphan previously told the Gazette, "He is fine at the hospital now. He does not need any special treatment as he is not ill."
Hospital administrators have contacted the German Embassy in Bangkok in order to plan Mr Maeter's future.
"Mr Maeter received a phone call from a foundation in Germany [on Wednesday]. However, we do not know what transpired doing that conversation," the hospital staffer told the Gazette.
Despite the large sums of money in both cash and in bank accounts recovered from his hotel room, Dr Phumin noted that Mr Maeter had no medical insurance.
"Right now… all we can do is take care of him as best we can," he added.
Additional reporting by Chutharat Plerin
This story was originally published in the May 12-18, 2012 hardcopy issue of the Phuket Gazette.
— Atchaa Khamlo
Keep in contact with The Thaiger by following our Facebook page.
Never miss out on future posts by following The Thaiger.
Travellers undergoing yacht quarantine to wear wristbands to track location and monitor health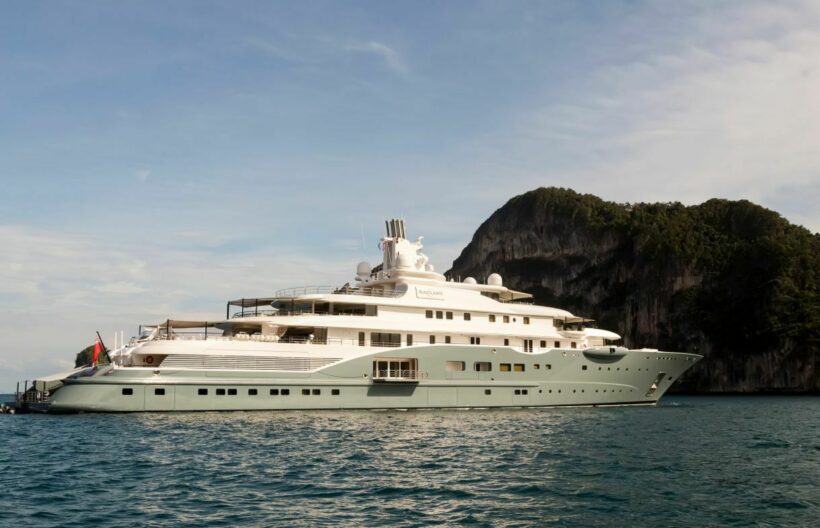 Foreign tourists travelling to Thailand by yacht and undergoing the mandatory quarantine period onboard the vessel will be asked to wear a smart wristband to monitor their health and track their location. The Digital Economy Promotion Agency teamed up with Advanced Info Service, known as AIS, and Phuket tourism operators to launch the so-called "Digital Yacht Quarantine" programme.
Apparently, tourist disappearances aren't that uncommon and the digital tracking wristbands will help make sure tourists are safe. Here's what the Bangkok Post wrote:
The use of the wristband also ensures the safety of tourists as about two tourists disappear from Phuket each month while travelling and it costs 4-5 million baht to search for each person.
Along with tracking location, the smart wristbands also monitor pulse, blood pressure and body temperature. If there is an emergency, an alert will be sent to authorities.
The yacht quarantine is expected to bring in 1.8 billion baht in tourism revenue, according to the Bangkok Post. About 100 yachts set to dock in Thailand with around 300 to 500 tourists are expected to undergo the onboard quarantine.
Since restrictions were imposed last year on international travel, tourism officials have been brainstorming ways to bring in foreign travellers safely, without risking the spread of the coronavirus, to help revive tourism dependent areas. Last year, Phuket lost 320 billion baht in revenue and the number of tourists on the island dropped from 40,000 to 50,000 visitors per day to just hundreds, according to the Post.
The agency's president and chief executive Nuttapon Nimmanphatcharin says the island province is a "magnet" tourist attraction.
"Tourism is a key sector where technology can be used to address the problem and boost travel."
SOURCE: Bangkok Post
Keep in contact with The Thaiger by following our Facebook page.
Never miss out on future posts by following The Thaiger.
The Area Hotel Quarantine – tweaking Thailand's arrival options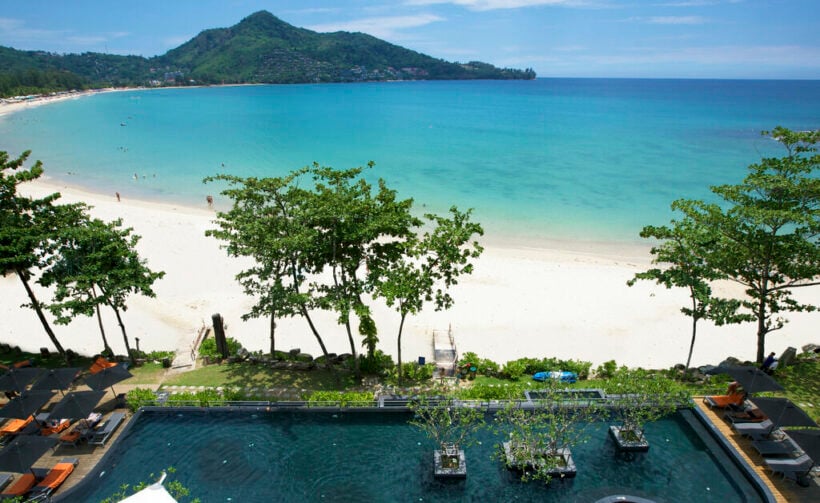 We spoke about the new proposal for an Area Hotel Quarantine last Friday and in Thailand News Today. The mandatory 14 day quarantine (magically extended a couple of days at many facilities at the foreigner's cost) remains the key sticking point for the return of tourists or travellers, in any significant or useful numbers. A number of visas and quarantine programs has done little to increase the numbers of foreign arrivals to Thailand.
The proposal, leaked out as a 'discussion' pending cabinet talks and a final decision, has not received much support from the overseas community that are trying to travel to Thailand, or former expats that are trying to get back. Many of the comments believe the 14 days, even restricted to a larger set of walls, is still too restrictive, costly and inconvenient.
"It would also be nice if the two weeks quarantine was not part of the visa! You get a two month visa minus the two weeks."
"It's still a prison if you can't get out. Voting with my feet"
"There's just not going to be any tourism until Thailand stops this 14-day quarantine nonsense."
The proposal allows guests to leave their hotel rooms after the first 3 days of a 14 day stay. The proposal is on the agenda for the next CCSA weekly meeting. The proposal was mooted at a meeting last Thursday and chaired by Thailand's Tourism and Sports Minister Phiphat Ratchakitprakarn.
After the first 3 days, guests would have another swab test before being able to spend the remaining 11 days meandering around the rest of the hotel complex (so, suddenly, REALLY large hotels in great locations become much more attractive). But they wouldn't be able to leave the hotel property.
The Area Hotel Quarantine is being seen as an accommodation for the hardest hit tourist zones in Thailand – Chiang Mai, Phuket, Krabi, Surat Thani (the 3 islands of Koh Samui, Koh Pha Ngan and Koh Tao) and Chon Buri (Pattaya). In all cases the key tourist zones are desperate for the government to ease restrictions or do something… anything… to help boost travel to the battered tourist economies that rely, mostly, on the visits from tourists.
After the 14 day AHQ the visitor will be free to travel anywhere around Thailand.
Last Thursday's conference call says that Ministers are trying to come up with ways to start re-opening up Thailand to more travellers from next month by expanding the options and slowly easing restriction.. They also want to re-open talks with neighbouring countries and other countries deemed 'low risk', or with high vaccination uptake, with travel bubble options, hopefully by May.
About vaccinations, the government is also considering plans to have a no-quarantine option for visitors to come to Thailand as long as they've been vaccinated. But the Public Health Ministers says they are looking at the lead from the World Health Organisation about how to administer this sort of 'vaccine passport' access as there needs to be a greater body of knowledge about the efficacy of various vaccines. The International Air Transport Association is also in discussion with airlines and governments about restricting access to international travel for people who have been vaccinated.
It was also disclosed this week that some foreigners in the first batch of golf quarantine, where they have to stay in their room for 3 days then can roam around the golf course and play golf, have tested positive for the coronavirus after the test on the third day of their stay. Another batch of Villa Quarantine tourists, visiting Phuket at the end of February, have all returned negative test results.
SOURCE: Bangkok Post
(The hotel depicted in the main photo may, or may not, be associated with the Area Hotel Quarantine program)
Keep in contact with The Thaiger by following our Facebook page.
Never miss out on future posts by following The Thaiger.
2 Phuket Town nightclubs shut down after allegedly violating multiple laws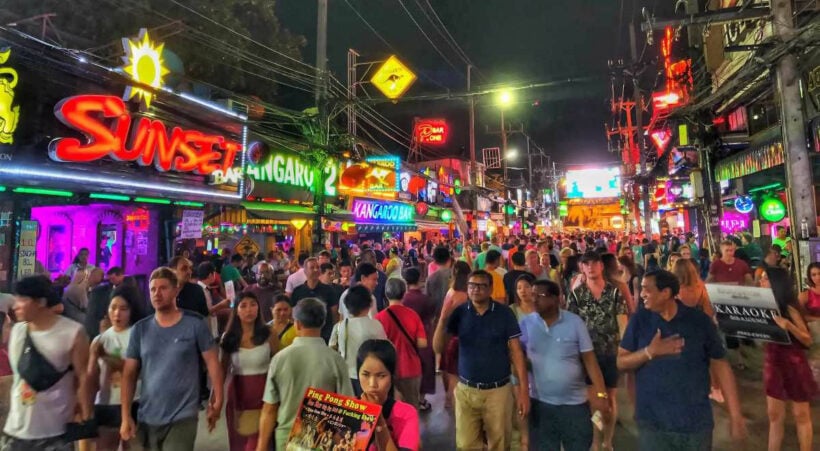 2 Phuket Town nightclubs are shutting down after allegedly violating multiple laws. The Maldives and H20 on Lim Sui Ju Road, on the south end of Phuket Town were ordered by the Phuket Governor to close immediately, with the Maldives being ordered to close for 5 years.
The order comes after the Phuket City Police inspected the Maldives club, arresting the manager for operating an entertainment venue without a permit, allowing people under 20 years old to work or "use services in the venue," and for selling alcohol without a permit.
Governor Narong cited his authority under Section 4 of NCPO order 22/2558 to order the Maldives nightclub to be closed for 5 years, from March 5, 2021 to March 4, 2026.
The order also prohibits the operators from opening any other entertainment venues during the same period. The H20 nightclub was ordered to close by a provincial order after Phuket City Police say they inspected the venue and charged the operator for selling or providing shisha, or baraku, without permission.
The owner was also accused of operating an entertainment venue without a permit and violating the provincial order for enforcing Covid-19 safety measures. But it is unknown what penalties were handed down to the operator of the H20 nightclub, unlike the Maldives operator, who received a penalty.
Instead, the governor cited the Revolution Council announcement of 1959, to shut down the establishment for 30 days from March 5, 2021 to April 3, 2021. The orders noted that both operators of the clubs have the right to appeal the closures, having 15 days to file an appeal directly with the Phuket Governor.
Meanwhile, Phuket is set to open its doors to vaccinated, international tourists by October, pending the government's approval. The local government's initiative, named Phuket First October, proposes vaccinating a majority of its population over 18 years of age in time for the high season.
The move would allow thousands of vaccinated Europeans to enter Thailand, while locals would be protected from the virus symptoms.
SOURCE: The Phuket News
Keep in contact with The Thaiger by following our Facebook page.
Never miss out on future posts by following The Thaiger.