Phuket Sports: The noble art of Muay Chaiya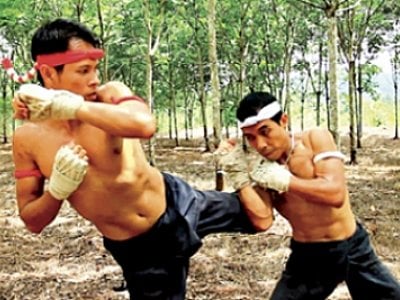 PHUKET: Muay Chaiya, or Chaiya-styled Thai Boxing, is part of the martial arts that are collectively known as Muay Boran, literally the ancient art of fighting. It's the ancestor of the ever-popular Thai boxing, Muay Thai, which has been heavily adapted and modified into the fast and furious stage fight that we know today.
Originating in Chaiya, a town in Surat Thani Province, Muay Chaiya has kept its philosophy and forms intact, probably one of the few fighting disciplines that has managed to do so today. It is practiced by a handful of people who are in the know and who are lucky enough to have a club or a teacher nearby.
Muay Chaiya prides itself on being graceful in movement and style, an agility that demands one-pointed concentration. "It's more of a martial art than boxing; it is a fighting style that relies on self-defense and the clever deflection of the attacker's strength," says Kru Pong, a young master who teaches Muay Chaiya from a gym at the Sukho Cultural Spa on Chao Fah Road.
Muay Chaiya is a traditional martial art used by the guards of the Thai Kings in ancient times. Forbidden to carry weapons in proximity of the Royal Family, these warriors trained to ward off assailants using their bare hands and other parts of the body as weapons, and as a protective shield.
But Muay Chaiya also makes full use of swords, lances, clubs and other fighting apparatus. In addition, anything can be turned into a weapon in times of emergency – even a pha khao mah or loincloth, can be used.
"The philosophy of Muay Chaiya is to turn yourself into a durian with deadly thorns, upon which attackers can hurt themselves," says Tachapon Tephabutr, Muay Chaiya enthusiast and MD of Sukho Cultural Spa. Indeed, Muay Chaiya fighters make full use of their body extremities such as elbows, knees, knuckles, heels, ankles and even the side of the skull, to hurt opponents.
Sometimes referred to as Muay Kart Chuak or hand-bound boxing, Muay Chaiya fighters tightly wrap their hands in cotton strips turning their fists into stiff gloves.
"Hand binding is an art form in itself and some fighters create knots that upon impact can actually hurt opponents," says Rat Puanrak, another enthusiast who practices with Kru Pong on a regular basis. A professional photographer, Rat is working on a photo documentary book on the subject.
The beautiful and mesmerizing dance-like styles of Muay Chaiya mimic movements made by animals, real and mythical, and are named as such. "Crocodile's Tale Swipe" refers to a back kick produced after a fast turn by the boxer, and "Hanuman Proffering Ring" is a powerful punch under the opponent's chin.
Muay Chaiya was made famous by the Thai blockbuster film Ong Bak, in which the main protagonist, played by Tony Jaa, used Muay Chaiya to defeat evil.
Before filming, Tony Jaa underwent rigorous training with Kru Laem, a senior Muay Chaiya master working in Bangkok, who also choreographed many of the film's fighting scenes.
A typical class of Muay Chaiya consists of a series of exercises, which include: developing correct stance, footwork, body movements, and guarding yourself with arms and legs. Then comes the training with a long cane, a graceful but fast movement that requires alertness and concentration.
"It's a great sport that combines workout, concentration and self-defense; it can be practiced by people of all ages. I'd love to see more young people, especially girls, taking up Muay Chaiya. Some parents report that their children have become calmer and more focused in school after a few months of practice".
Muay Chai Classes are held 5:30 to 7:30 pm, Tuesday – Friday and 10 to 12 am, Saturday – Sunday at Sukho Spa on Chao Fah West Road. Tel +66 7626 3222
— Nanthapa Pengkasem

Join the conversation and have your say on Thailand news published on The Thaiger.
Thaiger Talk is our new Thaiger Community where you can join the discussion on everything happening in Thailand right now.
Please note that articles are not posted to the forum instantly and can take up to 20 min before being visible. Click for more information and the Thaiger Talk Guidelines.