Phuket Sports: Diving on a single breath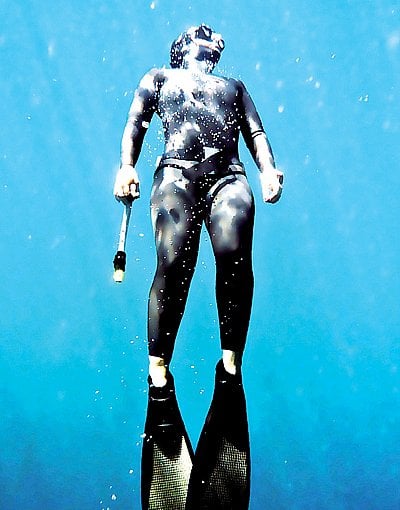 PHUKET: Freediving. It's different than scuba diving. There is a quietness underwater. Not a silence, but a quietness. There is the sound of shifting sand and parrot fish chewing on coral. These are the sounds of life that don't exist for scuba divers bubbling away on their regulators. It is one of the beauties of diving on a single breath.

Freediving is about calmness, not lung capacity. Slow your heart rate down, stay streamlined, take one breath and never let it go. You hold it in, despite rising carbon-dioxide levels setting off alarms in your head. There is still plenty of oxygen in your lungs to keep you from blacking out.

"People, mostly scuba divers, think that freediving is risky, but it's not. What is risky is the breathing – and since we don't do that, we don't have those problems. There is one basic rule: always freedive with a buddy," says Richard Wonka from We Freedive.

"It would be hard work to get yourself into a situation that you could black out, and if you have a buddy, not even that would be a big problem," he adds.

Richard runs We Freedive, an AIDA certifying freediving school, along with Sarah Whitcher.

Freediving is a multifaceted discipline, composed of eight different fields (see bottom panel).

On one of the lesser-known beaches of Phuket, Sarah talks me and my freedive buddy through some light stretches. Then, with nothing but fins, snorkel and a mask, we kick into the water.

The lack of equipment is another draw for the sport. There is no clunking around a dive boat in a BCD and flippers. The sport is beautiful in its simplicity. It's what Richard calls "Snorkeling 2.0".

"People learn to freedive during the three-day course – and that's when they surprise themselves," Sarah says.

At the end of the course, most people are very comfortable and can make a two or three-minute dive.

"The numbers aren't that important. The courses are about learning how to dive well, about being relaxed and streamlined underwater… Once you learn those things, the times and numbers just happen. They're a byproduct of good diving," says Sarah.

Laying face down on the surface of the water, I calmly breathe, trying to slow my heart rate.

A deep breath in and I duck dive, following the rope Sarah set up. Halfway down, equalizing constantly, I realize that I am looking at the bottom, which is a no-no.

"It takes twice as long to get there if you're watching," says Richard. I correct my head position, suddenly I am at the bottom.

Floating just above the reef, there is a moment of meditative calmness. I watch a pair of butterfly fish flutter past, totally unfazed by my silent presence.

Calmly I put one hand on the rope and slowly start to let myself rise. Calmly down, calmly up – easy does it seems to be the name of the game.

"Once you've done freedives and been underwater for an extended amount of time, and come up fine – that experience will never leave you. You won't get nervous underwater with only a breath," says Richard.

The Andaman Freediving Competition, starting on Febuary 9, is designed to encourage new freedivers to join the competitive ranks and experienced freedivers to hone their competitive skills in six of the eight freediving disciplines:

1. Constant Weight

2. Constant Weight no Fins

3. Free Immersion

4. Dynamic

5. Dynamic no Fins

6. Static Apnea

The two AIDA disciplines that aren't part of the Andaman Freediving Competition are "no limit" and "variable weight".

The competition will be held over four days, with Richard Wonka and Sarah Whitcher from We Freedive judging.

Event Schedule:

– February 9 – Practice Day and Intro to Sea Competition (at Koh Bida)

– February 10 – Sea Competition (at Koh Haa) max Depth 50m

– February 11 – Practice Day and Intro to Pool Competition (Royal Lanta Resort & Spa)

– February 12 – Pool Competition (Royal Lanta Resort & Spa)

The competition is sponsored by Aquamaster and Royal Lanta Resort & Spa, which will provide the competition prizes.

Entry cost is 5,000 baht, which includes a competition t-shirt and possibly other prizes contributed by the sponsors.
— Isaac Stone Simonelli

Join the conversation and have your say on Thailand news published on The Thaiger.
Thaiger Talk is our new Thaiger Community where you can join the discussion on everything happening in Thailand right now.
Please note that articles are not posted to the forum instantly and can take up to 20 min before being visible. Click for more information and the Thaiger Talk Guidelines.