Phuket Live Wire: Is the iPad rotting your child's brain?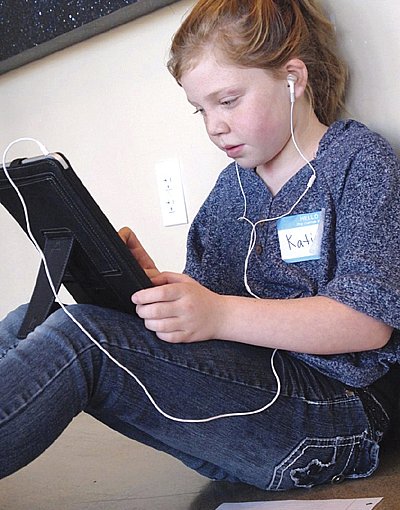 PHUKET: In 2010 and 2011, there was a rash of articles in the popular press saying that iPads, iPhones, tablets and the like would rot your kid's brain.

It's hard to wade through headlines like these from the New York Times and not feel like an iPad is the root of all kiddy evil: "Growing Up Digital, Wired for Distraction, The Risks of Parenting While Plugged In" and "An Ugly Toll of Technology: Impatience and Forgetfulness."

I forgot what the other headlines said, but you get my drift. Typical admonishment: "We're raising a generation of kids in front of screens whose brains are going to be wired differently."

Well, yes. That's exactly the point.

When I was a kid the child development experts said that any more than 45 minutes of television per day would make a kid irresponsible, incapable of concentrating, unable to interact with people, and a developmental basket case.

Look what happened to me. Oh, wait, maybe that isn't a good comparison. Look at what happened to the entire generation.

Perhaps we all suffered from short attention spans and terminal halitosis. But, somehow I think we all pulled through it, give or take the odd few politicians, and maybe a judge on America's Got Talent.

TV changed generations, but not all of its effects were negative. Experts back then were simply commenting on something they didn't understand, as we marched into a "brave new world" that none of us had experienced. They cloaked themselves in advanced degrees, learned speeches and developed case studies designed to reinforce their foregone conclusions.

I don't claim to be a child development expert. But I do know this: putting an iPad (or Android, Kindle, whatever) into your child's hands isn't a brain cell death sentence. It's opening up an important new world.

Yes, I've read the studies that show toddlers who grow up on tablets do not develop vocabularies until a later age. I know about the teen tech idiot savants, who can't write a sentence, but spin out programs to solve high school algebra problems. The high schoolers who send 20,000 SMSs a month, but can't find time to finish a homework
assignment. The kids who play so many games they forget to sleep at night.

On the other hand, I've seen the toddlers who spend hours and hours practicing their letters and numbers, shapes and words, colors and coordination, and going right back to the iPad at every opportunity because it's fun.

Someday, maybe someone will run an iPad child development study that's properly constructed – double blind, monitored (not self reported), with objective evaluations.

Perhaps those studies will predict that my son will be a social misfit at age six because of the evil iPad, and an axe killer at sixteen.

If that happens, I'll think about changing my tune. For now, I don't see one iota of evidence that using a tablet is in any way harmful and I see lots of evidence that immersing kids in technology helps prepare them for a wired future.

I know a whole lot of people in Silicon Valley who make a living, not by writing book
reports but by churning out miles of incredible code. The best of the bunch started as teenagers – young teenagers. Some of them have changed the way the world works. Really.

Almost a billion people are on Facebook. The world's knowledge is at your fingertips with Wikipedia and a little help from Google. The finest maps, critiques and discussions, and university courses, are all there for the taking.

What about the kids who fritter away their time on computers or phones, instead of doing their homework? Hey, when I was a kid we had different distractions, but plenty of us didn't always get our homework done either. Did you? That part hasn't changed a bit.

Or maybe they should be playing 'cowboys and Indians', like I did, while begging for a Roy Rogers six shooter for Christmas. How sick is that? I didn't grow up to be an axe murderer – yet.

If kids back then could get over shooting "Injuns" and using x-ray vision glasses, I submit that kids today can overcome slinging angry birds at ticked-off pigs, engaging in grand theft auto and splatting zombies with laser guns.

That said, there are some big differences these days. Just a decade ago, it took a great deal of hand-eye coordination to get started with using computers.

I remember teaching my first son how to type, so he'd be ready to work on a PC when he got to school. We started when he was six years old.

Now, though, little kids of 18 months old and even younger can get the hang of the iPad interface. My two-year-old knows his way around an iPad better than I do. That's an incredibly liberating fact: the big barrier, the huge stumbling block that kept little kids off computers is now disappearing and pre-schoolers are quite capable of working on their ABCs with Elmo or counting to 20 with the Gigglebellies. They can sing "Wheels on the bus" with other kids their age or play "Head, shoulders, knees and toes" with the Wiggles.

The trick, in my opinion, is to use technology to interact with your kids. Sure, my toddler and I still read books – real, dead tree books, every day. But most of the day when we're playing indoors, the topics are generally educational and they're invariably on the iPad or the PC.

Does he throw temper tantrums when he doesn't get the iPad or the Kindle? Yeah, sure. Show me a two year old who doesn't. Does he get so involved in playing with the tablet that he ignores Mom and Dad? Yep. It's called concentration.

"The struggle of maturity is to recover the seriousness of the child at play." Do I let him play Modern Combat 3? No, not yet. Not until I'm sure that I can beat him at it, anyway.

Am I setting my toddler up for having his brain wired the wrong way? Well, yes, I hope so; much depends on what you mean by "wrong." Will his interpersonal skills suffer? Not if he gets some time playing with other kids. Will he be able to use all the tools he'll need as he gets older?

Yeah, I think so.

Most of all, he won't be intimidated by these talking pieces of glass. It'll be second nature, and when the time comes he'll be able to start standing on the shoulders of giants.

It's just that, in the mean time, he has to learn that he can't tap or swipe on a TV screen and get it to change channels or slide his finger on a magazine and expect it to move forward a page. We aren't there yet. Try again in five years.

So, I say take your kids to the library. Watch TV with them. Take them swimming and hiking and kick a ball their way. Make sure they have time with other kids. And get a tablet into their hands at an early age, so you can play with them and help them learn.

A friend of mine asked me to come up with a list of iPad apps that my wife and I like to play with our toddler. Here's the list: Cat in the Hat, Dr Seuss Band, anything by the Gigglebellies, any Sandra Boynton books, Pat the Bunny, Twinkle Twinkle (Super Simple Learning), My First Words Baby Picture Dictionary, Starfall ABCs, Elmo Loves ABCs, any Duck Duck Moose stories, Nighty Night, Pepi Bath and The Little Critter books.

You can also scrape videos off YouTube. (Hint: use Firefox and Video Download Helper – directions coming in my new book). I leave it to your search skills to find videos on YouTube for your kids. Of course, you can watch YouTube directly – no scraping required – if you hook the iPad up to your WiFi connection, or use 3G.

All of this is in the Apple App Store – immediately accessible from the iPad, or if you want to surf, go to W: apple.com/itunes.

Computers are going to give your kids (and grandkids and their grandkids) a
— Woody Leonhard
Keep in contact with The Thaiger by following our Facebook page.
Never miss out on future posts by following The Thaiger.
Phuket Monopoly game creators need your help with token designs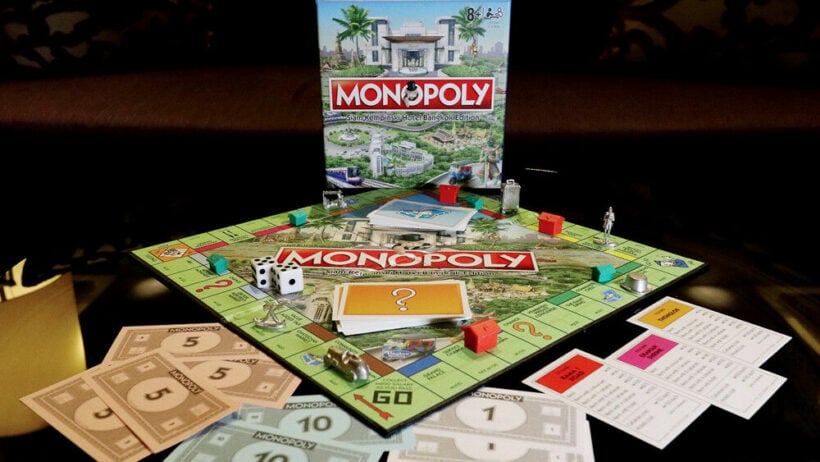 Phuket is set to get its own version of the popular game MONOPOLY and its creators want your help with ideas for the specialised tokens. 'MONOPOLY: Phuket Edition' was announced last month which will see the street art on the board game replaced with that of famous places around Thailand's famous tourist destination. Such art will include beaches, hotels, shops, markets and other popular attractions.
Jennifer Lau from Winning Moves UK, is producing the game under official license from Monopoly brand owners, Hasbro. Lau says the tokens will feature a holiday theme. The token's departure from the original theme of wheelbarrows, boots, iron, and thimbles as well as popular sports cars and hats.
"We have had a wealth of emails and suggestions coming in for Phuket, so thank you for each and every single one of them! We are taking them all into consideration whilst putting together the design of the game."
"We wanted to change the tokens so that they would be more suitable for an island like Phuket, where so many people like to go on holiday to."
"There will be six themed tokens that replace the original and we want to hear your suggestions for what these tokens should be!"
Bangkok has already been featured in the Monopoly game as it came out for purchase back in 2018.
SOURCE: The Phuket News
Keep in contact with The Thaiger by following our Facebook page.
Never miss out on future posts by following The Thaiger.
Phuket holds vaccine administration rehearsal as it waits for green light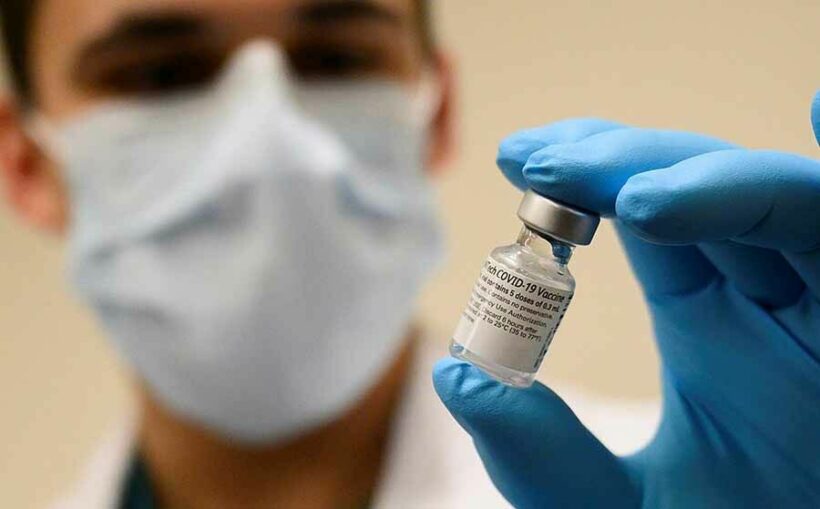 Phuket is rehearsing procedures to ready themselves for the Covid‐19 vaccine administration green light. A rehearsal at Vachira Hospital's Lan Muang Khao open area was held late yesterday to iron out any kinks in the administration process. Phuket Vice Governor Pichet Panapong watched over the procedures along with other health officials.
Pichet says the first vaccine round of 4,000 doses should arrive early in March, with the 2nd and 3rd set of doses, 16,000 and 48,000 respectively, to arrive in April and May.
"The government recognises the importance of the affected areas of the economy where the epidemic situation of COVID-19 must be stopped and has allocated the COVID-19 vaccine to Phuket Province to build herd immunity, restore the economy, return a smile to Thailand."
"We are preparing to COVID-19 mass vaccination to build confidence among the people that they will receive a quality, safe vaccine and to receive follow-up care after it has been administered."
Pichet says Phuket's first target groups to receive the vaccine include medical and public health personnel, with others on the frontlines to come next.
Then, workers aged 18-59 years old, people with underlying diseases including chronic respiratory disease, cardiovascular disease, chronic kidney disease, cerebrovascular disease, cancer, diabetes and obesity will follow.
"People with severe neurological conditions and pregnant women should be wary of taking the vaccine, as well as women who are breastfeeding and people with immunodeficiency."
The procedure to get vaccinated starts by recipients undergoing screening by having their temperatures taken, and then sanitising their hands before entering the administration area. Then, they will move their way through a series of steps, detailed below:
Step 1: Register
Step 2: Record weight and blood pressure
Step 3: Pass the screening process by have their medical history and risk assessment recorded and then signing a consent to receive the vaccine
Step 4: Wait for vaccination
Step 5: Vaccination
Step 6: Rest for 30 minutes, while being observed for symptoms. Then scan the official Line account "หมอพร้อม" ("Doctor Ready")
Step 7: Pass a final check before receiving a document confirming vaccination
Pichet says health workers will follow up with vaccine recipients after 1,7, and 30 days from being vaccinated to monitor any adverse reactions.
Those who are set to receive their second jab will have appointments made for them. Those who receive the Sinovac vaccine will be scheduled to have their second doses 2 to 4 weeks after the first. AstraZeneca vaccine receivers will be scheduled for their second doses 10 to 12 weeks after the first.
SOURCE: The Phuket News
Keep in contact with The Thaiger by following our Facebook page.
Never miss out on future posts by following The Thaiger.
Phuket police officer charged with attempted murder for shooting and critically injuring a noodle vendor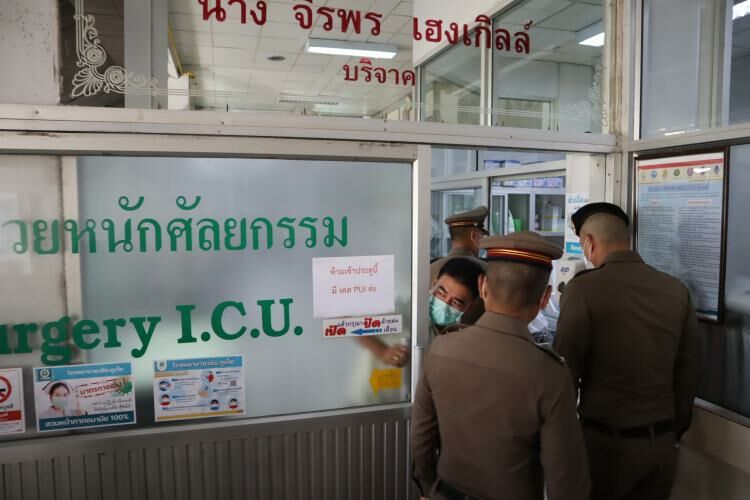 The drunk, off-duty police officer in Phuket who has caught on camera shooting and beating a noodle vendor on Bangla Road is now facing attempted murder charges as well as charges of carrying a firearm in public without a necessary reason and firing a weapon in a public area. The commander of the Phuket police station said he ordered investigators to prosecute the officer Pornthep Channarong with every criminal charge that can be applied.
The officer had gotten into an altercation just before dawn yesterday and shot a young vendor who was walking by. Surveillance camera footage show the 25 year old suddenly falling to the ground after being shot. The officer walks up and shoots the vendor at a close range, but it appears the second shot did not hit the vendor. The officer also slapped the vendor in the face, picked him up and shoved him over, and then kicked him as he lay on the ground.
The vendor has a 4 year old daughter and 3 month old son. His wife says normally he works as a motorbike driver, but he was helping his mother selling noodles. He was shot while he was walking back from collecting a noodle bowl, she says. The vendor is in critical condition and being cared for at Vachira Phuket Hospital's intensive care unit. He's in need of Type B blood.
"For his condition, the doctor told me that the bullet went through his lung. He lost a lot of blood. We need a lot of Type B blood for him."
A disciplinary investigation into the incident was launched by police and Pornthep was officially dismissed from the Royal Thai Police force. Region 8 Police Commander Kitrat Panpetch says the incident does not reflect the police force in Phuket.
"The incident was caused by an officer who did something wrong that our organisation does not want. We are a big organisation with more than 200,000 officers under our control. Our officers are not all bad like this."
Phuket Provincial Police Commander Pornsak Nuannu says he has reminded the police chiefs across the island to discuss reasons for carrying firearms in public.
"Carrying firearms is to prevent any type of crime that may happen, not to commit a crime by themselves like this incident. If I see any police doing such a thing, I will decisively proceed in terms of both officer discipline and criminal charges."
SOURCE: Phuket News
Keep in contact with The Thaiger by following our Facebook page.
Never miss out on future posts by following The Thaiger.