Phuket Live Wire: Is the iPad rotting your child's brain?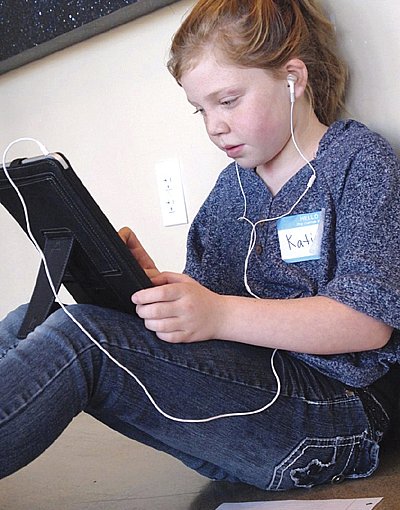 PHUKET: In 2010 and 2011, there was a rash of articles in the popular press saying that iPads, iPhones, tablets and the like would rot your kid's brain.

It's hard to wade through headlines like these from the New York Times and not feel like an iPad is the root of all kiddy evil: "Growing Up Digital, Wired for Distraction, The Risks of Parenting While Plugged In" and "An Ugly Toll of Technology: Impatience and Forgetfulness."

I forgot what the other headlines said, but you get my drift. Typical admonishment: "We're raising a generation of kids in front of screens whose brains are going to be wired differently."

Well, yes. That's exactly the point.

When I was a kid the child development experts said that any more than 45 minutes of television per day would make a kid irresponsible, incapable of concentrating, unable to interact with people, and a developmental basket case.

Look what happened to me. Oh, wait, maybe that isn't a good comparison. Look at what happened to the entire generation.

Perhaps we all suffered from short attention spans and terminal halitosis. But, somehow I think we all pulled through it, give or take the odd few politicians, and maybe a judge on America's Got Talent.

TV changed generations, but not all of its effects were negative. Experts back then were simply commenting on something they didn't understand, as we marched into a "brave new world" that none of us had experienced. They cloaked themselves in advanced degrees, learned speeches and developed case studies designed to reinforce their foregone conclusions.

I don't claim to be a child development expert. But I do know this: putting an iPad (or Android, Kindle, whatever) into your child's hands isn't a brain cell death sentence. It's opening up an important new world.

Yes, I've read the studies that show toddlers who grow up on tablets do not develop vocabularies until a later age. I know about the teen tech idiot savants, who can't write a sentence, but spin out programs to solve high school algebra problems. The high schoolers who send 20,000 SMSs a month, but can't find time to finish a homework
assignment. The kids who play so many games they forget to sleep at night.

On the other hand, I've seen the toddlers who spend hours and hours practicing their letters and numbers, shapes and words, colors and coordination, and going right back to the iPad at every opportunity because it's fun.

Someday, maybe someone will run an iPad child development study that's properly constructed – double blind, monitored (not self reported), with objective evaluations.

Perhaps those studies will predict that my son will be a social misfit at age six because of the evil iPad, and an axe killer at sixteen.

If that happens, I'll think about changing my tune. For now, I don't see one iota of evidence that using a tablet is in any way harmful and I see lots of evidence that immersing kids in technology helps prepare them for a wired future.

I know a whole lot of people in Silicon Valley who make a living, not by writing book
reports but by churning out miles of incredible code. The best of the bunch started as teenagers – young teenagers. Some of them have changed the way the world works. Really.

Almost a billion people are on Facebook. The world's knowledge is at your fingertips with Wikipedia and a little help from Google. The finest maps, critiques and discussions, and university courses, are all there for the taking.

What about the kids who fritter away their time on computers or phones, instead of doing their homework? Hey, when I was a kid we had different distractions, but plenty of us didn't always get our homework done either. Did you? That part hasn't changed a bit.

Or maybe they should be playing 'cowboys and Indians', like I did, while begging for a Roy Rogers six shooter for Christmas. How sick is that? I didn't grow up to be an axe murderer – yet.

If kids back then could get over shooting "Injuns" and using x-ray vision glasses, I submit that kids today can overcome slinging angry birds at ticked-off pigs, engaging in grand theft auto and splatting zombies with laser guns.

That said, there are some big differences these days. Just a decade ago, it took a great deal of hand-eye coordination to get started with using computers.

I remember teaching my first son how to type, so he'd be ready to work on a PC when he got to school. We started when he was six years old.

Now, though, little kids of 18 months old and even younger can get the hang of the iPad interface. My two-year-old knows his way around an iPad better than I do. That's an incredibly liberating fact: the big barrier, the huge stumbling block that kept little kids off computers is now disappearing and pre-schoolers are quite capable of working on their ABCs with Elmo or counting to 20 with the Gigglebellies. They can sing "Wheels on the bus" with other kids their age or play "Head, shoulders, knees and toes" with the Wiggles.

The trick, in my opinion, is to use technology to interact with your kids. Sure, my toddler and I still read books – real, dead tree books, every day. But most of the day when we're playing indoors, the topics are generally educational and they're invariably on the iPad or the PC.

Does he throw temper tantrums when he doesn't get the iPad or the Kindle? Yeah, sure. Show me a two year old who doesn't. Does he get so involved in playing with the tablet that he ignores Mom and Dad? Yep. It's called concentration.

"The struggle of maturity is to recover the seriousness of the child at play." Do I let him play Modern Combat 3? No, not yet. Not until I'm sure that I can beat him at it, anyway.

Am I setting my toddler up for having his brain wired the wrong way? Well, yes, I hope so; much depends on what you mean by "wrong." Will his interpersonal skills suffer? Not if he gets some time playing with other kids. Will he be able to use all the tools he'll need as he gets older?

Yeah, I think so.

Most of all, he won't be intimidated by these talking pieces of glass. It'll be second nature, and when the time comes he'll be able to start standing on the shoulders of giants.

It's just that, in the mean time, he has to learn that he can't tap or swipe on a TV screen and get it to change channels or slide his finger on a magazine and expect it to move forward a page. We aren't there yet. Try again in five years.

So, I say take your kids to the library. Watch TV with them. Take them swimming and hiking and kick a ball their way. Make sure they have time with other kids. And get a tablet into their hands at an early age, so you can play with them and help them learn.

A friend of mine asked me to come up with a list of iPad apps that my wife and I like to play with our toddler. Here's the list: Cat in the Hat, Dr Seuss Band, anything by the Gigglebellies, any Sandra Boynton books, Pat the Bunny, Twinkle Twinkle (Super Simple Learning), My First Words Baby Picture Dictionary, Starfall ABCs, Elmo Loves ABCs, any Duck Duck Moose stories, Nighty Night, Pepi Bath and The Little Critter books.

You can also scrape videos off YouTube. (Hint: use Firefox and Video Download Helper – directions coming in my new book). I leave it to your search skills to find videos on YouTube for your kids. Of course, you can watch YouTube directly – no scraping required – if you hook the iPad up to your WiFi connection, or use 3G.

All of this is in the Apple App Store – immediately accessible from the iPad, or if you want to surf, go to W: apple.com/itunes.

Computers are going to give your kids (and grandkids and their grandkids) a
— Woody Leonhard
Keep in contact with The Thaiger by following our
Facebook page
.
Southern Thailand braces for rough weather and rain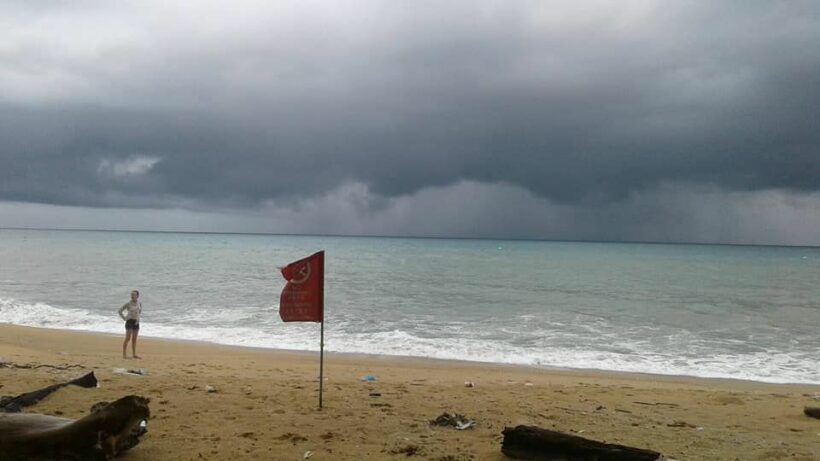 The Thailand Meteorological Department issued a weather warning for southern Thailand with torrential rain forecast to hit the region throughout the weekend. The heavy monsoon over the Gulf of Thailand and south of the country is being blamed for the rough weather, with the TMD predicting flash flooding in many areas.
(Phuket, Hat Yai and Hua Hin's forecast below)
"Waves are expected to reach 2 metres in height in the lower Gulf of Thailand and possibly higher at the height of the storm. Ships are advised to proceed with caution."
For the north and northeast of Thailand, the TMD forecasts strong winds and cooler mornings as the arrival of the "winter" season, coupled with a moderate high-pressure system, causes temperatures to dip.
Hua Hin's five day forecast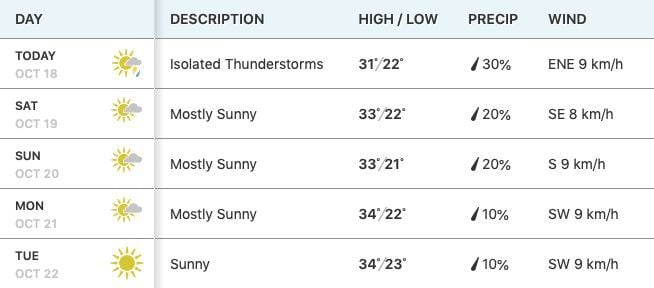 Phuket's five day forecast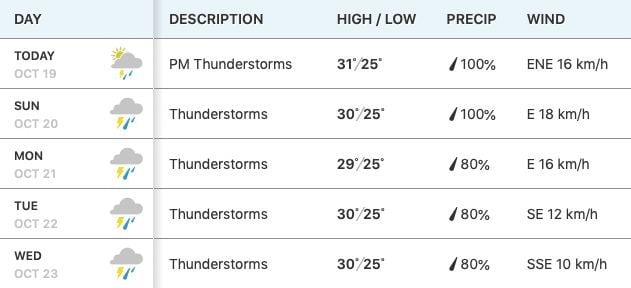 Hat Yai's five day forecast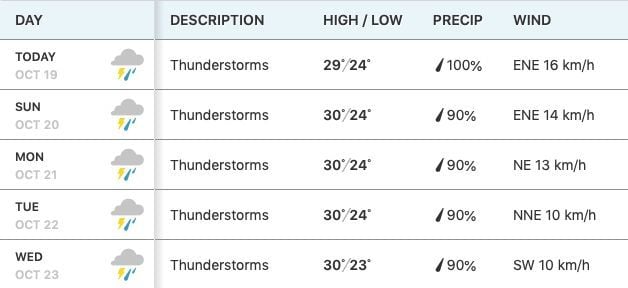 SOURCE: The Nation | weather.com
Keep in contact with The Thaiger by following our
Facebook page
.
Now you see him, now you don't… Patong Police hunt foreigner over $30k theft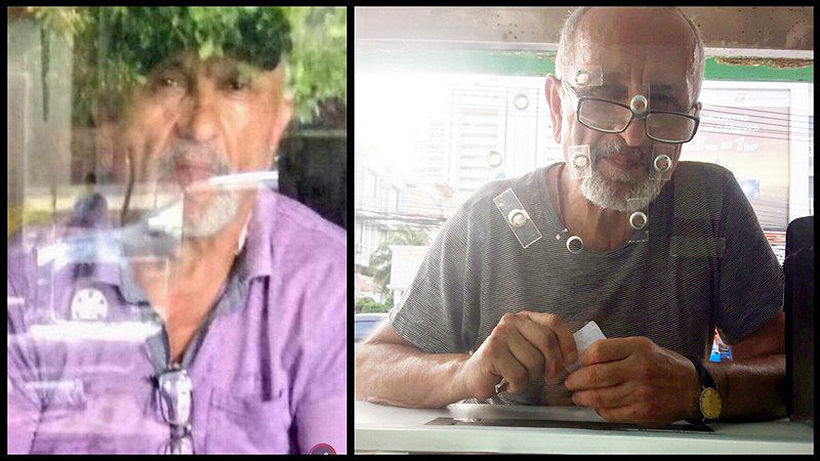 PHOTO: Patong Police
Patong Police have yet to develop any tangible leads tracking down a foreigner who made off with US$30,000 in cash from a currency exchange booth in Kalim, north of Patong in Phuket, last Tuesday.
The man is about 168 centimetres tall with grey hair and around 60 years old, Patong police told The Phuket News.
"We have no clue what nationality he is."
He was last seen at the currency exchange booth wearing a purple polo shirt, blue jeans and black cap. Police have checked hotels in the area, police stations across the island and Phuket Immigration, but have yet to join the dots and come up with firm leads.
"Investigators have checked CCTV in the area and collected what evidence we have but we still do not know the man's name or where he was staying."
The man had visited the booth several times before Tuesday, when he disappeared with the $30,000 in US banknotes, according to police.
"It was always small amounts", he added, noting that the amounts didn't warrant staff at the exchange booth to check the man's passport before making the exchange.
The man arrived at the booth again at about 1pm on Tuesday, saying that he had 900,000 baht cash to exchange.
SOURCE: The Phuket News
Keep in contact with The Thaiger by following our
Facebook page
.
Mystery surrounds security guard found dead in his Phuket room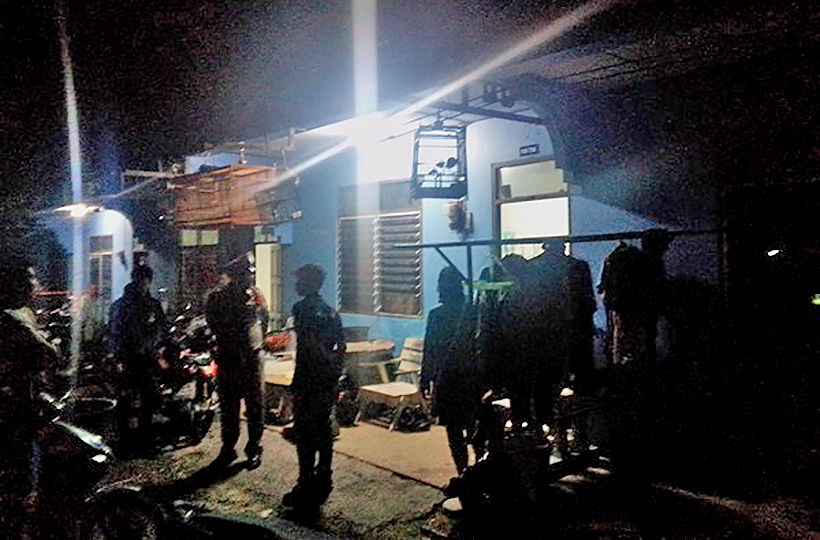 PHOTOS: Phuket Hot News
The security guard of a hotel in Nai Yang, northern Phuket, 52 year old Yingyot Butsabong, from Maha Sarakham province, was found dead yesterday (October 16) in his room. Police remain mystified how the man came to grief.
A woman named Supattra received a call from the hotel he worked at and was informed that he didn't show up at work yesterday, so she went to his apartment to check on him.
She saw that his room was locked from the inside, so used the key she had in her possession to open the room and found Yingyot laying on the floor, face down. She thought he was just sleeping so she tried to wake him up but once she flipped him, she found that he already passed away.
She immediately called Saku police, and once on the scene, police found that there was some blood on the floor. The man had a 2 centimetre wound on his left eyebrow which was deep into his skull. There was also a wound on his chin about 1 centimetre long and about a centimetre deep. His left eye had a bruise which looked like he was attacked by a hard object.
Police report that he had been dead for around four hours in the room.
The room was not ransacked and there was no sign of fighting or theft. His body has been sent to Thalang Hospital for a detailed autopsy and to look into the cause of death.
SOURCE: Phuket Hot News
Keep in contact with The Thaiger by following our
Facebook page
.