Phuket Live Wire; Behind the 3G wrangle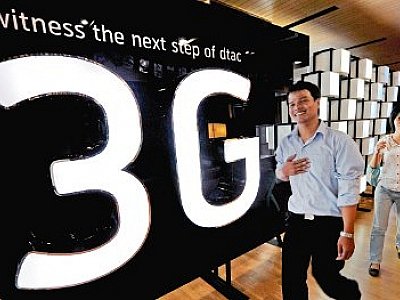 PHUKET: As explained in last week's Live Wire, the 3G situation in Thailand is incredibly convoluted, from what exactly is 3G compared to what is being called 3G, to who has rights to provide "real" 3G and why is it taking so long for Thailand to roll out what the rest of the world seemingly already has.
Last week I explained the basics of what is 3G and what is being touted as 3G. Here, I will delve into why Thailand has hit a brick wall in allowing private companies to make true 3G available to their customers.
For those who thought Live Wire was complicated last week, strap yourselves in – you're about to get a crash course in government concessions and why telecom giants are fighting tooth and nail for access to very lucrative revenue streams.
To understand the root of the 3G problem in Thailand, first let me draw a rather inadequate analogy: AM and FM radio.
Although both AM and FM deliver radio signals, they work in different ways on different bands – that is, different frequencies.
HSPA, which delivers "real" 3G speeds, can work the same way.
Internet Service Providers can run HSPA on many different frequencies. In Thailand, we're concerned with two frequencies. One of them is (confusingly) called 850MHz. The other is called 2.1GHz.
Ultimately, the government has to grant the concession – the right to use HSPA technology on certain channels on the airwaves. The board that grants that right doesn't exist yet – it's been a work in progress for years.
Some day there will be new laws, a board will be formed, a method (probably auction) determined for carving up the airwaves, and phone companies will buy the rights to use HSPA (or WiMax or LTE), test the service, then roll it out.
By my reckoning, that day is, at best, two years away.
Right now, it looks like TOT and CAT can legally roll out HSPA on the channels that they operate today.
There's a great deal of debate about that statement, but it appears as if it's correct.
TOT right now operates an HSPA network on the 2.1GHz channel (think "FM radio") in Bangkok.
CAT right now operates several HSPA networks on the 850MHz band (think "AM").
CAT owns the CDMA network in Bangkok on the 850MHz band, but it is operated by Hutch. CAT also owns the CDMA networks outside of Bangkok, which also run on 850MHz.
Confused yet? Hang on. It gets worse.
The auctions that were proposed, postponed and battered back and forth in the international press were for the 2.1GHz band only.
As of right now the government has been prohibited by court order from issuing licenses to other telephone companies to run HSPA at 2.1GHz (think "FM").
But TOT still has a license for HSPA at 2.1GHz, at least in Bangkok.
And CAT has a license for HSPA at 850MHz (think "AM"), all over Thailand.
There are many different opinions about whether TOT has a license for HSPA at 850MHz or if CAT has a license for HSPA at 2.1GHz and, if they do have the licenses, whether they can sub-let their frequencies to other companies.
But there's no question at all that TOT can run HSPA "3G" in Bangkok (on the 2.1GHz "FM" band), and CAT can run HSPA "3G" outside of Bangkok (on the 850MHz "AM" band).
Last month, True attempted to buy Hutch's concession for CDMA in Bangkok and turn it into an HSPA network.
CAT is amenable to the deal, but it's hard to say if it'll pass regulatory and legal review.
Regardless, the handwriting is on the wall: CAT has no intention of expanding its CDMA/EV-DO network. They're jumping to HSPA as fast as they can.
So if you buy a CAT EV-DO card today, do so on the understanding that it may not work next year.
In all, Thailand does have 3G – specifically, it has HSPA. It's just very convoluted.
There are billions of baht at stake, and corporate empires that hang in the balance, so don't expect any clear-cut solutions any time soon.
In the interim, CAT and TOT are both moving as fast as they can to expand their HSPA networks. Each wants to get a customer base – a revenue stream – before competition with AIS, DTAC, True, Samart and a dozen other companies kicks in.
Facebook 101 Seminar
The next set of Able Wanamakok's free Facebook 101 seminars run May 7, 14 and 21. Facebook 101 takes attendees through the basics, from setting up a business (or organization or charity) page, designing it, drawing attention to it, and then using the page to reach out to Facebook users.
Johan Lofgren helps with the more technical parts. No experience with Facebook needed to attend the free seminars.
To attend, sign up by going to www.facebook.com/SandwichShoppe and on the left click the link marked Facebook Seminar.
The seminars are sponsored by Khun Woody's Sandwich Shoppes, AW PR and Marketing and onsite.in.th.
Able is planning a series of seminars in Thai, starting May 28. Email able@awpr-phuket.com for details.
FREE Computer Clinics
The next Computer Clinic will be on Sunday, May 8, from 10am to midday, at the Sandwich Shoppe Laguna, which is near the entrance to the Laguna complex.
As always, the clinic is free and open to anyone interested in (or bothered by) computers in Phuket. There's a lengthy question and answer period, and lots of help from kindred souls. If you have a question about computers in Phuket – or PCs in general – drop by and we'll get you some world-class answers. The clinics are sponsored by the Phuket Gazette and Khun Woody's Sandwich Shoppes.
Apple / Mac / iPad / iPhone Clinic
I'm actively looking for someone to start an Apple Clinic. In a typical month, dozens of people approach me with questions about their Macs, iPads and iPhones. The best solution would be to find an Apple fanatic – or an Apple dealer – who's willing to give up a couple of hours a week to help other Apple users.
So far, I've heard of several Apple user groups that started in the past decade, but all of them folded for lack of interest. That's amazing to me, because there are so many Mac (not to mention iPad and iPhone) users on the island.
My guess is that 90% of them don't understand why "3G" on their iPhone or iPad runs so slow – and why it's ridiculous to pay more for "3G" for use anywhere but the extreme west coast of the island.
If you want to help, email me: Woody at Khun Woody dot com.
Live Wire is IT guru and Phuket Gazette columnist Woody Leonhard's weekly snapshot of all things internet in Phuket. Woody's written more than 40 computer books including, most recently, Windows 7 All-In-One For Dummies. Follow Woody on Twitter: @PhuketPC.
To see what Woody's up to in the international press, and to keep on top of the latest patches and problems with Windows and Office, drop by AskWoody.com.
— Woody Leonhard
Phuket News

Join the conversation and have your say on Thailand news published on The Thaiger.
Thaiger Talk is our new Thaiger Community where you can join the discussion on everything happening in Thailand right now.
Please note that articles are not posted to the forum instantly and can take up to 20 min before being visible. Click for more information and the Thaiger Talk Guidelines.