Phuket 'Kidnap rapist' freed from jail, Nepali community in fear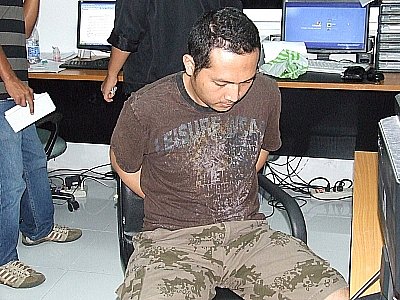 PHUKET: In response to media reports on the release of a man who confessed to multiple counts of kidnapping, imprisonment, and repeated rape and robbery of Nepali women, the Thai-Nepalese Club held a meeting yesterday to discuss the community's fear of reprisals and options for legal action.
Phuket's Nepali community members are living in fear of the "powerful" Phakpoom Maneerat, who was released from Phuket Provincial Prison on June 21 based on a decision of the Phuket Provincial Prosecutor's Office.
Thai-Nepalese Club President Phanuphong Limbuprasertkul expressed shock upon learning of the prosecutor's decision to have Phakpoom released.
"Why is it so easy for him to go free? We are still scared that he will attack us for revenge. I myself am scared of what might happen to me because I've spoken out about this," Mr Phanuphong said.
"At the meeting, I asked the club members – especially one of the rape victim's relatives – 'Why are we silent about this and not pushing this case forward?' But, her relatives didn't say anything," Mr Phanuphong said.
Many in attendance did not want to speak out, as they may lack proper documents allowing them to legally work in Thailand, he said.
After his arrest on April 1, 30-year-old Phakpoom confessed to police that in each case he impersonated a police officer to abduct the women, all employed in the tourist-oriented retail sales industry in Patong. Once under his control, he took them to locations in Krabi and Nakhon Sri Thammarat, where they were confined and repeatedly raped over a period of days.
Phakpoom restated his confession before the media at a press conference at Patong Police Station on April 3, when he admitted using the same method in each case, identifying himself as an officer of the law to abduct, rape and rob his victims.
An administrative officer at the Phuket Prosecutor's Office said that the case was sent to the Attorney General in Bangkok for consideration.
A lawyer for one of the alleged victims, who wished to remain anonymous, told the Gazette: "I checked with the prosecutor last month and realized that they weren't going to pursue charges against Phakpoom Maneerat."
"I have been involved in this case all along and we put everything together to be sent to the prosecutor," the lawyer said.
"Phakpoom is now only going to be charged with identifying himself as a police officer – which he is not. This is a very 'light' charge," he said.
"I've been told one reason the charges against Phakpoom have been dropped is that the victim had opportunities to escape, but did not. For example, she could have escaped from the car or she could have escaped from the room [in Krabi] when he went out for food," the lawyer said.
"When she gave testimony to the police, she didn't have a lawyer with her and didn't really know how to handle the situation. She only had a translator with her at the time who didn't have much legal knowledge," he said.
"She didn't clearly tell the police that she was raped in the car as well. She didn't escape from the car as she was afraid of the man. She didn't have any money and believed that [Phakpoom] was a real police officer," he added.
Phuket Prosecutor Manop Nuchuay told the Gazette that according to evidence in the case, the woman agreed to leave with Phakpoom and that she never attempted to flee.
"The case with the Attorney General now states that some of the original charges against the defendant will not be pursued, while others will," Mr Manop said.
An officer at the Office of the Attorney General in Bangkok told the Gazette that "the case is now being considered by our division head, after which time it will be forwarded to higher-ranking officers, so we're not sure when a resolution will be reached.
"If the victim does not agree with the outcome, she can hire a lawyer on her own and file a civil case against Mr Phakpoom," she added.
When asked how charges against Phakpoom could have been dropped, given that he made a full confession to police and media, Phuket Prosecutor Manop said that, in fact, the suspect had not signed a confession.
While confusion surrounds the issue of how Phakpoom was set free, one factor in the case not moving forward is apparent: fear.
"It seems that members of the Thai-Nepalese club and the young woman's relatives are not pushing the case forward," the 25-year-old victim's lawyer said.
"One of the victims' relatives is afraid that the man [Phakpoom] might have people harm his family if they pursue the case. The victim would like to fully pursue the case, but others who strongly supported her at first have backed off," he said.
One of the young woman's relatives told the Gazette, "We haven't done anything with the case since we were informed that the prosecutor isn't pursuing the charges. I can't push this by myself and the victim doesn't have any money.
"The other victims seem as though they don't want to see the case through because some of them have husbands – they don't want to ruin their reputations. So just one, the 25-year-old, came forward, but now [the case is not going forward]," he said.
Thai-Nepalese Club president Phanuphong said that in the Hindu belief system, common among Nepalese, if a woman is raped no man will marry her. Therefore, if she is raped she will keep it a secret, Mr Phanuphong said.
The Thai-Nepalese Club has about 3,000 members, including children and adults. About half of them are females, 10 per cent of whom are young women.
"Only about 40 members attended the meeting yesterday, so we haven't come to any conclusions. We'll hold another meeting about a month after the Vegetarian Festival [to begin at the end of this month]," Mr Phanuphong said.
Phuket News

Join the conversation and have your say on Thailand news published on The Thaiger.
Thaiger Talk is our new Thaiger Community where you can join the discussion on everything happening in Thailand right now.
Please note that articles are not posted to the forum instantly and can take up to 20 min before being visible. Click for more information and the Thaiger Talk Guidelines.