Phuket Gov slashes accidental death target by more than half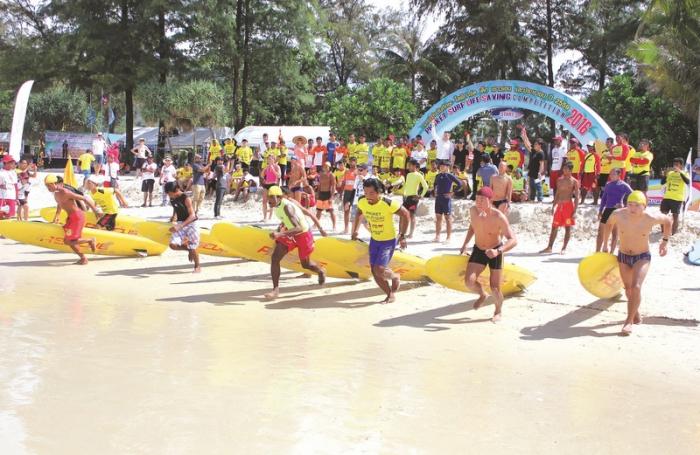 PHUKET: Safety on the roads and waterways in and around Phuket is a "top priority" for the high season, Phuket Governor Chokchai Dejamornthan has declared, as is customary at provincial hall this time of year.
In a meeting with police, disaster prevention officials and public health department heads on December 7, Governor Chokchai set a target of less than 50 deaths in the province for next year, starting by implementing 'strict safety measures' on land and sea before the end of the year.
Reducing road accidents is a priority, said the governor, adding that there were many factors to take into account, but drunk driving was the most common cause of road deaths and so a province-wide anti-drunk-driving 'campaign' would be launched ahead of the festive season.
Gov Chokchai also recited the decades old call for a 'renewed effort' to make all motorcyclists wear crash helmets when on the roads.
According to the latest statistics from the provincial health department, 114 people were killed in accidents in Phuket between January and October this year; 80 per cent of them motorcycle collisions and 84 per cent of the victims male.
Most motorcycle accident victims were men aged 21-25 years old and were killed between midnight and 3am. At least 80 per cent of those victims were not wearing crash helmets, the report stated.
Phuket Provincial Police Commander Teerapol Thipjaroen said that the usual police 'checkpoints' would be set up across the province to check motorists for drunk driving and speeding during the early hours.
"It will be hard to control the number of accidents, but with co-operation from all departments to ensure that motorcyclists wear their helmets and don't drink alcohol before driving, there could be 'some measure' of success in reducing road deaths," said Gen Teerapol.
Marine safety is also said to be high on the agenda for the influx of foreign tourists during the year-end high season.
The Phuket Lifeguard Club and Patong Municipality teamed up with the International Life Saving (ILS) Federation and the Australian Lifeguard Service to stage an international beach safety summit on December 10, involving life saving specialists from 12 nations: Thailand, Australia, New Zealand, Japan, the Philippines, Vietnam, Hong Kong, Taipei, Singapore, Malaysia, Indonesia and India.
About 250 people took part in the Phuket Surf Life Saving Competition 2016 held at Patong Beach, which was jointly organized by ILS head Norman Farmer; Australian Lifeguard Service head for the Asia Pacific region, David Field; and the Phuket Lifeguard Club (PLC).
The participants practiced rescue skills and were graded in swimming, running and board rescue contests.
PLC President Prathaiyuth Chuayuan said the day of activities was a significant step towards improving safety for swimmers at Phuket's popular tourist beaches.
"Swimmer safety is our priority and so improving our life-saving knowledge and skills is a paramount," said the PLC president. "The participants benefited greatly from the workshop, which has brought us up to international standards as well as building strong ties between the 12 nations involved."
Phuket Marine Chief Surat Sirisaiyas confirmed that his department was also going into high-gear for the high season to keep a closer eye on marine safety and called for co-operation from boat and tour operators to ensure against accidents.
"We will be strictly enforcing laws governing marine safety, including speed restrictions and preventing boats from entering restricted areas. If everyone obeys the laws, accidents can be dramatically reduced," he said.
Additional reporting by Kongleaphy Keam.
— Kritsada Mueanhawong
Keep in contact with The Thaiger by following our
Facebook page
.
British tourist killed at Phuket resort, Norwegian charged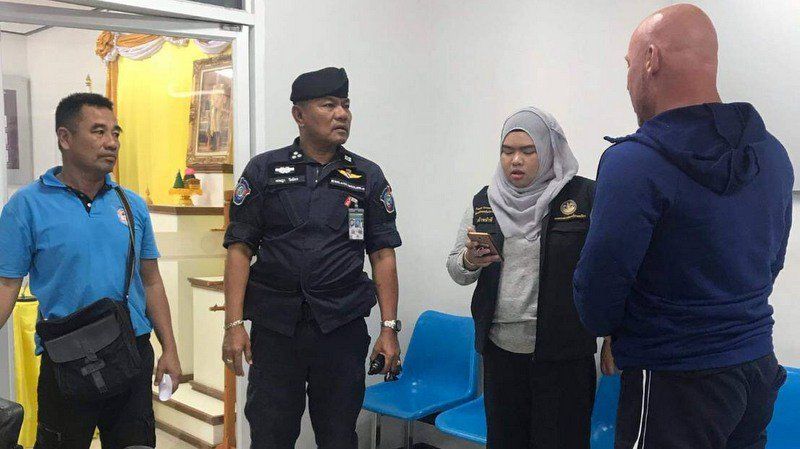 PHOTO: Tourist Assistance Centre
A late night fight that broke out at a Karon resort has ended in a Norwegian man killing a British tourist.
The fight started at 4.00am, when British national Amitpal Singh Bajaj, who was on holiday with his Singaporean wife and two young children, confronted Roger Bullman over the amount of noise coming from his room.
Mr Bullman was drunk, and security had already visited his room twice to ask him to keep the noise down. When Mr Bajaj confronted him, he stabbed Mr Bullman in the shoulder with a steak knife.
Mr Bullman, trained in martial arts, then got the British man in a choke hold and maintained his grip on him. He says he did not mean to kill him, and did not think he had.
He has been charged and released on bail by the Phuket Provincial Court. He must now remain in Thailand until the court hearing.
British consular officials are assisting Mr Bajaj's family in the wake of the tragedy.
SOURCE: ThaiVisa and The Phuket News
Keep in contact with The Thaiger by following our
Facebook page
.
The second baby dugong 'Yamil' dies in Phuket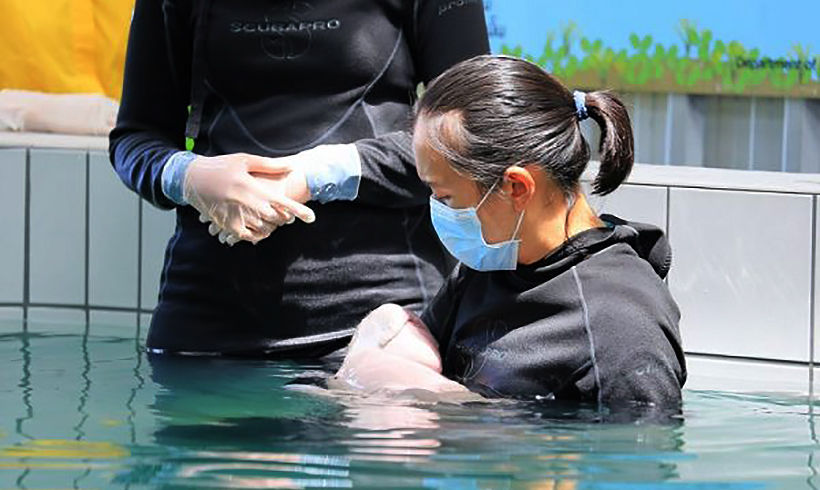 The second young dugong, being cared for by vets at the Phuket Marine Biological Centre, has died.
Yamil, the baby dugong stranded on a Krabi beach on July 1, died of "shock and cardiac arrest" last night (Thursday) after suffering indigestion and gastroparesis.
The Department of Marine and Coastal Resources report that Yamil was sent from the Phuket Marine Biological Centre to Vachira Hospital last evening for an endoscopy to observe its gastrointestinal tract, which was found to be full of sea grass – a dugong's normal food.
"But the sea grass had obstructed Yamil's gut, causing its digestive system to stop functioning. This resulted in a buildup of gas in the digestive system, leading to the rupture of blood vessels and infection."
Her Royal Highness Princess Sirivannavari named the dugong 'Yamil' when he was moved from Krabi to Phuket for treatment and rehabilitation by marine vets. The animal was originally rescued by villagers from a Krabi beach where it washed up. His care has been sponsored by the Princess. Yamil, in the Yawi dialect, means "handsome young man of the sea".
Last Friday night, baby dugong 'Mariam' died of shock while being treated in protected area near Koh Libong in Trang province.  Vets later found several pieces of plastic in its stomach.
SOURCE: Thai PBS World
Keep in contact with The Thaiger by following our
Facebook page
.
Official complaint filed with the DSI over The Peaks Residences Condominium in Phuket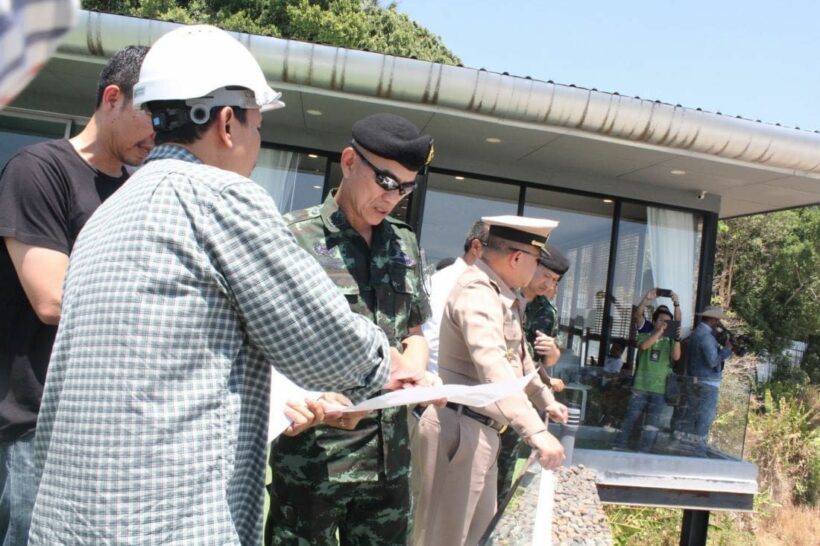 PHOTO: Inspections at the property in March this year – Kritsada Mueanhawong
Bangkok MP Sira Jenjaka has gone ahead and filed a long list of formal complaints over The Peaks Residences Condominium project being built in the hills above Kata Noi in Phuket.
The Palang Pracharat MP has also claimed to have had death threats made against him over his investigations and accusations over the condo's land titles and ownership in recent weeks.
The MP filed an official complaint with the Department of Special Investigation chief in Bangkok this morning.
The complaint alleges that the Karon Mayor Tawee Thongcham and the municipality "neglected their duties" by issuing permits to Kata Beach Co Ltd, the developer of the The Peaks Residences Condominium.
In February this year the Karon OrBorTor issued a construction permit for the project but in April municipal officials also sent a letter acknowledging the ongoing legal proceedings over the legitimacy of the land title, the NorSor 3 Kor Number 1863.
The complaint alleges that the project is being built on land with a NorSor 3 Kor No. 1863 land title. The complainants allege that the legal land document would have had to have been presented to obtain building permits and construction to proceed. But they claim that, as the NorSor 3 Kor for that land was under consideration by the Administrative Court, a legal building permit could not be issued.
In August 2017, the Regional Administrative Court ruled that the NorSor 3 Kor No. 1863 land title was invalid. Furthermore it determined that the land was "protected forest land".
The DSI formally received the complaint documents this morning.
Meanwhile, the developer of The Peaks Residences Condominium, Manassanan Nararattanawee, the CEO of Kata Beach Co Ltd, maintains that the project's paperwork is all "proper' and that "everything is under the law".
"Our company has already suspended construction to wait for the judgment of the Supreme Administrative Court."
Officials from the Internal Security Operations Command inspected the property in March this year as the owners promised to 'slow down' construction. Read that story HERE.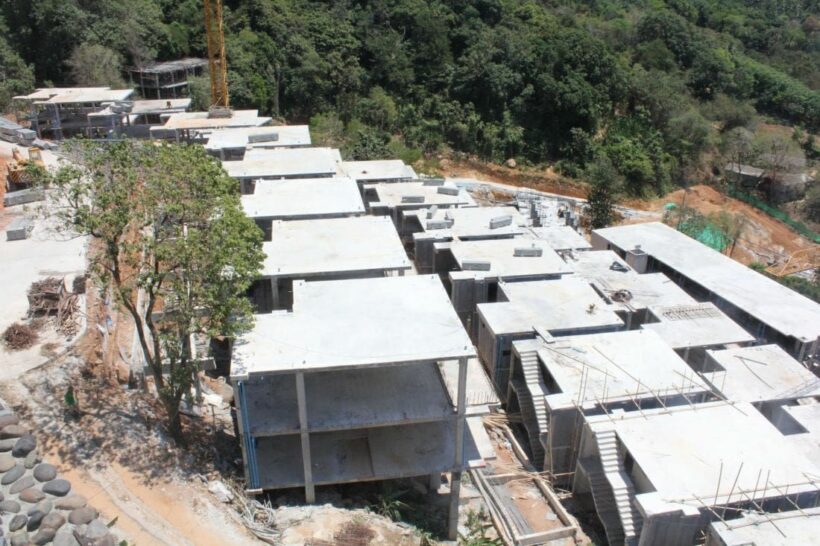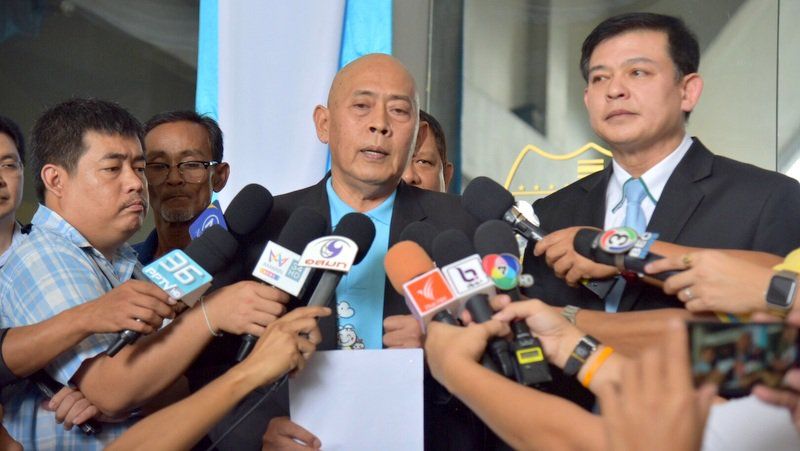 PHOTO: Department of Special Investigations
Keep in contact with The Thaiger by following our
Facebook page
.