Phuket Gazette reader finds runaway boy in Patong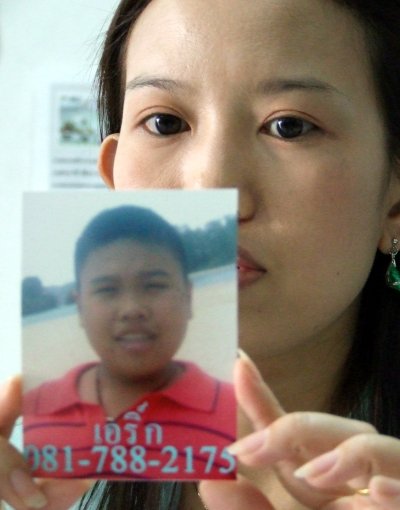 PHUKET: A runaway boy was safely reunited with his family yesterday after being spotted in Patong by a sharp-eyed Phuket Gazette reader.
The reader, a Malaysian-born US citizen named Shain from San Diego, contacted the Gazette by email this morning.
He spotted the boy, 13-year old Anuchit "Erk" Tan-a-pirom, selling fireworks by the side of the beach road in Patong.
Erk went missing from his grandfather's home in Wichit on the morning of June 19.
For the original report of his disappearance and his aunt's efforts to find him, click here.
The grandfather confirmed this morning that Erk had been found thanks to the foreigner's phone call and is now staying at his father's home in Kata.
Erk is addicted to computer gaming and was probably too afraid to come home for fear of being reprimanded, he said.
Mr Shain recounted how he came to the boy's aid:
"I read the story in the Phuket Gazette a week ago and spotted the boy while I was taking a stroll by myself on Patong Beach, right across from McDonald's, around 8pm on World Cup final night. It was dark, but I recognized his innocence and his smile while he was trying to sell me the fireworks.
"I saw the boy again two days later at around 6pm. I did not tell him that I knew he was a runaway because I wanted to make sure he would stay there. Deep inside, I also knew that I was the only one who could help the family. Tourists would not have paid such attention; most local Thai people would not have read the Phuket Gazette," he wrote.
Shain noted that the boy was working just a block away from the police box on the beach at the end of Soi Bangla.
"He looked really happy hanging out and working on the beach, but I finally decided that it was more important for his family to know that he was safe. So I got Mint Thipsuda, a very nice lady friend who works as a masseuse, to call them since I don't speak Thai.
"I had to pay her boss 500 baht to get her out from work so we could meet up with his family. Mint told them I am from Malaysia, but I am actually a US citizen, born in Malaysia but living in Southern California.
"They showed up in full force, including his uncle, his dad and both his grandpas at around 5:30pm. They were able to locate him before I did. The boy was crying while they tried to console him.
"I took Mint to Fuji at Jungceylon for a nice dinner and we played pool afterward to celebrate the special occasion," wrote Shain, whose stay in Thailand will come to an end on Saturday.
Mint accepted 1,000 baht from the family for her help, but Shain didn't ask for the 5,000 baht reward money offered for helping to find Erk.
However, it seems that Shain's conscience and success brought him an even greater reward.
"I can't believe that I have actually been able to help reunite a family while I am on my vacation here in Thailand," he enthused.
— Atchaa Khamlo & Stephen Fein
Keep in contact with The Thaiger by following our
Facebook page
.
"Phuket needs a world class exhibition and convention centre"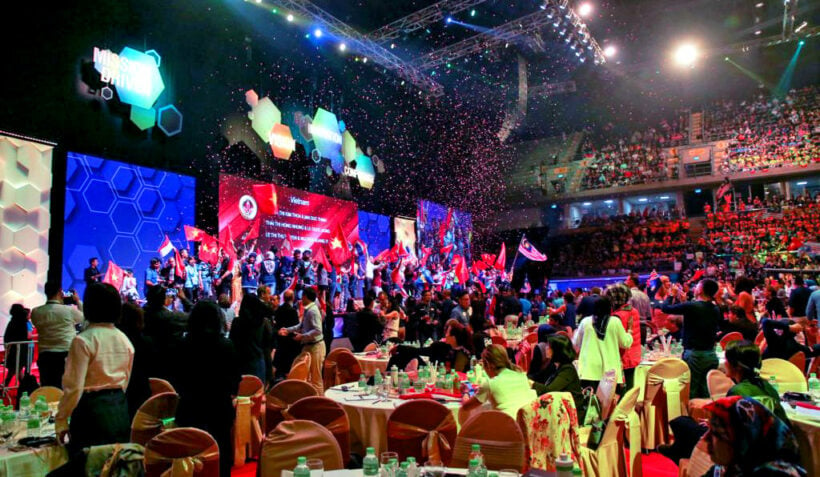 "Two key developments we are tracking is Central Festivals next phase of expansion and Proud Groups Andamanda project that both have significant concerence, meeting and incentive space."
Plans to promote Phuket as a world-class MICE (meetings, incentives, conventions, exhibitions) location are being obstructed by many impediments –  inefficient town planning, poor transport systems and poor availability of land in tourist locations.
Dusida Worrachaddejchai writes that Phuket's deputy governor says the province has a blueprint to build an exhibition and convention hall to host international events with a capacity up to 5,000. But he said that town planning rules forbid building a hall larger than 6,000 square metres with a hight greater than 23 metres.
The prohibition for a proper convention hall by town planning appears to be one of the few projects impeded by lax town planning laws.
The project has been talked about for decades with Phuket's potential as an active MICE venue being hampered by the lack of facilities, principally a large convention and exhibition centre.
If some provisions of the current town planning act for Phuket can be amended, the likely destination for a convention centre would be Thalang district. The deputy governor says he hopes it can be built in a few years and make Phuket able to bid for international events and expos.
But Thalang, although within 15 minutes of the Phuket International Airport, has little offer convention and exhibition delegates with most of the beaches and tourist infrastructure on the island's southern coastal areas (Patong, Kata, Karon).
C9hotelworks' Bill Barnett says proper MICE facilities have been a long time coming for Phuket.
"Phuket hotel developers are finally seeing the signifigance of the MICE trade. Two key developments we are tracking is Central Festivals next phase of expansion and Proud Groups Andamanda project that both have significant concerence, meeting and incentive space. TCEB ae active in the working on Phuket as a MICE destination so we see the future direction as positive, at last."
Meanwhile the Thai government has foreshadowed that five Thai cities will be earmarked as MICE locations – Phuket, along with Chiang Mai, Khon Kaen, Pattaya and Bangkok. The deptuty governor sprouted Phuket's existing MICE credentials – 600 hotels offering 40,000 guest rooms, 220 convention rooms, 615 meeting rooms, 14 piers and four private marinas. But these facilities are spread all over the island with poor access and almost no public transportation.
Plans for a world class convention centre have been brought up from time to time over the past two decades with provincial officials huffing and puffing about the need for a proper facility for the growing island but, so far, nothing has happened and the island remains a leading tourist destination with little attraction for larger conferences, exhibitions and events.
In the past the private sector – primarily Central Group and Jungceylon – have indicated their interest to build a convention hall in the Patong area. But town planning issues and the ever-dwindling available land in the seaside city have shelved any progress.
Southern beach locations, with excellent hotels, shopping and beaches – Karon and Kata – have also been flagged as potential locations but access, especially from the airport, remains poor. Travel times to the southern beaches from the airport is at least an hour and involves trips across the notorious hills roads at either Patong or Kata.
Progress on the Patong Tunnel has also stalled with successive governments unable to progress the project.
The government should improve mass transport from the airport to Patong and other western coast districts in Phuket, namely Karon, to facilitate large groups such as Mice travellers that require more than buses and vans, Ms Chalermluck said.
Last year, more than 2 million visitors arrived in Phuket for MICE events, generating 19.5 billion baht in income. But MICE industry proponents say that number could be easily tripled with a proper convention and exhibition venue.
Keep in contact with The Thaiger by following our
Facebook page
.
Laguna Angsana Resort opens conference and exhibition venue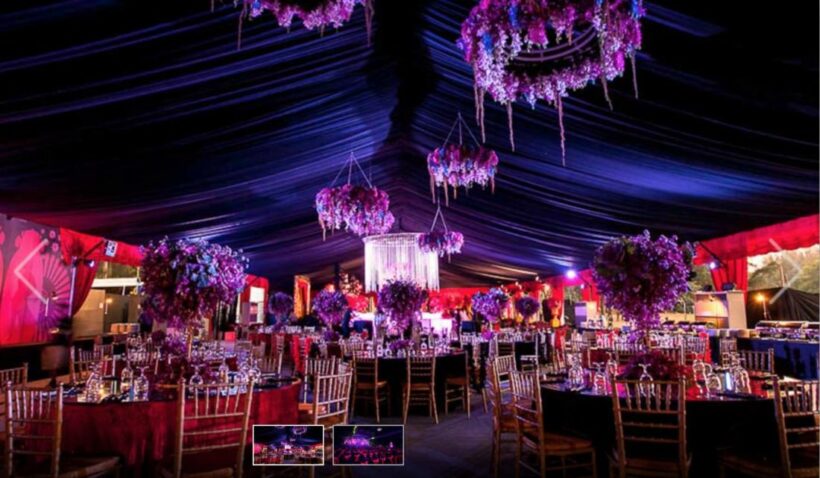 by Bill Barnett of c9hotelworks.com
Laguna Phuket's Angsana resort is set to debut it's new 1,500 square metre conference and exhibition space. It's actually a renovation and rebranding of the successful Laguna marquee space and relocated to a more permanent location within the Angsana Laguna Phuket complex.
Tagged as ACES, the venue will open at the end of September.
For big events the space accommodates 1,500 patrons, theatre style, or 800 for dining.
The new ACES will be one of the island's largest event venues.
Phuket's MICE (meetings, incentives, conferences, exhibitions) industry have been calling for better conference and exhibition facilities for two decades with a growing market of businesses and conferences wanting to mount their events around Phuket's excellent hotel and tourist offerings.
Keep in contact with The Thaiger by following our
Facebook page
.
Phuket's Surin Beach's anti-erosion walls fails causing another environmental disaster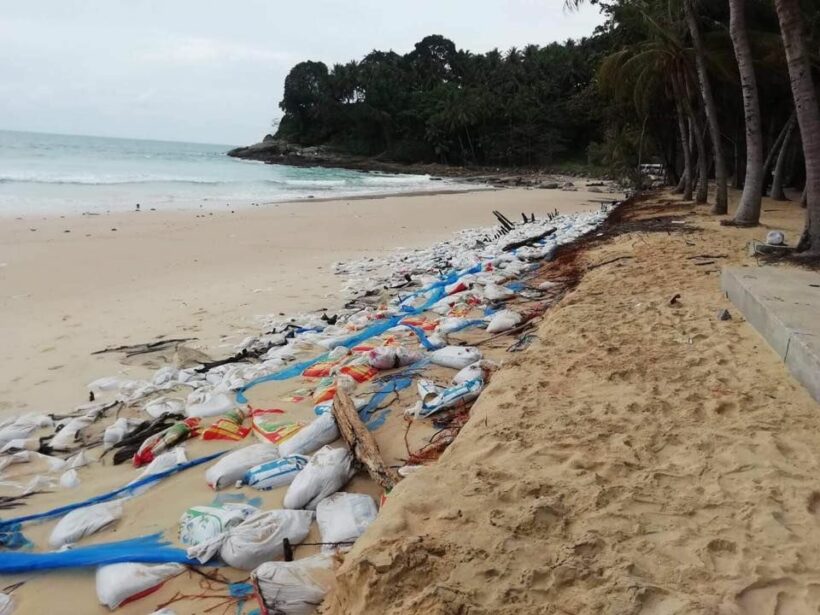 PHOTOS: ขยะมรสุม
ขยะมรสุม has posted on their Facebook page about the ugly and failed attempt at an erosion wall at Phuket's Surin Beach (photos below).
He said in his post…
"Found this big pile of trouble at Surin Beach. What are these sacks for? Are they becoming trash? You won't conquer nature with sand sacks. If you want to make a breakwater for waves, it has to be better than this. The departments involved must be responsible for this."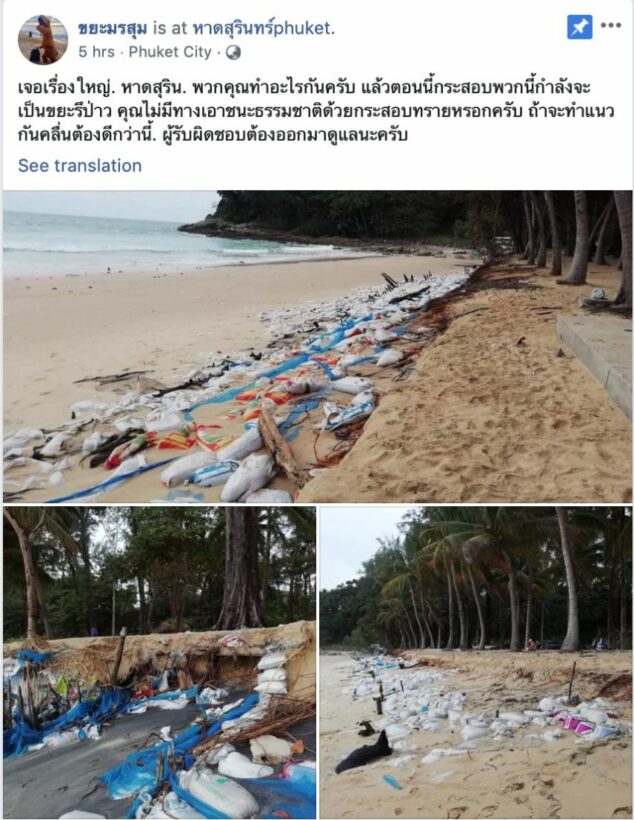 The post has solicited over 50 comments and almost as many shares (at the time of this story) and carries the short-comings of Surin Beach's sad recent years to the world.
All commercial activities were swept from the beach in 2016. Before then it was cluttered with popular makeshift restaurants, bars and even quite established beach clubs. At the time it was promised to be returned to its pristine, former condition and was a favourite for locals as it had been visited by HM King Bhumibol in March 1959.
Numerous plans have since been announced, and funding provided, to turn the beach into a park, in honour of the late King Bhumibol. But, as of now, the remnants of the commercial past – concrete building bases, steel pins sticking out the ground – remain and the Cherngtalay Or Bor Tor, responsible for the maintenance of the area, has largely neglected one of Phuket's most popular beaches.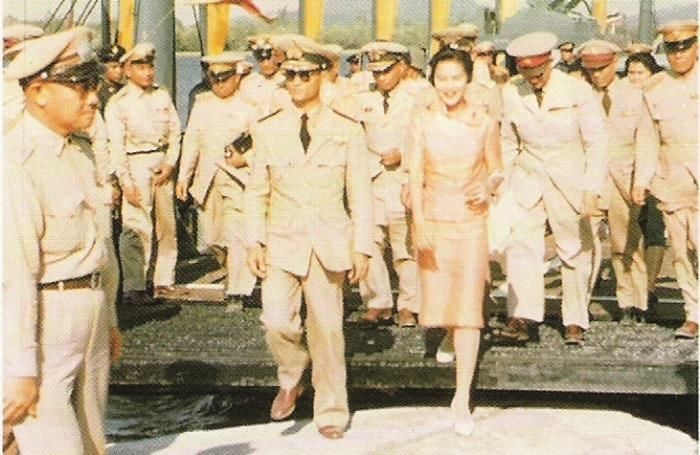 King Bhumibol and Queen Sirikit (now Queen Mother) during a royal visit to Phuket in 1959 when they visited Surin Beach.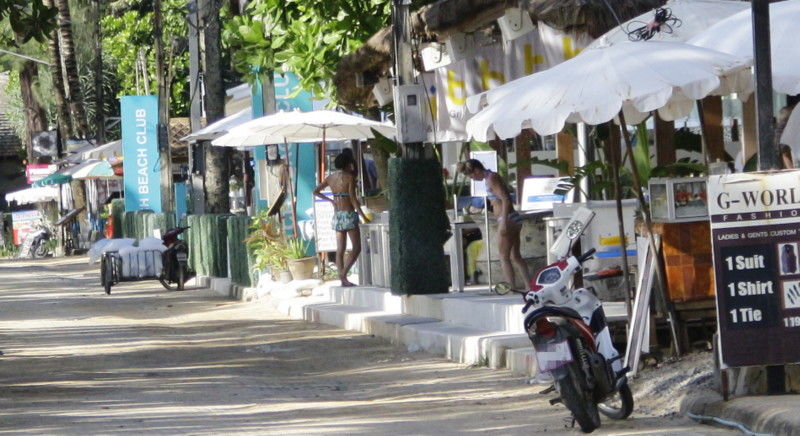 The Surin Beach strip in 2014 before the military government swept to power and removed all the illegal and encroached restaurants, and beach clubs from the shores.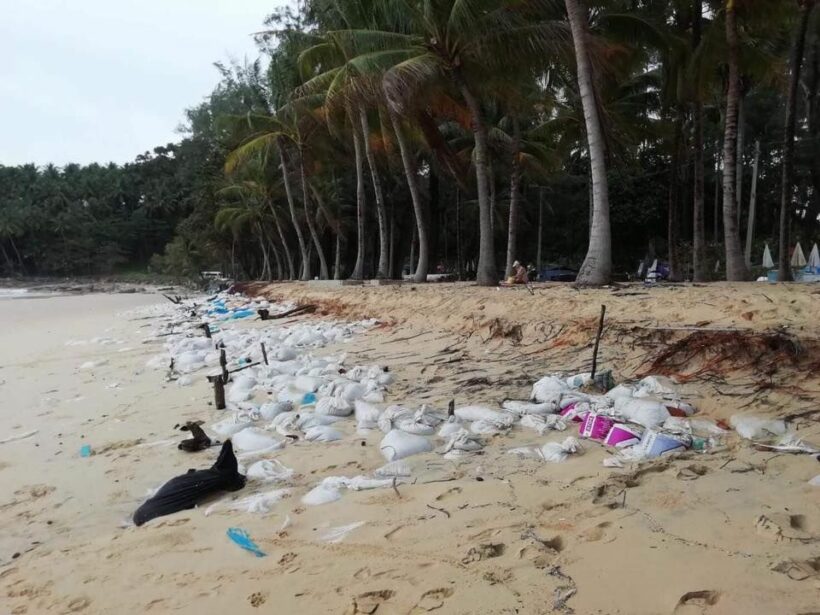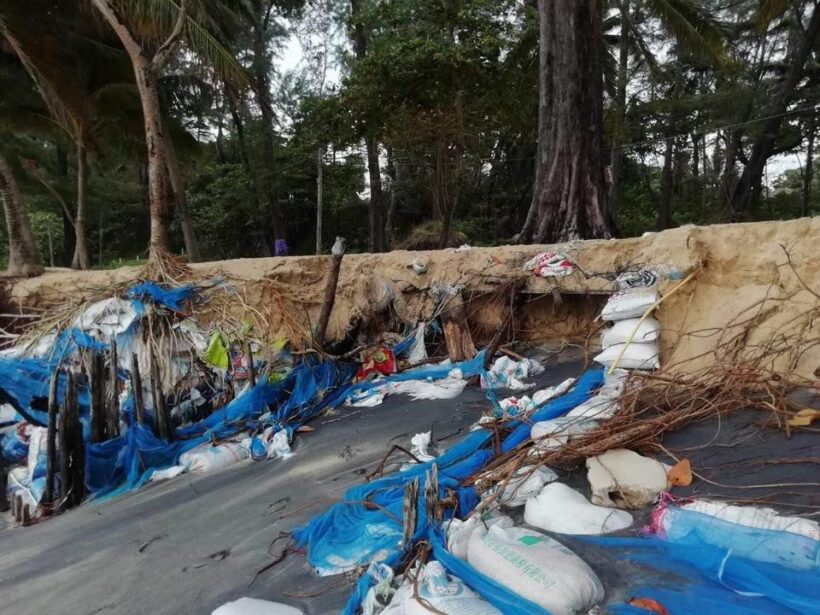 Keep in contact with The Thaiger by following our
Facebook page
.