Phuket
Phuket Aussies unite to provide mobility scooter for disabled Bangla vendor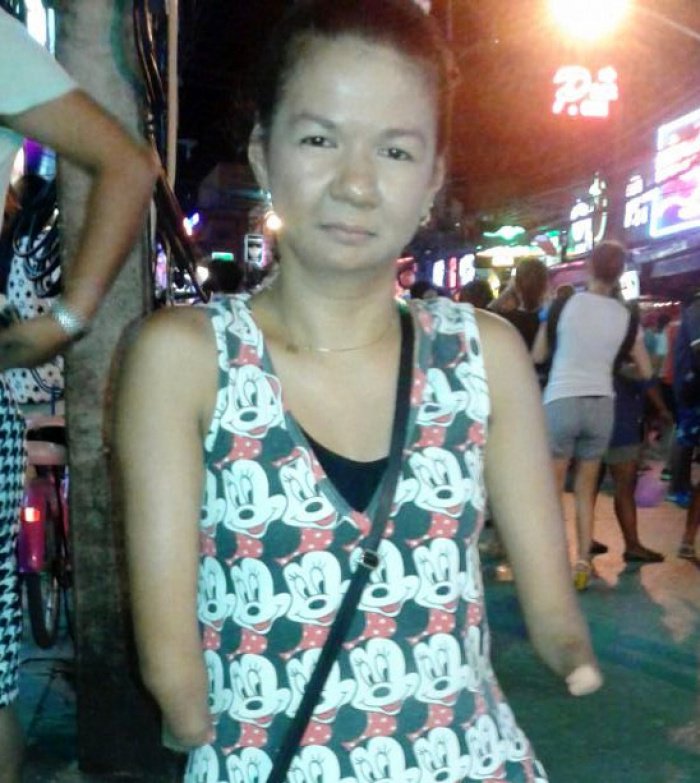 PHUKET: A group of Australians in Patong will hold a fund-raising event at the Kangaroo Bar on Soi Bangla Friday night in order to provide a mobility scooter for long-term street merchant Wilaiwan "Wan" Damnui.
"Wan works in Patong, around the Bangla Road area, selling various wares. She's been here as long as I can remember, which is more than 14 years," said Gregory Wescott, who is organizing the event.
"Wan was born with no hands and badly disfigured legs. She has an amazing spirit and is worthy of a lot more from life than she currently has."
Ms Wan was first reached out to about a year ago by Derek Clarkson, a 75-year-old Australian, who had noticed that the prosthetic leg Ms Wan received in 1999 was broken. Mr Clarkson worked with the Phuket Regional Environment Office, which has a project that turns recycled aluminum into prostheses, in order to get Ms Wilaiwan a new leg (story here).
"However, this mobility scooter will assist in raising her self-esteem, perhaps creating better job opportunities and giving her a great deal more independence in life," Mr Wescott pointed out.
Working with Mr Wescott to provide a mobility scooter for Ms Wan is Rodney Gothe, project manager of Anywhere on Wheels, an organization that aims to provide free online listings of venues throughout the world that cater to the needs of the mobility impaired (click here).
"Rodney is in Patong and he has held discussions with Pride Mobility Products in Australia, which manufactures mobility scooters and modifies them for different disabilities," Mr Wescott told the Phuket Gazette.
Pride Mobility has confirmed that they can provide a scooter tailor-made for Ms Wan at cost, he added.
"We have a friend, Brian McNicholl, who will be here in Patong on about March 20, and he can bring the scooter over here for us free of charge," Mr Wescott explained.
"I have spoken to various organizations about this project and have their full support. However, we need to raise the funds to pay for the scooter, hence the fund-raiser on Friday night."
The fund-raiser will start at about 6pm.
"Khun Wan will be there, and Don's BBQ will provide food while we collect donations," Mr Wescott said.
"We plan to hold another event in March, so we can present the scooter to Khun Wan."