Phuket
Phuket's Munchy Machine almost totalled in hit-and-run [video]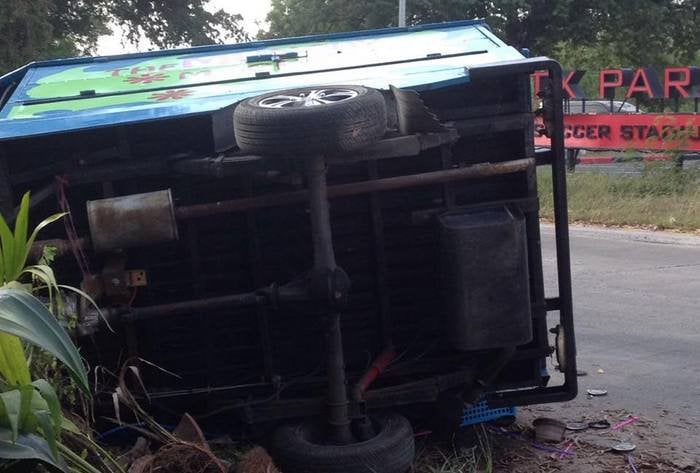 PHUKET: The Munchy Machine, part of Phuket's Tuk-Tuk Diner fleet (story here), was almost totalled in a hit-and-run accident near the TX Soccer Stadium in Samkong at about 4am yesterday.
"We arrived at the scene and spoke to eye-witnesses, but nobody was able to describe the vehicle that slammed into the tuk-tuk before careening off into the support pole of a nearby shop and then fleeing the scene," Capt Nucharee Longkaew of the Phuket City Police told the Phuket Gazette.
"There is a shop nearby with CCTV installed, so we are waiting for it to open in order to recover CCTV footage and hopefully move in to make an arrest. However, it will be very difficult to make that arrest if we aren't able to secure any footage."
The parked tuk-tuk was slammed from the side by what police believe was a large vehicle, as the tuk-tuk took a serious tumble.
"We were about to start our high season with the two tuk-tuks this month. The one that was hit is now almost totalled and unusable – it will cost over 100,000 [baht] to get it back in service," said the owner of the Tuk-Tuk Diner fleet, Tom Somsanuk, better known as "DJ Tank".
"We hope to succeed despite this set back. I still have the General Sab E Lee, the orange tuk-tuk, and that will be our food catering tuk-tuk.
"The Munchy Machine has given a lot of good grub and good times to the people of Phuket, and I won't deny it that privilege. So, across from the TX Park we will make a late night Mini Diner for those Phuket party people who want to get our chili cheese fries, burgers, oh, yes, a classic – biscuits and gravy – that will be on the menu."
The Munchy Machine's stationary success will come down to whether or not there is enough local support at the scene of the accident, Mr Tom said.
"The Munchy Machine maybe can't drive but she can sure as heck make a mean Burger!"
— Chutharat Plerin