Phuket
Phuket Airport van driver in fatal crash drug-free, faces reckless driving charges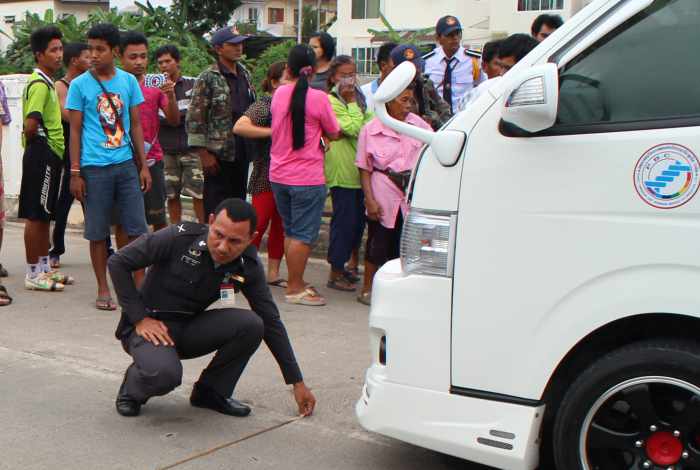 PHUKET: Police have confirmed that drug and alcohol tests ordered for a Phuket Airport van driver who hit and killed a motorcyclist last week have come back negative.
The driver, Manit Prateep Na Thalang, was saved from a mob of angry witnesses after he hit 23-year-old Jantima Srilertchalalai from behind when she reportedly braked suddenly halfway across a bridge about one kilometer from the British International School Phuket.
However, despite the driver's claim that the bike braked suddenly, there were no skid marks at the scene of the accident.
Ms Jantima died instantly when her head struck the concrete barrier of the small bridge (story here).
"We tested Mr Manit for drugs and alcohol after the accident. His urine test results came back negative. However, he will still be charged with reckless driving causing death," Maj Sakol Krainara of the Phuket City Police told the Phuket Gazette.
Ms Jantima's parents today received 200,000 baht from Mr Manit's insurance company, said Maj Sakol.
Suwit Ngerndee, assistant manager of the Phuket Limousine and Business Service Cooperative Ltd (PBC), which operates vans and taxis at Phuket Airport, told the Gazette that the company would be donating money to the family to help cover funeral costs.
As there were no skid marks on the pavement from either the bike or the van, and because witnesses had demanded to know how such an accident could have occurred in the absence of drugs or alcohol, the PBC called for an investigation into the state of the driver.
"We asked the police to test Mr Manit for drugs and alcohol after we heard about the accident," Mr Suwit said.
"The results came back negative, so he still works for us. He would have been fired if the results had been positive."
Mr Suwit detailed the rules that all van drivers in the co-operative must follow.
"Every driver must have a licence; be clean of alcohol and drugs; and follow all traffic rules, speed limits and road signs," he said.
"The vans they drive must be legally registered and they must call their insurance company if they are ever involved in an accident."
— Woranut Pechdee