Phuket
Phuket Airport health officials add Ebola to watchlist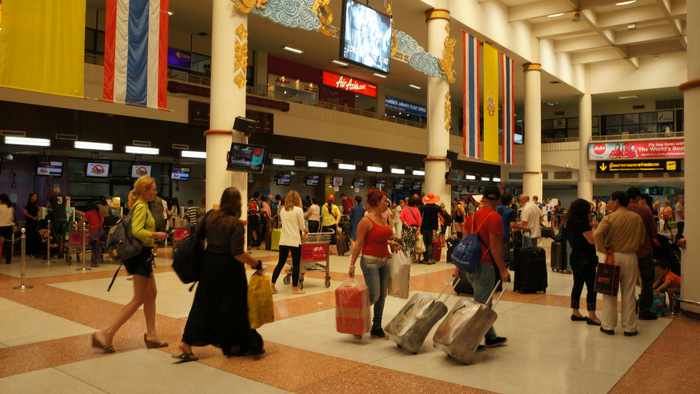 PHUKET: Health officials at Phuket International Airport have added Ebola to their watchlist as a precaution against the deadly virus being carried to the island by visiting tourists.
The Ebola protocol was introduced following the death toll from the virus rising to more than 1,350 in the West African countries of Nigeria, Guinea, Sierra Leone and Liberia (story here).
"Even though we do not have any direct flights arriving from West Africa, this is a necessary precaution to make sure arrivals from those countries do not bring the virus here," said Phuket Provincial Health Organization (PPHO) Chief Kajohnsak Kaewjarus.
Dr Kajohnsak pointed out that the consequences of Ebola being brought to Phuket were considerably grave considering that millions of people visit the island each year.
"If tourists contract the disease here, then it could be carried to anywhere around the world when these tourists head back to their home countries," Dr Kajohnsak noted.
Health officials have been tasked with monitoring arriving passengers for symptoms of the virus, which include nausea, headaches, coughing and fever.
"Customs and Immigration officers have also been asked to alert health officials at the airport of any arrivals they suspect of suffering from these symptoms," Dr Kajohnsak said.
"We have also contacted all airlines operating flights landing in Phuket and asked for their cabin crews to keep an eye out for potential carriers of the disease."
If a passenger is suspected of having contracted Ebola, the health officials at the airport are to follow the Middle East Respiratory Syndrome (MERS) protocol, complete with isolation procedures and patient tracking.
The MERS protocol was launched in July last year (story here) and brought back into effect in April this year after a Malaysian man died of the disease (story here).
Thai Airways International (THAI) on Tuesday demonstrated aircraft cleaning at Suvarnabhumi Airport to boost confidence among passengers travelling with the airline.
The airline said no Ebola-infected passenger has travelled on board any THAI aircraft, but said that they needed to carry out precautionary measures to ensure passenger and crew safety (story here).
— Chutharat Plerin