Phuket
Phi Phi and Krabi beaches targeted for encroachment demolitions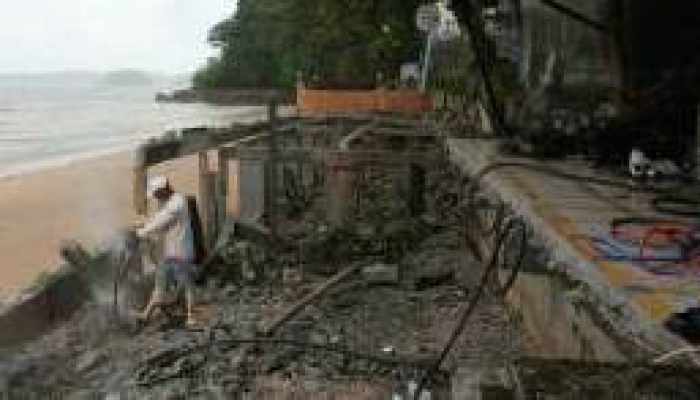 PHUKET: Phi Phi and Krabi are next in line for beach encroachment demolitions, the Navy has revealed.
"We have already removed beach chairs and umbrellas from Phi Phi's beaches. The next step will be the clearance of illegally-erected structures encroaching on the island's beach areas. This will begin very soon," Commander Prinyatham Poonpitagtham of the Royal Thai Marine Corps, told the Phuket Gazette yesterday.
"Local officials from Phi Phi National Park, the Marine Department and the District Office, will coordinate the removal of these structures. The Navy will only step in if it's really necessary," he said.
In Krabi, a number of restaurants have already been ordered to remove illegal structures encroaching on the beach.
"We are working step-by-step. Five restaurant owners encroaching on Krabi's Ao Nang Beach have been given until September 30 to demolish their illegally-built structures. They must also clean up the areas where the buildings are located," said Capt Prinyatham.
"Restaurant owners are resigned to tearing down these properties, because they know they are encroaching on public land," he said, adding that enforcement and removal of illegal structures in Krabi would be much easier than in Phuket.
"As everybody knows, tourism is a huge source of income in Phuket, which means officials have met a lot more resistance from owners of illegally-built establishments. Despite this, they are doing a really fantastic job and most of the beaches have been reclaimed."
"Under the directive of the National Council for Peace and Order, Krabi officials have also been working to reclaim national park land in the province. Taking back this national treasure is not something we [the Navy] can do alone – we are working closely with several government departments," said Capt Prinyatham.
Next on the Navy's list of issues to tackle is better management and regulation of designated areas for anchoring sailboats, as well as the enforcement of zoned swimming areas, explained Capt Prinyatham.
"The tourist high-season is coming soon so we will make sure there is a plan in place to tackle these problems," he noted.
— Woranut Pechdee