Patong Mayor unmoved by beach vendors' pleas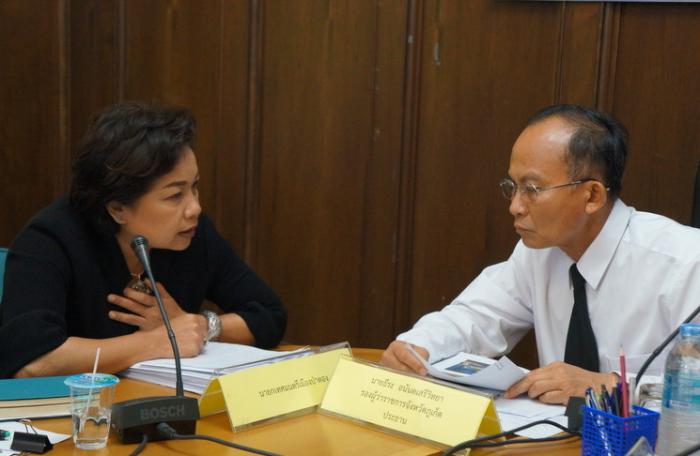 PHUKET: Patong Mayor Chalermluck Kebsup on November 1 dug in her heels against alleged public land encroachment by Patong Beach food vendors.
A three-hour meeting at Phuket Provincial Hall between Patong Municipality officials, Phuket Provincial officers and beach vendors ended without any definite conclusion, which Mayor Chalermluck attributed to the fact that beach vendors 'never made good on their promises'.
"I am sick of chasing these vendors around. It has been two years since the National Council for Peace and Order (NCPO) ordered the beach clearance campaign in 2014. We have been very patient and helpful toward the vendors. However, we've had it with their disobedience, and must do our job, which is to follow the law. Meanwhile, we will try our best to reach a compromise," said Mayor Chalermluck after the meeting chaired by Phuket Vice Governor Teera Anantaseriwidhya.
"It is not true that we are picking on the vendors. We are just trying to do our job and strike the best balance between following the law and taking care of people under our jurisdiction. I am sure that all the vendors know what is going on. We have designated a place for them to sell food, but they have been complaining that it is not a prime location, because tourists do not come to that area. Therefore they set up shop on the beach, which is totally against the law and not what we signed a contract for," she explained.
"How many times have you broken your promises in the past? What's illegal is illegal, and you must accept our decision," she said to the vendors during the meeting.
The meeting came about after a group of 30 vendors filed a complaint with the Damrongdhama Center (Ombudsman's Office) against Patong Municipality on October 27, after being given a cancellation notice of their rental contracts (story here).
The vendors, who currently occupy food stalls at the Loma Building, located at Loma Park on Patong beachfront, asked the governor to intervene in the municipality's plans to build a conference hall in the area where they operate their business.
Led by Suriya Sinsoke, the group handed a letter of complaint to Phuket Provincial Chief Administrative Officer (Palad) Tamrongwat Kongkaew, who accepted the letter on behalf of Phuket Governor Chokchai Dejamornthan.
She said that in 2013, Patong Municipality informed all business owners that their rental contracts would gradually be cancelled and that the area would be reclaimed by the municipality. The current notice gives them 15 days to clear out.
Mayor Chalermluck said that the vendors had been using the public beachfront area to conduct their businesses and some of them had several months of outstanding rent payments.
"Some of the vendors have been setting up their stalls and furniture on the beach, which is in violation of the beach management rules. In order to keep things orderly, we asked them to move to the space inside the Loma Building that the municipality has provided," said Mayor Chalermluck.
She added that the municipality also made efforts to clean up the building and provide running water and electricity so they wouldn't have to set up their stalls outside.
"Although they agreed to stay off the public area, many of them still set up shop there. We even had Navy officials talk to them several times, but they continue to sell items outside the building. So we had no choice but to cancel their contracts and give them notice," said Mayor Chalermluck.
She added that since a budget had already been approved for renovation of the building and that the vendors do not utilize the building anyway, the municipality has decided to use the money to build a conference hall.
"We were not given any advance notice or the chance to attend a public hearing on the matter. This decision will affect the livelihood of all the vendors and staff, which totals more than a hundred people and their families," said Ms Suriya.
The vendors are now requesting that the governor make an urgent decision about whether the contract cancellation is fair and also to check if the conference hall construction is following all legal processes.
They also requested that the governor ask the municipality to reconsider the cancellation, or to designate new areas for them in the proposed building-improvement master plan.
Additionally, if the project is to go ahead, they want the municipality to provide a temporary site for them to set up their stalls while construction of the meeting hall is ongoing.
Ms Suriya and a few representatives of the local vendors pleaded with Mayor Chalermluck during the meeting to allow them to sell food in the building and promised they would follow the law.
"We beg you to allow us to earn a living. We are willing to coordinate with the municipality," said Ms Suriya.
One of the vendors, Wannee Kesakomon, 57, shed tears in the room, asking Mayor Chalermluck to change her mind.
"We have been working there for decades. This is our only means of living and we have mouths to feed. Please have some sympathy," said Ms Wannee.
Vice Governor Teera tried to convince the mayor to allow the locals to continue to sell food in the building. However, Mayor Chalermluck declined, saying she does not believe the vendors will follow the rules as per her past experience.
"Who will guarantee they will not break the rules again?" she asked. "We are going around in circles. There will be no change or conclusion from this meeting. I will talk to the Patong Municipality council and see what the next step will be."
She also added that the municipality sometimes turned a blind eye in order to enable vendors to earn a living, but the vendors never seemed to have enough of it. She said that she could not allow this to carry on, as officials are punishable for dereliction of duty under Section 157.
V/Gov Teera said he understood both parties' concerns, but could not deviate from the law. "The municipality has to do their job based on the law. They can try to help locals, but only if the law allows. It is what it is – if we cannot come to a conclusion at this stage, the issue may go to court for the judges to decide," he said.
Mayor Chalermluck did not commit to a date when she would update the locals about feedback from the municipality.
"They have all known ahead of time that this would happen. The first group's contracts ended on March 31, the second group's on October 31 and only Ms Suriya's contract ends on December 31. The March 31 group begged us to extend their contract, so we agreed to let them be until October 31, since our new project had yet to be started at the time," explained Mayor Chalermluck.
"Now they have turned around and filed a complaint against us. It does not make any sense. We have rules, and they must be followed. That is it. This is not a decision I am handing down on my own. The new building has passed all the required processes by law and we have already set aside a budget for it.
"The vendors did not even want to sell food in the building to begin with, so now we will utilize it for the public's benefit. We expect to turn it into a meeting room, which won't work if vendors are allowed to sell food there," said Mayor Chalermluck.

— Chutharat Plerin
Keep in contact with The Thaiger by following our
Facebook page
.
Phuket police arrest meth dealer, discover drugs valued at 15 million baht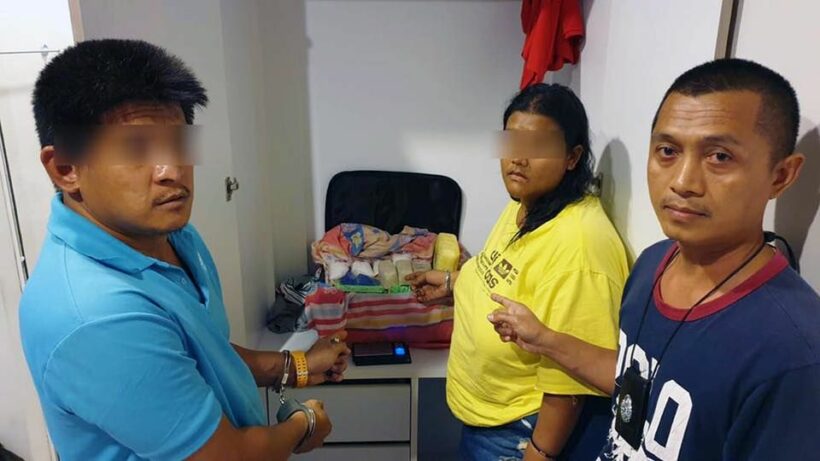 PHOTO: Newshawk Phuket
Drugs valued at 15 million baht have been seized in a drug crackdown in Phuket. On October 22, Phuket police, along with Phuket Governor Pakkapong Tawipat, reported to the media about a drug crackdown that ended up with a total seizure valued around 15 million baht.
Earlier, the police received a report from an undercover agent that a woman named 'Ying' or 'Suthicha Thirawut' was a local drug dealer trading drugs in Phuket area, so police planned to purchase drugs from the woman. They contacted Ying through another woman named 'Noina', Ying's close friend. Around 10pm on October 20, police bought 1 gram of crystal methamphetamine from Noina before arresting Ying and another man, Thanet Thongtan, at the Naka Condominium.
The two confessed that they receive the drug from a man who they weren't able to name, in order to sell in Phuket. They were paid 40,000 – 50,000 baht per time and admitted to police that they have done this for the man three times already. This time, the drugs hadn't been sold to customers as they were arrested before being able to make a sale.
Apart from 2.4 kilograms of crystal methamphetamine, valued around 4.8 million baht, the police also discovered 76,800 methamphetamine pills, worth around 11 million baht.
The three are now assisting Phuket police with their enquires related to the case.
SOURCE: Newshawk Phuket
Keep in contact with The Thaiger by following our
Facebook page
.
30 dolphins greet visitors to Similan Islands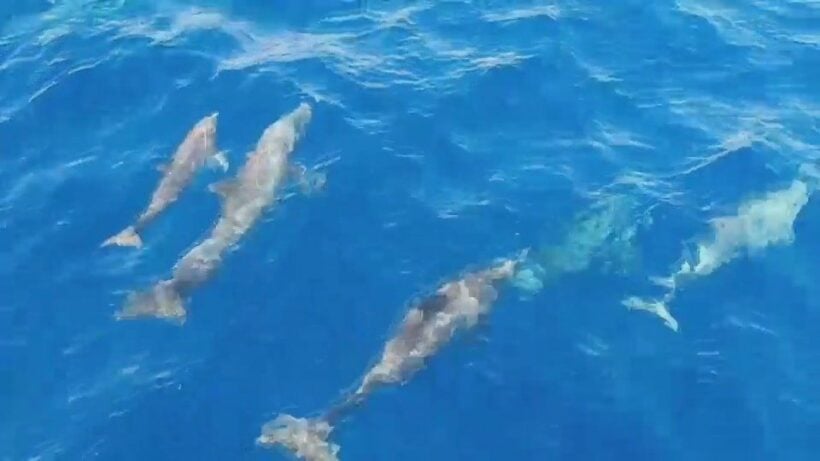 Tourists were treated to the sight of a school of dolphins in the Similan Islands off the Phang Nga coast on Sunday.
Tour organisers said that around 30 dolphins swam close to the boat six or seven miles offshore, creating excitement for passengers. It was the first time dolphins had been seen in the vicinity since October 15.
The Similan Islands National Park director said they were bottlenose dolphins and were among several species now returning to the area following a five-year closure of the park for environmental rehabilitation. Food is again plentiful there for them, he said.
Tourists are forbidden to feed wildlife lest the free handouts alter the animals' natural behaviour, and the park's waters are also very sensitive to contamination from human disease and marine debris, according to the director.
SOURCE: nationthailand.com
Keep in contact with The Thaiger by following our
Facebook page
.
Phuket hotels slashing the price of rooms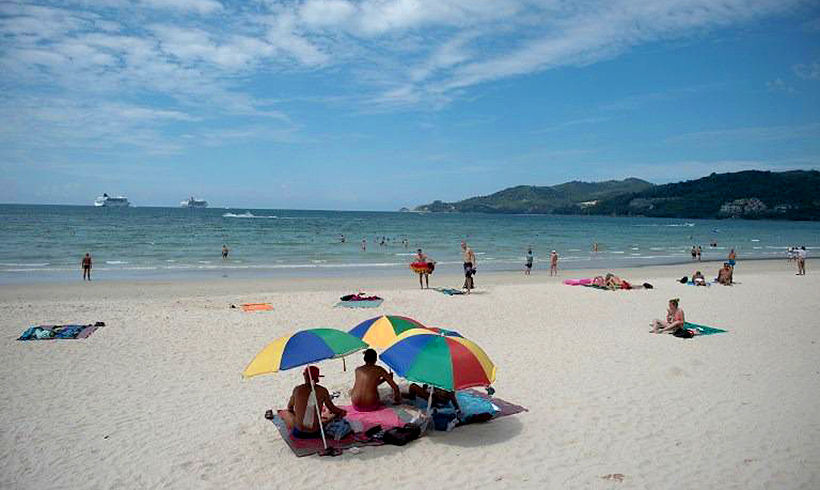 by Sophie Deviller
Hotels on Thailand's most popular holiday island are being forced to slash prices, with rooms left vacant and beaches sparse as Thailand's tourism chiefs struggle with a plunge in Chinese visitors caused by the US trade war and a stronger baht. Phuket was the most visited destination in the country last year, after Bangkok, and a good gauge of the state of its crucial travel industry.
Tourism accounts for 18% of Thailand's gross domestic product and Chinese holidaymakers make up more than a quarter of total arrivals. But while 2.2 million people from the country visited in 2018, according to official figures, the numbers for January-September were down almost 20% year on year.
Claude de Crissey, the French Honorary Consul in Phuket and owner of about 40 rooms in the Patong Beach area, says Chinese tourists are usually present even during the current low season.
"That was not the case this year," he said, adding he had to lower his prices by as much as 50%.
The problem is not only in Phuket, with hotels also struggling to fill rooms in the seaside resort of Pattaya on the mainland and on Koh Samui.
Trade tensions with the US have already made some Chinese reluctant to take holidays owing to uncertainty back home, while the Thai baht has risen about 10% against the yuan this year.
A boating disaster off Phuket's coast that killed 47 Chinese holidaymakers in July 2018 also scared some off.
"We are worried," said an industry insider, declining to be named due to the sensitivity of the topic in a country where tourism provides tens of thousands of jobs. Adding to the headache is the fact that more than 3,000 new hotel rooms are being constructed on the island, raising the question of who will fill them.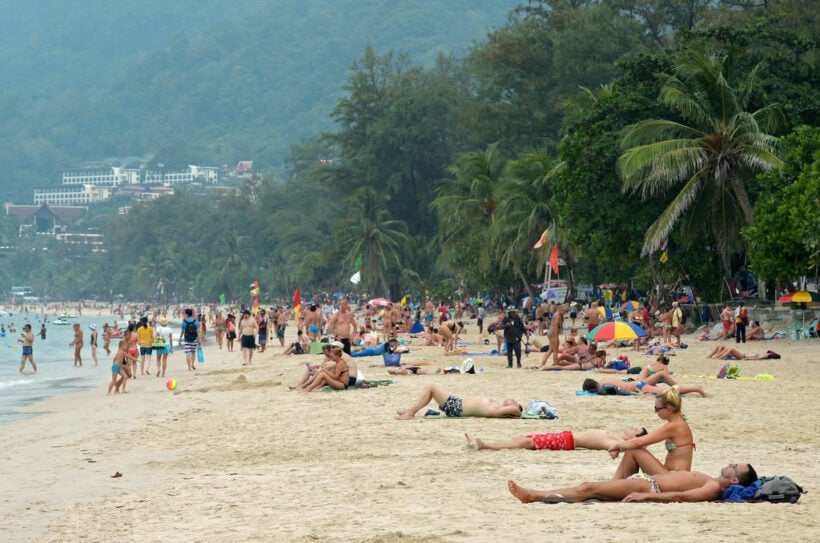 "In terms of business, it's not good," said Kongsak Khoopongsakorn, vice-president of the association of hotels in Thailand and director of Vijitt Resort.
"Because … we have more hotels, more rooms to sell, we have more restaurants, more coffee shops."
Still, tourism authority chairman Yuthasak Supasorn said he remained "optimistic."
"We should reach our goal of 39.8 million foreign visitors."
However, that is only up from 38.2 million in 2018, much less than the jump seen from the previous year's total of 35.6 million.
Counting on India
Now hoteliers and tour package operators are targeting visitors from elsewhere, particularly India, which experts see as a huge untapped market.
"We are counting on the Indians to revive the sector," Kongsak said.
A rapid expansion of the middle class in India, increased direct flights and visa-free travel have prompted Thailand to revise forecasts upwards.
It now expects two million Indian tourists this year, after an increase of nearly 25% on-year in the first seven months. But for now, the lower arrivals is evident on the streets of Phuket.
"I've never seen anything as bad as what it is at the moment," said Paul Scott from Australia, who said he has been coming to Thailand for 15 years.
He mainly blamed the stronger baht for the drop-off but also the fact that Thailand wasn't the untouched vacation paradise it once was. "Now it's not so new … and it's not cheap," he said.
SOURCE: AFP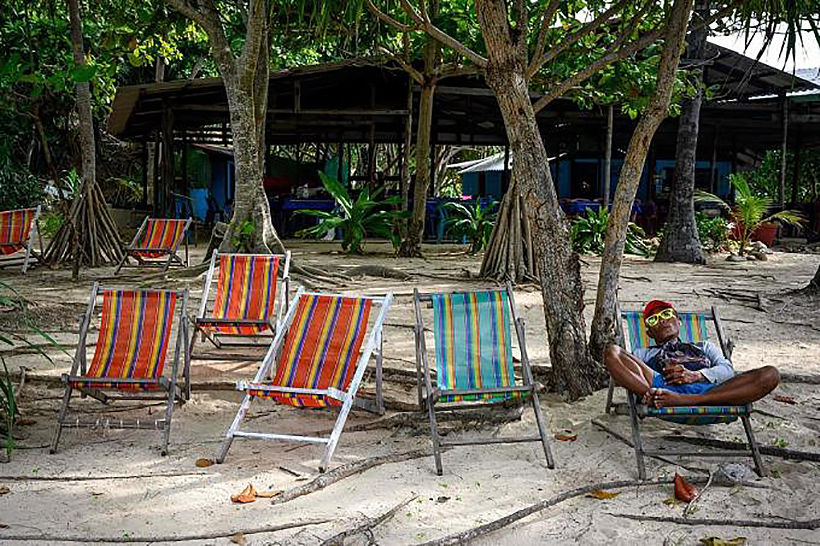 Keep in contact with The Thaiger by following our
Facebook page
.