PSU Phuket closed for two-day cleaning after swine flu death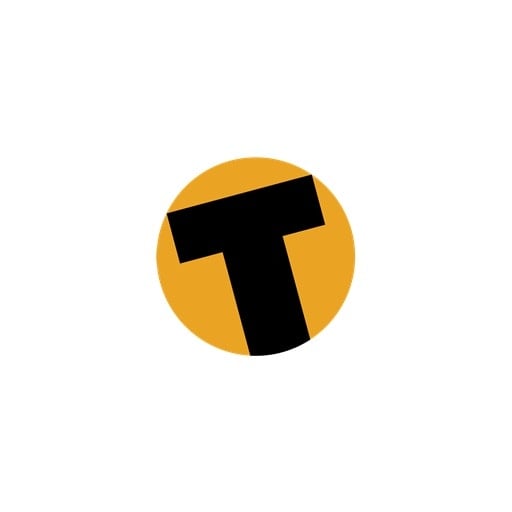 KATHU, PHUKET: The Prince of Songkla University (PSU) Phuket campus has closed for a 'big cleaning' following the death of a 19-year-old student from swine flu complications last week.

The cleanup effort will target 1,500 university dorm rooms as well as common areas.

Speaking at a press conference at the Phuket Public Health Office on Thursday afternoon, PSU Phuket Assistant Dean Prof Metee Sunpanich said the cleaning will be carried out over four days.

All classes were canceled on Thursday and Friday to accommodate the effort. The new school term started on Monday following a mid-semester break.

But many students are still arriving back from their home provinces this week.

Prof Metee said vacant dorm rooms for students still arriving back would remain locked, and cleaned at a later date.

Private operators of student dormitories off-campus are also being urged to conduct thorough cleaning of their premises.

Prof Metee said prior to the student's death, the campus community had been slow to react to implementing preventative measures to control the spread of A(H1N1).

"With proper prevention, we will control the spread of swine flu," he added.

Phuket Public Health Office (PPHO) chief Dr Pongsawas Ratanasang said PPHO officers would be dispatched to the school to assist with the cleanup and public awareness campaign.

"We will send PPHO officers to give information to PSU students in order to stop panic at the University," he said.

When classes resume, PSU staff will check students every morning for four common influenza symptoms; including coughing, a sore throat or nausea. Students with two or more of the symptoms will be separated and taken for treatment and testing, if necessary.

Daily student check-ups has been scheduled to run for two weeks, after which time it is hoped the campus can be declared free of the virus.

Vachira Phuket Hospital Director Dr Jessada Chungpaibulpatana told the Gazette his staff did everything possible to save the young victim last week, whose respiratory rate had reached as high as 60 breaths per minute just before his death.

Subsequent analysis of the victim's lungs revealed the presence of a secondary infection by an unknown bacterial agent, he said.

Phuket Governor Wichai Phraisa-ngop expressed his condolences to the family of Phuket's first swine flu victim, but asked the press and public to keep the situation in perspective.

Despite the death, Gov Wichai said there was no reason to panic. "The mortality rate from the new flu strain is very low," he said.

"The public has been focusing on the spread of swine flu with the same intensity given to the baby panda in Chiang Mai," he said.

Gov Wichai said samples of the victim's blood and lung fluid would be sent for further analysis in Bangkok because the Phuket Medical Science Center that confirmed the presence of A(H1N1) is only capable of basic analytical procedures, he said.

Thus far there have been 41 confirmed swine flu cases in Phuket, with one death and one patient still under treatment at Vachira Phuket Hospital.
— Khunakorn Terdkiatkhachorn
Keep in contact with The Thaiger by following our
Facebook page
.
Never miss out on future posts by
following The Thaiger
.
Happy Loy Krathong Phuket. Where to launch your krathong tonight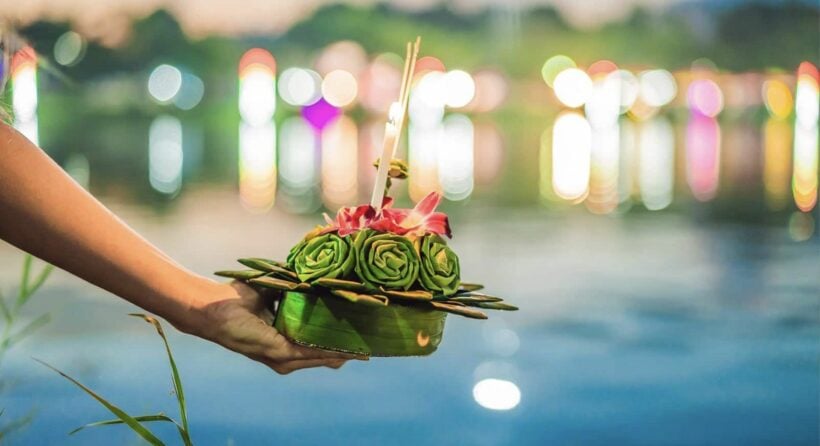 Happy Loy Krathong Phuket. But this year authorities are saying 'only floating Krathongs thanks'. No polystyrene, no steel pins – keep it natural and plant-based please. This year Loy Krathong in Thailand co-incides with the annual Halloween celebrations on October 31.
Authorities are also urging people to choose, or make, their krathongs using natural materials only. The latest craze for "edible" krathongs is also causing problems. Read about that HERE.
Loy Krathong is a festival celebrated annually throughout Thailand The name could be translated as "to float a basket", and comes from the tradition of making krathong or buoyant, decorated baskets, which are then floated on a river. Loi Krathong takes place on the evening of the full moon of the 12th month in the traditional Thai lunar calendar so the exact date of the festival changes every year.
In Phuket, the Provincial Office says fireworks, fire crackers and sky lanterns are prohibited "for people's safety" (but be assured there will still be a few sky lanterns seen flying off the islands beaches this evening).

Loy Krathong is celebrated at many of the island's popular waterways and at many of the beaches. Many hotels also host their own celebrations for their tourist customers. Here are a few of the locations you will be able to launch your own Krathong or buy one on site and watch families and couples launching Krathongs.
Popular locations in Phuket include…
• Saphan Hin Park Lake, Phuket Town
• Suan Luang Park (off Naka Market Road)
• Bang Wad Dam, Kathu
• The recreation lake near Ket Ho Temple in Kathu (The Thaiger 'local')
• Tin Mine Museum Lake on the Kathu back road, near BIS International School
• Nai Harn Lake and Nai Harn Beach
• Bang Maruam near the Alan Cooke Cricket Ground in Thalang
• Laguna (the main lake just inside the entrance)
• Just about anywhere along Patong Beach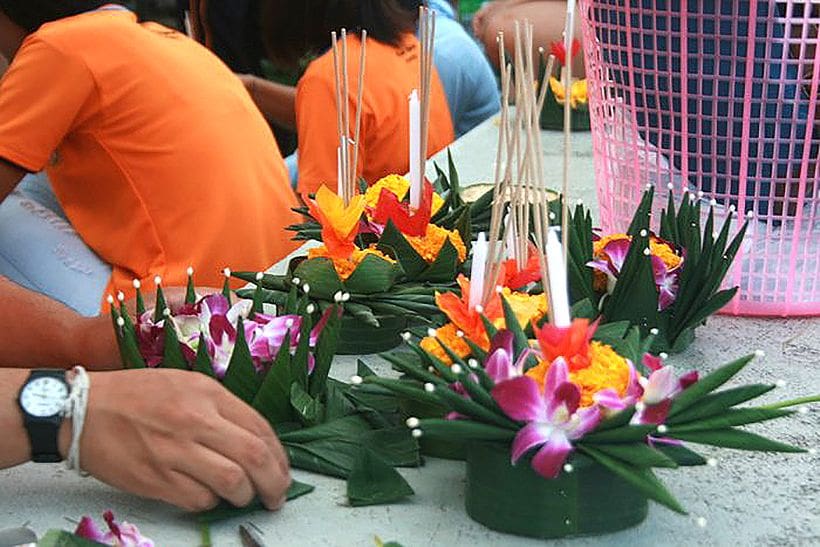 On the night of the full moon, Thais launch their krathong on a river, canal or a pond, making a wish as they do so. The festival may originate from an ancient ritual paying respect to the water spirits.
We would urge people to consider the environment if you're making your own Krathong or try and select Krathongs that are made from natural products. Many of the 'commercial' Krathongs use polystyrene and pins that end up scattered along our waterways and provide a hazard on the island's beaches when the Krathongs eventually wash ashore and disintegrate.
Same goes for the new fad of bread and "edible" krathongs. Officials say these can be dangerous for the fish and cause long term problems for water catchments.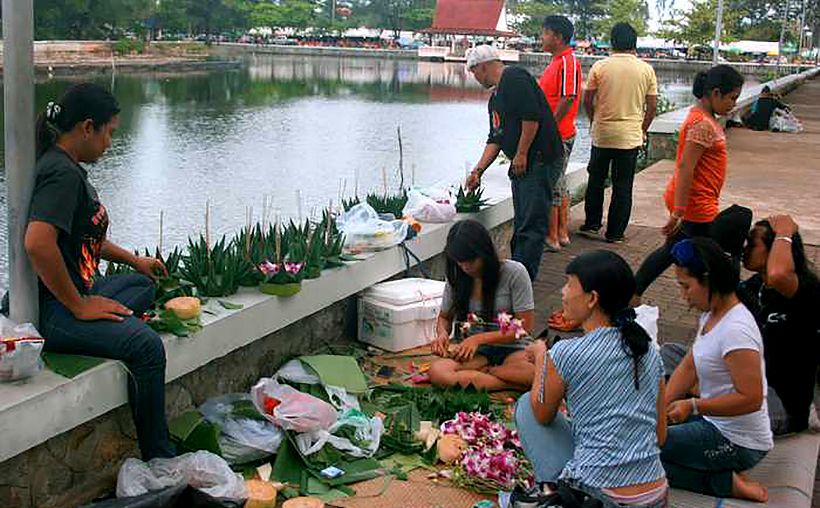 If you'd like to make a krathong, here's a very quick guide…
If you want the easy way out, you will find hundreds of stalls on the way or near any waterway around the island that is participating in the event. Try and pick ones that appear to be made from natural materials.
Happy Loy Krathong Phuket!
Keep in contact with The Thaiger by following our
Facebook page
.
Never miss out on future posts by
following The Thaiger
.
Phuket tops travel destination list of cheapest hotel prices – Dertour 2020 Price Index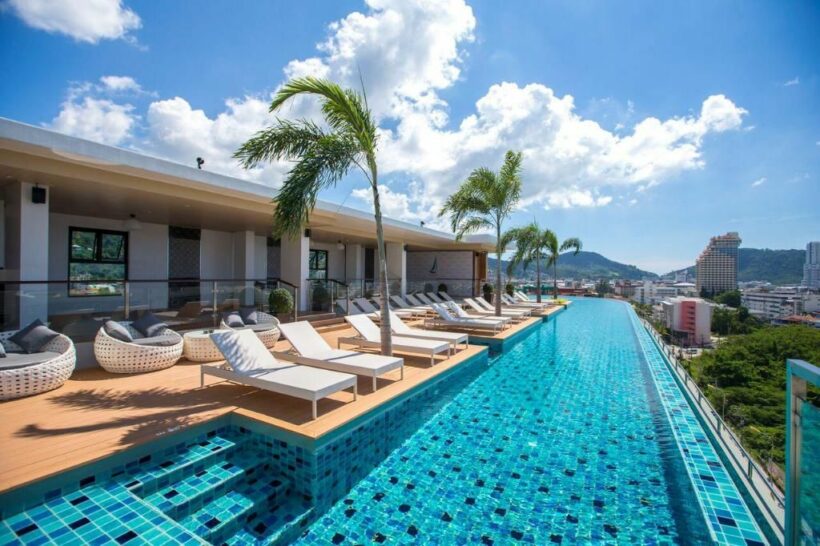 Phuket tops a list of the cheapest travel destinations with a 1 night stay at a hotel costing on average less than $30 USD, according to a study by the German travel company Dertour. Phuket is going through what some say is a "crisis", certainly a current tourist vacuum. The island province largely relies on income from foreign tourists, but with travel bans over the last 7 months, hotels and other businesses in the tourism industry have been at a loss.
For domestic tourists, Phuket currently offers a serene, peaceful tropical stay where you'll have a lot of the island to yourself. There are plenty of daily flights to the island, but all from domestic locations at this stage – the international terminal remains closed.
Along with being listed as hotels with the lowest price, Phuket also made the top 5 cities with the largest price drop from 2019 to 2020, according to Dertour's 2020 Accommodation Price Index. The company studied hotel prices for 75 popular tourist destinations around the world. Bangkok was just above Phuket at the fourth city with the largest hotel price drop. Bangkok hotel prices dropped by 34.6% while Phuket's hotel prices dropped by 33.8%.
Prices will continue to be low, CEO DER Touristik Central Europe Ingo Burmester says…
"Travel itself will be cheap in 2021… Although it has been a challenging period, we have seen a great deal of interest in domestic travel. We also predict a major catch-up effect for Mediterranean destinations, European trips and long-haul routes in 2021 as soon as travel restrictions are lifted."
Phuket ranks as the destination with the cheapest accommodation prices at an average price of $29 USD, according to the list. Average prices for 3-star hotels are $26 USD and an average of $54 USD for 5-star hotels.
Bangkok followed, ranking fifth on the list of cities with the lowest hotel price at an average of $43 USD per night. 3-star hotels in Bangkok average at $30 per night and 5-star hotels average at $93 USD.
Top 5 destinations with the lowest price in accommodation
Phuket: Average of $29 USD per night
Delhi: Average of $34 USD per night
Kuala Lumpur: Average of $36 USD per night
Bali: Average of $36 USD per night
Bangkok: Average of $43 USD per night
Top 5 destinations with the largest price drop in accommodation
Amsterdam: Dropped by 51.6%
San Francisco: Dropped by 39.2%
Vancouver: Dropped by 37.1%
Bangkok: Dropped by 34.6%
Phuket: Dropped by 33.8%
To read Dertour's full report, click HERE.
Catch up with the latest daily "Thailand News Today" here on The Thaiger.
Keep in contact with The Thaiger by following our
Facebook page
.
Never miss out on future posts by
following The Thaiger
.
Man arrested after allegedly slicing a man's face with sickle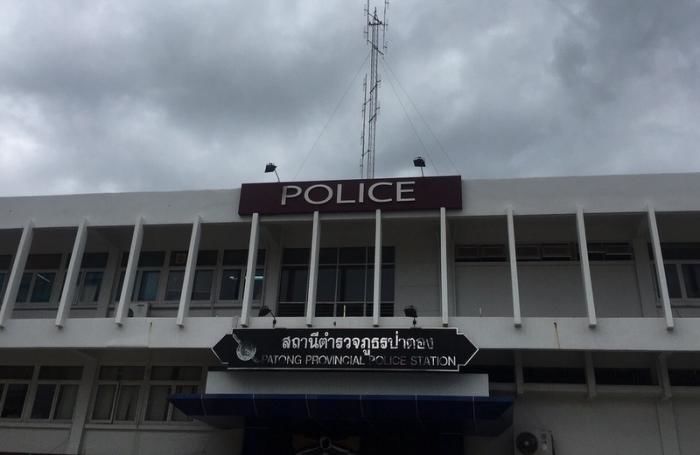 A man was arrested on charges of grievous bodily harm after he allegedly sliced his friend's face with a sickle, causing a gash about 25 centimetres long.
3 men, identified as Saeng, Ta and Rop, had been drinking at a shanty in Phuket's Rassada district where Rop lived. An argument broke out over money. A bank transfer was apparently made, but no one received any money, according to Rop as he related the story to police.
The men didn't come to an agreement and ended up going to bed. Ta stayed awake and slapped Saeng twice while he was falling asleep, Rop says. Saeng then got up, grabbed the sickle and swung the hooked blade across Ta's cheek, Rop says.
Reports don't go into detail about Ta's condition, but photos of the scene by the Phuket News show a significant amount of blood on the concrete floor.
SOURCE: Phuket News
Catch up with the latest daily "Thailand News Today" here on The Thaiger.
Keep in contact with The Thaiger by following our
Facebook page
.
Never miss out on future posts by
following The Thaiger
.