Phuket
PM Yingluck makes no promises ahead of Cabinet meeting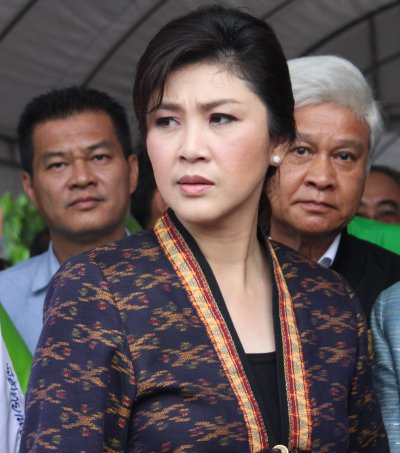 PHUKET: Prime Minister Yingluck Shinawatra this afternoon gave no hints as to whether or not she will support the Klong Koh Pee project to build an elevated road over a protected mangrove forest at Saphan Hin, near Phuket Town.
At a public presentation at the site, Transport Minister Jarupong Ruangsuwan explained the details of project, which requires special permission from Cabinet before construction can start.
Mr Jarupong, who has already voiced his support for the project, explained to PM Yingluck and Deputy PM Yongyuth Wichaidit that the 600-meter road would not adversely affect the mangroves as the motorway will be elevated, giving the mangroves underneath enough room for light and growth.
PM Yingluck said she would look thoroughly through the project's details and work with the Minister of Transport and the Minister of Environment and Natural Resources.
"Transportation is the basic infrastructure for development. If the project does not contravene any laws, our government would be happy to approve projects that add to development in tourist destination areas such as Phuket," she said.
The site inspection at Saphan Hin followed PM Yingluck conducting a lightning tour in Phang Nga, where she addressed a crowd of hundreds of women, to explain the role of the recently established Women's Empowerment Fund.
"Women must be equal with men," PM Yingluck told the large crowd gathered at the Mukdara Beach Villa & Spa Resort in Khuk Khak, several kilometers north of Khao Lak.
"I firmly believe in women's ability to be equal with men. However, I accept that many women are facing inequality issues and do not have the opportunity to be treated as equal.
"Therefore we, the Government, hold the Women's Empowerment Fund as an urgent measure to provide funding to allow more opportunities for women to have a better life," she said.
PM Yingluck explained that the fund – which allows each province to spend up to 100 million baht on supporting women's rights and development – is for all women, whether it be for a group dealing with sexual harassment or a loan for women that need capital for investment.
"The fund will arrange a source of finance with low interest rates to support any activity related to women's development," she said.
"The fund will be divided into two parts, one at tambon [subdistrict] level, the other with the Provincial Office. The Governor of each province will administer the fund," she added.
PM Yingluck received flowers from the crowd and received many letters of complaint calling for her assistance.
One such letter was from the villagers of Baan Dua, in Kuraburi District.
The letter was to formally request PM Yingluck to launch an investigation into Treasury Department records in order to resolve a land ownership dispute over public land and land claimed as owned by villagers.
Villagers from Baan Bangsak, Takuapa, requested the PM's help in resolving a water supply issue.
Back in Phuket, PM Yingluck rounded out her day's itinerary by opening the OTOP (One Tambon One Product) Fair at Saphan Hin.
The Cabinet meeting will be held tomorrow at the main conference hall at the Prince of Songkla University Phuket Campus, in Kathu.
— Atchaa Khamlo / Warisa Temram