More Dragons for Phuket; Siam Makro expanding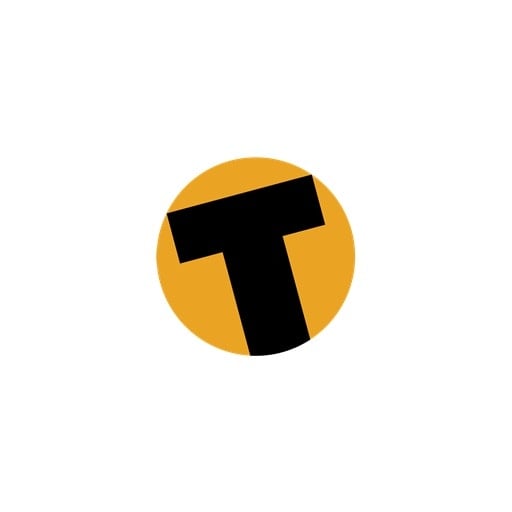 Phuket NEWS Hound
– A daily digest of news about Thailand from around the world, compiled by Gazette editors for Phuket's international community.
More Dragons for Phuket
PHUKET: Dragon Air intends to increase services on its Hong Kong-Phuket route.
Cathay Pacific Airways, parent company of Dragon Air, says traffic to Phuket is robust with an average load factor of 90 to 95% over the past seven months.
"The airline is assessing demand and whether to increase [Dragon Air] flights into Phuket. Currently it operates 10 flights a week, after an additional three weekly flights were added a few months ago," says Yongyut Lujintanon, Cathay's sales and marketing manager for Thailand.
"We would like to serve the route double daily but we are not going to add another four flights in one step. Services will increase gradually, starting with an additional flight during the the coming winter traffic program."
TTR Weekly reports this morning that 90% of the passengers on the Hong Kong-Phuket route are inbound, mostly from Hong Kong itself, Europe (connecting from the Cathay Pacific network) and China.
Since Cathay started flights to Moscow in July, the airline has also been flying growing numbers of Russians to Phuket.
Only 10% of the outbound traffic to Hong Kong comes from Phuket, mostly expatriate residents.
Siam Makro in quiet expansion
The Nation
Siam Makro, which opened its superstore in Phuket six years ago, is upbeat about penetrating further into Thailand's provincial market next year.
"We're ready to open stores to cover the country. We haven't opened outlets in [our] 40 remaining provinces. If those provinces want us to set up stores, we will, but we have to secure permits before starting construction," chief executive Suchada Ithijarukul said yesterday.
Siam Makro has opened three 'cash and carry' branches in the first half of this year, and a fourth will pop up in Nong Khai on September 29, bringing the nationwide network to 48.
But the company is not concerned even if it has no new stores next year, Suchada said. It can rely on the sales of its existing stores, as its new strategy is to focus on the hotel, restaurant and catering (HoReCa) segment.
"We can cash in on food products by adjusting the product mix of this segment. We believe the recovery in domestic tourism is a positive factor for boosting the performance of HoReCa," she said.
The company posted 15% sales growth for the first half this year. It earned 904.26 million baht, up from 585.70 million in the same half last year.
The 5,500 square meter Phuket store, on Wichit Songkhram Road, was the wholesale giant's 27th branch in Thailand.
Baht may hit 13-year high
Nation / Bloomberg
Thailand has witnessed a continued increase in net capital inflows, expected to keep the baht on the appreciation path probably to a level unseen since 1997.
According to the Bank of Thailand, in July, net capital inflows were worth US$2.7 billion (84 billion baht), which went to all parts of the economy, including $987 million to non-bank businesses.
Mathee Supapong, director of the central bank's domestic economy department, said inflows to the non-bank sector were either foreign direct investment or investment in the stock market. The banking sector attracted only $571 million, mostly short-term financing and some as investment in banking shares through the stock market.
London-based Barclays predicts the baht may strengthen over the next year to levels not seen since 1997, as accelerating growth encourages foreign investors to keep pouring money into the nation's assets.
The baht could appreciate 1 per cent to 31 per US dollar over three months; 1.8 per cent to 30.75 in six months; and 2.6 per cent to 30.50 in a year, Singapore-based economist Rahul Bajoria writes in a recent research report. In January, he forecast that the baht would advance to 31.75 in a year.
"We expect the baht to enjoy continued trend appreciation, as the external position remains robust," Bajoria wrote. "Strong inflows into local-currency bond and equity markets, along with current-account surpluses, should generate further upward pressure on the currency."
The currency is also drawing support from government data showing that growth in gross domestic product in the first two quarters, at 12% and 9.1%, was the best since 1995.
According to the Bank of Thailand, the economy in July kept expanding, though at a slower rate than in the previous month. While private consumption, exports and manufacturing slowed because of sharp growth in the first half, tourism showed continued recovery.
In the month, Thailand welcomed 1.25 million visitors, up 14.9% year on year, while the hotel occupancy rate was 46.9%, compared with 37.3% the previous month.
Fierce competition for 3G
The Nation
3G wireless broadband service in Thailand looks set to be dominated by incumbent telecom operators, which already have a firm foothold in the market.
Subsidiaries of Advanced Info Service (AIS), Total Access Communications (DTAC) and True Corp have emerged as the only three qualified applicants for 3G-2.1GHz spectrum licenses at an auction due to be held in Hua Hin on Sept 20.
The three are expected to compete fiercely, as the National Telecommunications Commission (NTC) will put only two of the three available 3G licences up for auction.
Four companies submitted applications yesterday, but one was found to be unqualified. AIS subsidiary Advanced Wireless Network (AWN) submitted its application soon after 9am, followed by DTAC subsidiary DTAC Internet Service and True subsidiary Real Move.
Suphan Buri-based natural-gas-for-vehicles car importer Win Win NGV submitted an application mid-afternoon, but it was later disqualified as it did not lodge the auction guarantee deposit of 1.28 billion baht at the same time. It submitted only the application fee of 500,000 baht.
The NTC required all applicants to place both fees on yesterday's application submission date.
Cambodia rejects Thai funding proposal
Phnom Pehn Post
Cambodian officials said yesterday that they would reject US$41.2 million in funding for a road project that Thailand reportedly pledged to resume last week as part of an effort to warm relations between the two countries.
Ministry of Foreign Affairs spokesman Koy Kuong said Cambodia would not accept the loan, as it had already financed the road project independently.
"We have not requested this loan, and we don't need this money," Koy Kuong said. "We are using our own budget to construct this road and the project is well under way."
Koy Kuong's comments marked a change in tone from his remarks on Thai financial assistance the previous day. When asked about the subject on Sunday, he said Cambodia "welcomes all forms of donations without conditions attached".
Thai Deputy Prime Minister Suthep Thaugsuban said last week that the aid, originally promised last August to extend National Road 68 up to the Thai border in Cambodia's Oddar Meanchey province, would be resumed in view of the countries' now-normalised diplomatic relations, the Ban
— Gazette Editors
Keep in contact with The Thaiger by following our
Facebook page
.
The second baby dugong 'Yamil' dies in Phuket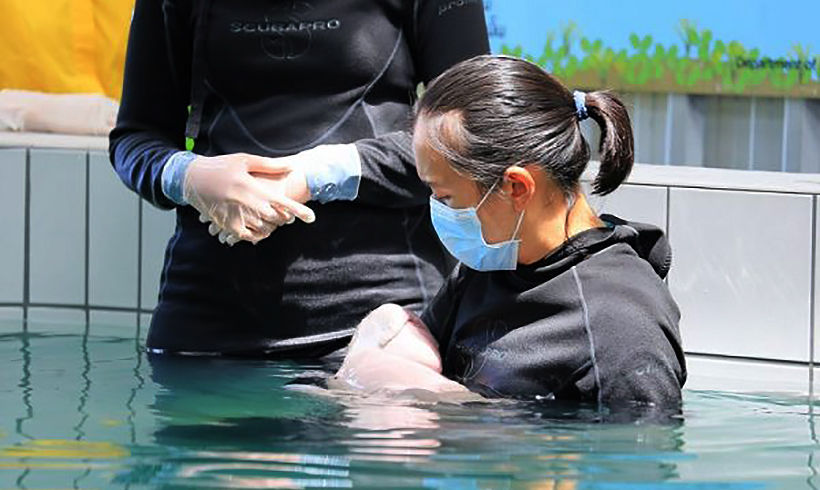 The second young dugong, being cared for by vets at the Phuket Marine Biological Centre, has died.
Yamil, the baby dugong stranded on a Krabi beach on July 1, died of "shock and cardiac arrest" last night (Thursday) after suffering indigestion and gastroparesis.
The Department of Marine and Coastal Resources report that Yamil was sent from the Phuket Marine Biological Centre to Vachira Hospital last evening for an endoscopy to observe its gastrointestinal tract, which was found to be full of sea grass – a dugong's normal food.
"But the sea grass had obstructed Yamil's gut, causing its digestive system to stop functioning. This resulted in a buildup of gas in the digestive system, leading to the rupture of blood vessels and infection."
Her Royal Highness Princess Sirivannavari named the dugong 'Yamil' when he was moved from Krabi to Phuket for treatment and rehabilitation by marine vets. The animal was originally rescued by villagers from a Krabi beach where it washed up. His care has been sponsored by the Princess. Yamil, in the Yawi dialect, means "handsome young man of the sea".
Last Friday night, baby dugong 'Mariam' died of shock while being treated in protected area near Koh Libong in Trang province.  Vets later found several pieces of plastic in its stomach.
SOURCE: Thai PBS World
Keep in contact with The Thaiger by following our
Facebook page
.
Official complaint filed with the DSI over The Peaks Residences Condominium in Phuket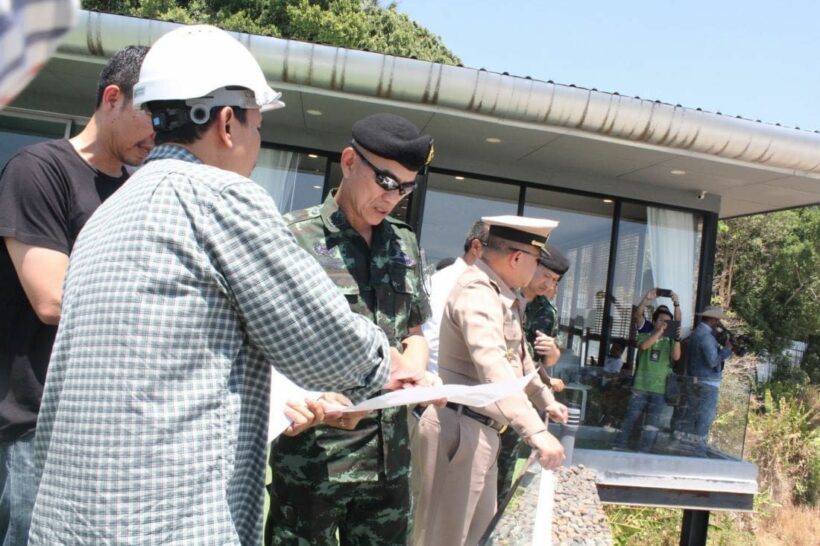 PHOTO: Inspections at the property in March this year – Kritsada Mueanhawong
Bangkok MP Sira Jenjaka has gone ahead and filed a long list of formal complaints over The Peaks Residences Condominium project being built in the hills above Kata Noi in Phuket.
The Palang Pracharat MP has also claimed to have had death threats made against him over his investigations and accusations over the condo's land titles and ownership in recent weeks.
The MP filed an official complaint with the Department of Special Investigation chief in Bangkok this morning.
The complaint alleges that the Karon Mayor Tawee Thongcham and the municipality "neglected their duties" by issuing permits to Kata Beach Co Ltd, the developer of the The Peaks Residences Condominium.
In February this year the Karon OrBorTor issued a construction permit for the project but in April municipal officials also sent a letter acknowledging the ongoing legal proceedings over the legitimacy of the land title, the NorSor 3 Kor Number 1863.
The complaint alleges that the project is being built on land with a NorSor 3 Kor No. 1863 land title. The complainants allege that the legal land document would have had to have been presented to obtain building permits and construction to proceed. But they claim that, as the NorSor 3 Kor for that land was under consideration by the Administrative Court, a legal building permit could not be issued.
In August 2017, the Regional Administrative Court ruled that the NorSor 3 Kor No. 1863 land title was invalid. Furthermore it determined that the land was "protected forest land".
The DSI formally received the complaint documents this morning.
Meanwhile, the developer of The Peaks Residences Condominium, Manassanan Nararattanawee, the CEO of Kata Beach Co Ltd, maintains that the project's paperwork is all "proper' and that "everything is under the law".
"Our company has already suspended construction to wait for the judgment of the Supreme Administrative Court."
Officials from the Internal Security Operations Command inspected the property in March this year as the owners promised to 'slow down' construction. Read that story HERE.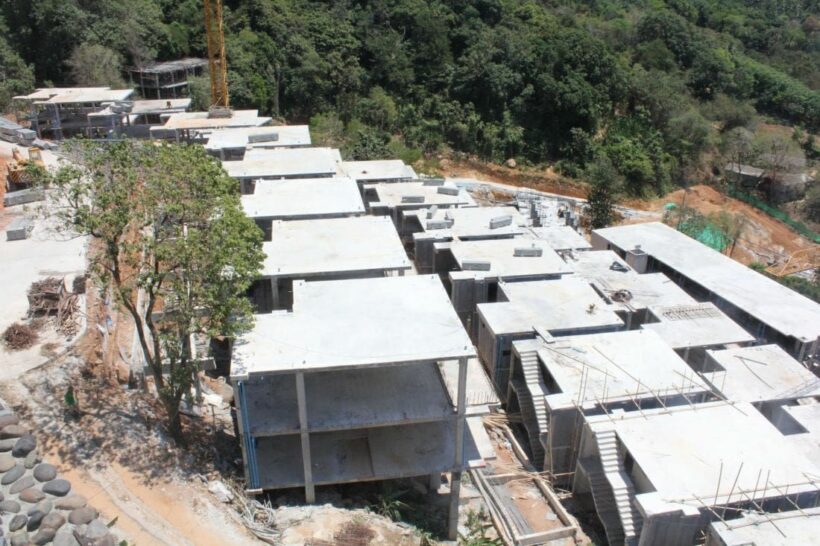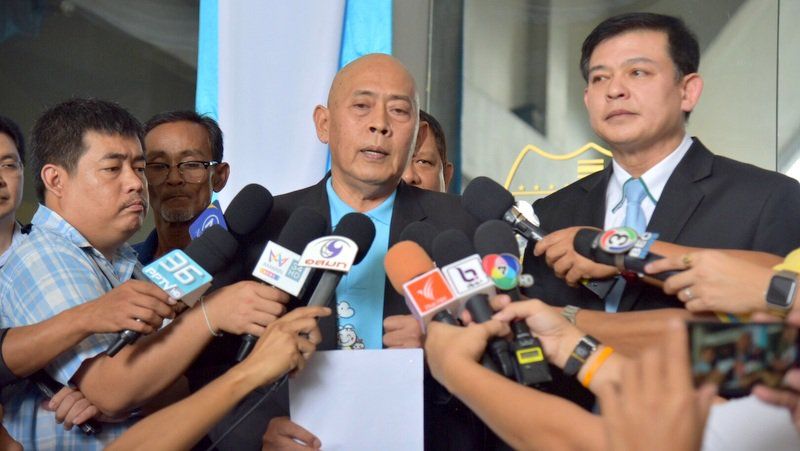 PHOTO: Department of Special Investigations
Keep in contact with The Thaiger by following our
Facebook page
.
Phuket marine vets report on the progress of dugong calf 'Yamil'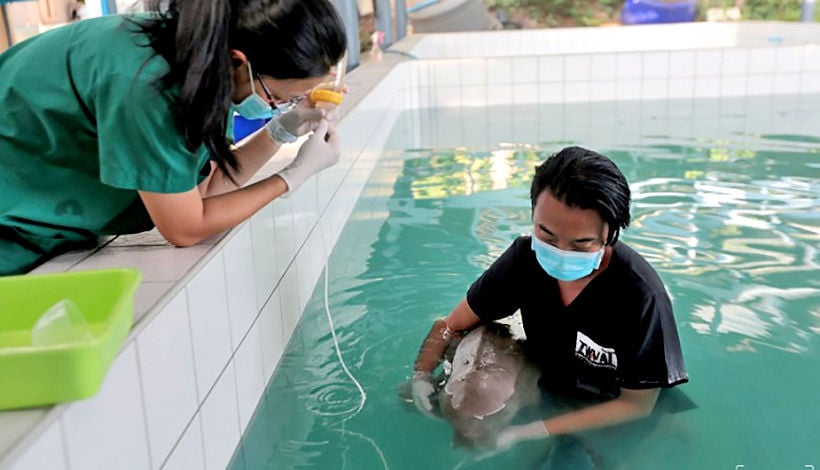 PHOTO: The Nation
A veterinary team at the Phuket Marine Biological Centre has removed the remaining partially-digested sea grass from the 3 month old dugong calf Yamil's stomach to prevent complications from possible infection.
The calf still suffers from excess stomach and intestinal gas, abnormal heart rhythms and occasional seizures.
X-ray results showed liquid food is still passing through Yamil's digestive track, so veterinarians were removing the remaining sea grass from its stomach and would provide the marine mammal with liquid nutrients and minerals, as well as painkillers and antibiotics. Veterinarians say they are keeping a close watch on the young dugong.
The male baby dugong was found washed ashore on Krabi's Bo Muang Beach on July 1 with abrasions on more than 50% of its body. It is currently in the care of the Phuket Marine Biological Centre until it is old enough and strong enough to be returned to the sea.
SOURCE: The Nation
Keep in contact with The Thaiger by following our
Facebook page
.