More Dragons for Phuket; Siam Makro expanding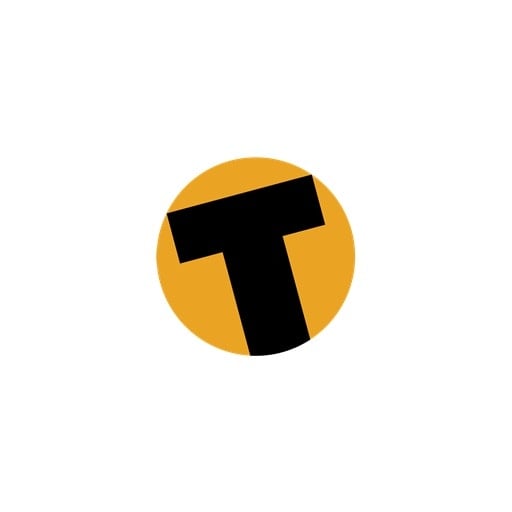 Phuket NEWS Hound
– A daily digest of news about Thailand from around the world, compiled by Gazette editors for Phuket's international community.
More Dragons for Phuket
PHUKET: Dragon Air intends to increase services on its Hong Kong-Phuket route.
Cathay Pacific Airways, parent company of Dragon Air, says traffic to Phuket is robust with an average load factor of 90 to 95% over the past seven months.
"The airline is assessing demand and whether to increase [Dragon Air] flights into Phuket. Currently it operates 10 flights a week, after an additional three weekly flights were added a few months ago," says Yongyut Lujintanon, Cathay's sales and marketing manager for Thailand.
"We would like to serve the route double daily but we are not going to add another four flights in one step. Services will increase gradually, starting with an additional flight during the the coming winter traffic program."
TTR Weekly reports this morning that 90% of the passengers on the Hong Kong-Phuket route are inbound, mostly from Hong Kong itself, Europe (connecting from the Cathay Pacific network) and China.
Since Cathay started flights to Moscow in July, the airline has also been flying growing numbers of Russians to Phuket.
Only 10% of the outbound traffic to Hong Kong comes from Phuket, mostly expatriate residents.
Siam Makro in quiet expansion
The Nation
Siam Makro, which opened its superstore in Phuket six years ago, is upbeat about penetrating further into Thailand's provincial market next year.
"We're ready to open stores to cover the country. We haven't opened outlets in [our] 40 remaining provinces. If those provinces want us to set up stores, we will, but we have to secure permits before starting construction," chief executive Suchada Ithijarukul said yesterday.
Siam Makro has opened three 'cash and carry' branches in the first half of this year, and a fourth will pop up in Nong Khai on September 29, bringing the nationwide network to 48.
But the company is not concerned even if it has no new stores next year, Suchada said. It can rely on the sales of its existing stores, as its new strategy is to focus on the hotel, restaurant and catering (HoReCa) segment.
"We can cash in on food products by adjusting the product mix of this segment. We believe the recovery in domestic tourism is a positive factor for boosting the performance of HoReCa," she said.
The company posted 15% sales growth for the first half this year. It earned 904.26 million baht, up from 585.70 million in the same half last year.
The 5,500 square meter Phuket store, on Wichit Songkhram Road, was the wholesale giant's 27th branch in Thailand.
Baht may hit 13-year high
Nation / Bloomberg
Thailand has witnessed a continued increase in net capital inflows, expected to keep the baht on the appreciation path probably to a level unseen since 1997.
According to the Bank of Thailand, in July, net capital inflows were worth US$2.7 billion (84 billion baht), which went to all parts of the economy, including $987 million to non-bank businesses.
Mathee Supapong, director of the central bank's domestic economy department, said inflows to the non-bank sector were either foreign direct investment or investment in the stock market. The banking sector attracted only $571 million, mostly short-term financing and some as investment in banking shares through the stock market.
London-based Barclays predicts the baht may strengthen over the next year to levels not seen since 1997, as accelerating growth encourages foreign investors to keep pouring money into the nation's assets.
The baht could appreciate 1 per cent to 31 per US dollar over three months; 1.8 per cent to 30.75 in six months; and 2.6 per cent to 30.50 in a year, Singapore-based economist Rahul Bajoria writes in a recent research report. In January, he forecast that the baht would advance to 31.75 in a year.
"We expect the baht to enjoy continued trend appreciation, as the external position remains robust," Bajoria wrote. "Strong inflows into local-currency bond and equity markets, along with current-account surpluses, should generate further upward pressure on the currency."
The currency is also drawing support from government data showing that growth in gross domestic product in the first two quarters, at 12% and 9.1%, was the best since 1995.
According to the Bank of Thailand, the economy in July kept expanding, though at a slower rate than in the previous month. While private consumption, exports and manufacturing slowed because of sharp growth in the first half, tourism showed continued recovery.
In the month, Thailand welcomed 1.25 million visitors, up 14.9% year on year, while the hotel occupancy rate was 46.9%, compared with 37.3% the previous month.
Fierce competition for 3G
The Nation
3G wireless broadband service in Thailand looks set to be dominated by incumbent telecom operators, which already have a firm foothold in the market.
Subsidiaries of Advanced Info Service (AIS), Total Access Communications (DTAC) and True Corp have emerged as the only three qualified applicants for 3G-2.1GHz spectrum licenses at an auction due to be held in Hua Hin on Sept 20.
The three are expected to compete fiercely, as the National Telecommunications Commission (NTC) will put only two of the three available 3G licences up for auction.
Four companies submitted applications yesterday, but one was found to be unqualified. AIS subsidiary Advanced Wireless Network (AWN) submitted its application soon after 9am, followed by DTAC subsidiary DTAC Internet Service and True subsidiary Real Move.
Suphan Buri-based natural-gas-for-vehicles car importer Win Win NGV submitted an application mid-afternoon, but it was later disqualified as it did not lodge the auction guarantee deposit of 1.28 billion baht at the same time. It submitted only the application fee of 500,000 baht.
The NTC required all applicants to place both fees on yesterday's application submission date.
Cambodia rejects Thai funding proposal
Phnom Pehn Post
Cambodian officials said yesterday that they would reject US$41.2 million in funding for a road project that Thailand reportedly pledged to resume last week as part of an effort to warm relations between the two countries.
Ministry of Foreign Affairs spokesman Koy Kuong said Cambodia would not accept the loan, as it had already financed the road project independently.
"We have not requested this loan, and we don't need this money," Koy Kuong said. "We are using our own budget to construct this road and the project is well under way."
Koy Kuong's comments marked a change in tone from his remarks on Thai financial assistance the previous day. When asked about the subject on Sunday, he said Cambodia "welcomes all forms of donations without conditions attached".
Thai Deputy Prime Minister Suthep Thaugsuban said last week that the aid, originally promised last August to extend National Road 68 up to the Thai border in Cambodia's Oddar Meanchey province, would be resumed in view of the countries' now-normalised diplomatic relations, the Ban
— Gazette Editors
Keep in contact with The Thaiger by following our
Facebook page
.
Never miss out on future posts by
following The Thaiger
.
Bangkok Airways add 3 new local routes to their schedule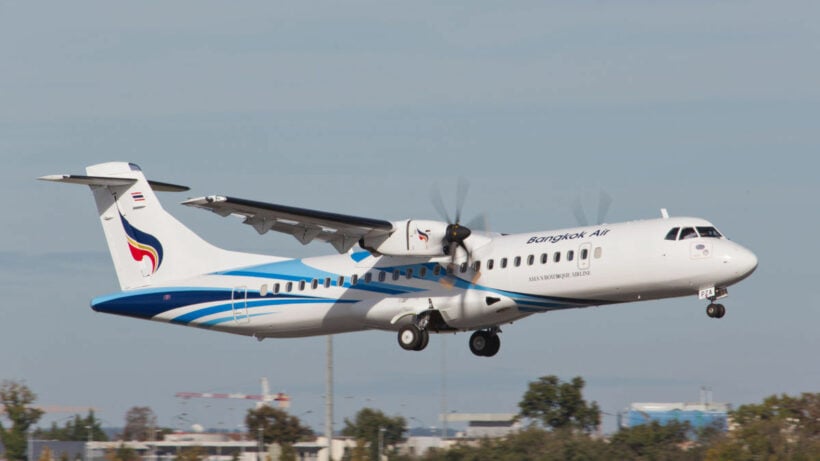 Some domestic routes are being added as local routes continue to expand. This time Bangkok Airways has announced it's resuming its Samui-Phuket, Phuket-Hat Yai and Phuket-Pattaya/Rayong (U-Tapao) flights.
The first additions to the schedule will be the Phuket-Samui flights resuming this Sunday, October 25, and the Phuket-Pattaya flights start again next Tuesday, October 27. The Phuket-Samui flights will be operating on Sundays and Wednesdays only on the airlines' ATR72 turbo prop regional planes, same as before.
A casual search on the Bangkok Airways website, for a return flight from Phuket to Samui on November 1, then back to Phuket on November 8 indicates the cheapest fare (promo) is 2,430 baht. Coming back, the cheapest fare we found, again labelled 'promo', was 2,630 baht. Bangkok Airways operate as a "full service" airline and don't compete with the country's discount airlines. But they operate these three routes exclusively – like it or leave it.
Bangkok Airways say that the flights will be operated "with the highest preventive measures and standards". Around the country the Civil Aviation Authority of Thailand have eased a few of the onboard restrictions, including the start of catering services which were originally banned under the initial flight rules when domestic routes started flying again at the start of July.
The daily direct services between Phuket and Hat Yai are also being operated on the ATR72 aircraft. The flight to Ha Yai leaves Phuket at 8.40am and arrives at Hat Yai at 9:.45am. The return flights leave Hat Yai back to Phuket at 10.25am each day. The route was very popular for the airline before the 'disruption' when airlines had their fleets grounded in April.
The service between Phuket and U-Tapao, linking the party city with the party island, will operate on Tuesdays, Thursdays and Saturdays, again with the ATR72. Phuket to U-Tapao will leave at 12.10pm and then from U-Tapao to Phuket at 4pm on the three days. U-Tapao is about a 50 minute drive from Pattaya and the airport also serves the greater Rayong area.
Keep in contact with The Thaiger by following our
Facebook page
.
Never miss out on future posts by
following The Thaiger
.
4 billion baht medical hub planned for Phuket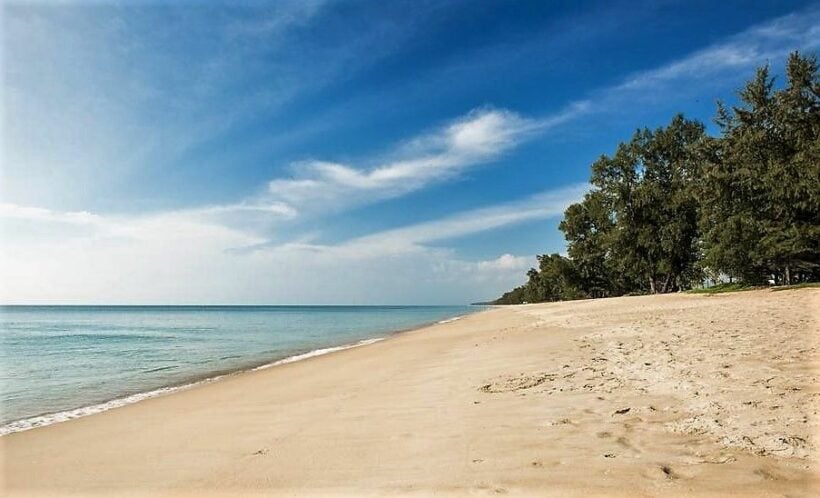 Phuket officials are setting aside around 4 billion baht to transform medical tourism in the southern province of Phuket, by developing a state-of-the-art treatment hub in the north of the island. The Bangkok Post reports that the Treasury department is planning to give the Public Health Ministry permission to use 141 rai of government land in the sub-district of Mai Khao, close to Phuket International Airport. It's not the first time the proposal has come to light.
The concept is gathering support as Phuket battles to diversify its attraction beyond a tropical holiday island.
The aim is to develop Phuket as a world-class health and wellness destination, with facilities that will attract medical tourists from all over the world, as well as providing a high standard of treatment to the local population. It's understood the facility will provide a full range of health services, including long-term care, and hospice and rehabilitation services.
The island already has a well-developed medical tourism market, but has been based around local hospitals and clinics linking up with foreign marketing companies in the past. "The International Medical and Public Health Service" has been conceived to create more long term financial security and diversification, and value-added tourism in Phuket, as the island has taken a heavy financial hit over the past 7 months.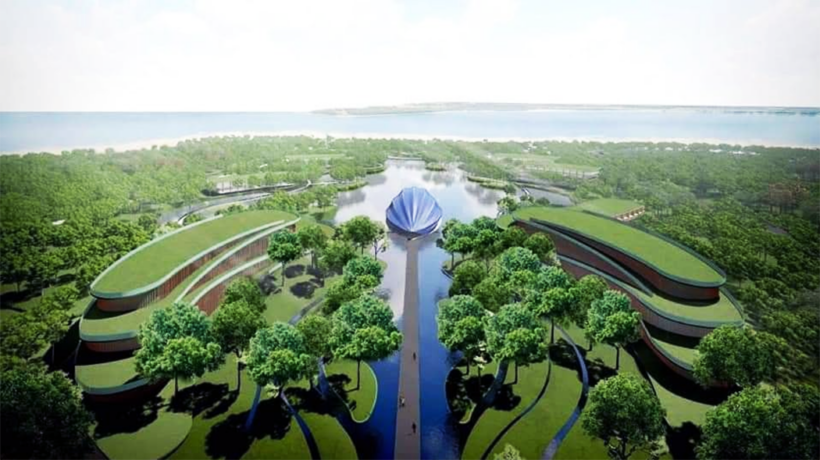 PHOTO: Phuket Andaman News
The plan was first suggested in 2017, by then governor, Noraphat Plodthong and confirmed by the director of Phuket's Vachira Hospital, Dr. Chalermpong Sukontapol, in July. At that stage, the estimated budget was 3-4 billion baht. The director-general of the Treasury department, Yuthana Yimkarun, says the plot is being offered to the Health Ministry for free. The land is thought be worth around 1 billion baht.
Yuthana says the ministry will manage investment, with approximately 2 billion baht required for the first stage of the project. Construction of the facility is expected to be completed over 2 years.
Meanwhile, it's understood that unused government land that is currently managed by various government agencies may be moved under the remit of central government, with a view to increasing its worth. According to the Bangkok Post report, just 4% of government land is directly managed by the Treasury. The other 96% is controlled by various government agencies. Yuthana says the plan is to increase the percentage of state-owned land under the Treasury's management to 10% within 2 years.
SOURCE: Bangkok Post
Keep in contact with The Thaiger by following our
Facebook page
.
Never miss out on future posts by
following The Thaiger
.
"Open the borders, safely", Bill Heinecke, Minor International interview – VIDEO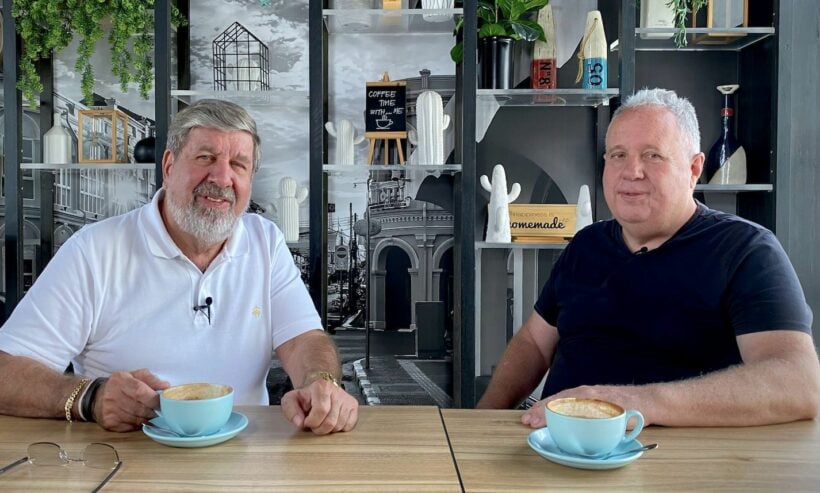 Bill Heinecke speaks to Bill Barnett. The two heavy-hitters of Thailand's hotel and hospitality sector, mull over the current Covid situation and the reopening of Thailand's borders to some form of tourism. Bill Heinecke is the Chairman and Founder of Minor International.
Bill Barnett is the Managing Director of c9hotelworks.com
Now the Thai government has approved the special long-term tourist visa scheme (STV), hoteliers are remaining skeptical about reopening due to the lack of clarity in the recent announcement, which will reportedly take effect next month. The president of the Thai Hotels Association's southern chapter says more hoteliers will consider reopening if the government gives further information about the plan in terms of prospective markets, arrival dates, origin countries, and flights.
Such details would allow hotels to prepare themselves ahead of time to offer services as alternative state quarantine premises as at least 60 hotels in Phuket are awaiting approval to operate such facilities.
Keep in contact with The Thaiger by following our
Facebook page
.
Never miss out on future posts by
following The Thaiger
.