MP candidates call for local election commission to be replaced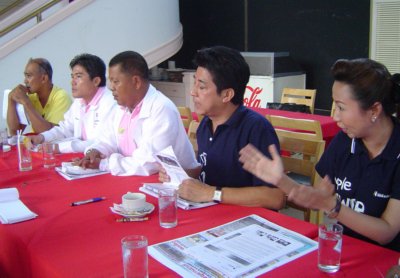 PHUKET CITY: Six local MP candidates from four political parties held a press conference Wednesday afternoon, calling for the national Election Commission (EC) to replace all the members of the Phuket Election Commission (PEC) currently chaired by Phuket Vice-Governor Tri Augkaradacha.

The six politicians charged that the PEC's joint staging of an "anti-vote-buying" activity with the Phuket Provincial Administration Organization (OrBorJor) on Monday demonstrated the panel's bias towards the locally-powerful Democrat Party, whose members control the OrBorJor.

The six candidates at the press conference, held at the Phuket Town Inn, were: People Power Party (PPP) candidates Dr Sriyada Shinawatra and Wisut Santikul; Peua Pandin Party candidate Wisut Janjira; Chart Thai Party candidates Sgt Sorranun Sane and Somchart Somnam; and Ruamjai Thai Chart Pattana party list candidate Suksan Kasetkala.

The six said that the recent PEC event, during which 200 yellow helmets were distributed to motorcycle taxi drivers, had sparked distrust of the PEC and cast doubt over its ability to conduct a free and fair general election on December 23.

PPP candidate Wisut Suntikul accused the PEC of working together with the Democrat Party, noting that one of the Democrat Party candidates had a "close relationship" with a top OrBorJor officer.

There was no doubt that he was referring to Democrat Party candidate Tossaporn Thepabutra, husband of OrBorJor President Anchalee Vanich-Thepabutra.

"Today we have come here as a group to plead for fairness from the EC. Our PPP legal representatives will lodge a formal request to the EC, asking it to change the PEC membership within seven days. If we get no reply we will raise this as a campaign issue directly with the people of Phuket, asking them to see for themselves how the Democrats campaign," K. Wisut said.

Chart Thai candidate Sgt Sorranan said, "We don't want to shout, but we need fairness from the PEC in this election. Will they give it to us or not?"

Ruamjai Thai Chart Pattana party list candidate Suksan Kasetkala said, "We need the EC to investigate whether the PEC and OrBorJor are working together to support one party or not. We are not getting fair treatment."

A common complaint is that billboards put up by the OrBorJor as part of its publicity campaigns in the past have included images of K. Anchalee and the logo of the Democrat Party, K. Suksan said.

Puea Pandin candidate Wisut Janjira said it was unfair that while EC rules forbid candidates from conducting activities such as donating wreaths at funerals, its own local branch had jointly organized a free handout of motorcycle helmets together with a local government body whose top administrator is a high-profile Democrat Party member.

"We do understand that it is the responsibility of local administrations to conduct campaigns encouraging people to vote, but we think the PEC needs to demonstrate more discretion. Right now we all feel it is unfair," he said.

Phuket V/Gov Tri told the media yesterday he never intended to do anything unfair by taking part in the helmet giveaway. The event was only intended to encourage people to vote and discourage them from selling votes, he said.

OrBorJor Vice-President Sutin Uthaitamrong, a former Kathu District Chief who is not affiliated with any political party, told the Gazette that the helmet giveaway was one of a handful of activities organized as part of the Governor's policy to encourage people to vote.

Failure to take part would have been tantamount to dereliction of duty, he said.

Of note in the current election campaign is that PPP candidate Dr Sriyada, who used her maiden surname Palimapan in previous runs to win a parliamentary seat, has now chosen to run as Sriyada Shinawatra in the current campaign.

Dr Sriyada is married to Chiang Mai businessman Saravuth Shinawatra, a cousin of deposed Prime Minister Thaksin Shinawatra.
Want more from the Thaiger family?
📱 Download our app on Android or iOS for instant updates on your mobile
📧 Subscribe to our daily email newsletter
👍 Like/Follow us on Facebook
🔔 Subscribe to or Join our YouTube channel for daily video updates
Covid-19 mask violators in Phuket forced to exercise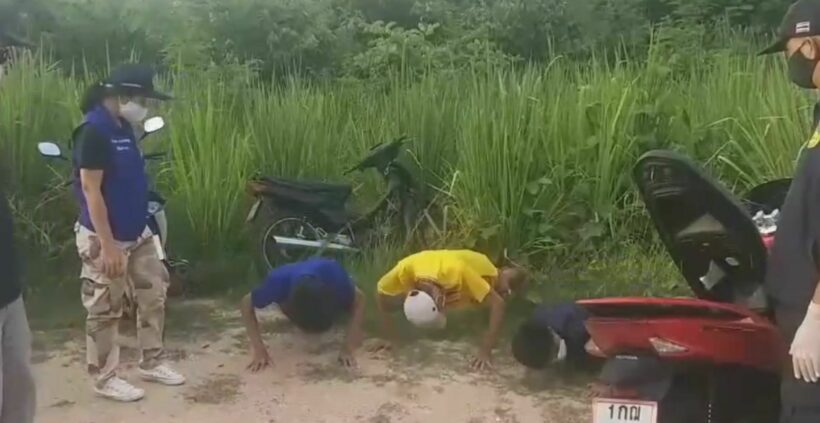 For those who have more pounds on their body than pounds in their pocket, exercise punishment seen in Phuket yesterday for mask violators may or may not be welcome. Officials have walked back the strict 6,000 baht punishment for the first warning against someone not wearing a mask and were spotted forcing those who have gone out without a mask to do exercise on the street.
The people forced to exercise were at a Covid-19 checkpoint in the Rawai subdistrict, where the Chalong Police along with local medical workers were checking people yesterday. The checkpoint was set up in an effort to push one hundred per cent mask compliance to stop the spread of Covid-19 on Phuket.
Not only were they checking everyone who passed by to make sure they had their masks, but also to correct those who were wearing their masks improperly. We've all seen the people who seem to think that a mask on their chin or underneath their nose is somehow just as effective as a properly worn mask, or at least that they can get away with "wearing a mask" while limiting their personal inconvenience.
Officials were quick to point out that the overwhelming majority of people passing through the checkpoint, both foreigners and Thai, did have their masks with them and were wearing them properly. But they did catch more than 10 people not wearing their face mask or not using them correctly.
Authorities decided to let them off with a first soft warning by moving bodies instead of moving baht. Police made violators do exercise right there on the street in hopes of shaming them into making better decisions next time. All violators did have their names and details taken down with a promise that if they were caught again proper traditional fines would be handed down.
No word yet on any plans to make this punishment into a Tik-Tok Channel.
SOURCE: The Pattaya News
Want more from the Thaiger family?
📱 Download our app on Android or iOS for instant updates on your mobile
📧 Subscribe to our daily email newsletter
👍 Like/Follow us on Facebook
🔔 Subscribe to or Join our YouTube channel for daily video updates
Thai public health and tourism ministers on Phuket to push the July 1 Sandbox reopening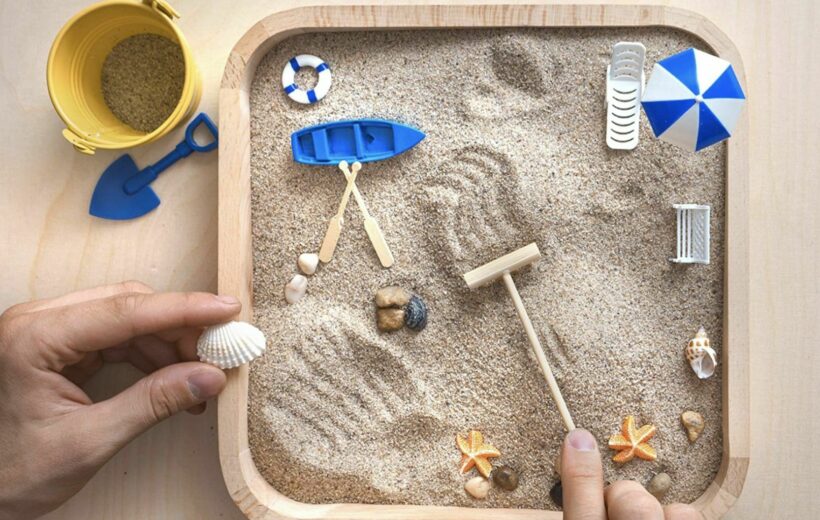 Bangkok has sent a couple of ministerial heavyweights to Phuket today to keep pushing the July 1 'Sandbox' bandwagon, insisting that Phuket will open to fully vaccinated tourists from July 1.
The Deputy PM and Public Health Minister Anutin Charnvirakul ,along with the Sports and Tourism Minister Phiphat Ratchakitprakarn, are doing the island PR tour today delivering a message from the PM Prayut Chan-o-cha who is confirming that Phuket will open to fully vaccinated international tourists from the start of July.
Phuket has continued to rack up between 10-20 new Covid infections each day over the past week and still has hundreds of people listed as 'active cases'. As of today 22% of the island has been vaccinated.
The original Phuket Sandbox model was intended to be quarantine-free. That issue was not made clear during today's PR trip from the 2 ministers. The full details of how Phuket will open to international tourists, how those tourists might get to Phuket, or where they will visit on an island with its tourist infrastructure shutdown, have not been provided at this stage. It has also not been discussed how long the international tourists will have to remain on Phuket before travelling to other parts of the country.
The Phuket Governor welcomed the prime ministerial delegation to Provincial Hall at lunchtime saying that Phuket would progress with its plans to launch the Phuket Sandbox from July 1.
"All stakeholders who are frontline warriors working to solve the problem of the Covid epidemic situation have earned the goodwill and concern from Prayut Chan-o-cha, who also believes that Phuket is ready to prepare for the opening of the Phuket Tourism Sandbox on July 1 for sure."
Phuket Province generated several hundreds of billions of baht of income for the country per year and Thailand relies heavily on tourism income. Indeed, second to Bangkok, Phuket was the government's golden goose delivering decades of high tourism receipt returns.
Speaking to The Phuket News, Anutin said…
"The government is ready to act as soon as possible. This has been clearly proved, such as by the large number of vaccine doses that Phuket has been allocated to vaccinate the people in the area to cover all groups and be as safe as possible as the 'Phuket Model'.
"When the economy is good, everyone gets better, so use patience to believe that good things will follow".
Another 100,000 Sinovac vaccines arrived on the island to be formerly handed over today by Minister Anutin. An additional 100,000 doses will arrive on Tuesday.
AstraZeneca vaccines are also due to arrive from June, daily reserved for people over 60 years old or people who have other health conditions which require the AZ vaccine instead of the Chinese manufactured Sinovac.
SOURCE: The Phuket News
Want more from the Thaiger family?
📱 Download our app on Android or iOS for instant updates on your mobile
📧 Subscribe to our daily email newsletter
👍 Like/Follow us on Facebook
🔔 Subscribe to or Join our YouTube channel for daily video updates
Phuket may ditch light rail and build smart bus system instead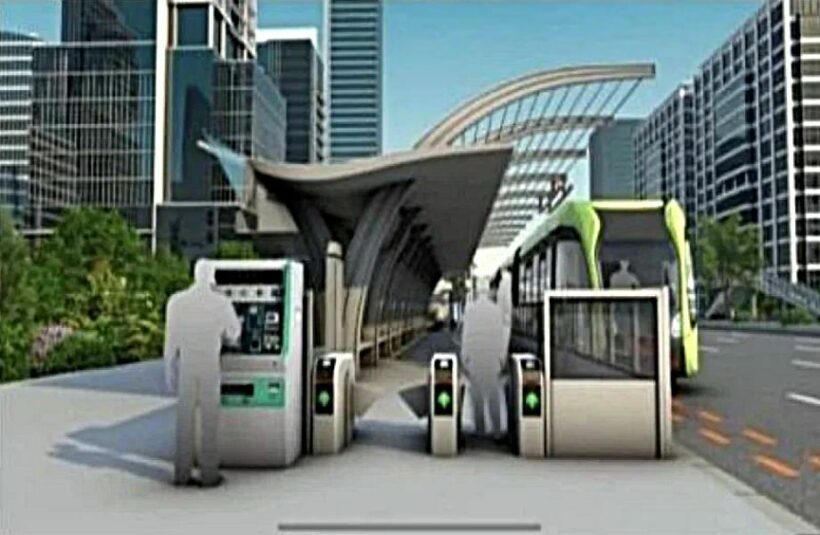 A proposal to drop the light rail planned for Phuket and replace it with a smart bus system is under an in-depth review as ordered by Phuket Transport Minister. Advocates for the smart bus – automated driverless buses on city streets – say that the project would bring mass transportation to Phuket Island for 15.2 billion baht cheaper than a light rail would.
The analysis was ordered Thursday in a phone meeting to check progress on regional transport projects. The Mass Rapid Transit Authority of Thailand has suggested changing the plan in Phuket from light rail to a smart bus system. The MRTA had been dead set on the light rail system but have now launched preliminary research on a driverless bus system.
HERE'S a previous story with more details about how the bus system would work, instead of a light rail.
But critics say the planned light rail system was almost unworkable with its routing not going through the main population centres and its complete avoidance of the tourist areas, was doomed from the start. The 5 years it was expected for construction would have caused major traffic snarls on the main island arteries and then reduced traffic flow on those arteries for the life of the light rail project.
Initial investigations show that an automated rapid transit bus system would shave about 9 months off the construction time and 15.289 billion baht from the budget. Cost-saving measures like precast concrete and launching gantries will further reduce construction expenses.
As a result, the bus system could be run with lower passenger fares than a light rail train would. The project was considering 3 bus fares… local in Phuket Town, local outside of Phuket Town, and transport between towns around the island.
The MRTA and the Office of Transport and Traffic Policy and Planning have coordinated with the Expressway Authority in Thailand to consider the smart bus plan and its effect on traffic. Unfortunately, the group is worried that building the smart bus system plan to be ready by 2026 while working on the Patong tunnel project scheduled to open in 2028 would create long-term detrimental traffic jams. They're considering a postponement to a 2030 launch (the Patong tunnel project has been in 'planning' mode for 20 years and will never happen).
The Transportation Minister has requested proposals for 2 different timelines to be delivered within the next 2 weeks, and plans to have the MRTA and EXAT come to Phuket for public hearings after Covid-19.
SOURCE: The Phuket News
Want more from the Thaiger family?
📱 Download our app on Android or iOS for instant updates on your mobile
📧 Subscribe to our daily email newsletter
👍 Like/Follow us on Facebook
🔔 Subscribe to or Join our YouTube channel for daily video updates