Live Wire: Google Street View has Phuket all mapped out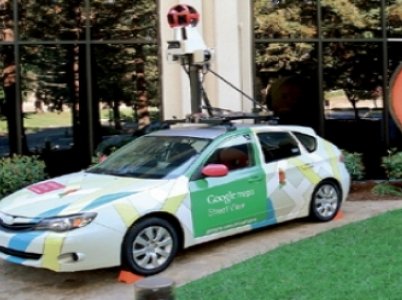 Google announced recently that it had released Google Street View for Phuket, Bangkok and environs, and Chiang Mai. Many of you read about the new service but have you had a chance to look at it? Mind boggling.
The Nation quoted Pornthip Kongchun, head of marketing for Google Thailand, as saying, "In Asia-Pacific, Google Street View is available in Japan, Taiwan, Korea, Australia, Singapore and Thailand. In Thailand, the next cities for Street View will be Chiang Rai, Lamphun, Lampang, Nakhon Phanom, Hat Yai and Nakhon Si Thammarat, and also Thailand's World Heritage cities."
Five months ago, we had several sightings of Google cars on Phuket roads, snapping pictures like roses in May, traveling along all of the major roads, and many of the minor sois on the island. The result is something to behold.
If you haven't yet had a chance to look at your street, here's how to do it. All you need is a web browser, and a reasonably fast internet connection. It'll work on PCs, Macs, iPads, Android tablets and phones – just about anything with a browser. The bigger and better your screen, the more you're going to like it.
Step 1: Fire up your browser and go to maps.google.com. In the box at the top, type Phuket and click the magnifying glass. Google Maps takes you to an overview map of Phuket.
Step 2: Find a location that interests you by "zooming in" with the mouse's scroll wheel, by pinching on a tablet or phone, or by using the + and – slider on the left. You can drag the map by clicking on it. Play with it a bit and you'll see how it works.
Step 3:Once you're in the right general area, drag the brown man icon onto the main map. The brown man is above the + top of the zoom-in slider. If there is a Street View map available in that vicinity, the roads will suddenly develop blue lines where Street View maps are.
Step 4: Drop the brown guy as close as you can to the place you want to see. (Note that the brown guy can only be dropped in specific places – you can't slide him along the blue lines.) The screen splits into two: on the top, you'll see the Street View – what Google's cameras actually saw when they drove by your place. On the bottom, you see a map which shows which way the brown guy is facing.
Step 5: Click on the Street View map, the top half, to zoom in or zoom out (the + and – icons). Grab the map on top and drag it to make the brown guy turn left or right.
Step 6: Want to look around a little bit? Drag the brown guy anyplace you can find a blue line. You can also make the brown guy "walk" by clicking on the directional arrows, or on the ovals, in the top screen. For best effect, get the biggest screen you can find.
I think you'll be amazed by the level of detail in the shots. In the shot of the Gazette offices, for example, there's construction going on in the klong to the right of the main building. You can clearly see the faces of the construction workers. All around the island you can see people, cars, motorbikes, chickens – an amazing amount of detail.
And that amount of detail is available in shots on all of the major streets in Phuket, and many (if not most) of the car-accessible sois. At some point Google will return with cameras mounted on push trikes, to take shots of locations where the car won't go – particularly parks and historical places.
Google has developed some very fancy software to support this effort. As part of the data collection, faces are intentionally blurred and license plate numbers – even on motorbikes – are blurred as well. Google may not be terribly concerned about your privacy in other ways, but in the Street View they're pretty capable.
Ever wonder what it's like strolling down Soi Bangla in the middle of the day? It's there. Want to know what your business sign looks like from the middle of the street? It's there, too. How many rental cars are taking up spots on Beach Road? Yep all there.
The web site isn't perfect – I found that I had to nudge the brown man a few times to get the Street View picture updated –but the overall effect is stunning. If you have a friend who's wondered what it's like to travel around in Phuket, point them to Google Street View.
MapJack plotted Phuket more than three years ago, and although they have a lot of fantastic street-level shots as well, navigation is a little more difficult. The shots are considerably older and not as many streets get shot, but the quality of the pictures is outstanding, and they catch many things that Google Street View doesn't. Check it out at mapjack.com.
Will the sudden appearance of Google Street View spur huge gains in the number of tourists visiting Phuket? I doubt it. Several people ascribe a 25 per cent jump in visits to Pompeii to the release of Google Street View for that area, but it seems a bit far fetched. More likely, I think, is that Street View will lead to visitors who are more savvy and less intimidated at the thought of breaking free from the packaged tours and striking out on their own.
At least, I hope so.
Seth Bareiss holds computer sessions on every-other Wednesday afternoon, from 1 to 3pm. If you have a Windows problem that needs to be solved, drop by one of Seth's free afternoon sessions, or come to one of our free Sunday morning roundtables at Sandwich Shoppe Chalong. Details in the Events Calendar. Sponsored by the Phuket Gazette and Khun Woody's Sandwich Shoppes.
Live Wire is Phuket Gazette columnist Woody Leonhard's weekly snapshot of all things internet in Phuket. Shoot him mail at Woody@KhunWoody.com, follow him on Twitter@PhuketLiveWire, or "like" his page at facebook.com/SandwichShoppe.
— Woody Leonhard
Phuket News

Join the conversation and have your say on Thailand news published on The Thaiger.
Thaiger Talk is our new Thaiger Community where you can join the discussion on everything happening in Thailand right now.
Please note that articles are not posted to the forum instantly and can take up to 20 min before being visible. Click for more information and the Thaiger Talk Guidelines.