Live Wire: Google Street View has Phuket all mapped out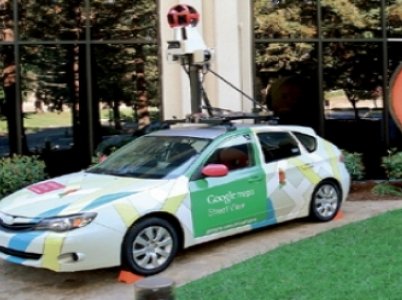 Google announced recently that it had released Google Street View for Phuket, Bangkok and environs, and Chiang Mai. Many of you read about the new service but have you had a chance to look at it? Mind boggling.

The Nation quoted Pornthip Kongchun, head of marketing for Google Thailand, as saying, "In Asia-Pacific, Google Street View is available in Japan, Taiwan, Korea, Australia, Singapore and Thailand. In Thailand, the next cities for Street View will be Chiang Rai, Lamphun, Lampang, Nakhon Phanom, Hat Yai and Nakhon Si Thammarat, and also Thailand's World Heritage cities."

Five months ago, we had several sightings of Google cars on Phuket roads, snapping pictures like roses in May, traveling along all of the major roads, and many of the minor sois on the island. The result is something to behold.

If you haven't yet had a chance to look at your street, here's how to do it. All you need is a web browser, and a reasonably fast internet connection. It'll work on PCs, Macs, iPads, Android tablets and phones – just about anything with a browser. The bigger and better your screen, the more you're going to like it.

Step 1: Fire up your browser and go to maps.google.com. In the box at the top, type Phuket and click the magnifying glass. Google Maps takes you to an overview map of Phuket.

Step 2: Find a location that interests you by "zooming in" with the mouse's scroll wheel, by pinching on a tablet or phone, or by using the + and – slider on the left. You can drag the map by clicking on it. Play with it a bit and you'll see how it works.

Step 3:Once you're in the right general area, drag the brown man icon onto the main map. The brown man is above the + top of the zoom-in slider. If there is a Street View map available in that vicinity, the roads will suddenly develop blue lines where Street View maps are.

Step 4: Drop the brown guy as close as you can to the place you want to see. (Note that the brown guy can only be dropped in specific places – you can't slide him along the blue lines.) The screen splits into two: on the top, you'll see the Street View – what Google's cameras actually saw when they drove by your place. On the bottom, you see a map which shows which way the brown guy is facing.

Step 5: Click on the Street View map, the top half, to zoom in or zoom out (the + and – icons). Grab the map on top and drag it to make the brown guy turn left or right.

Step 6: Want to look around a little bit? Drag the brown guy anyplace you can find a blue line. You can also make the brown guy "walk" by clicking on the directional arrows, or on the ovals, in the top screen. For best effect, get the biggest screen you can find.

I think you'll be amazed by the level of detail in the shots. In the shot of the Gazette offices, for example, there's construction going on in the klong to the right of the main building. You can clearly see the faces of the construction workers. All around the island you can see people, cars, motorbikes, chickens – an amazing amount of detail.

And that amount of detail is available in shots on all of the major streets in Phuket, and many (if not most) of the car-accessible sois. At some point Google will return with cameras mounted on push trikes, to take shots of locations where the car won't go – particularly parks and historical places.

Google has developed some very fancy software to support this effort. As part of the data collection, faces are intentionally blurred and license plate numbers – even on motorbikes – are blurred as well. Google may not be terribly concerned about your privacy in other ways, but in the Street View they're pretty capable.

Ever wonder what it's like strolling down Soi Bangla in the middle of the day? It's there. Want to know what your business sign looks like from the middle of the street? It's there, too. How many rental cars are taking up spots on Beach Road? Yep all there.

The web site isn't perfect – I found that I had to nudge the brown man a few times to get the Street View picture updated –but the overall effect is stunning. If you have a friend who's wondered what it's like to travel around in Phuket, point them to Google Street View.

MapJack plotted Phuket more than three years ago, and although they have a lot of fantastic street-level shots as well, navigation is a little more difficult. The shots are considerably older and not as many streets get shot, but the quality of the pictures is outstanding, and they catch many things that Google Street View doesn't. Check it out at mapjack.com.

Will the sudden appearance of Google Street View spur huge gains in the number of tourists visiting Phuket? I doubt it. Several people ascribe a 25 per cent jump in visits to Pompeii to the release of Google Street View for that area, but it seems a bit far fetched. More likely, I think, is that Street View will lead to visitors who are more savvy and less intimidated at the thought of breaking free from the packaged tours and striking out on their own.

At least, I hope so.

Seth Bareiss holds computer sessions on every-other Wednesday afternoon, from 1 to 3pm. If you have a Windows problem that needs to be solved, drop by one of Seth's free afternoon sessions, or come to one of our free Sunday morning roundtables at Sandwich Shoppe Chalong. Details in the Events Calendar. Sponsored by the Phuket Gazette and Khun Woody's Sandwich Shoppes.

Live Wire is Phuket Gazette columnist Woody Leonhard's weekly snapshot of all things internet in Phuket. Shoot him mail at Woody@KhunWoody.com, follow him on Twitter@PhuketLiveWire, or "like" his page at facebook.com/SandwichShoppe.
— Woody Leonhard
Keep in contact with The Thaiger by following our
Facebook page
.
The 15th Mai Khao Marine Turtle fun run attracts more than 4,000 runners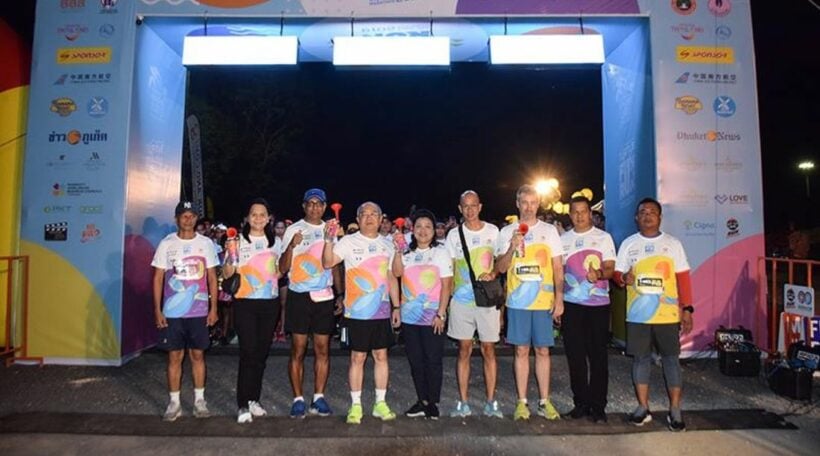 4,000 runners from Thailand and overseas took part in the 15th Mai Khao Marine Turtle Fun Run and Half Marathon 2019 yesterday, starting from the Phuket Gateway.
The event is expected to raise 700,000 baht for the charity, now in its 15th year. The money raised goes towards to The Mai Khao Marine Turtle Foundation, which is committed to protecting the marine and coastal environment, and ecosystems, for the wellbeing of sea turtles that nest in the Mai Khao beach and the surrounding areas.
The annual race also provides funds for thePhuket Marine Biological Centre's Injured Turtle Rehabilitation Program and The Third NavalArea Command's Turtle Hatchery Program.
The race was in its 15th year and runners of all ages and abilities took part in the race. The morning's racing was divided into five categories – the 21.1km half marathon, 10.5km mini- marathon, 5km fun run and 3k family run and VIP participants for all the races. The route of 21.1 kilometre race took runners northwest along the Haad Sai Kaew beach towards Thao Thepkasattri bridge, past the rural road No. 3006, run along the road – Pi Lai viewpoint area returned back along the T. Baan Tha Nun to the iconic Sarasin bridge before finished the half marathon in the Phuket Gateway.
For Mini Marathon 10.5 km – Over all category, Mr. Chinnawat Changlek clocked 39 minutes and 40 seconds to clinch victory in the male half marathon, winning prize money and a trophy with the signature of Phuket's Governor. The winner in the female mini marathon was Surakarn Wanna with a time of 47 minutes and 47 seconds.
Winners also received a prize gift voucher as well as a medal. Congratulations to all participants.
Keep in contact with The Thaiger by following our
Facebook page
.
'Phang Nga Bay and Beyond' exhibition by Marilyn Band at Mom Tri's WOK Gallery Kitchen in November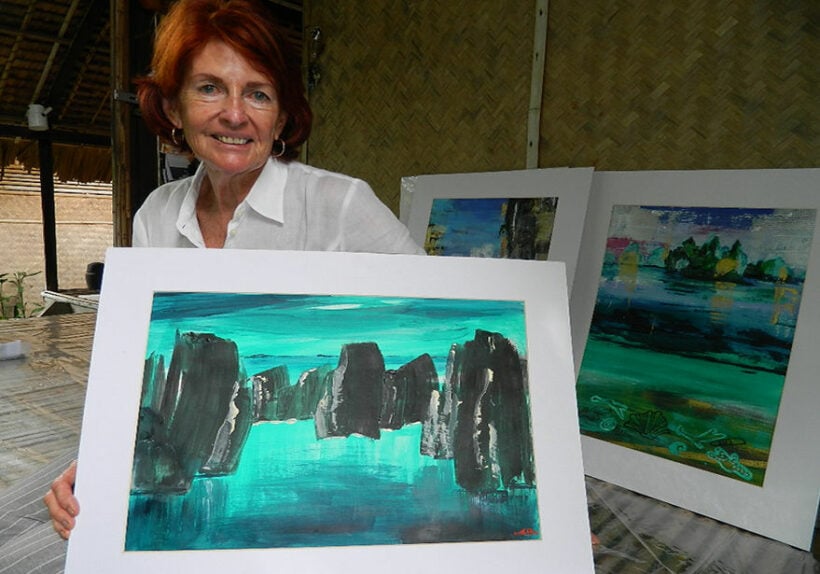 The Art exhibition "Phang Nga Bay and Beyond" by Marilyn Band is being held at Mom Tri's WOK Gallery Kitchen, Chalong, Kata Hill, Phuket from November 30, 2019 – January 31, 2020. The opening will take place on Saturday November 30, 2019 at 6.30 pm.
Artist's Statement
"For the current exhibition, I am presenting recent work, a more abstract expression of Phang Nga Bay's beauty, which intends to encourage the viewer the opportunity to interpret and appreciate a little bit of paradise. I am quite excited about these more abstract works as it has allowed me to explore the essence of these limestone monuments in the bay.
"I find the natural world a beautiful, magical place. My paintings are inspired by many sea voyages. Though based on reality I try to introduce my own feelings and vision which will delight others."
Biography
Marilyn Band has been creating art since childhood, influenced by a family who surrounded her with paintings and the creations of several generations of her ancestors who were famous stained glass artists. She went to Florence, Italy for life drawing and then went on to study graphics at High Wycombe Technical College in Buckinghamshire, England and started her career as a graphic designer in a variety of advertising agencies in London.
On Holiday in the Seychelles, she met her future husband, Nick Band, and they have been sailing around the Indian Ocean and SE Asia for more than forty years allowing Marilyn the chance to draw and paint the now disappearing tropical cultures from Zanzibar to Sri Lanka to Phuket, and beyond.
She arrived in Phuket in 1980 and immediately built a studio that has been the center of her art projects. Between sea voyages and other travels, Marilyn has become one of Phuket's most significant artists with one person exhibitions at Mom Tri's Boathouse and Villa Royale Galleries.
She has also designed and developed the graphics for the island's world famous Phuket King's Cup Regatta media.
She continues to explore new avenues of self- expression in acrylic, oil, watercolour, ink, collage and silkscreen.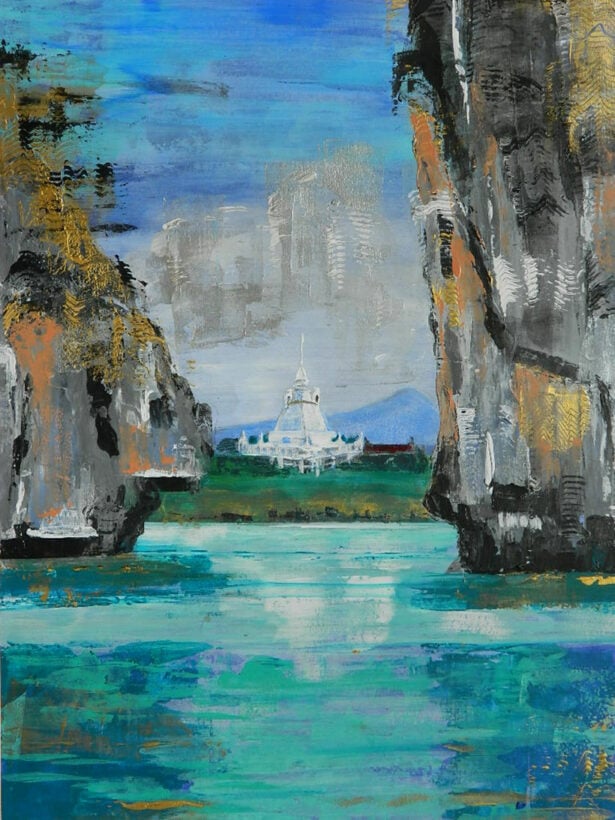 Keep in contact with The Thaiger by following our
Facebook page
.
Thalang Police arrest local Phuket drug dealer with amphetamine pills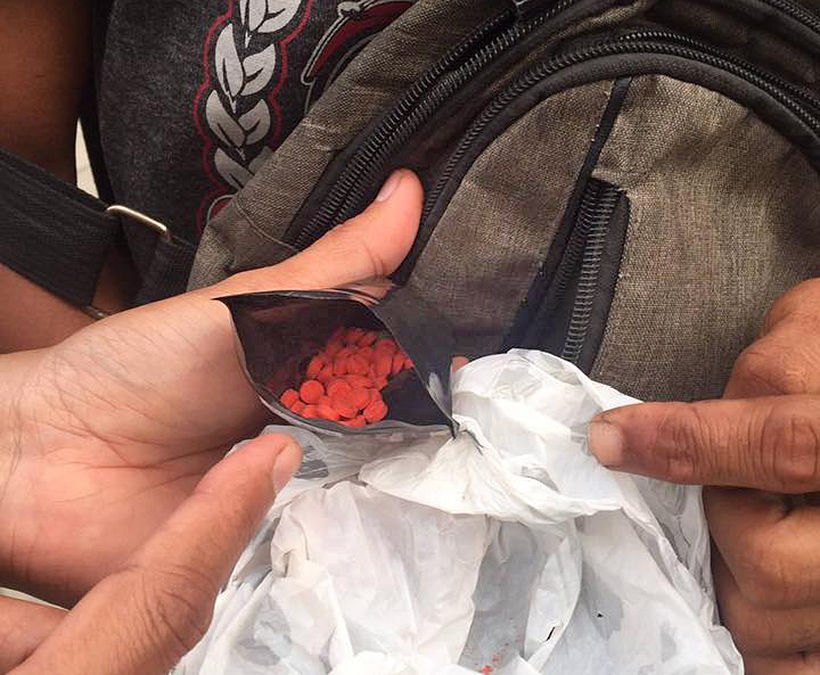 PHOTOS: เหยี่ยวข่าว ภูเก็ต Newshawk Phuket
Thalang Police have arrested a local drug dealer with more than 192 amphetamine pills. Thalang police in Phuket arrested 29 year old Wimon Songkong from Nakhon Si Thammarat with 192 amphetamine pills that he was carrying when they nabbed him in front of a 7-Eleven store inside a PTT gas station on Thepkasattri Road, in Thalang District.
The amphetamine pills were packed in a black zip-lock plastic bag, which was hidden in his grey shoulder bag. Two of the pills were green and 190 of them were orange, while each pill had the letters 'wy' printed on them.
Wimon was charged for possessing and trading illicit drugs and was sent to Thalang police station for further investigation and processing.
STORY: Newshawk Phuket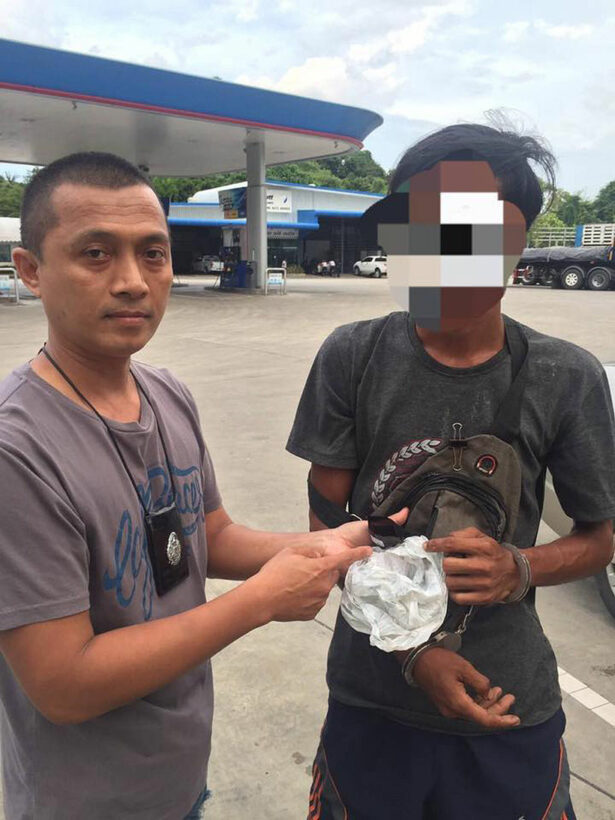 Keep in contact with The Thaiger by following our
Facebook page
.