Phuket
Krabi parents demand school director dismissal after kindergarten assistants sacked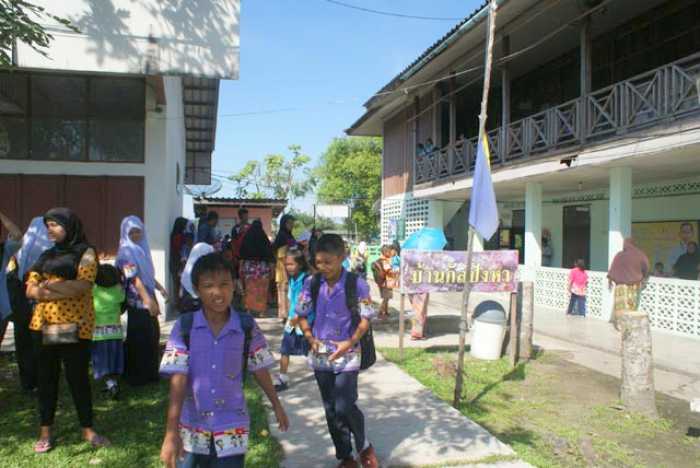 PHUKET: Teachers at Baan Koh Klang School in Khlong Prasong, Krabi, and hundreds of parents have lashed out against the summary dismissal of two teachers' assistants at the school's kindergarten, and called for the director herself to be sacked.
School Director Vanischa Srichai dismissed Haruethai Kohklang and Aroonprapa Klongruow on Tuesday.
"My daughter came home and told me that she and another [assistant] were fired without any reason. We demand an explanation," said Aumporn Klongruow, father of now-unemployed Aroonprapa.
Sathaporn Boonruang, a teacher at the school, said that he and the other eight teachers who care for the 238 students at the school had been unhappy with Ms Vanischa's actions since she arrived a year ago.
"Over the past year, several things have gone the wrong," he said. "The director's actions have been inappropriate, especially firing those [assistants]. We need people to help teachers take care of the kids.
"Every teacher here wants her to go, otherwise we will all move to other schools."
Ms Vanischa was not at the school when the protesters arrived on Wednesday, but officers from the Krabi Primary Educational Service Area Office (PESAO), the Krabi office of the Damrongtham Center (ombudsman's office) and other authorities were soon on the scene.
Pramote Kiewphan, deputy director of Krabi PESAO, told the angry parents that although Mr Haruethai and Ms Aroonprapa were on "temporary" placements, they both were still under contract, and hence their dismissal was "ineffective".
"Both assistants can work for the school, but we still need to hear an explanation from Ms Vanischa," he said.
Regarding Ms Vanischa's own future with the school, Mr Pramote said that was still undecided.
"At this stage, we cannot confirm that she will be transferred. We need to look further into this," he said.
Ms Vanischa, however, told the Phuket Gazette on Wednesday that she was not going anywhere and stood by her actions, saying she was doing the right thing by the school.
"I fired those two because they don't have any teaching qualifications," she said. "As we will soon have a qualified teacher provided by the Krabi PESAO, I see no reason to keep those temporary teachers on staff.
"Also, we have to collect money from parents to pay for those teachers."
Regardless, Mr Pramote said that his office will announce their decision by next Tuesday.
— Kritsada Mueanhawong