Phuket
Italy-Brazil duo win ITF beach tennis tourney in Phuket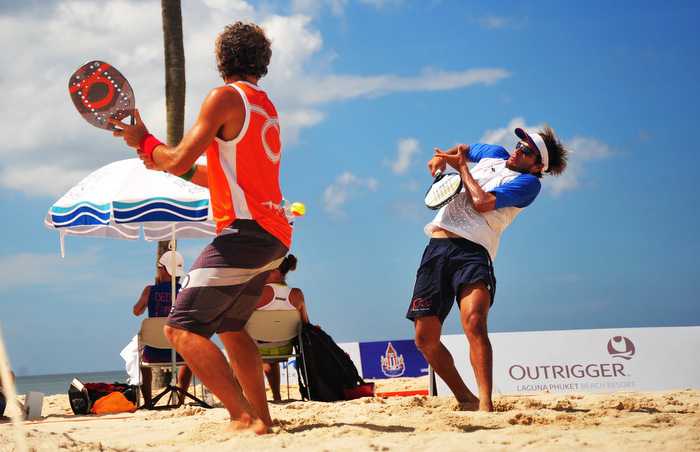 PHUKET: Alessandro Calbucci of Italy and his partner Vinicius Font of Brazil have been crowned champions of the inaugural Phuket Beach Tennis Tournament.
Calbucci and Font outplayed runners-up Nikita Burmakin and Sergey Kuptsov of Russia to win the ITF-sanctioned event, which was held over three days at the Outrigger Laguna Phuket Beach Resort at Bang Tao, culminating with the final on Sunday.
Maraike Bigmaier of Germany and Mathilde Hoarau of France were crowned champions in the women's event, outfoxing French duo Pauline Bourdet and Julie Labrit in their final.
The amateur tournament attracted 16 local teams from Thailand who battled it out for their slice of the 10,000 baht prize purse and the right to be crowned the first champions of this event.
The local entrants were competing against teams from around the world, inclusing Italy, Slovenia, Japan, the US and Venezeula (click here).
"The Phuket beach tennis event was a great success. Players and spectators enjoyed the whole experience. Outrigger looks forward to hopefully doing it again next year," said Tony Pedroni, general manager of the Outrigger at Phuket's Bang Tao Beach.
The inaugural event was part of the ITF-approved Thailand Beach Tennis Tour 2014, which included a second tournament in Hua Hin on December 9-11.
For more information about the tour, visit ThailandBeachTennis.com