Green-and-purple piddle puzzles police
PHUKET TOWN: A drug-test raid on restaurants and karaoke bars early yesterday morning along Wanich Rd produced 12 positive purple tests – and one new green-and-purple result that police had not seen before. While the 79 people who were tested went about their business as usual today, police puzzled over the unusual sample. "It was quite weird," said Pol Capt Akanit Danpitaksat, who made the raids with Pol Col Paween Pongsirin, Phuket Town Police Station's Superintendent, and 30 officers soon after midnight. "It separated into two colors – green and purple – which the Phuket Public Health Office [PPHO] called 'an emulsion'." Police speculate that it may indicate a new type of illegal drug but, as with all the tests, full results in a week may also show it was the result of some perfectly legal medication. Capt Akanit listed the raided venues as Nong Porn, Ruang Khao, Nong Jame, Poomtawan, Kanokporn, Pintida, Nong On, Nong Pu, Fonthip, Song Saow, Nidnoy, Thewa, Pink 2002, Sam Dao, Nong Sai and Karaoke 2003. Both customers and staff at the venues were involved in the testing. A PPHO staffer told the Gazette that the urine test kit was sensitive to chemicals in the amphetamine (ya bah) group but was also sensitive to some legal medication. "People with purple urine haven't necessarily used illegal drugs," the officer said.
Keep in contact with The Thaiger by following our
Facebook page
.
Bangkok Airways cancels all domestic flights from April 7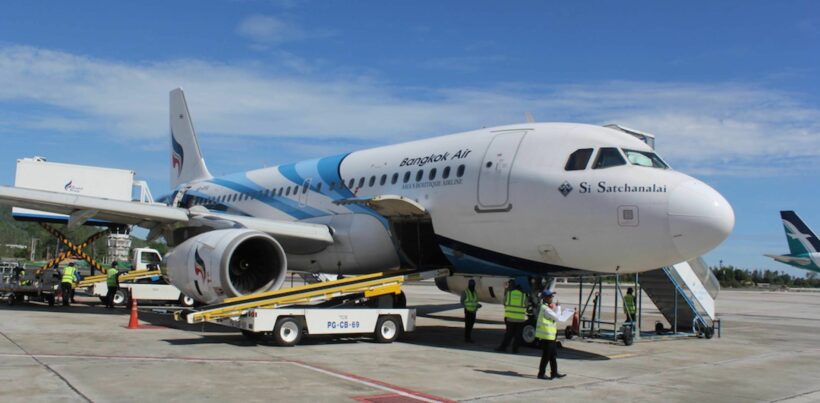 Bangkok Airways has announced today that they will cancel all it domestic flights from April 7 – 30. The company's vice president, Tresarum Sitakalin says the flights that are being cancelled are…
Bangkok – Chiang Mai
Bangkok – Phuket
Bangkok – Trat
Bangkok – Sukhothai
Bangkok – Samui
Samui – Phuket
"The company had previously decreased flight frequencies on these routes and also using some of their smaller ATR aircraft instead of their Airbus 320 aircraft."
"From April 7 onwards until April 30, we will cancel all flights."
Requesting for a refund can be done at www.bangkokair.com/refund or contact their ticketing offices at +662 270 6699 or Bangkok Airways Call Centre on 1771 . For passengers who purchased their tickets through travel agencies, please contact their travel agency directly.
SOURCE: The Nation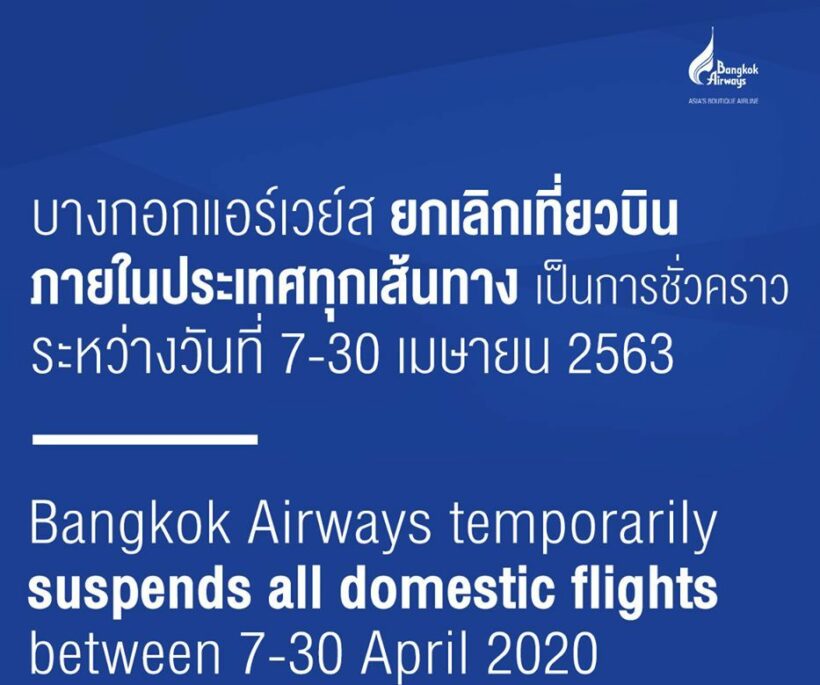 Keep in contact with The Thaiger by following our
Facebook page
.
Urgent repatriation notice for Swiss and German citizens as immigration rules tighten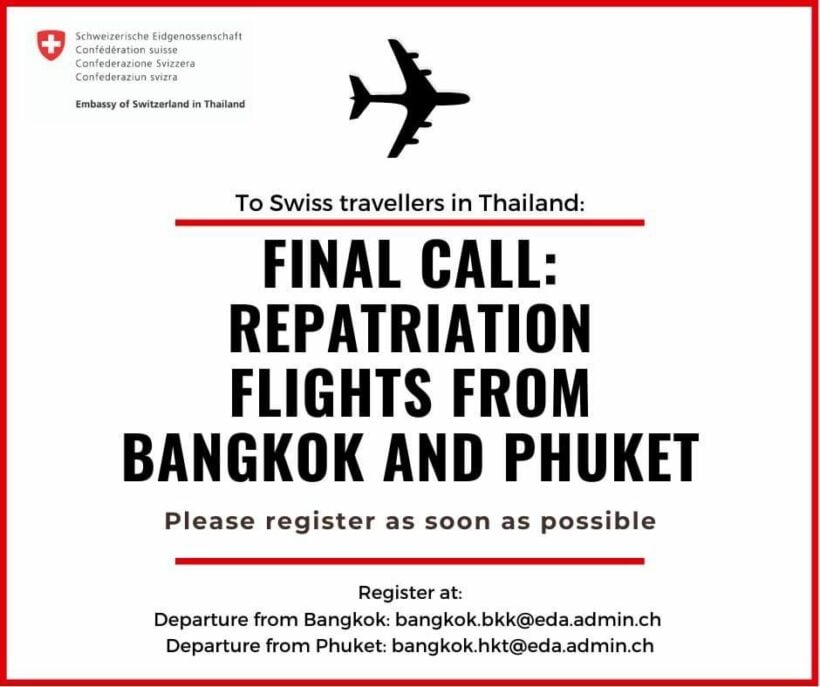 An urgent repatriation notice has been issued for Swiss and citizens in Thailand. According to Richard Barrow's Twitter feed, flights are being urgently chartered to evacuate citizens of both nations: A notice posted on the Embassy of Switzerlad's website reads…
For Swiss travellers in Thailand: Swiss charter flights from Thailand to Switzerland/update…
Bangkok – Zurich
– Good news: seats are still available for a 2nd charter on Sunday April 5 (at 13:05). To register, please send the requested information below for all concerned passengers to: bangkok.bkk@eda.admin.ch -> Deadline: Thursday April 2, 20:00
Phuket – Zurich
– The charter flight is now confirmed for Thursday, April 2, at 23:35. People who have registered will receive a confirmation soon.
– Good news: a few seats are still available. To register, please send the requested information below for all concerned passengers to bangkok.hkt@eda.admin.ch ->
Requested information to be sent…
1. Point of departure: Bangkok or Phuket
2. Family name, first name(s)
3. Date of birth
4. Passport number/Residence permit in Switzerland
5. Validity date of the passport or residence permit in Switzerland
6. Phone number where you can be reached at any time
• Please note that no health certificate is required to board on these flights. However, people with Covid-19 related symptoms are not allowed to travel. More information on these flights is available on our website (www.eda.admin.ch/bangkok)
A similar notise was posted for German nationals…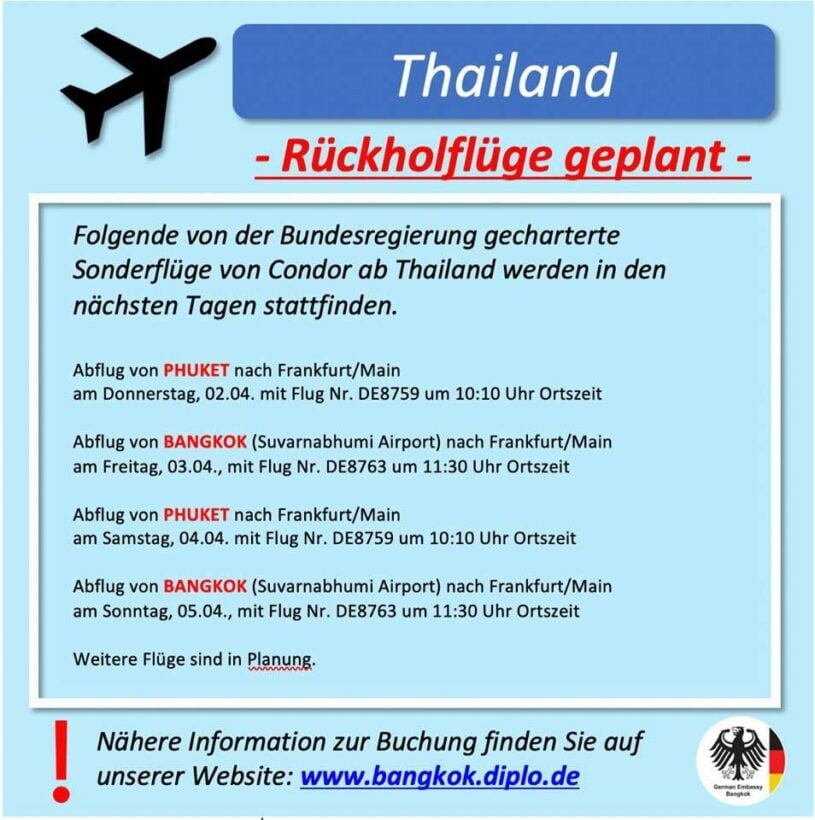 Due to the Covid-19 coronavirus crisis, travel restrictions and requirements in Thailand are sometimes difficult to navigate. One netizen told The Thaiger this morning that Immigration officials in Hua Hin were demanding the following for an extension of stay…
Application form (TM.7)

Fee 1,900 baht

2 photographs (passport photo)

Copy of applicant's passport (Data page, Visa page, Stamp page, TM6 card)

Letter of confirmation and request for a temporary stay from the embassy and consulate in Thailand

Proof of address: In case stay at Hotel – Letter of confirmation of stay from hotel – Hotel booking – Photograph of foreigner at hotel 2-3 pictures. In case rent a house/condominium – Rental agreement – Copy of Lessor's ID card and copy of Lessor's house book – Copy of house book from where you rent – Photograph of foreigner at house/condominium 2-3 pictures

In case of foreigner own the property – Copy of a house book – Copy of Title deed – Photograph of foreigner at the property 2-3 pictures

Map from house to immigration

Note: Foreigner must prepare all documents for 2 copies
SOURCES: Twitter | Embassy of Switzerland
Keep in contact with The Thaiger by following our
Facebook page
.
Drug party raided in Chiang Rai for defying public gathering ban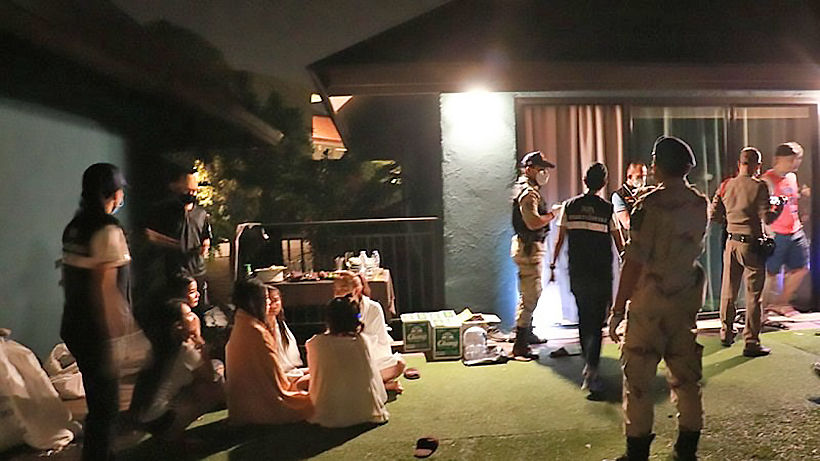 Authorities are cracking down and enforcing the ban on on public gatherings under the the state of emergency declared to fight the Covid-19 coronavirus epidemic last week. 22 people were arrested at a drug party in Chiang Rai yesterday for "gathering in defiance of the Emergency Decree". 10 men and 12 women between the ages of 20 and 30 were nabbed at a hotel in the province's main city district.
(Gamblers also arrested in Phuket, below)
The 22 were attending a pool party where alcohol and drugs such as ecstasy and ketamine were allegedly being sold. Police confiscated 237,000 baht in cash found in a bag, along with illicit drugs for evidence.
An initial investigation showed that a 24 year old man from Trat province in Thailand's east, on the Cambodian border, had been holding parties at the hotel since last Thursday. It's believed he started holding the parties because most public venues are unavailable during the virus scare.
Chiang Rai's governor says police raided the hotel in tambon Tha Sut after a tip-off.
Apart from drug charges, the detainees will also be punished for defying the Emergency Decree, which bans gatherings. The penalty is two years in prison and/or a fine of up to 40,000 baht. Chiang Rai has 5 confirmed coronavirus cases.
In a related development, 6 gamblers were arrested in Phuket near the island's Muang district yesterday.
The detainees were identified as 51 year old Natthawut, 55 year old Suwit, 40 year old Charoon, 48 year old Praiwan, 28 year old Natthapol and 39 year old Natthapong. No surnames were added to the report. Police say that while some were wearing masks to potentially protect themselves from the coronavirus, they were violating the Emergency Decree by sitting around a table to play the games. Gambling is officially illegal in Thailand, apart from the bi-monthly lottery.
SOURCE: Bangkok Post
Keep in contact with The Thaiger by following our
Facebook page
.