Phuket
Gov inspects Phuket migrant worker camp, gives it 80-per-cent rating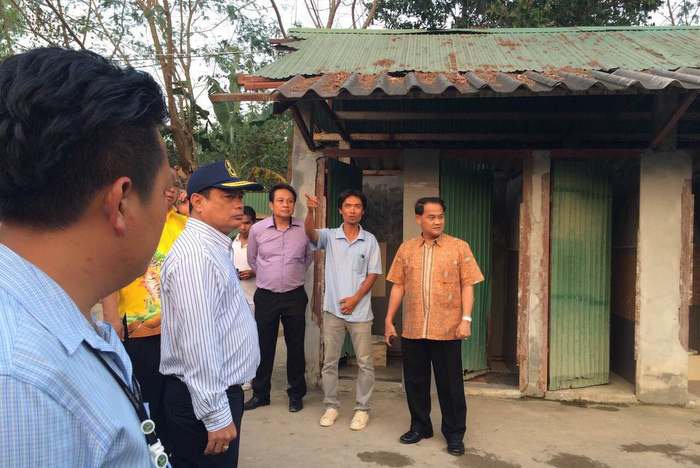 PHUKET: Governor Nisit Jansomwong led an inspection and health advice session at a workers' camp in Chalong yesterday, as a first step in improving conditions at the more than 200 camps in Phuket.
The inspection follows a meeting last month in which the governor announced his goal to improve health and safety standards at the island's worker camps (story here).
Governor Nisit – along with military personnel; officers from the Phuket Public Health Office; and officers from the Labor Protection and Welfare Office – visited the Trimit Vitsavakam construction company camp at about 5:30pm.
During the inspection, health officers gave the workers advice about hygiene, contraception and general welfare. Those living in the camp also received vaccines for Tetanus and Diphteria.
"This is the first time I have visited this camp, so it is hard for me to accurately gauge the quality of life here. However, if I consider all of the junk lying around, the messiness of the rooms and camp, as well as the smell of trash, I would say that it meets only 80 per cent of my standard," said Gov Nisit.
"The foul smell, as well as the dirty water, which the migrants bathe with, are examples of things that need to be improved for the camp to get a better rating."
Gov Nisit confirmed that officers would be sent to inspect camps on a regular basis.
"If they find anything disconcerting, the manager of the camp will have to make the necessary adjustments to get the living areas up to standard," Gov Nisit said.
During the inspection, the governor outlined his general ideas for improving the quality of life at all of the island's worker camps:
1. Improving the entrances and exits of the camp so that they are safe and usable in case of an emergency
2. Inspecting and preventing any criminal activities
3. Inspecting for drug use
4. Improving hygiene, including tackling sources of foul smells
5. Finding a proper way to dispose of any waste
6. Checking every migrant worker's work permit and identification card for validity, and making all camp managers aware of the laws regarding migrant workers
"Phuket has 226 migrant worker camps. There are 108 in Phuket Town, 16 in Kathu and 102 in Thalang. There are more than 10,000 workers in Phuket, who come from Myanmar, Laos and Cambodia," Gov Nisit explained.
"We are aware of how important it is to improve these workers' quality of life while they are living here, and we want to do it properly."
— Kritsada Mueanhawong