Get tested: Phuket cancer survivor says you could be next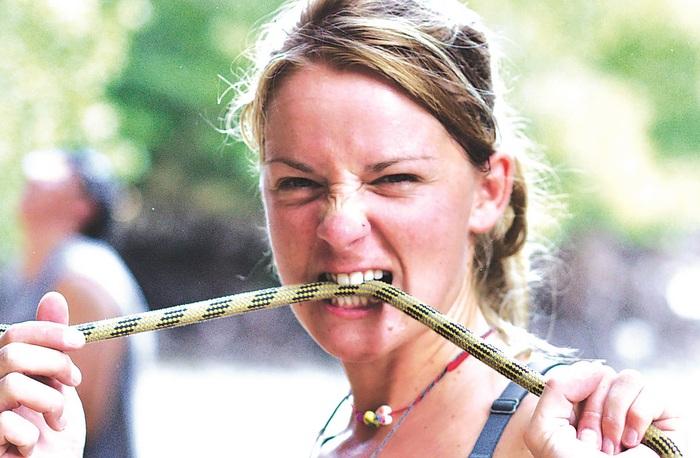 PHUKET: The months leading up to July 2015 were the self-described happiest times of Nora Galgoczy's life. The 29-year-old Hungarian expat was freediving, climbing and in love. She also had cervical cancer, but she didn't know it.
"I expected that I would feel something: something odd, something bad or just something. I thought cancer didn't attack people like me," Ms Galgoczy explained the Phuket Gazette, just weeks after being given the 'all clear' by doctors following six months of physical, mental and emotional trauma.
Worldwide, cervical cancer is the fourth most frequent cancer in women, with an estimated 530,000 new cases in 2012. The World Health Organization (WHO) estimates that there are more than 270,000 deaths from cervical cancer every year.
In 2012, the mortality rate from cervical cancer was 52 per cent; that's worse odds than a coin flip. It didn't take long for Ms Galgoczy and her partner to recognize this fact; though coming to terms with it took much longer.
"We were just sitting on the balcony, and trying to figure out what to do today And I remembered that there was the health checkup package at the hospital and said, 'let's do that'. It would be fun to have a paper stating that we were both healthy. It was not necessarily a joke, but it wasn't entirely serious. It was about STDs [sexually transmitted diseases] and stuff," Ms Galgoczy said.
It was a fairly new relationship and the couple hadn't had 'the' conversation about STDs yet. They headed to Phuket International Hospital for the routine checkup.
While figuring out which checkup to get, Ms Galgoczy spotted one that included some tests that would also check for cancers. She thought, why not?
"It was basically just to get that out of the way. I had no idea or anticipated results coming back positive," Ms Galgoczy said. However, the tests came back with markers for the STD Human papillomavirus (HPV), which is the cause of 70 per cent of all cases of cervical cancer.
"I was concerned when I got the blood test, but my partner quickly did the research, and said that basically everyone has it," said Ms Galgoczy. "I was nervous, but thought it [getting cancer] couldn't happen to me. It could happen to other people, but not me. I was just going to go back, get more tests done and find out that it was just a scare."
It wasn't.
"The doctor had worry on his face, and I saw it. We sat down and he came up with all these pictures. 'This is what is happening to you,' he explained. Then he said the word 'cancer' and I blanked a bit," Ms Galgoczy said.
After further testing, the doctor informed Ms Galgoczy that she very likely had Stage 3 cervical cancer.
"I thought I might die. Not for a long time, but I did think I might die. Then I thought I'll live. I knew it will be a hell of a ride, but I will live. Then I thought I won't die, but I won't really live either… I thought of chemo, surgeries, hospital life, always on drugs and so on," Ms Galgoczy said in a post on Facebook that was, in fact, a call for action. "There is an epidemic of cervical cancer in women and very few people are talking about it."
There are more than 100 strains of HPV, with two types (16 and 18) of the STD being linked directly with cervical cancer. The virus itself is as common as the common cold. If you're sexually active, you most likely have it or have had it, but that hasn't stopped the stigma.
HPV is mainly transmitted through sexual contact and most people are infected with HPV shortly after the onset of sexual activity, reports WHO. However, it could take up to 15 to 20 years for an HPV-16 or HPV-18 infected individual with a healthy immune system to develop cervical cancer. Strains of HPV are also connected to cancers of the anus, vulva, vagina and penis.
"People are ashamed to talk about it. First of all, I had cervical cancer. That's your female parts; that's not something you want to talk about in any kind of setting, not in the sense that my female parts are so unhealthy that they have to be removed. It's not a nice thing to admit to yourself, to go through with your partner and then to talk about," Ms Galgoczy said. "But it is important to talk about it, because people still think it can't happen to them, like I did. Every time you hear someone's story, it gives you a little nudge in the right direction and maybe this time someone hears it, and it will be the last final push to get them checked."
The stigma surrounding cervical cancer isn't just the fact that it is about a part of the body not discussed by 'polite society', it's also the direct connection to an STD, and the general public's ignorance about the commonness of HPV.
Adding to the stigma is the fact that the contraction of an STD comes with the assumption that an individual failed to have 'safe sex'. However, HPV is so common because there are no fool-proof, safe-sex options. The proper use of a condom isn't totally effective. In fact, penetration isn't necessary for the transmission of the virus.
"The root of the STD stigma is the gender-based, double standard of sexual morality: male social status typically increases as their number of sexual partners increases, whereas female social status typically decreases. As a society, we still place a high value on female virginity/chastity and on male sexual conquests," Adina Nack, a senior research fellow for the Council on Contemporary Families and author of Damaged Goods? Women Living with Incurable STDs, explained in an email to The Daily Beast back in 2014. "My research found that infected women most often used the word 'dirty' to describe how they felt after receiving an STD diagnosis."
All forms of sexual activity have risk of HPV, which is something that needs to be embraced by both genders, explained Mildred Chernofsky, gynecologic oncologist at the Sibley Center for Gynecologic Oncology and Advanced Pelvic Surgery.
"The message is for women to get regular checkups and co-testing with the Pap [Papanicolaou] and HPV tests for women 30 and over every five years," Dr Chernofsky told A Woman's Health. "Girls and boys, ages 9 to 11 should get the HPV vaccine, as well as men and women up to age 26. The vaccine has greater efficacy when received at an early age when sexual activity has not yet begun, but there is still some benefit in people up to age 26, even if sexual activity has started."
The need to get tested is exactly what made Ms Galgoczy face fears of being ostracized due the stigma surrounding HPV and cervical cancer.
"I hated people seeing me like that [incredibly weak]. I felt pitied. People came around to sympathize, but they didn't get it. They didn't get checked," said Ms Galgoczy. "When they came around, they thought, 'poor thing'. But they thought they were different."
On February 18, Ms Galgoczy was declared cancer free. However, she didn't do anything special to beat cancer. She got lucky, which made the process all that much harder.
"A coincidental check-up saved my life and I am really sad that it was not a conscious decision from being aware of the dangers. It was pure luck and nothing else. I was totally stupid. And I am aware that there are other stupid people around me and around you," Ms Galgoczy said.
"So, please take a moment to remind your friends, family and loved ones to get their tests done and get the vaccination, if there is one, without delay and talk loudly about their cases if they were diagnosed, as there is no shame in this, only responsibility to raise awareness so others can avoid making mistakes.
"I became a hero because I beat cancer; I was an inspiration for those still fighting cancer, giving them hope. But that's not the point. It's about prevention. It's about people realizing they aren't different. Even if they don't smoke, that doesn't mean it can't happen. It's about people taking preventative measures and not waiting until it's too late. Had I waited two more months, it could have been too late for me."

— Isaac Stone Simonelli

Join the conversation and have your say on Thailand news published on The Thaiger.
Thaiger Talk is our new Thaiger Community where you can join the discussion on everything happening in Thailand right now.
Please note that articles are not posted to the forum instantly and can take up to 20 min before being visible. Click for more information and the Thaiger Talk Guidelines.