Expert demonstrates power of rip current at Phuket's deadliest beach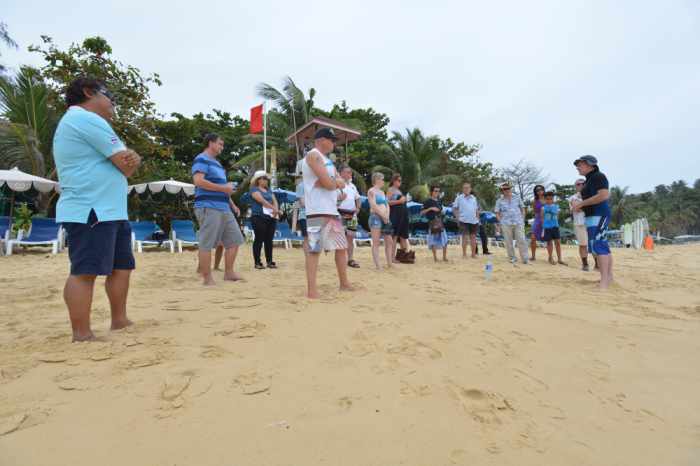 PHUKET: It's that time of year, when the dark moisture-laden clouds tumble into this island paradise and the sea turns into frothing, churning mayhem. But that doesn't stop people from jumping in for a little dip and next thing they know the beach has dropped out from beneath their feet and constant pounding waves start to wear them out.
Such is the experience hundreds of beach-goers have on Phuket beaches every year. Fortunately, the majority find their way back to safety or are plucked from the pull by one the island's trusty lifeguards. Dozens every year are not so lucky.
However, there are a group of people who are trying to make Phuket's beaches safer. One such person is Phuket Lifeguard Club patron and supporter Jayne MacDougall.
Recently, Ms MacDougall arranged for well-known coastal geomorphologist and Senior Lecturer at the University of New South Wales in Sydney, Australia Dr Robert Brander to visit Phuket's beaches, teach a short workshop about rip currents and offer his recommendations.
Dr Brander, aka "Dr Rip", spoke on Karon Beach to a group of about 12 people, including three Phuket Lifeguard Club members. He gave a 20-minute lecture about how to identify rip currents and escape them, and gave other beach and water safety tips. The main attraction, however, came afterward when he released a bright purple dye into the surf as a visual demonstration of a rip current.
"I studied beaches in Canada and did my master's there. I took a year off and went to Australia, went to Bondi Beach, and my friend pointed out this rip current and I couldn't see it. I thought, hang on, how can you study something if you can't see it, and that triggered my interest," explained Dr Brander.
"I've come to Thailand many times on holidays and I've heard about a lot of these rip drownings in Phuket and my research is all about learning more about what we can do to prevent rip drownings by understanding people's awareness levels," says Dr Brander.
Another goal of Dr Brander's visit in Phuket is to collaborate with the Phuket Lifeguard Club to secure funding to launch more safety initiatives in Phuket.
"I've spent a lot of time looking at the beaches [in Phuket], mapping the beaches and learning more about them… We hope to get some funding next year to come back and do a survey of locals, Thai and international tourists to find out where their knowledge of rip currents is and then use that to develop some safety information."
Dr Brander grabbed a bucket with what looked like a kilo of coffee grounds and began wading into the sea. In chest deep water he stirred some water into the bucket and released the contents, which immediately turned bright purple.
"I put the dye in fairly close to shore and right away they can see just how fast it moves off-shore and they can see how far it goes and they can appreciate that 'if that was me, that's what would happen to me'," says Dr Brander of the dramatic demonstration.
Within seconds, the small harmless cloud of purple turned into a long plume which stretched out beyond the pounding surf.
"A lot of people drown in rip currents, not only in Phuket but around the world. Any beach that has a lot of breaking waves can have rip currents. But so many people just do not know what rips are – they think they get pulled under by rips, they think they are called rip tides. You can explain all of these things, but the best thing to do is a visual demonstration."
The demonstration left no question as to which direction the currents were flowing and how quickly.
"What triggered my interest in going from science to beach safety is I saw so many people drown in rips where it shouldn't have ever happened. I realized that people didn't have the basic knowledge that I had and so I thought that it is not hard to teach people and the dye is just such an effective method," said Dr Brander, explaining how he came to be called "Dr Rip".
Phuket Lifeguard Club President Prathaiyut Chuayuan was present with two other club members to witness the demonstration. He expressed concern and frustration with the number of people in the water regardless of red flags, danger signs and repeated warnings from lifeguards.
With continuing education and more resources to give foreign tourists the knowledge to stay safe, Dr Brander and Mr Prathaiyut both believe that many deaths on Phuket beaches can be averted.
As the purple dye stretched thin beyond the red-flag-dotted beach, three swimmers entered the water directly behind a prominent "No swimming sign". In waist-deep water, one girl was obviously being pulled by the strong current but was able to get her footing and retreat into shallow water.
"That's why I do it, because rip drownings are avoidable – if you don't get in one, you won't drown in one."

For more information about rip currents, visit Dr Brander's site: scienceofthesurf.com
Keep checking the Phuket Gazette, join our Facebook fan page or follow us on Twitter @PhuketGazette for the latest news updates.

— Jeremie Schatz
📱 Download our app on Android or iOS for instant updates on your mobile
📧 Subscribe to our daily email newsletter
👍 Like/Follow us on Facebook
🔔 Subscribe to or Join our YouTube channel for daily video updates
Expats condemn Phuket's "xenophobic" rapid-test payment policy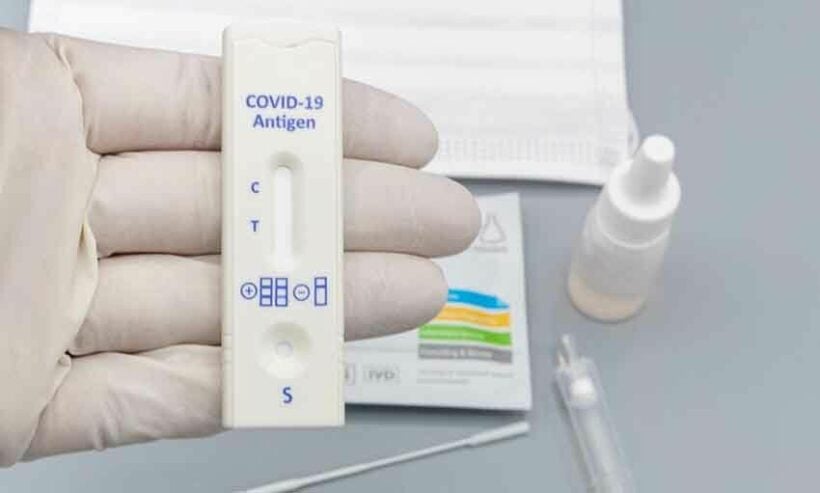 Expats living in Thailand are up in arms after Phuket officials confirmed that foreigners arriving on the island would have to pay for a rapid Covid-19 test that is free for Thais. The testing requirement is part of new restrictions now in force to combat the spread of the virus. However, it is not the cost of the test – 500 baht – that has angered so many expats, but the fact that officials see nothing wrong with charging people based on their nationality.
On Monday it was announced that EVERYONE arriving in Phuket would have to pay 300 baht if they needed the 'rapid covid test'. But that was amended the next day. Now we have the latest example of 2-tier pricing in Thailand (below).
The news was shared by travel blogger Richard Barrow on his Facebook page and has so far generated over 430 comments (and still growing), most of them furious…
"Unbelievable. I know Thailand is xenophobic, but for the authorities to do that is an absolute disgrace. They can piss off. I'll take my business elsewhere in future."
"I pay Thai taxes, I have for 16 years! am happy to bring my money elsewhere then!"
"Phuketians: "Tourists please come back." Also Phuketians: "500b khap."
It was not just foreigners commenting however, with at least one Thai person condemning the policy…
"I feel so so ashamed of how my country (or its government) so desperately wants more money to continue their corruption. Any possible ways they can rip you off – they will do shamelessly."
Effective yesterday, anyone flying in to Phuket from elsewhere in the country must take a rapid Covid-19 test, unless they have taken a negative PCR test within the last 72 hours or can prove they've received both doses of a Covid-19 vaccine. With less than 1% of the country vaccinated – almost none of them foreigners – the second requirement is unlikely to be met by many.
Foreigners who have to take the rapid test, regardless of whether they are tax-paying work permit holders or retirees contributing to the economy, long-term residents or married to a Thai, will have to pay 500 baht. For Thais, it is free. The focus of expat anger is not the cost, but the principle, which is being roundly condemned as xenophobic.
Foreigners employed in the Kingdom in particular, are angered, given that they have been paying tax for years and have social security coverage. In response, Phuket health officials have issued an "explanation" – that manages to explain very little.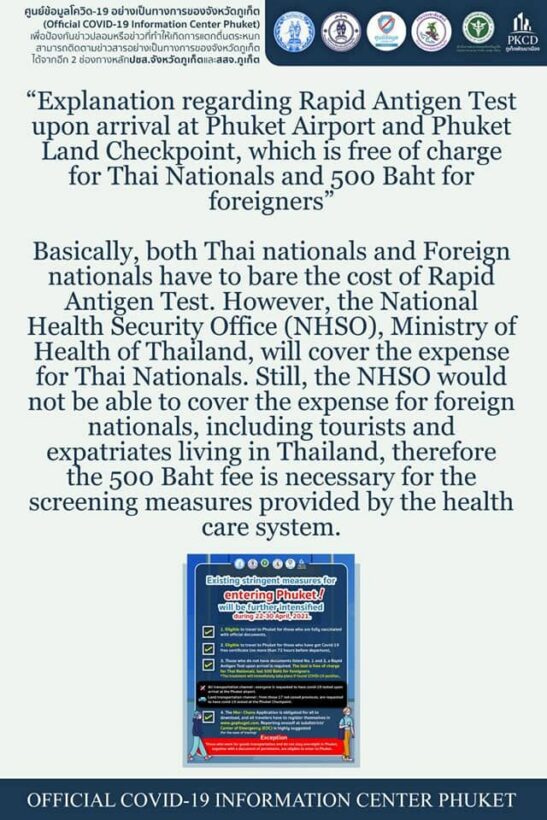 Meanwhile, while the new restrictions apply to everyone arriving by air, for those arriving by road, only people coming from the high-risk "red" provinces need to meet the entry requirements.
And, just as a footnote, if your rapid covid test conducted by airport officials happens to come back positive you will be whisked away to a Phuket field hospital for a 14 day stay.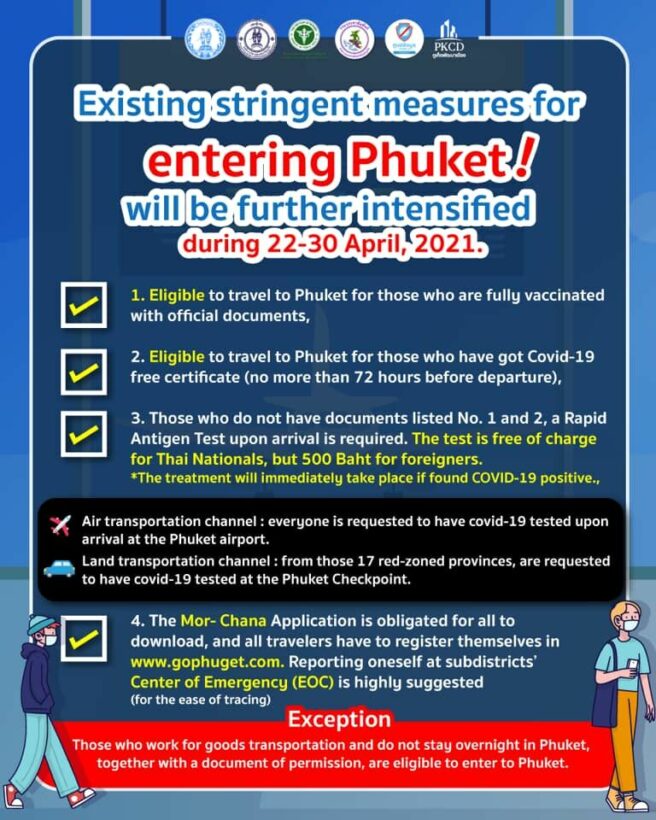 SOURCE: TPN
📱 Download our app on Android or iOS for instant updates on your mobile
📧 Subscribe to our daily email newsletter
👍 Like/Follow us on Facebook
🔔 Subscribe to or Join our YouTube channel for daily video updates
Thailand's covid vaccine passport – will it only be used for travel?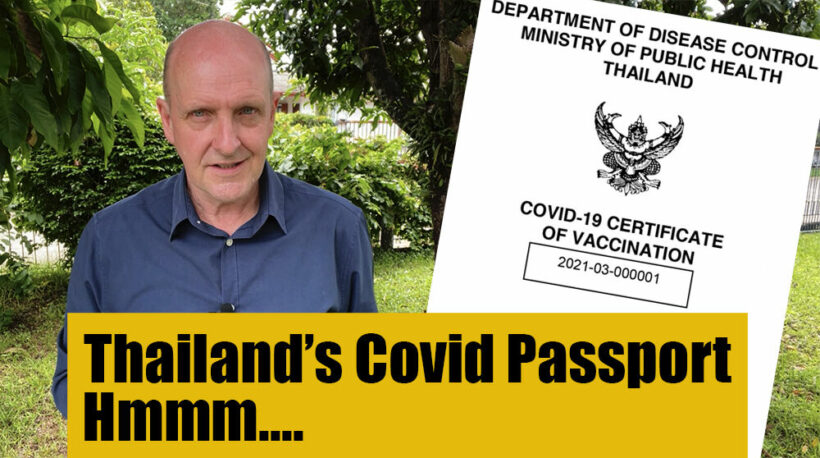 Hi. Im Tim Newton. Just upfront saying that these are my personal opinions and don't necessarily reflect that of The Thaiger.
So today the Thai Government now has officially announced vaccine passports. The documents are going to be the next big thing in the long and winding Covid road. Firstly, before some comments, the details that we actually know.
This Covid passport legislation has now been announced in the Royal Gazette, so it's not being considered, it's actually law. According to media info, the vaccine passport will be an official document which can be used by vaccinated people travelling abroad.
I fear this Covid passport will end up as just another victim of the unintended consequences. The benefits, mostly intended for international travellers, will be used as another way of whittling away our remaining privacies and adding another layer of little annoyances to life and work in the Land of Smiles.
Look at the vaccine roll out in Thailand. Usually a business should try and under-promise and then over deliver. In this case the Thai government have done the exact opposite. Timelines for vaccination are not being met and the ordering of vaccines appears chaotic and, at best, just slow in getting to the startline.
The PM has rushed to assure the citizenry that the delays have been caused by an abundance of caution. And unfortunately the 2 horses they've backed in the vaccination race are having a few bad PR days and neither may be a long term solution to the latest variants of Covid-19 spreading around Thailand. But I'll let the scientists sort that out… certainly not the legion of instant vaccine experts that have now infected the internet.
I'm all for trying to get the country open again, as soon as practicable, and safe to do so. But I'm starting to think the best course of action is to lock my gate and resort to an online worklife and Food Panda… the mad foreign guy locked up in his house with his 3 cats.
Here in Phuket we now have an arrival regime that demands either proof of vaccine, a negative Covid test, or a 300 baht rapid Covid test at the airport. The chances of me subjecting myself to an airport officials sticking a swap up my admittedly large nose in the vague hope it will probably come back negative, is zero. Again, on a daily basis we get emails from foreigners who say they've been whisked away to hospitals, and more recently field hospitals, with no recourse or means of appeal, or even the chance to get a second test.
Here's one from this morning…
I can't call the embassy as I don't have a SIM card, I also have been told to order outside food as they won't feed me. They won't provide me with my test results and told me that I'd need to stay 14 days here in quarantine, but the doctor I talked with yesterday said 5 more days. I'm so confused as to what to do next.
Now, stripping all this back to basics, I'll concede that we're all in this mess together at the moment, and that we may have to forego a few personal freedoms for the greater good. I have no issue wearing a mask in public. I have no worries leaving my phone number at the door when entering premises. I will do my best to stay socially distant when in public.
But all these restrictions are easy to ramp up and much harder to wind back. And, at a deeper level, our trust in institutions, governments, and medical officials is being eroded. And that's not good as we stumble forward in trying to get the world open again.
Will I get a vaccine passport? Probably. And I'll also expect to have to carry it everywhere I go as it's used as just another reminder that I'm just a guest in this country and I better just get used to it.
📱 Download our app on Android or iOS for instant updates on your mobile
📧 Subscribe to our daily email newsletter
👍 Like/Follow us on Facebook
🔔 Subscribe to or Join our YouTube channel for daily video updates
Phuket requires Covid-19 vaccination or 72-hour test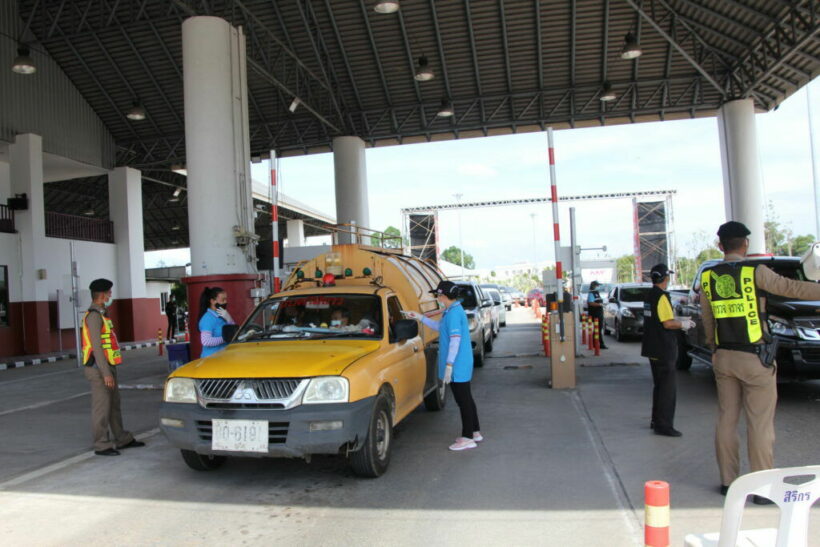 To help wrangle the spread of the Covid-19 outbreak in Phuket, strict controls for everyone entering the island go into effect today until the end of April. The provincial communicable disease committee approved the measures in an effort to stop the proliferation of Covid-19 in the province.
The new regulations state that only people who have received both doses of the Covid-19 vaccine or have tested to be Coronavirus-free within 3 days of arrival, will be allowed to enter Phuket. Proper certification or documentation must be presented to verify this information – either a Covid-19 vaccination certificate or the results of a recent negative Covid-19 test.
Anyone attempting to enter Phuket without the full vaccine doses, or a negative Covid-19 test within the last 72 hours, will be charged 500 baht for a rapid antigen test at their port of entry. For Thais, the cost is free. The 2-tier price policy has been slammed by expats and other foreigners in the country. Read HERE.
These tests generate results in about 15 minutes and then negative-tested visitors will be allowed to proceed. If a person receives the test and is diagnosed positive for Covid-19 they will be sent to medical facilities immediately for treatment.
All entrants to Phuket are also required to use the Mor Chana Covid-19 contact tracing app to check in and record their travel timelines. That mobile app is available at gophuget.com.
The new restrictions apply to local and foreign travellers except for people making deliveries that are not staying overnight. Those people will get a special certification from their companies to present at the checkpoint entrance to the island.
Phuket is now classified as a Red Zone province, one of 19 provinces throughout Thailand where infections are on the rise. 208 current Covid-19 infections were registered at the start of this week in Phuket.
In response to the increasing Covid-19 infections in Phuket, Surat Thani has made special restrictions for anyone travelling from Phuket to Surat Thani. Those people will be required to scan and register their trip through the "Save Surat" website before being quarantined for 14 days.
SOURCE: Thai PBS World
📱 Download our app on Android or iOS for instant updates on your mobile
📧 Subscribe to our daily email newsletter
👍 Like/Follow us on Facebook
🔔 Subscribe to or Join our YouTube channel for daily video updates