Thai society, Phuket struggle to survive a bender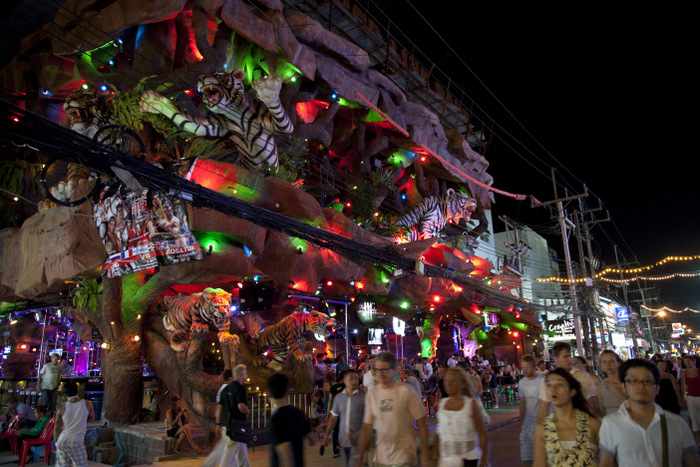 Special Report
Thailand consumes more than twice as much booze as the average Southeast Asian country, and faces the multitude of problems that come along with it, according to the World Health Organization and Phuket experts.
Here, the Phuket Gazette's Chutharat Plerin investigates.
PHUKET: A barrage of statistics released by the World Health Organization (WHO) in its "2014 Global report on alcohol and health" detailed a growing trend in hard liquor consumption in Thailand, a trend which health experts have linked to a range of domestic, society and health problems in the country.
Phuket Provincial Health Office (PPHO) Chief Dr Kajohnsak Kaewjarus confirmed to the Gazette on Monday that the island has a drinking problem.
"Phuket is a province with one of the highest levels of alcohol consumption. Many people, Thais and foreigners alike, holiday here to have fun and take part in the island's nightlife," Dr Kajohnsak said.
Alcoholism is an issue for society as a whole, he explained, as it can lead to further problems, including crime, unchecked aggression, mental sickness and joblessness.
"This affects families' and individuals' health. It is also very expensive to pay for treatment," he said.
The WHO report gave Thailand the highest rating possible for the number of "Years of Life Lost" as a result of alcohol consumption based on 2012 data. Deaths from cirrhosis of the liver totalled 28.2 per 100,000 citizens for men and 8.7 per 100,000 for women. The death rate for road accidents using the same ratio was 70.3 for men and 18.5 for women.
The effects, however, are not limited to those partaking in spirits, beer and wine. It also affects their peers and loved ones.
"Alcohol is the number one reason for domestic violence, including violence against women and children," Jiranun Cheamcharoen, Director of Phuket Shelter for Children and Families on Koh Sireh, told the Gazette. The center functions as one of the One Stop Crisis Centers in the province.
Alcohol consumption leading to violence is not just a Phuket-specific problem though, Ms Jiranun pointed out, it reaches far beyond the island's coasts.
HOW MUCH IS TOO MUCH?
The latest global average of pure alcohol consumption is 6.21 liters per capita, but the figure for Southeast Asia is 3.4 liters per capita – less than half of Thailand's consumption rate, reported The Nation.
Thailand's average consumption rate of pure alcohol per adult (15 years and older) increased from 6.8 liters between 2003 and 2005 to 7.1 liters between 2008 and 2010.
"This is even more startling when you consider that 70.3 per cent of Thais are recorded as abstainers. The remaining 30 per cent more than make up for those who don't drink," David Swartzentruber, who was a clinical psychologist in the United States and has dealt extensively with the medical and social issues that result from alcoholism, wrote in The Nation.
"The total alcohol consumption for Thai men in 2010 was 30.3 liters of pure alcohol and for women, 5.2
liters."
Given the statistics, it becomes clear why Ms Jiranun from the OSCC pointed her finger at men as the main cause of drinking-related domestic violence in Phuket.
"Men should have more common sense. They should be gentlemen to the people around them and understand their roles as a husband and a father," Ms Jiranun said.
"This problem will continue forever unless people are conscious of the issue, and learn what they must do to control themselves when they are drinking."
THE LAND OF SPIRITS
Of all the kinds of alcohol available in Thailand, the trends for types consumed are a near inverse of those seen in western countries.
In Thailand, 73 per cent of the alcohol consumed is in the form of spirits, 27 per cent is beer and less than 1 per cent is wine. In the US, consumption is broken down to 12 per cent spirits, 40 per cent wine and 48 per cent beer. Myanmar, Thailand's neighbor, has statistics more similar to the US: 12 per cent spirits, 6 per cent wine and 82 per cent beer.
Price per serving of alcohol in Thailand is much cheaper for spirits than it is for wine and beer, Mr Swartzentruber pointed out.
A 750ml bottle of wine in Phuket can be tracked down for 400 baht and deliver five servings. However, a 700ml bottle of one of the more popular Thai whiskeys provides about 17 servings for a much cheaper 271 baht.
Ruang Khao white spirits (more commonly known as lao khao), the world's second largest spirits brand according to trade publication the Shanken Daily Report, can be found for 99 baht per 700ml bottle.
In 2013, Thailand saw a change to excise tax on alcohol, one that significantly increased taxes for beer and wine, but only marginally increased taxes on spirits, Mr Swartzentruber explained.
TAXING SOLUTIONS
Phuket Excise Office (PEO) Chief Pairuch Kulima noted that raising the taxes on spirits even more could help prevent the quantity of consumption, which might lead to the lessening of alcohol-related problems within Thai society.
"I believe that raising taxes could prevent people from buying it and might stop new drinkers from picking up the habit. It could also encourage long-time drinkers to stop," Mr Pairuch said.
"However, people feel very differently about this. Some people want the entire alcohol industry shut down and while others refuse to let that happen.
"It's a delicate issue. Everyone must work together to determine what is best for our nation."
Dr Kajohnsak from the PPHO argued that education and strict control on advertisements were the solutions, rather than raising taxes on spirits, as suggested by Mr Pairuch and Mr Swartzentruber.
The PPHO receives about 50,000 baht per year for anti-alcohol campaigns in Phuket.
"People need to learn about the dangers of alcohol. There should be seminars to educate people, especially students," Dr Kajohnsak said.
"Strict control on advertisements, as well as no longer using alcohol during celebrations, would also help."
The experts have spoken and are in agreement that alcohol consumption, especially that of hard liquor, is staggeringly high in Thailand and can lead to devastating effects – socially, mentally, economically and physically.
From preventing excessive consumption through education to controlling promotion through advertisements to even halting possible purchases through raised taxes, the doctors, psychologists and health officials alike share at least one common goal: to raise awareness of the issue and its consequences.
— Chutharat Plerin
Keep in contact with The Thaiger by following our
Facebook page
.
Southern Thailand braces for rough weather and rain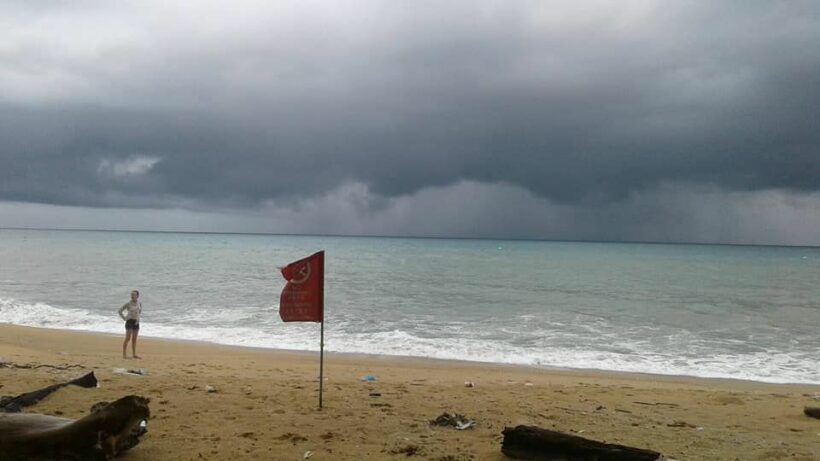 The Thailand Meteorological Department issued a weather warning for southern Thailand with torrential rain forecast to hit the region throughout the weekend. The heavy monsoon over the Gulf of Thailand and south of the country is being blamed for the rough weather, with the TMD predicting flash flooding in many areas.
(Phuket, Hat Yai and Hua Hin's forecast below)
"Waves are expected to reach 2 metres in height in the lower Gulf of Thailand and possibly higher at the height of the storm. Ships are advised to proceed with caution."
For the north and northeast of Thailand, the TMD forecasts strong winds and cooler mornings as the arrival of the "winter" season, coupled with a moderate high-pressure system, causes temperatures to dip.
Hua Hin's five day forecast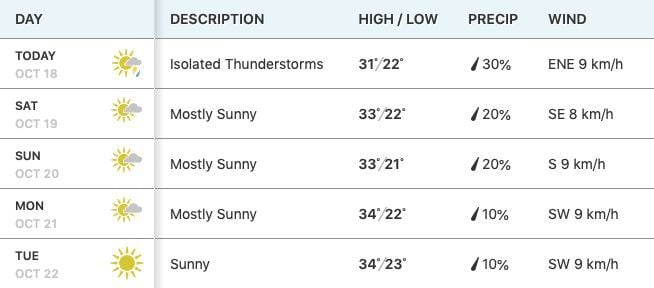 Phuket's five day forecast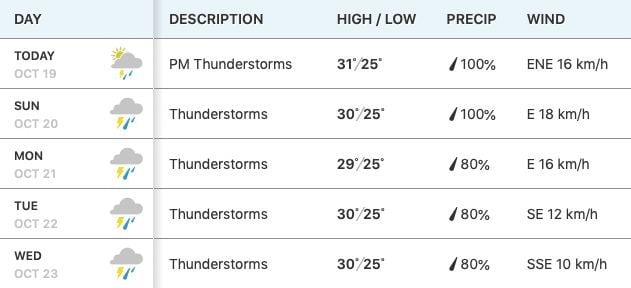 Hat Yai's five day forecast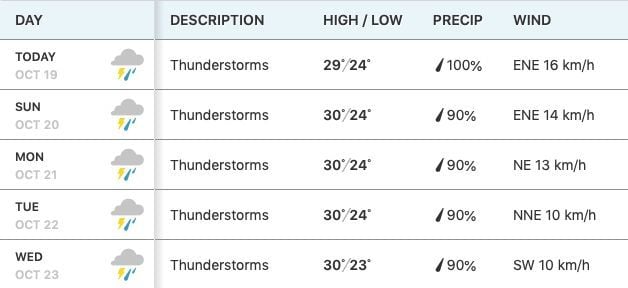 SOURCE: The Nation | weather.com
Keep in contact with The Thaiger by following our
Facebook page
.
Now you see him, now you don't… Patong Police hunt foreigner over $30k theft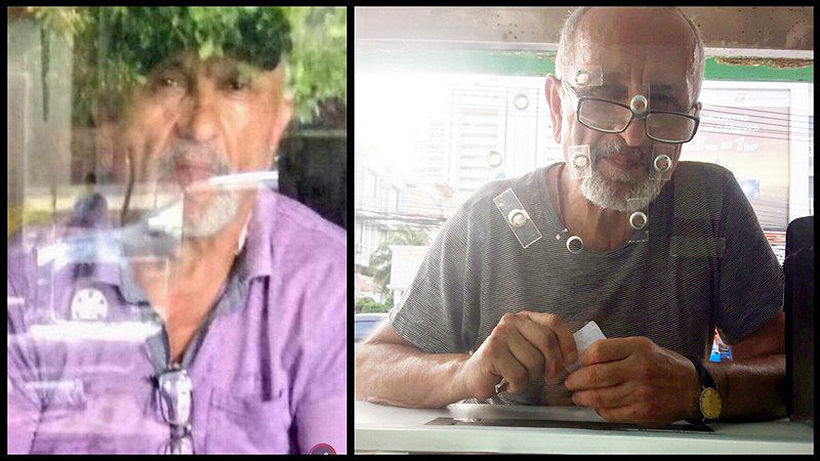 PHOTO: Patong Police
Patong Police have yet to develop any tangible leads tracking down a foreigner who made off with US$30,000 in cash from a currency exchange booth in Kalim, north of Patong in Phuket, last Tuesday.
The man is about 168 centimetres tall with grey hair and around 60 years old, Patong police told The Phuket News.
"We have no clue what nationality he is."
He was last seen at the currency exchange booth wearing a purple polo shirt, blue jeans and black cap. Police have checked hotels in the area, police stations across the island and Phuket Immigration, but have yet to join the dots and come up with firm leads.
"Investigators have checked CCTV in the area and collected what evidence we have but we still do not know the man's name or where he was staying."
The man had visited the booth several times before Tuesday, when he disappeared with the $30,000 in US banknotes, according to police.
"It was always small amounts", he added, noting that the amounts didn't warrant staff at the exchange booth to check the man's passport before making the exchange.
The man arrived at the booth again at about 1pm on Tuesday, saying that he had 900,000 baht cash to exchange.
SOURCE: The Phuket News
Keep in contact with The Thaiger by following our
Facebook page
.
Mystery surrounds security guard found dead in his Phuket room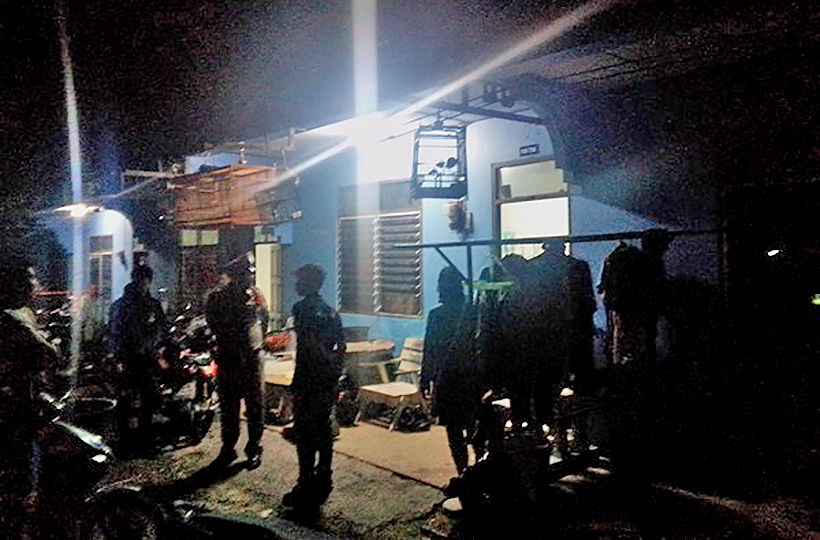 PHOTOS: Phuket Hot News
The security guard of a hotel in Nai Yang, northern Phuket, 52 year old Yingyot Butsabong, from Maha Sarakham province, was found dead yesterday (October 16) in his room. Police remain mystified how the man came to grief.
A woman named Supattra received a call from the hotel he worked at and was informed that he didn't show up at work yesterday, so she went to his apartment to check on him.
She saw that his room was locked from the inside, so used the key she had in her possession to open the room and found Yingyot laying on the floor, face down. She thought he was just sleeping so she tried to wake him up but once she flipped him, she found that he already passed away.
She immediately called Saku police, and once on the scene, police found that there was some blood on the floor. The man had a 2 centimetre wound on his left eyebrow which was deep into his skull. There was also a wound on his chin about 1 centimetre long and about a centimetre deep. His left eye had a bruise which looked like he was attacked by a hard object.
Police report that he had been dead for around four hours in the room.
The room was not ransacked and there was no sign of fighting or theft. His body has been sent to Thalang Hospital for a detailed autopsy and to look into the cause of death.
SOURCE: Phuket Hot News
Keep in contact with The Thaiger by following our
Facebook page
.