Entertainment license fees finally arrive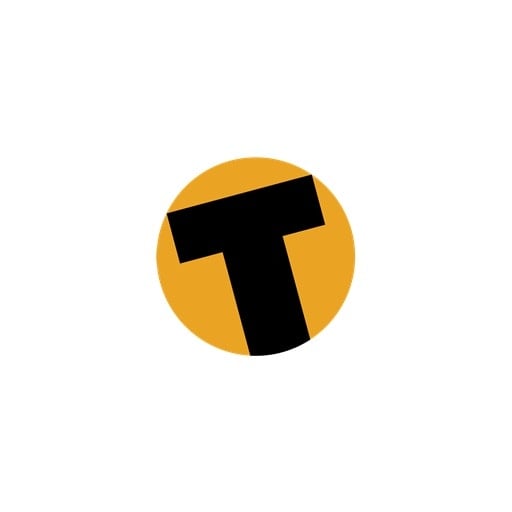 PHUKET: More than 14 months after all entertainment licenses were declared statutorily void, a list of fees for entertainment licenses has been announced, paving the way for provincial authorities to start processing applications.

Wisut Romin, Deputy Secretary of the Phuket Provincial Administrative Office, told the Gazette that he received the list of fees today, although it was ratified by the Ministry of the Interior (MoI) on March 29.

K. Wisut said that there are "about" 344 entertainment venues in Phuket that must apply for the licenses.

He added that officers from Muang, Thalang and Kathu Districts have been advised of the fees and have posted "informal" announcements to all venue owners within their areas.

K. Wisut added that Phuket Governor Udomsak Usawarangkura or one of the province's vice-governors will issue – again by post – formal announcements to the owners by Sunday.

The venue owners will have 30 days from the date of posting to apply for their license or licenses.

The entertainment venue categories and fees for the first 12-month license – all licenses will expire on December 31 each year – are as follows:

3 (1): "Dancing places". This covers discotheques and ram wong (traditional Thai dancing) venues.

– Area of not more than 100 square meters: 10,000 baht.

– 101sqm-300sqm but not over 300sqm: 30,000 baht.

– 301sqm and up: 50,000 baht.

3 (2): "Tea shops." These no longer exist in Phuket.

– Area not more than 100sqm: 30,000 baht.

– 101sqm-300sqm: 40,000 baht.

– 301sqm and up: 50,000 baht.

3 (3): Massage parlors.

– Not more than 30 service rooms: 30,000 baht.

– 31-50 rooms: 40,000 baht.

– 51 rooms and up: 50,000 baht.

3 (4): Entertainment venues. There are four subcategories:

3 (4) a: a place providing a show or other activities for entertaining customers, and allowing staff to socialize with patrons;

3 (4) b: a place that provides equipment for patrons to sing, and allows staff to socialize with the patrons;

3 (4) c: a place that has no dance floor but allows customers to dance on the premises;

3 (4) d: other places that have light or sound facilities, depending on Ministry rulings yet to be made.

– Area of not more than 100 square meters: 10,000 baht.

– 101sqm-300sqm but not over 300sqm: 30,000 baht.

– 301sqm and up: 50,000 baht.

3 (5): Restaurants that provide entertainment and close after midnight (primarily upmarket venues with cultural shows).

– Area not more than 100sqm: 10,000 baht.

– 101sqm-300sqm but not over 300sqm: 30,000 baht.

– 301sqm and up: 50,000 baht.

Upon annual renewal, venue owners will pay 20% of the initial license fee for subsequent licenses.

Also, any venue owner whose license is lost or destroyed will be able to receive a replacement for 1,000 baht – if they can prove that they had been issued a new license.

"A 10,000-baht [initial] license equates to just 833 baht or so per month, and only 166 baht per month to renew," said K. Wisut. "It is a reasonable amount to pay."

Asked why it had taken so long for the list of fees to be announced – and whether venue owners would be charged for 2004/2005 licenses, K. Wisut said, "It is very likely, but it is up to the Ministry of Interior."

Referring to his comments made on February 1 this year, when he suggested that owners of entertainment venues damaged in the December 26 tragedy could see their fees waived, he said that the MoI had again still to make a decision.

The province's Chief Administrative Officer (Palad), Vichan Busapavanich told the Gazette that the owner of any venue found not to have a valid license would be given a period of grace for officers to investigate whether the infringement was deliberate or accidental.

"If it is an oversight on the part of the owner, then they will be given time – I cannot tell you how long – to rectify the matter. If they are deliberately avoiding paying the license fee, then they will be closed down eventually," he said.


Read more headlines, reports & breaking news in Phuket. Or catch up on your Thailand news.
Slow loris released back into Phuket forest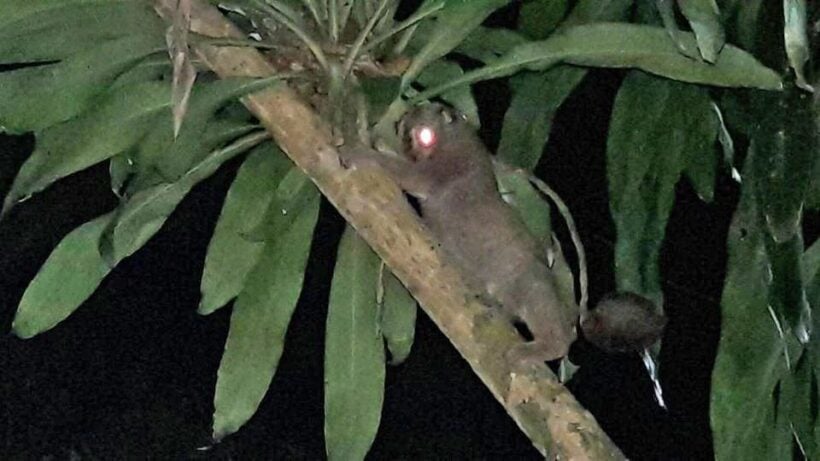 PHOTOS: Department of National Parks
Officers from of the Khao Phra Thaeo Non-Hunting Area have helped in the release of a slow loris back into the wild yesterday.
The Department of National Parks, Wildlife and Plant Conservation reports that the head of Khao Phra Thaeo Non-Hunting Area, Pongchart Chueahom, yesterday released the slow loris to the Khao Phra Thaeo Non-Hunting Are in Thalang.
The slow loris was found near a furniture factory in Thalang last week. It was being treated at a pet hospital before being handed over to Khun Pongchart when it was ready to be set free.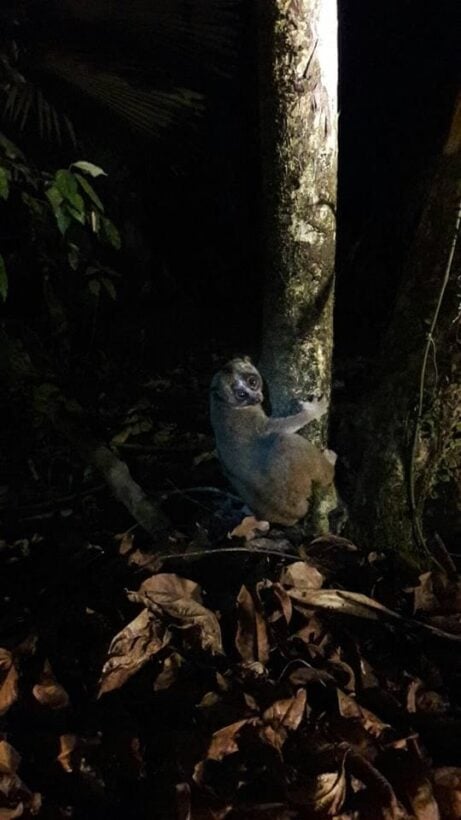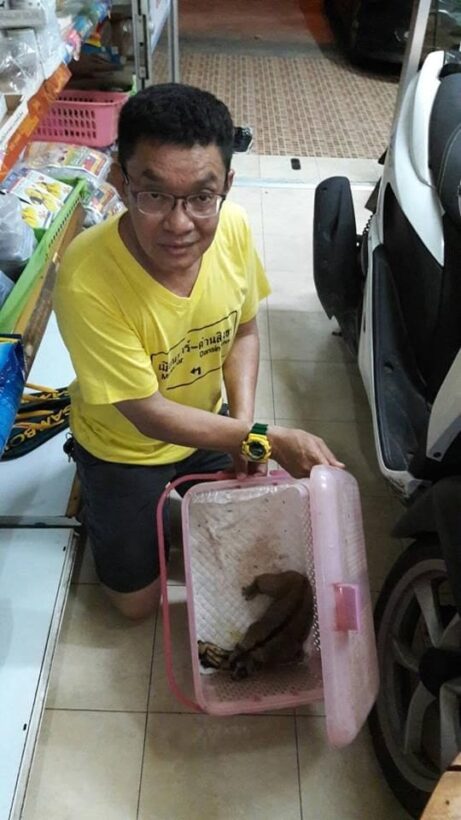 Seastead structure dragged back to shore by Royal Thai Navy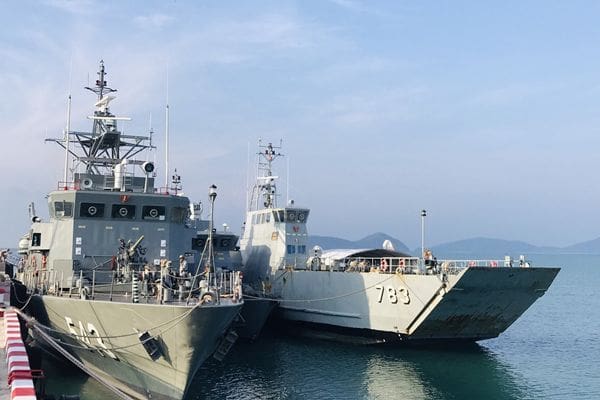 A floating seastead has today been towed by a naval vessel back to the Port of Phuket in Cape Panwa. Meanwhile the Deputy PM Wissanu Krea-ngam is challenging the owners and builders of the structure to take the Thai Government and Navy to the International Court of Justice.
The Royal Thai Navy's Third Fleet ventured out with a group of reporters on Saturday to inspect the floating seastead, the first of about 20 planned Ocean Builders for the open waters about 22km from Phuket's Koh Racha Yai.
Nothing valuable was found on board the octagon-shaped steel and aluminium structure which was attached to a floating platform.
Two vessels were used in today's operation. The living quarters were detached and placed on the first vessel and the second towed the floating platform to the shore for safe keeping pending legal action against its owner as well as the builder, Ocean Builders Company.
Dr. Wissanu said yesterday that Thai authorities were authorised to remove or dismantle the floating housing unit with or without the consent of its owner after finding the structure could pose a threat to Thai national security and sovereignty in accordance with Article 119 of the Criminal Code.
He said that the structure also posed an obstacle to vessels and was located not far from an oil rig.
Regarding the threat by Ocean Builders Company to sue the Thai government in the International Court of Justice for the removal, the deputy PM says he welcomes the move, noting that no government anywhere would allow a seastead settlement near their maritime territory.
Seasteader Chad Andrew Edwartowski and his Thai wife, Mrs. Nadia Summergirl, are wanted by the Thai police for questioning after Thai immigration revoked the American's non-immigrant visa and blacklisted him.
SOURCE: Thai PBS
Phuket taxi slams into tree in Phattalung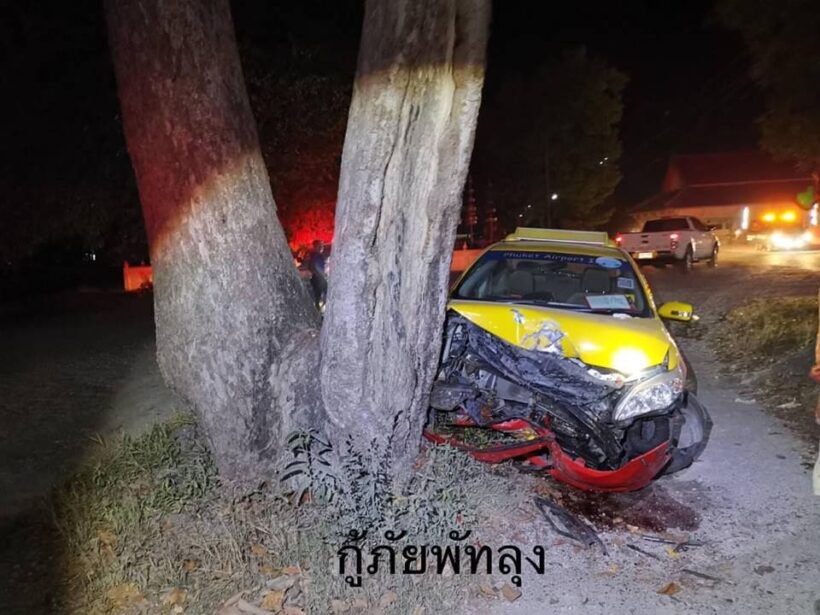 PHOTOS: Phattalung Rescue
Two people have sustained serious injuries after a Phuket taxi slammed into a tree in Phattalung last night.
Phattalung rescue workers were notified of the accident in Mueang Pattalung District at 7.57pm last night (Sunday).
They arrived at the scene to find the Phuket registered taxi resting in front of the big tree on the side of the road near a temple. The front of the vehicle had extensive damage following the collision.
The two people who sustained serious injuries were 58 year old Wanchai Srithong and 64 year old Jamras Srithong. They were both taken to the Phattalung Hospital.
Pattalung City Police are continuing their investigation. There has been no explanation given at this stage as to why a Phuket taxi was in Phattalung.