Phuket
Elephant tramples handler to death, runs into jungle with Russian tourists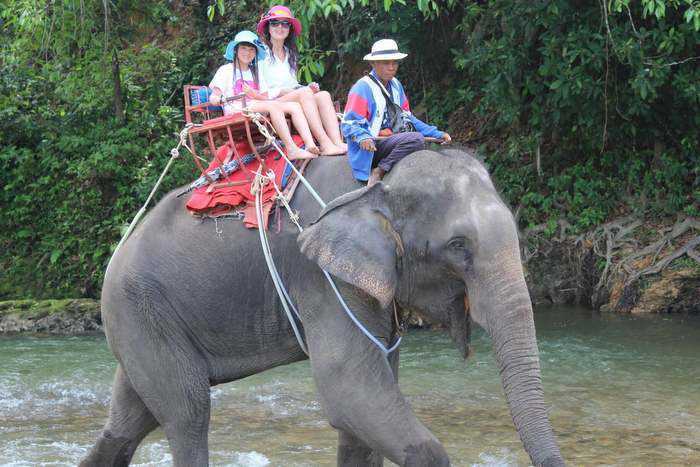 PHUKET: An 18-year-old bull elephant trampled his handler to death and ran off into the jungle with a Russian mother and daughter still on top during a jungle trek in Phang Nga, north of Phuket, yesterday.
The elephant, named Meaw, ran for three kilometers after killing his mahout, Suk Sapmak, 60, before officers were able to subdue him with tranquilizer darts and rescue the Russian tourists.
"We received a report that Meaw was likely in musth, as he went into a fit of rage while taking two Russian tourists through a stream in the Baan Bang Miang area in Tambon Nobpring, Phang Nga," said Capt Pissanu Thaharn of Thungkangok Police told the Phuket Gazette.
"He trampled his mahout, Mr Suk, to death before running away into the jungle nearby."
Musth is a period of heightened sexual excitement in bull elephants, characterized by highly aggressive
behavior and coinciding with a surge in testosterone levels.
Police and mahouts scoured the jungle for Meaw, and found him with the two tourists still on his back near a palm plantation, about three kilometers from the canal, said Capt Pissanu.
"Officers shot him twice with the tranquilizer gun. It took about 30 minutes before Meaw to become dizzy," he said.
"A mahout who has worked with Meaw before climbed on top of him to control him while the tourists were brought safely down."
Mr Suk's body was found about 200 meters downstream from where he was trampled.
"Mr Suk and his family, from Surin province, moved here two years ago with Meaw," said Waraporn Kasetkala, manager of Phuwara Tour, the company which organized the trek.
In an obvious state of distress, the Russian mother declined to speak to the Gazette reporter at the scene yesterday.
"We are very sorry for their loss and we will do what we can to help them during this time," said Ms Waraporn.
Meaw will be kept under observation and away from tourists until it is safe for him to start trekking again.
"He is normally playful and kind. This is why we believe he must have been in musth," said Ms Waraporn.
"He will be kept under observation and will not go on any treks until we know that it is safe for him to be around tourists."
— Kritsada Mueanhawong